Release date: July 11, 2023
In business, efficiency makes all the difference. You must maximize resources and streamline processes to stay competitive and meet customer demands. And iFax knows you need a reliable and seamless faxing solution to achieve this efficiency. That's precisely why we are announcing our latest fax workflow automation and mobile document scanner features in line with the iFax Web 7.0.2 release.
This and more are what's in store for you to check out and explore.
What's New With iFax Web 7.0.2?
This major update, packed with new features and enhancements, will undoubtedly elevate and supercharge your online faxing experience. Here's a quick breakdown of what you can expect from this latest version release:
Read on and explore these features in more detail to fully take advantage of what our online faxing solution can offer.
See our latest feature release in action. Try it now.
Fax Workflow Automation
Boosting your faxing productivity has never been this easy. With effortless setup and seamless execution, you can create rules to automate fax assignments and folder management. This way, faxing documents in high volumes will be a breeze, saving you time and effort. You can also ensure that your faxes will be organized and delivered accurately. There will be less room for mistakes and more time for other priorities.
How the iFax workflow automation feature works is relatively simple. From your account settings, scroll through the menu on the left and select Workflow Automations. Create a new automation rule and label it. Set your desired rule conditions, click Save, and that's it. You can also edit or pause an existing automation rule.
With fax workflow automation, you can sort and label faxes automatically. Plus, managing your fax folders will be hassle-free.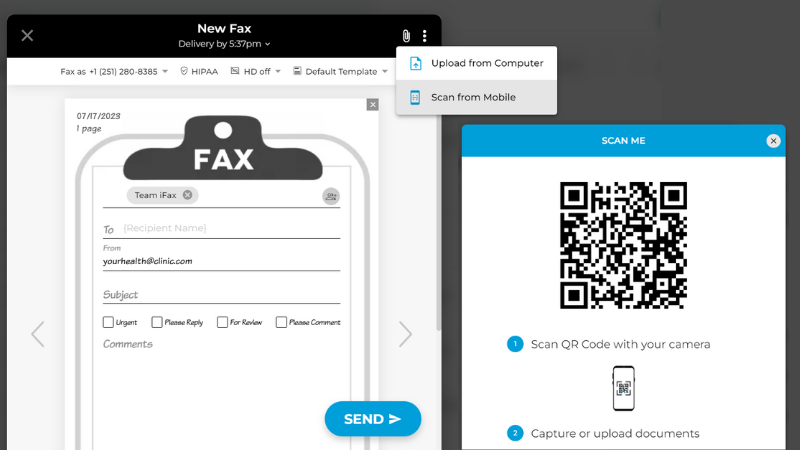 Mobile Document Scanner
iFax makes faxing documents even more quick and effortless. Whenever you compose a new fax, our app will let you upload and attach a file (JPEG, PNG, PDF, or DOCX) from anywhere. You can also scan a document using your phone's camera and add it to your fax.
Suppose you're faxing from your computer, and the files you need are on your mobile. With the iFax mobile document scanner (scan QR from mobile) feature, you only need to click the Scan From Mobile option on the compose menu. A unique QR code will appear. Using your phone camera, scan this QR code and open the link. Now, you're all set to select and upload the documents you wish to fax. There's no need for cables or tedious file transfers.
Go ahead and give it a try.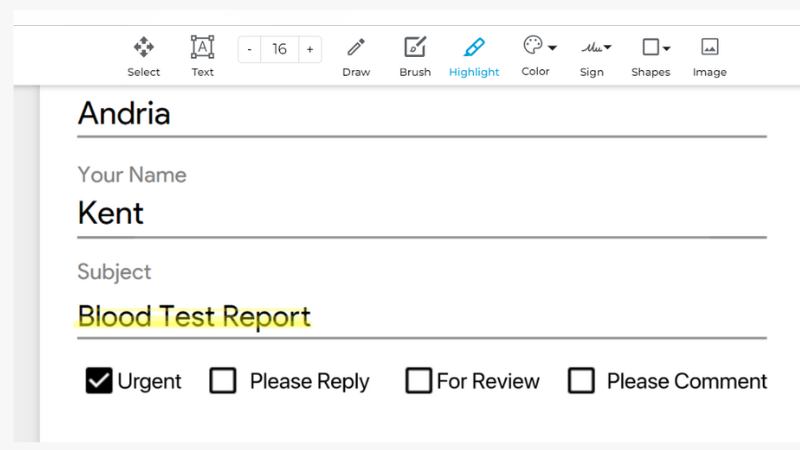 Fax Annotation Highlighter Tool
Highlighting sections of the faxes you ought to send or receive can be challenging, especially when there's no tool that can mark specific areas directly on the fax itself. That's why we've made sure that this update includes a highlighter tool.
With the new iFax highlighter tool, you can quickly highlight important information, mark key points, and differentiate sections by dragging the highlighter tool over a paragraph, phrase, or text. It's a valuable addition, especially if you frequently annotate faxes.
More Options to Simplify and Automate Your Fax Workflow
Apart from the features mentioned above, you can also count on this latest update to further streamline your fax workflow by adding options like:
Last saved signature
No more wasting time writing signatures over and over. With the last saved signature feature, you can effortlessly access and apply your recently used signature to any document.
The iFax document editor wizard will remember your last used or last applied signature automatically. It eliminates the need to re-create eSignatures each time you need to sign and fax a document. There's less hassle, plus you remain consistent with your signatures which helps avoid confusion and ensure compliance.
Download an OCR-generated document as a TXT file
Now, each time you convert faxes to machine-readable texts, a new option will pop up, allowing you to download them as TXT. You can then save and access the downloaded .txt file using any text editor. Such a feature will definitely help speed up your fax workflow, especially if you or your team are working on large volumes of OCR-generated results.
Accelerating Fax Workflow With Automation Features
Using fax workflow automation features will help your business meet ever-changing client demands while ensuring consistency and accuracy. Regardless of your industry, whether it's healthcare, sales, or insurance, you can count on our online fax solution to streamline your overall processes.
So why settle when iFax can provide the tools and features you need to stay ahead of the competition?
Check out iFax Web 7.0.2 today or upgrade your account to access our app's latest features and enhancements.
latest features
version releases
version updates