Technology doesn't eradicate fax machines, but it improves them so companies and organizations that rely heavily on transmitting physical documents can work efficiently. The conventional fax machines only include faxing as their primary function. However, today, brands like HP, Brother, and Canon consolidate other printing and copying abilities.
All in one fax machines are handy. They are space-savers and cost-effective. You don't have to buy a piece of separate equipment to access three or four features. That said, purchasing the best all-in-one fax machine can be a tedious guessing game because you must compare the specifications and prices.
We already did the legwork for you, so here are the best five recommended and high-rated multifunctional fax machines to explore.
Overview of the Best Multipurpose Fax Machines
| | | | |
| --- | --- | --- | --- |
| Model | Paper Capacity | Auto Document Feeder | Price Starts From |
| Brother FAX-2840 | 250-Sheet | 20-Page | $199.99 |
| Brother FAX-575 | 50-Sheet | 10-Page | $275 |
| Canon FAXPHONE L100 | 15- Sheet | 30-Page | $139 |
| Canon FAXPHONE L190 | 250-Sheet | 150-Page (Duplex) | $199 |
| HP 2140 Professional | 50-Sheet | 15-Page | $409 |
Brother FAX-2840 High-Speed Mono Laser Fax Machine
This high-speed mono laser fax machine has printing and copying capabilities to meet your business needs. It has high-quality laser output and is equipped with a 20-page capacity in its auto document feeder for quick faxing and copying multiple documents. Send fax and make voice calls on the same landline number. For your printing needs, connect your computer or laptop through the Hi-Speed USB 2.0.
It delivers superior laser output for your incoming faxes. For your outgoing faxes, you may send a fax to more than one number. It's one of the best-selling fax machines on Amazon and highly rated. Customers who bought this said it's excellent compact laser fax, a bit bulky, easy to set up, and perfect for small businesses.
Buy on Brother | Amazon | Walmart
Brother FAX-575 Personal Fax, Phone, and Copier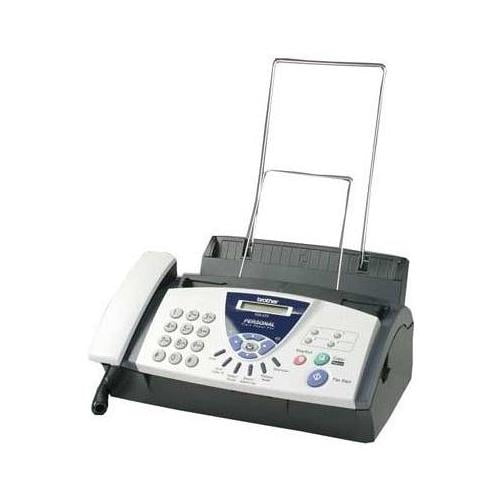 This compact fax machine supports faxing, voice calls, and copying features. It's compact, easy to install, and affordable. It's an excellent buy for small business owners and professionals with home offices looking for a fax machine with basic features. It provides black and white copying, and its 512KB memory can store up to 25 pages.
It's equipped with a 10-page auto document feeder and has a 50-sheet input paper capacity. Everything else is pretty straightforward regarding the user interface, from setting up the phone line or modem. Previous customers who purchased this said they are delighted with it, it's a small good fax machine, and it gets the job done for all your faxing needs.
Canon FAXPHONE L100
If you're looking for a fax machine with printing and copying functions, this is an excellent choice. It's ideal for small businesses and home offices equipped with a fast print speed feature for your documents. You can transmit media sizes like legal, letter, statement, executive, A4, and A5. It has a generous paper capacity of up to 150 pages and has a 30-page capacity for an auto document feeder.
This machine combines the laser fax machine, laser printer, and copier to print 19 pages per minute. You can easily connect it to your computer via USB 2.0. Group dialing option supports up to 129 destinations, while its maximum of 140 destinations for sequential broadcasting. Satisfied customers said this is easy to set up, works great, and has an excellent price.
Buy on Canon | Amazon | Best Buy
Canon FAXPHONE L190
Consolidate your faxing, printing, and copying needs with Canon Faxphone L190. Though it looks fairly bulky and includes a telephone handset for your voice calls, it delivers speed and high-quality prints. The laser fax machine prints up to 26 pages per minute with a memory capacity to save 512 sheets to store faxes. Its paper capacity is up to 250 sheets and is equipped with a 150-sheet duplex automatic document feeder.
Save more energy as it helps save paper with its two-sided printing and copying abilities and uses approximately 1.3 watts when it's in energy mode. The duty cycle of this fax machine is up to 10,000 pages per month. The quick first print scores less than six seconds, and you connect your computer via USB 2.0.
HP 2140 Professional Quality Plain-Paper Fax and Copier
Looking for home fax that's fairly a space-saver? This machine has two functions: faxing and copying. It uses HP ink cartridges that are easy to find. With its one-touch button, you have access to reports, system setup, and tools. It has automatic redialing, so you won't have to manually re-dial a fax number if you experience interruptions.
It's recommended for personal and home office use, which is equipped with basic faxing features. You may also set up incoming faxes automatically or receive them manually. If you have limited space on your desk, this is a great purchase because it's compact. It's easy to maintain when it comes to refilling ink cartridges. The paper tray can accommodate up to 50 sheets, and the automatic document feeder can support 15 pages.
Buy on Amazon
Final Thoughts
Multifunctional fax machines help you be more efficient and productive because they offer dual or triple features such as faxing, copying, and printing. Now that you are equipped with the specifications and what other reviews say about each machine, we hope that this article has helped you come up with an informed decision on your next buy. On top of the features, we believe that the price plays a major role in purchases. Let us know which one do you think best suits your office needs.
If you want to send a fax without a fax machine, you may explore iFax online services. Download iFax on iOS, Android, Windows, and Mac, and see why more than 5 million users rely on it.