Are you looking for a multifunctional device that can handle printing, copying, and faxing? Finding the perfect machine can seem overwhelming, given the myriad of options in the market. The effort is well worth it, given the benefits of using all-in-one printers.
For one thing, you get to save on space in your office. Apart from this, all-in-ones help improve workflow because there's no need to operate multiple machines. All you need is one machine that does all the work.
If you are looking for all-in-one devices that can function as printers, copiers, and fax machines, thenread further. We've rounded up our top picks from leading brands like Brother, Canon, and Epson.
Our Top 8 Picks
When it comes to printers, copiers, and fax machines, here are the best multifunction (all-in-one) printers that are ideal for home and business use.
1. Brother MFC-7240
The Brother MFC-7240 is a monochrome printer capable of printing, scanning, copying, and faxing. This model is ideal for small businesses and home offices looking for an affordable way to fax and print black-and-white documents. Currently listed as one of the most affordable all-in-ones under $200, this model has a 20-page capacity ADF with an average print speed of up to 21ppm.
2. Brother MFCL2710DW
The Brother MFCL2710DW is currently one of the best all-in-one models in the market. It's not only decently priced (less than $300), but it is also capable of high-speed printing with an average print speed of 32ppm. With its compact design, the MFCL2710DW doesn't take up too much space. It has features that let you save on paper and toner costs. This model also has wireless printing that lets you print documents straight from your computer or laptop.
3. Canon imageCLASS MF216n
The Canon imageCLASS MF216n is an all-in-one laser printer that can also copy, scan, and fax. This model supports Apple AirPrint, making it easier to print using your iPhone and iPad. With its sleek and compact design, the MF216n can easily fit into narrow office corners. The Canon imageCLASS MF216n has a Quiet Mode designed to reduce operational noises. This device only prints black-and-white documents.
4. Canon Pixma G7020
The Canon Pixma G7020 is excellent for heavy faxing and printing while saving up on ink costs. This all-in-one printer has integrated ink tanks for a budget-friendly ink refill. There is no need to replace ink cartridges. It also supports wireless printing through Mopria and Apple Airprint. Priced under $450, the Pixma G7020 has a 350-sheet plain paper capacity, perfect for large print jobs. This is a worthy addition to your business or home office.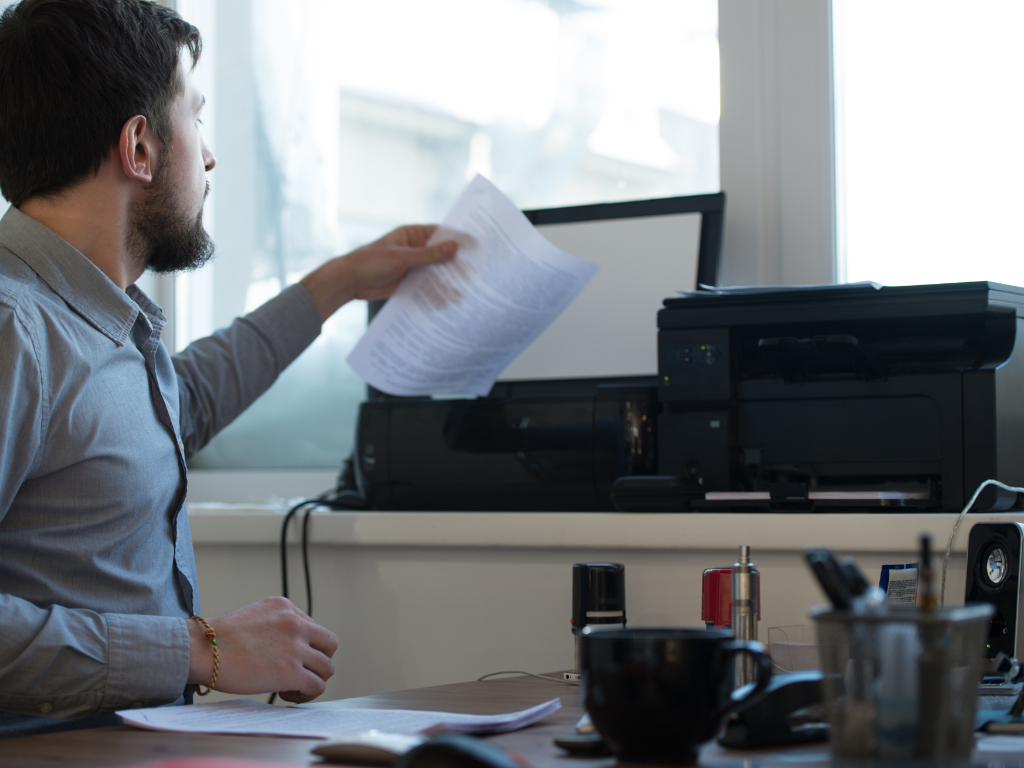 5. Canon PIXMA TR4527
The Canon PIXMA TR4527 is another frontrunner when it comes to affordable all-in-one printers, copiers, and fax machine devices. Its compact size makes it ideal for small offices. Despite its size, this model packs a punch and has a printing capacity of 8.8ppm and 4.4ppm for black and color prints respectively. With easy-to-configure fax settings, this all-in-one is perfect for users looking for efficient faxing and printing solutions.
6. Canon TR8620
The Canon TR8620 is a multifunctional printer that can print, copy, scan, and fax color pages. This all-in-one is also affordably priced, making it a great option for home offices and small businesses. This printer is equipped with 5-color individual cartridges and can do monochrome printing with speeds of up to 15ppm. If you are looking for a budget-friendly all-in-one for printing and faxing documents, the Canon TR8620 is worth checking out.
7. Epson EcoTank ET-4750
If what you want is a decently-priced all-in-one device that lets you print, copy, and scan, you might want to check out Epson EcoTank ET-4750. This model is ideal for growing businesses as it can do high-speed faxing and printing without compromising print quality. This model also uses long-lasting yet affordably priced ink bottles. Its ADF (automatic document feeder) has a 30-sheet capacity and touch-and-swipe setup and navigation.
8. Epson WorkForce WF-2750
The WorkForce WF-2750 is a 4-in-1 multifunction printer that can print, scan, copy, and fax. This all-in-one device is ideal for businesses and home offices as it is fully capable of professional-quality fast printing. Some of its features include auto 2-sided printing and a 30-page auto document feeder. Not only that, but it also has a 150-sheet capacity. This printer also comes with affordable individual ink cartridges.
Which Fax Machine Brand Is the Best?
When shopping for all-in-one printers, take some time to research the product or model first. There are many well-known fax machine brands in the market. Speaking of which, some of the best brands out there include Brother, Epson, HP, and Canon.
When choosing a brand, don't just go for what's popular or what's cheap. Choose a brand that is not just well-established but also knows how to value its customers. It's also a plus if the brand can offer top-notch customer support and an extended warranty.
Based on our list, here are our top contenders:
Most affordable: Epson WorkForce WF-2750
Best for small spaces: Brother MFCL2710DW
Most functional: Canon TR8620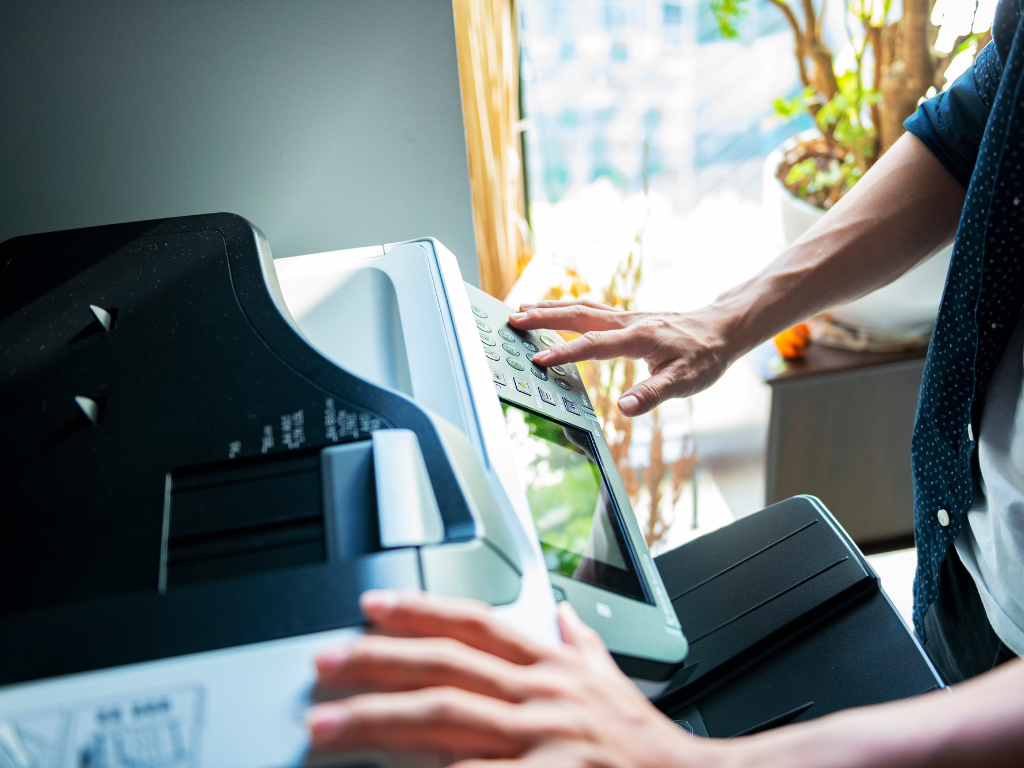 What Should I Look for in a Fax Machine?
The best all-in-one printer is one that is truly worth its price tag. It also depends on what model matches your needs. Many all-in-one printers are great for small-scale businesses and home use. If you have a hard time choosing, here are some things you should consider:
1. Brand
Choose a well-established brand with excellent customer support. Go for a brand that has a proven track record in producing durable fax machines.
2. Speed
A slow fax machine can hinder your workflow and decrease productivity. If you plan to use the fax machine for business, consider choosing one with a printing speed ranging from 20ppm to 40ppm.
3. Printing performance
Make sure that the print quality and performance meet your needs. If you regularly fax thousands of pages, you need to look for a fax machine that can handle a high-volume.
4. Functionality
Is the fax machine only capable of faxing? Nowadays, it is preferable to choose multifunction fax machines that can fax, print, scan, and even copy. Even better, go for wireless devices so that you no longer have to deal with messy and tangled cables.
5. Size
Depending on the size of your home or office, you need to consider whether the fax machine will fit well or if it will take up too much space.
6. Price
Choose a fax machine that is well worth your money. Make sure that you only pay for the features that you need. Keep in mind that cheaper isn't necessarily better. If you buy a faulty machine, you could end up spending more on repair costs.
7. Value-added services
Some fax machine brands include special offers such as heavy discounts on ink replacements. If you make a good choice, you could still fax more pages while saving up on printing costs.
All-In-One Printers vs Online Faxing Services
When it comes to printers, copiers, and fax machines, all-in-one models are far superior. However, there are downsides to usingthese types of multifunction printers. For one, they still require space. Since they need a dedicated power outlet, these machines are tethered to one location. Plus, you still need to spend on ink and paper.
Do you want a faxing solution that you can use anytime? Using an online faxing service like iFax is a much better choice. One of the many advantages of using an internet faxing service is the convenience that it offers. You get to save on printing costs because online faxing gives you the option to go paperless.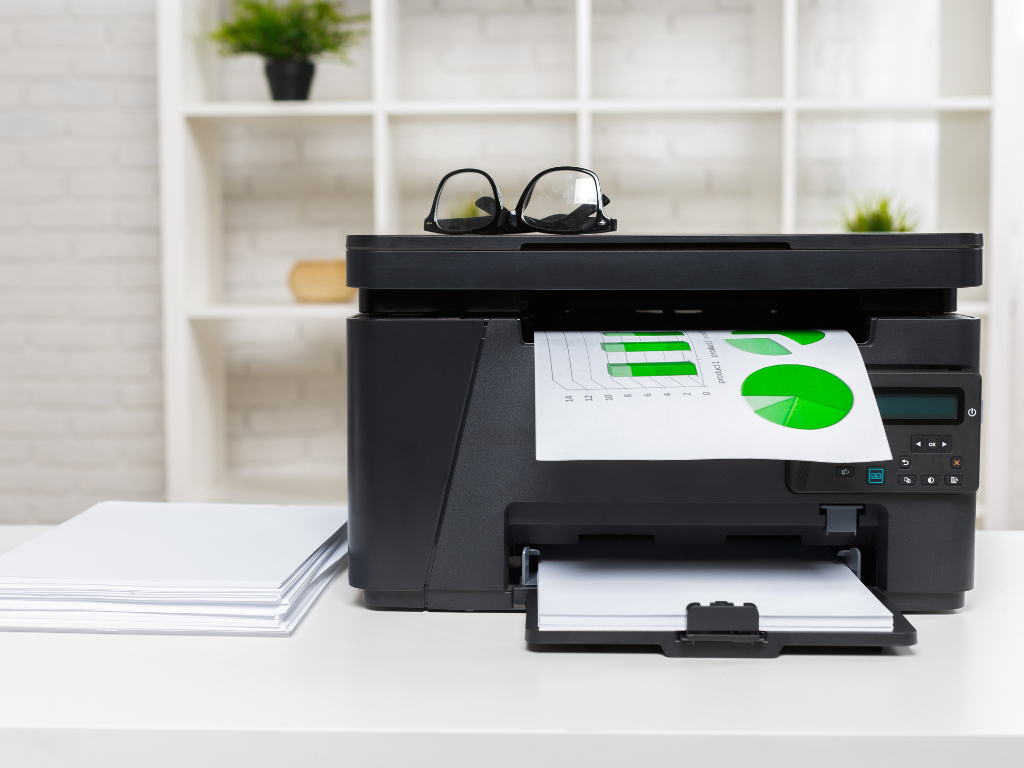 Switch to Online Faxing with iFax
Take your time in choosing the best printers, copiers, and fax machines. When searching for the best all-in-one printers, do extensive research and identify your business needs. Our curated list should help you get started.
If you prefer a more efficient and accessible option, try and online faxing service like iFax. With online faxing, you can send and receive fax in minutes. There's no waiting time. You can also use any device to send and receive fax online. Budget-wise, it is also more cost-effective since you don't have to purchase an all-in-one fax machine or pay for maintenance costs.
You can also enjoy other features that you couldn't find in a multifunctional device. For instance, you can integrate online faxing with your favorite business tools. You can also use print to fax – a feature to help you send faxes by simply using the print menu!
When you send a fax using iFax, your documents are protected with military-grade encryption. Our online faxing service also complies with HIPAA and GLBA, making it ideal for transmitting sensitive documents.
Start faxing with iFax, the number 1 online fax service.
4-in-1 printers
all-in-one printers
best fax machines
copiers
fax machines
fax machines vs online faxing
printers