The medical and healthcare industry is one of the most demanding industries in this world. Hospitals and clinics must deliver care for patients and provide services that meet their needs. It's difficult for hospitals and clinics to focus on both the patient-facing side of their business and maintaining an efficient back office with a lot of administrative tasks like billing, accounting, payroll, etc.
The burden falls onto the medical staff trying to keep up with all these different aspects while also providing top-notch care, which can be overwhelming. Many healthcare providers turn to Electronic Medical Records (EMR) systems for assistance to alleviate some of these issues. EMRs help organizations manage data more efficiently, contributing to better care for their patients and facilitating revenue cycle management. If you're looking for the best EMR for hospitals, this article will give you some examples.
What is EMR in medical terms?
EMR refers to Electronic Medical Records. These are data stored in a healthcare software that pertains to patient information.
Table of Contents
What Is HITECH Act 2009?
The HITECH Act is one of the many laws that came about as part of President Obama's American Recovery and Reinvestment Act in 2009. He put it into place to help stimulate the economy, create new jobs, and improve our nation's healthcare system. The act comes with $22 billion earmarked for electronic health records (EHR) systems.
The goal is to have all doctors' offices and hospitals switch over to EMR systems within five years, so every patient has a standardized medical record at their fingertips. The HITECH Act has five primary objectives:
To provide financial incentives to healthcare providers who switch to EHR systems
To create a national framework for electronic health information exchange
To establish privacy and security protections for electronic health information
To provide for the use of certified EHR technology in the Medicaid and Medicare programs
To support research on the use of EHRs in improving healthcare quality and outcomes
What Are Electronic Medical Records (EMRs)?
Electronic medical records (EMR) describe specific types of software healthcare providers use to store information on patients. These records can be shared electronically with other healthcare providers, pharmacies, and insurance companies, enhancing practice management and the overall coordination of care.
EMRs have several benefits for healthcare providers and patients, including improved coordination of care, reduced paperwork, better communication between healthcare providers and patients, reduced medical errors, increased efficiency in the clinic or hospital setting, and streamlined management of electronic health records.
What EMR Do Hospitals Use: 4 Best EMR for Hospitals Worth Comparing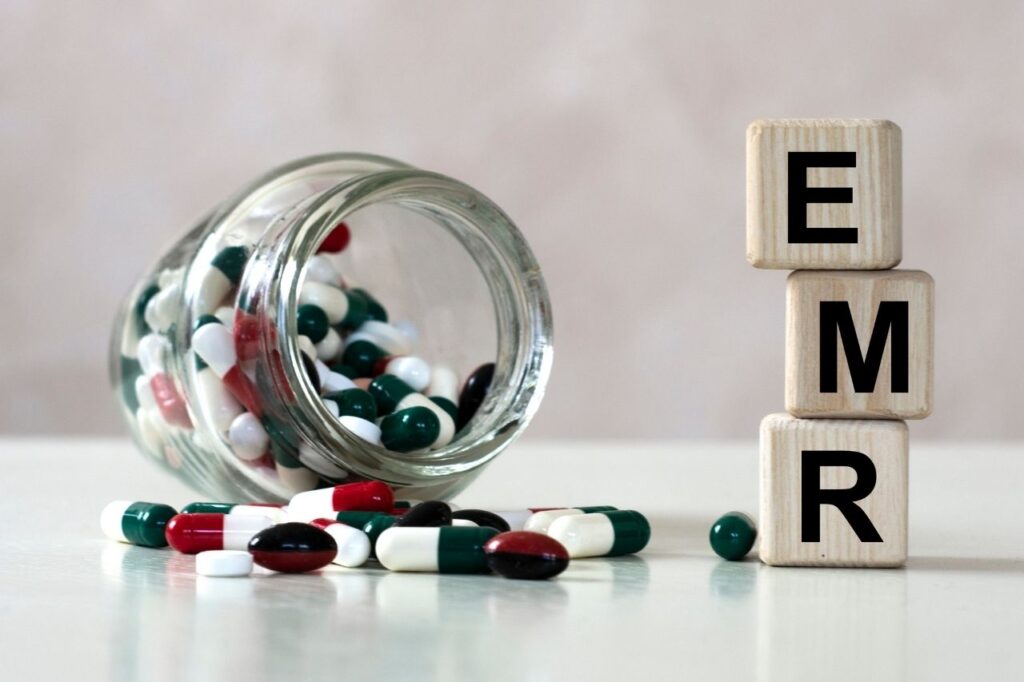 Looking for the best EMR for hospitals? There is no one-size-fits-all answer to this question. Different hospitals will use different EMR systems, depending on their needs and preferences. However, some of the most popular EMR systems used in hospitals include Epic, Cerner, and MEDITECH.
The Department of Health and Human Services (HHS) has compiled a list of certified EHR technology vendors that healthcare providers can use as a resource when selecting an EMR system. Here are the five best EMR for hospitals widely used in the market.
Epic EMR Software
Epic EMR Software is one of the best EMR for hospitals because it has a comprehensive electronic medical records software that healthcare providers use to manage patient data. Healthcare providers can document, manage, and track patient information from admission to discharge and beyond. Epic EMR Software also enables healthcare providers to connect with other care providers, collaborate on patient care, and access essential patient data when needed.
Epic EHR software helps doctors get information faster and easier to see patients more efficiently. It also has a Practice Management tool to help with finances. You can do paperless billing, patient statements, and online bill payments for your patients, and you can automate the process so patients may pay online. It automates coding to cut costs, speed up A/R days, and boost revenue.
Cerner EMR Software
Another best EMR for hospitals is theCerner EMR software, which is a point of care electronic medical record system. It was developed by Cerner Corporation, with headquarters in North Kansas City, Missouri. The platform was launched in 1979 and used worldwide to store patient health care records. With the help of Cerner EMR Software, physicians can access critical patient information at their fingertips with just a touch of a button.
By creating various modules that best suit an individual hospital's needs, this fully customizable software can be tailored to fit many data storage and retrieval styles for optimal workflow efficiency. It includes a web-based system that allows medical practitioners to store, collect, and access patient health information in acute and outpatient care settings.
MEDITECH EMR Software
MEDITECH is an electronic medical records (EMR) software company that provides healthcare organizations with software to manage their patient data. The company's EMR software is used by more than 2,700 healthcare organizations worldwide, including hospitals, health systems, and clinics.
The software is one of the best EMR for hospitals as it's designed to help healthcare organizations manage their patient data and improve patient care. The software allows healthcare providers to track patient demographics, allergies, medications, and lab results. It also allows providers to create electronic health records for patients and securely share patient data with other providers.
It is a comprehensive solution that includes tracking appointments, managing prescriptions, ordering lab tests, and much more. The software is designed to offer efficient and actionable data, ultimately improving the quality and coordination of patient care.
Evident EMR Software
Evident EMR software is a secure and efficient way to manage your medical records. It allows you to keep track of all your patients' information in one place, making it easy to access when you need it. Evident EMR also helps you comply with HIPAA regulations, ensuring that your patient's data is always safe and secure.
The software can help your practice in many ways. Firstly, it makes managing patient information quick and easy. You can easily track appointments, allergies, medications, and other important information. This reduces the risk of mistakes and keeps your patients' data organized and up-to-date.
Additionally, Evident EMR software can help you stay compliant with HIPAA regulations. It provides a secure and protected environment for your patients' data, ensuring that it is always safe and confidential. This can give you peace of mind knowing that your patient's information is being handled securely.
Finally, it can help you to improve your workflow. With features such as automated appointment reminders and prescription refills, you can save time and improve patient care.
Do Hospitals Use EHR or EMR?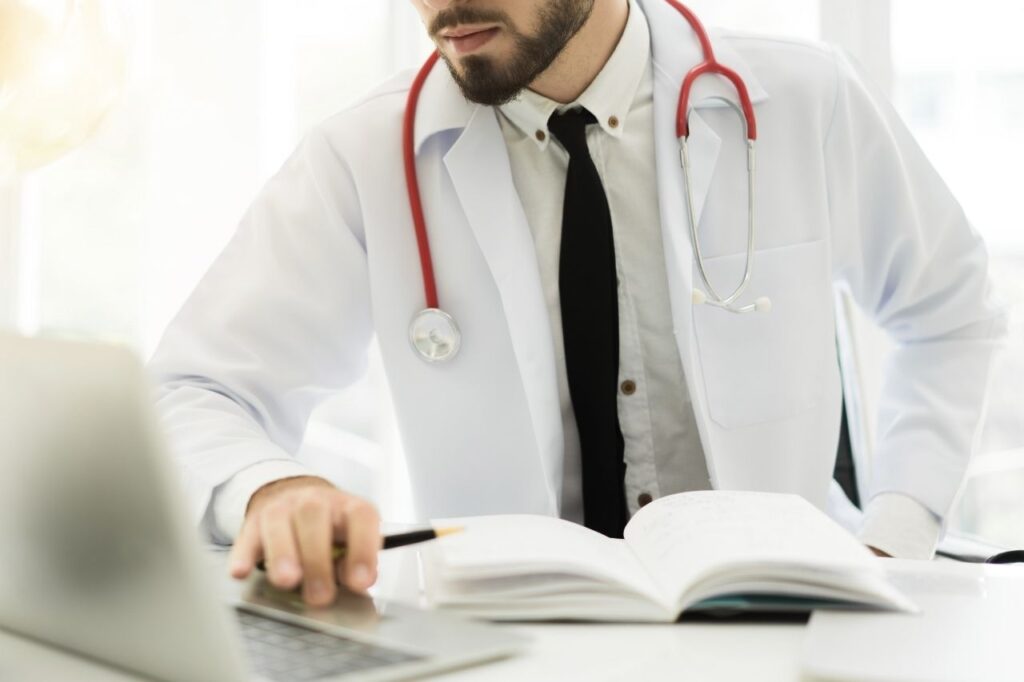 The terms electronic medical record and electronic health record are often used interchangeably. However, there is a difference between them. Electronic health records (EHR) typically refer to storing patient information electronically. Still, it also includes information on patients' insurance and demographics and clinical data such as vital signs, diagnoses, and labs reports.
Meanwhile, electronic medical records (EMR) only mean patient data related to healthcare issues rather than insurance or personal information. For example, a doctor's office keeping track of their patients' allergies, medications, and past procedures might be using an EMR system while hospitals keeping track of their patients' insurance status, demographic details like age or gender, and past surgeries would be using an EHR system.
Both electronic medical records and electronic health records are valuable for healthcare organizations. Sometimes both types will be used in the same medical practice, depending on what kind of patient's data is needed in the situation.
Different hospitals use different ways to keep track of patient care. Some hospitals use Electronic Health Records (EHRs), while others may use Electronic Medical Records (EMRs).
Final Thoughts on the Best EMR for Hospitals
So, what's the best EMR for hospitals should you use? With so many to choose from, it can be challenging for a hospital administrator to decide the best fit for their organization. The difficulty of making this decision becomes even more complicated when you consider that not all electronic medical records are created equally.
To find the best EMR for hospitals, we recommend taking some time and comparing four top contenders in terms of features and benefits and customer satisfaction ratings.
After doing your due diligence on these options, you should have an easier time deciding which system will work best for your needs! Don't forget that many other factors outside of just functionality come into play with any type of software purchase – including price point and compatibility across devices and systems.
And if you need a HIPAA-compliant mobile faxing app in your existing system, iFax can do it for you. Try our 7-day free trial with a professional account and see how it goes on your side. Whether you're looking for online faxing near you or a pay per fax solution, iFax offers convenient options to suit your requirements.
HIPAA compliance
HIPAA fax
online fax service