Faxing is still a necessary process for many companies, despite the popularity of email, instant messaging, and other file-sharing tools. This is especially true for industries that handle confidential data and legal documents. If this is true for your organization, then you need a top-notch fax service provider.
When it comes to choosing a fax provider, pricing should not be the only factor. Each fax service provider is different, so you must do your research and compare services before you decide.
Don't worry. This guide on how to choose a fax service provider should help you find the best choice.
Table of Contents
Before you subscribe to an electronic fax service, you need to determine your budget, fax requirements, and business goals. When you've listed them down, that's the only time you can determine which online fax plan best suits your needs.
1. Simple User Interface
Make your life easier and put this attribute at the top of your checklist. Choose a vendor that offers a user-friendly and intuitive online fax solution. If the vendor has a mobile app, you should be able to figure out how to use it in a matter of minutes.
For example, the fax button should be easy to find even for a first-time user. Navigating to the main menu or accessing certain features should not require technical skills on your part.
This is important because if you need to fax urgent documents, you won't have time to learn a convoluted process. Time is money, and you don't want to waste yours on a confusing or glitchy tool.
Good thing that with iFax, creating an account, sending a fax, and getting updates are hassle-free. This is what iFax looks like on a mobile phone and computer.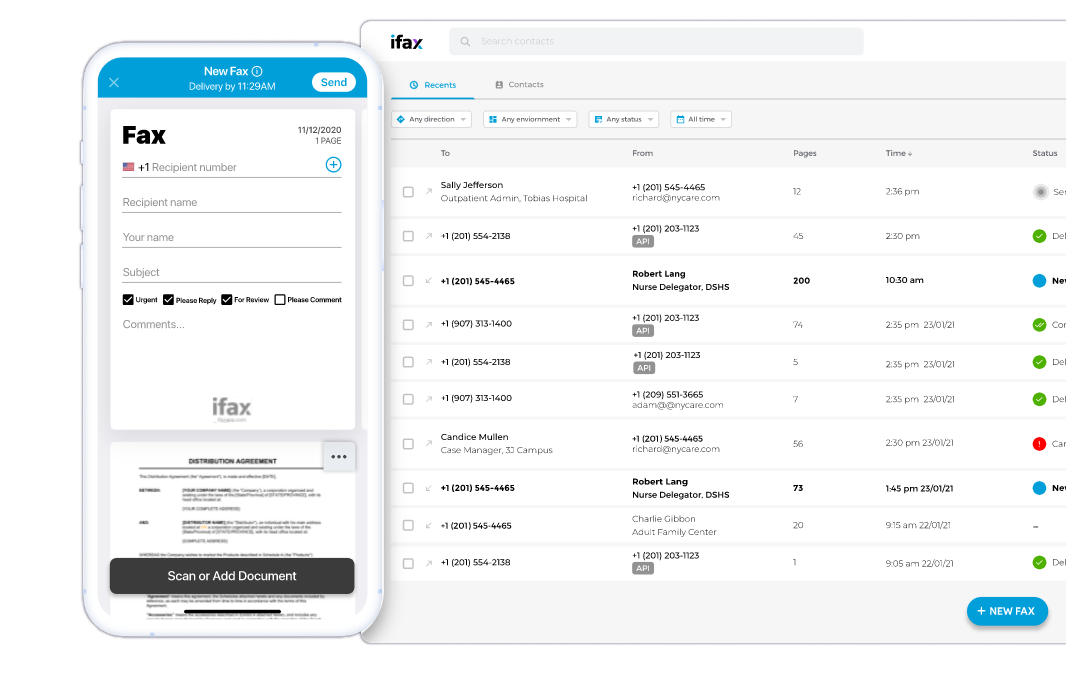 This simple interface lets you use iFax immediately. No need for long training sessions or bulky manuals. You can quickly upload files, type in the necessary information in the required fields, and send documents.
2. Useful App Integrations
Many companies use digital tools like document management systems, customer relationship management (CRM) platforms, and productivity apps to improve overall workflow and efficiency.
Choose a fax service provider that lets you integrate frequently used apps. If you do this, you don't need to manually transfer files from one platform to another or open multiple apps just to manage your paperwork.
How does iFax fare when it comes to integrations? It's easy to connect this app with your Google Workspace account. From here, you can sync your files from iFax to Google Drive and access them across multiple devices. You can also import documents from any folder on your laptop or computer and attach them to a fax.
3. Reasonable and Flexible Pricing
Most fax service providers offer monthly and annual subscriptions, while some provide custom pricing for enterprise plans.
Monthly subscriptions can be an excellent option for those who need to send faxes regularly. However, it's crucial to find a provider that offers reasonable rates. Otherwise, you could end up spending more than you need to.
Custom pricing plans can be great for large enterprises with special faxing service provider needs. Suppose you need to send in bulk, but only on specific dates or during peak season. Perhaps you would like to integrate custom features like fax broadcasting and scheduling. Find the vendor that would match these requirements.
Small and medium-sized businesses can take advantage of monthly plans, while companies with a bigger budget can get a discount when they pay the annual rate in full. For example, when you avail of the iFax annual plan, you get two months free of charge. If you're not ready to commit to a subscription, you can look for a pay-per-fax service instead.
4. Unlimited Cloud Storage
This is an essential feature for several reasons. First, you can keep all your faxes in one central location, making them easy to find and manage. Second, it gives you the flexibility to access your faxes from any device at any time. And third, you never have to worry about losing important faxes if something happens to your physical files.
Some fax providers charge a monthly fee for unlimited cloud storage, while others include it as part of the overall package. Whichever option you choose, ensure you understand how the storage works and what features are included.
Additional features include the ability to search and organize your faxes. For example, when you use iFax, you can add tags to each fax. This makes it easy to find specific documents on your iFax dashboard.
Unlimited cloud storage is a valuable feature for anyone who relies on faxing for business or personal use. It gives you the peace of mind that your documents are safe and accessible.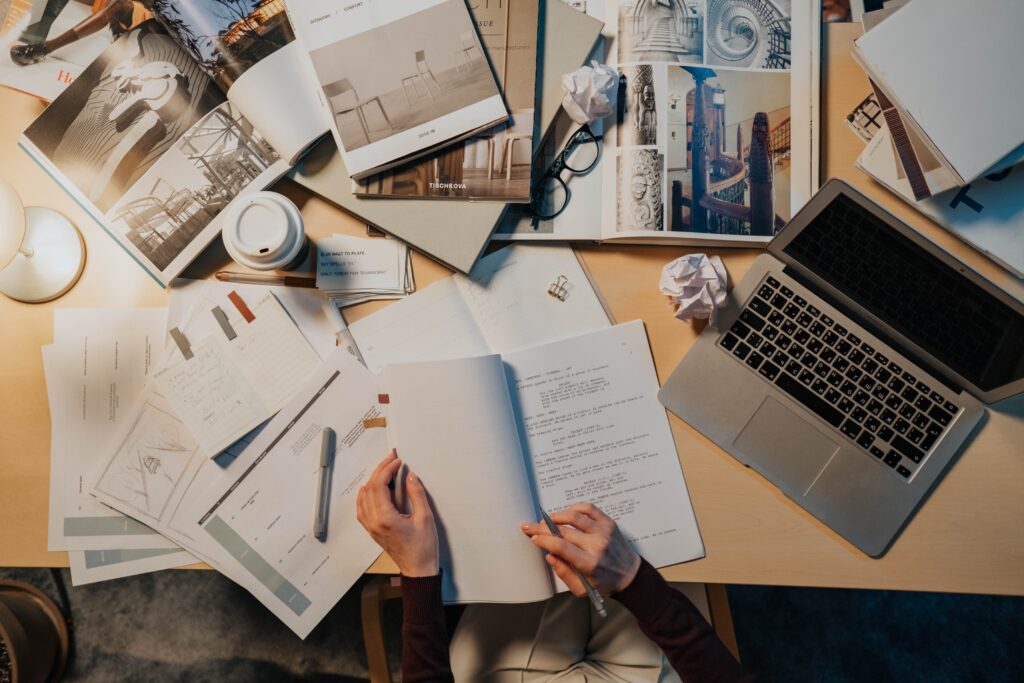 5. Strict Security Protocols
Security should be one of your top concerns when faxing online. This is especially true if you send sensitive information like medical records or financial data. Fortunately, almost all fax providers now offer security features like encryption and password protection.
The industry-standard encryption is 256-bit, which is difficult to break even using brute force. Your faxes will be converted into a code that only the recipient can decode. This helps to protect your information from being intercepted and read by someone who shouldn't have access to it.
Another security feature is password protection, including two-way factor authentication. Also known as two-step verification or multi-factor authentication, this process requires you to provide two different pieces of evidence to prove your identity.
This could include a combination of your password, a security code generated by an authenticator app, your fingerprint, and a one-time passcode sent to your mobile phone.
By choosing a provider that offers high-security features, you can keep your company and clients safe from fraud, identity theft, or privacy breaches.
6. Compliance With Privacy Laws
Speaking of privacy, ask if the vendor complies with federal or international laws that protect digital information. It is essential to ensure that your faxes comply with the laws of the countries where they will be sent and received.
Under the European Union's General Data Protection Regulation (GDPR), businesses must take steps to safeguard the personal data of EU citizens. As a result, any fax provider that is not GDPR compliant could put your business at risk of hefty fines.
Similarly, the Health Insurance Portability and Accountability Act (HIPAA) in the United States imposes strict rules on handling confidential patient information. Any fax provider that is not HIPAA compliant could expose your business to costly penalties.
In contrast, online fax services that comply with international data and privacy laws give you the peace of mind that your faxes will be handled safely and securely.
Usually, the vendor's website would display marks, seals, or certifications that show which privacy laws they comply with.
7. Excellent Customer Service
If you're shopping for a fax provider, excellent customer service should be one of your key considerations. Why? Eventually, you'll need help using the service. When that happens, you'll want to reach an actual person who can assist you promptly and efficiently.
A chatbot won't be much help when it comes to troubleshooting or explaining complex processes.
Good customer service is critical if you're using an online fax service, as you may not have the same level of experience with the technology as someone who's been faxing for years. When looking at different fax providers, look at their customer service policies and procedures.
Ask the vendor these questions: How easy is it to reach a live person? What kind of support do they offer? Are they available 24/7?
The last thing you need is to be left in the lurch at midnight when your fax service is on the fritz, and you need to send a document ASAP. Choose a provider that will be there for you when you need them.
Final Thoughts
If you are looking for a reliable and user-friendly online fax service, iFax is a perfect choice. It has everything you need in a fax service provider: cost-efficient and scalable plans, guaranteed data privacy, HIPAA compliance, and user-focused features.
Our app integrations make sending and receiving faxes from your favorite apps easy. With unlimited cloud storage, you can rest assured that all of your important documents are always safe and accessible. If there is ever a problem or question, our excellent customer service team is here to help.
Try iFax today and see how efficient and convenient online faxing can be.
fax service