Are you searching for an efficient, reliable personal or home office fax machine? The Panasonic KX-FT983CX Fax Machine could be the answer to your faxing needs. This powerhouse machine can handle multiple tasks, from sending and receiving documents to scanning and printing.
Its intuitive controls make it easy to use, and its professional design makes it look great in any office space. Learn more about this versatile piece of equipment. You'll also find insightful recommendations on other faxing options when considering fax online services.
Panasonic KX-FT983CX Fax Machine Features
These noteworthy features will help you decide if this fax machine is for you.
1. Full digital answering system
This feature allows you to receive messages and faxes automatically, even if you are not in the office. Once a fax is received, the answering system automatically saves it in memory and notifies you via an LED light or a beep sound.
With this system, you'll never miss an important fax or message. It records all the caller's details and messages, and you can retrieve them at your convenience. It ensures that you are always in control of your communication channels.
Moreover, the system saves you time and resources by reducing the need for a human receptionist.
2. Sequential broadcasting
Another impressive feature of the Panasonic KX-FT983CX fax machine is the Sequential Broadcasting feature. This feature allows users to send a single fax to multiple recipients simultaneously without repeating the process for each fax number.
With an option to send up to 20 locations at a time, this feature makes it easier and faster to send bulk faxes with minimum effort. This fax machine enables businesses to communicate with several clients or partners simultaneously.
It saves businesses time and money by eliminating the need for manually sending faxes to each individual. The KX-FT98CX is useful when sending multiple clients promotional faxes, confirmations, or invoices.
3. Automatic paper cutter
This feature automatically cuts the paper to the correct size, reducing the need for manual paper trimming. This feature ensures that your faxes are uniform and presentable. Moreover, it adds to the professional appearance of your communication.
You'll find this practical when sending multiple faxes requiring uniformity in paper sizes, such as brochures, forms, and other business communication that need to be in fixed dimensions.
The Panasonic KX-FT983CX fax machine is a highly reliable and efficient machine designed to provide fast and secure communication.
The features discussed in this blog post demonstrate how this machine can add value to any business or individual who relies on faxing as the primary mode of communication.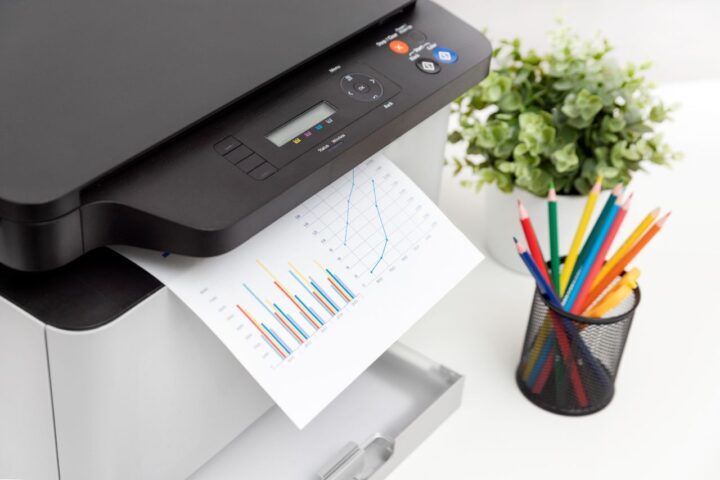 How to Use the Panasonic KX-FT983CX Thermal Fax Machine
Make the most out of this machine and fax documents with confidence. The transmission speed of the Panasonic KX-FT983CX fax machine is 15 seconds per page. Here's how to send your first fax.
1. Connect your fax machine to a phone line and an electrical outlet.
2. Load paper into the fax machine. The Panasonic KX-FT983CX has a 10-sheet paper capacity on its automatic document feeder (ADF), allowing you to send and receive multiple pages.
3. Set the fax machine to the correct time and date. This information is crucial since it will be printed on all the faxes you send or receive.
4. The fax machine is in the correct mode. If you want to send a fax, select the fax mode. If you're going to receive a fax, choose the receive mode.
5. Dial the recipient's fax number using the phone keypad on the fax machine. Make sure to include any necessary extension numbers or codes, if any.
6. Once you have dialed the recipient's phone number, press the start button on the fax machine. The machine will start scanning and transmitting your document to the recipient's fax machine.
7. If you're receiving a fax, ensure your fax machine is turned on and the receive mode is selected. The device will automatically recognize an incoming fax and start printing it out.
Can Your Business Benefit by Using the Panasonic Fax Machine KX-FT983CX?
Yes, of course. Here are four ways the Panasonic KX-FT983CX fax machine does it.
1. Improves business efficiency
With a transmission speed of up to 9.6 kbps, the Panasonic KX-FT983CX can send and receive fax messages quickly. This feature is beneficial as it saves time and improves the efficiency of business operations. It ensures you can deliver important documents without delays.
2. Comes with Error Correcting Mode (ECM) feature
The Panasonic KX-FT983CX comes with a feature known as the Error Correcting Mode (ECM). Distinguishing it from other fax machines, the ECM reduces transmission errors, improving the clarity and accuracy of fax messages. This feature is handy for businesses that rely heavily on transmitting crucial data.
3. Has large document memory
Another benefit of the Panasonic KX-FT983CX fax machine is its large document memory capacity of up to 28 pages when it runs out of paper. With this feature, you can store and retrieve faxes quickly. You don't need to reprint or rescan them as well.
4. Features distinctive ring detection
The Panasonic KX-FT983CX fax machine has a distinctive ring detection feature. It allows you to customize the settings to differentiate between fax and voice calls. This feature is handy if your business receives a high volume of voice and fax calls daily.
Why Businesses Are Choosing Online Fax Over Traditional Fax Machines
Given that the Panasonic KX FT983CX is a perfect fit for individual and office use, some may want more advanced features.
Here's why businesses would prefer online faxing these days.
1. Cost efficiency
Online faxing offers a significant cost advantage over traditional fax machines. While conventional faxing requires businesses to invest in expensive hardware, such as fax machines, phone lines, and ink, online faxing only requires a stable internet connection and minimal fees.
For instance, with online faxing, businesses can save on hardware and maintenance costs and reduce consumables. In addition, online faxing services provide flexible pricing plans to suit various business budgets and needs, making it a more cost-effective option.
2. Accessibility and convenience
Online faxing allows businesses to access their faxes anytime and anywhere, as long as they have an internet-enabled device. Unlike traditional faxing, which requires companies to be in the presence of their fax machines, online faxing is accessible through mobile devices, laptops, tablets, and desktop computers.
This level of accessibility makes online faxing a more convenient option. It's an advantage for businesses with a mobile workforce or those that operate across multiple locations.
3. Security
Online faxing is a secure option for businesses as it eliminates the risk of intercepted faxes and forced access. In traditional faxing, faxes are transmitted through a phone line, which can be tapped into or intercepted.
However, online faxing transmits faxes via an encrypted connection, ensuring the utmost security and privacy. Furthermore, online faxing services typically store faxes in the cloud, ensuring that important documents are kept safe and secure.
4. Environmental sustainability
Online faxing is a more environmentally sustainable option than traditional faxing. Traditional fax machines require paper, ink, and toner cartridges, contributing to waste.
On the other hand, online faxing reduces the consumption of such items, resulting in less environmental impact. Furthermore, online faxing eliminates the need for physical faxes to be printed, reducing paper usage and promoting sustainability.
5. Ease of integration with other apps
Online faxing integrates seamlessly with other software and applications, making it a more versatile option for businesses. Emails, cloud storage services, and project management tools can integrate effortlessly with online faxing.
It streamlines business processes and reduces time and effort. Online faxing is an excellent investment as businesses increasingly rely on technology for various operations.
Panasonic KX-FT983CX vs. iFax: Which One You Should Go For?
Do you prefer digital over physical copies? Here's why iFax is a sure winner when it comes to efficiency, sustainability, and affordability.
iFax is the top choice for feature-rich, online faxing that's simple to use. Forget the bulky machines, toner, and phone lines. With iFax, you only need a connected phone, tablet, or computer.
Online faxing saves time and money by eliminating maintenance, repairs, and paper refills. Plus, the secure and user-friendly interface allows quick and easy fax sending and receiving from anywhere worldwide.
Panasonic only operates on a dedicated phone line, while iFax allows worldwide faxing with the internet. Panasonic is prone to paper jams, toner spills, and frustrating downtime. On the other hand, iFax is virtually error-free, taking away stress and saving you time.
In addition to its convenience and reliability, iFax offers a host of advanced features that make it a cut above traditional fax machines and even some online faxing services.
iFax allows users to customize their fax cover pages with their own logos and branding, and add digital signatures to faxes for identity verification.
The OCR (Optical Character Recognition) feature enables users to convert faxed documents into editable and searchable files. It makes organizing and searching for important information easier.
With these advanced features, iFax provides a powerful and versatile online faxing service that sets it apart from other companies in the market.
Sign up for a free account today and be amazed at how iFax can do wonders in your workflow.
affordable fax machines
fax equipment
fax machines
hardware