Fax machines have been around for decades, but they are still a reliable way to send documents. However, they can be expensive to buy and maintain. Plus, they often require a dedicated phone line. Depending on the equipment and volume of faxes sent, you could spend up to $2,000 annually.
Fortunately, there are smart ways to send a fax without a fax machine. There's no need to look for a nearby fax machine or center. This guide will show you how to send an online fax using your computer, email, or smartphone.
Table of Contents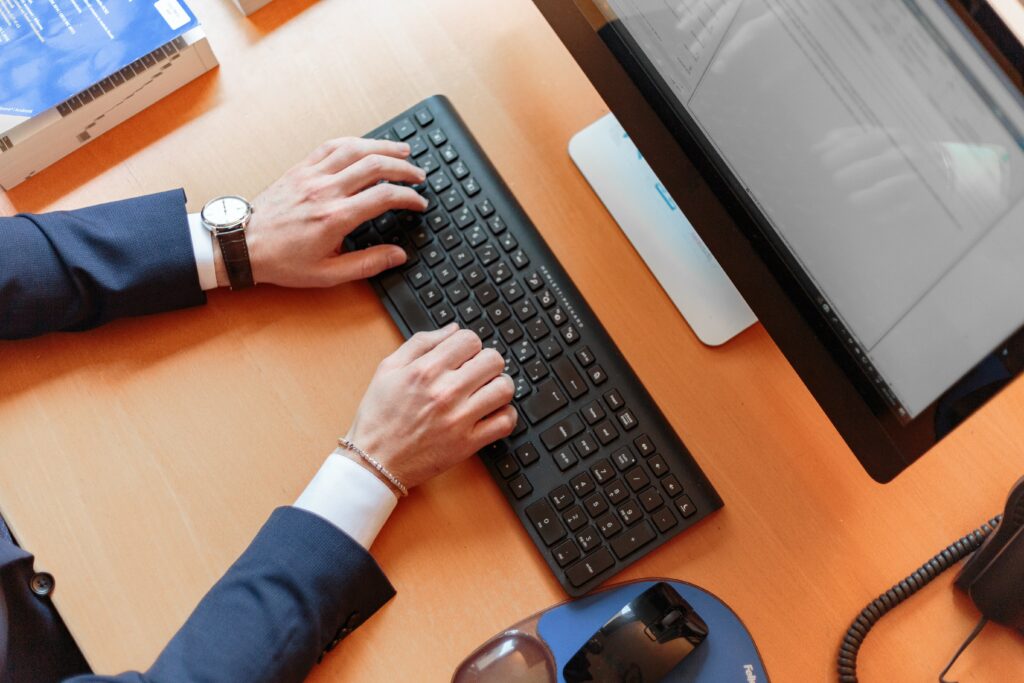 What Are the Requirements for Online Fax?
The best alternative to a fax machine is an online pay-per-fax service. It lets you send and receive faxes while on the go. You only need two things to enjoy this convenient service:
Internet connection – Wi-Fi or mobile data
Internet ready-device – mobile phone, tablet, PC, or laptop
What Is Online Fax?
Online fax is a software-as-a-service (SaaS) platform that works on a mobile device and computer. It allows you to send and receive fax messages through the application available on:
In short, you can fax from a computer or mobile device.
Service providers and app publishers develop these applications for personal and business use. Some will offer free fax numbers, while others will charge an extra fee, especially for toll-free or international digits. In general,
How much will it cost you? Most online fax solutions are available to download for free. A lot of providers also offer free trial periods. To unlock advanced features, you need to pay for a monthly or annual subscription.
Send a Fax Without a Fax Machine in 3 Easy Ways
Faxing online is like sending an email. Even if you are not digitally savvy, you learn the process in minutes. Once you're subscribed to an online fax service, there are three ways to fax without a machine:
Mobile application
Users who prefer to use a mobile phone or tablet need to download a mobile app. This method is convenient, versatile, and location dependent. As long as you have an internet-enabled device, you can send fax messages. The only caveat is that mobile devices often have smaller screens, which may make reading your documents difficult.
Here's how to fax from an Android or iOS smartphone using the iFax mobile app: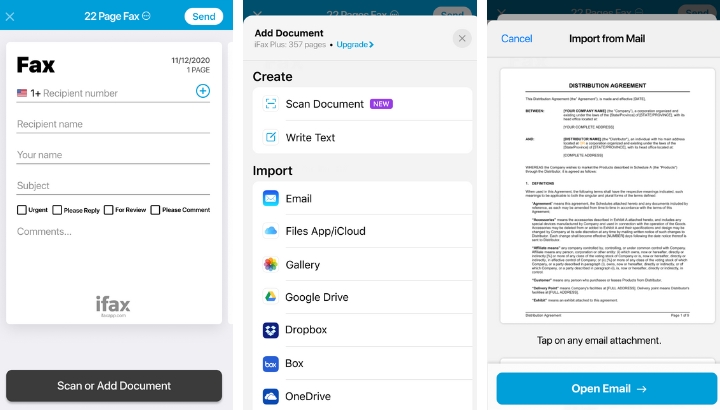 1. Download iFax from Google Play Store or App Store.
2. Launch the app, then click Continue. It's a prompt for a 7-day free trial. You can cancel anytime.
3. Choose a country to get a free fax number.
4. The main dashboard will pop out. Click New Fax.
5. Enter the recipient's fax number and name. Don't forget to include a subject line.
6. Tap Scan or Add Document to attach a document. This allows you to scan or import a document from your device or cloud storage.
7. Once you are finished, click Send.
Web application
A web application is a computer program that runs on a web server. You can access it through a browser. It provides a rich, interactive user experience. Developers create web apps for online shopping, social networking, video streaming, and real-time collaboration. An online fax service web app is an example.
You don't need to install a program on your device. Most fax solutions have web apps that allow you to access faxes online. Active accounts can fax anytime from a PC or a laptop.
Here's how to fax from a PC or laptop using the iFax web app: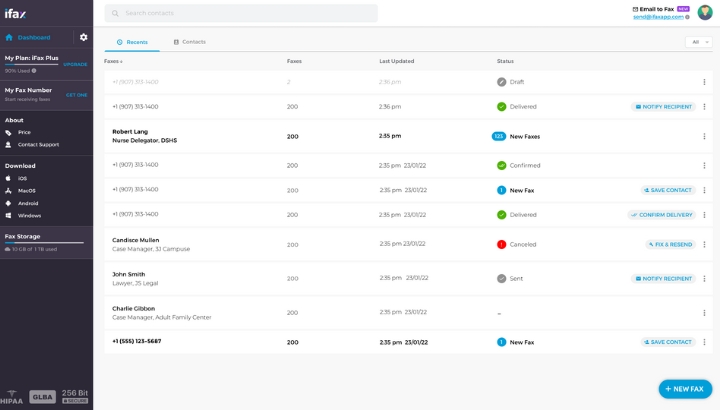 1. Visit the iFax website and sign up for a free account. After completing the registration process, you will see the main dashboard of the web app.
2. Launch the fax software from your Programs menu or Start menu.
3. Log into your iFax account.
4. Go to the left panel and click New Fax.
5. Enter the recipient's fax number and the rest of the required details.
6. Click Add Document to upload the documents you want to fax.
7. Click Send.
Email to fax
Email to fax is an advanced feature that online fax service providers offer to premium users. You can send a fax from your email client without installing a fax app. Regardless of your operating system, you can fax as long as you have an active subscription.
The fax provider will convert the email format of the fax into a printed version on the recipient's fax machine. Gmail, Outlook, and even your corporate email can be used to fax a document. If the recipient has an online fax service account, they will receive a digital version of your document. Online faxes are usually sent and saved as PDFs.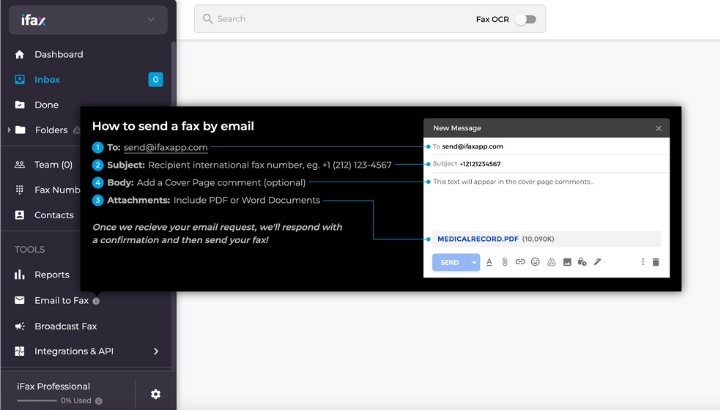 Provided that you already use iFax as your online fax service, here's how to use the email-to-fax feature:
1. Open your email Gmail, Outlook, or Yahoo account.
2. Compose a new email. In the "To" field, put "send@ifaxapp.com."
3. In the subject field, fill in the fax number of the recipient. Do not include any spaces and dashes.
4. Enter details in the message section.
5. Attach files like PDFs and Word documents, just like you would in a regular email.
6. Click Send. You'll get a notification once the fax is delivered successfully.
iFax will prompt you to enter the recipient's email address to notify them you sent a fax. You may close the window and return to the main dashboard if you want to skip this.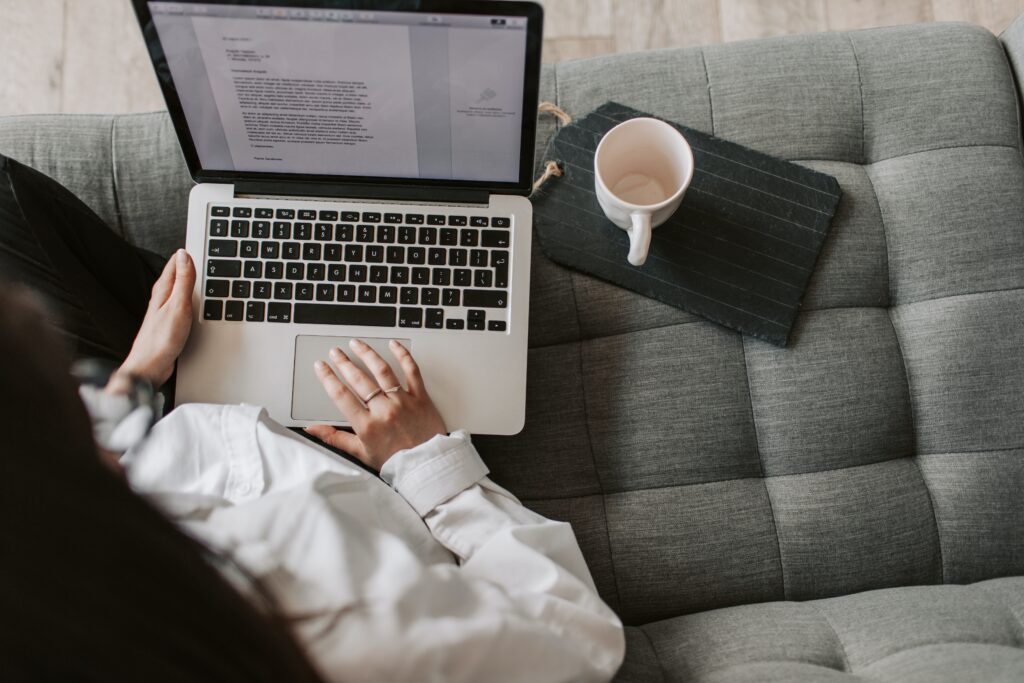 Can You Fax Without a Machine for Free?
Yes, you can via online faxing. iFax lets you send up to five pages per month for free. If you fax documents occasionally, this is the best option for you. You don't need to go to a nearby fax service center or invest in an expensive fax machine. You don't even need a dedicated fax phone number.
Is It Possible to Fax Without a Phone Line?
Yes. There are two ways: use a multifunctional printer (MFP) or an online fax app.
1. If you plan to use an MFP, ensure that the hardware supports an internet connection. It must be capable of faxing without a phone line.
2. Most online fax services work by routing your faxes through a dedicated server. The document is converted into a digital format when you send a fax and then transmitted to the server. This process is made possible by specialized fax software that handles the conversion and transmission.
A Powerful Fax Solution in Your Pocket
Faxing online isn't that complicated. With iFax, you can fax anywhere. It's as easy as sending an email to a friend.
Find out why more than 5 million users rely on iFax. If you haven't tried iFax yet, download the mobile app on Google Play Store or App Store and explore the features at your own pace.
fax online
fax without machine
internet fax
online fax
Send Fax Online