Sustainability and going green in business is becoming the new norm. Is your business keeping up with the shift towards sustainable business models?
Accenture Strategy held a survey back in 2018 on how much the brand's purpose has an impact on its success. The survey covered almost 30,000 people from 35 countries.
What they found is that from the factors that make some brands more attractive than others (aside from price and quality of products/service), 66% of respondents stated they prefer brands that are transparent about their business: how they source materials or treat employees for example, while 62% of customers are drawn to brands that believe in reducing plastics and improving the environment.
Table of Contents
Green is the New Black
The "going green" trend is prevalent across all industries, with small and large businesses making an effort to become more environmentally responsible.
The majority of corporate responsibility and sustainability reports – 67% – from the largest enterprises now include their carbon emission cut targets, reveals the KPMG Survey on Corporate Responsibility Reporting from 2017.
This is a direct result of consumer preference trends that demand companies focus on more than just selling product and services – now they must incorporate values that their customers hold in high regard into their operations and target goals – values such as lowering their environmental impact, as well as inclusion, transparency and empathy.
The regulations are catching up too: In the EU, it's the Non-Financial Reporting Directive that dictates all large companies in the EU must disclose environmental, diversity and social information.
JWT Intelligence published their report on sustainability trends in business that reveals how much consumers care about minimising the environmental impact with their actions: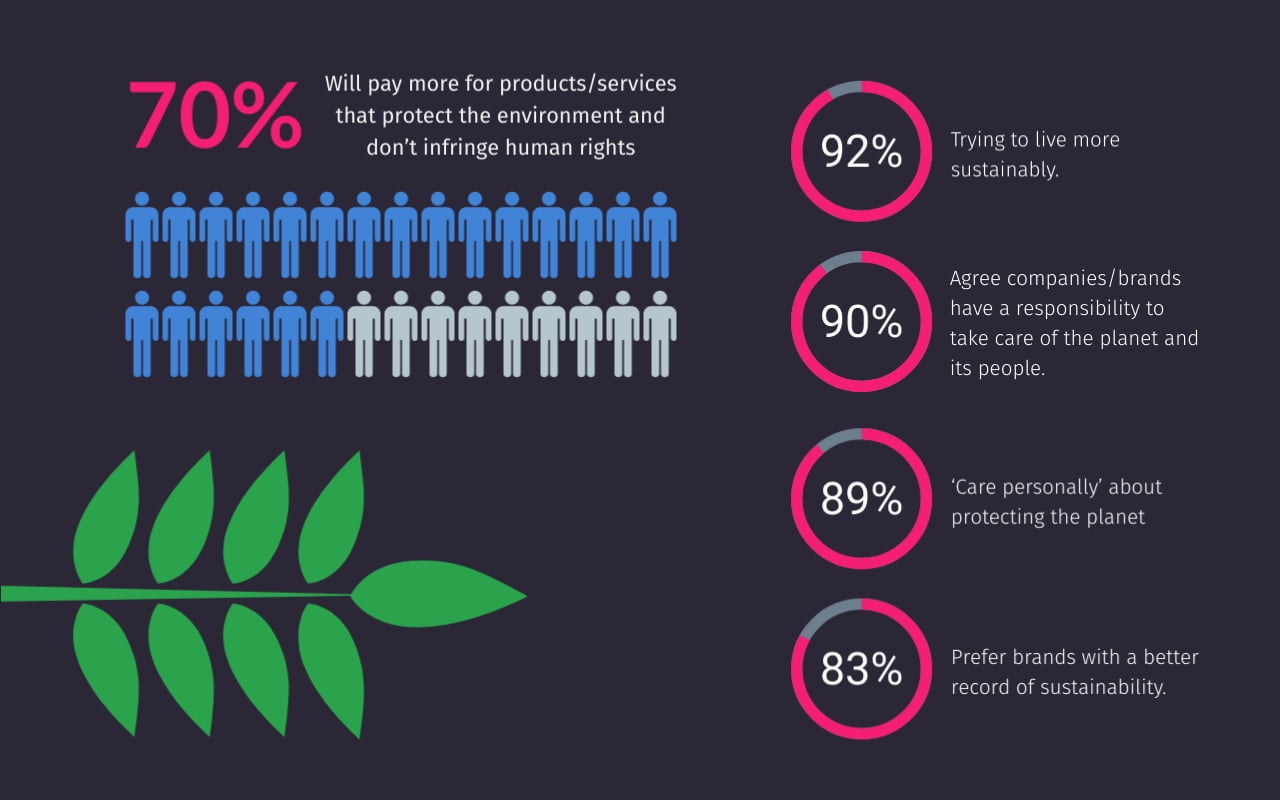 Another insight from their report revealed that consumers currently feel they cannot make informed choices and that 86% believe there is too little information about sustainability efforts.
This is a clear signal that old models of operation must be left behind in favour of new technological solutions that will not only make your business greener (making you the superior choice in the eyes of consumers) but also help reduce or completely eliminate many overhead costs.
Here's what your business can do to fully embrace the "going green" trend:
#1 Ditch on-site servers and use cloud servers
Onsite servers are a resource drain. They are a large upfront investment that many businesses struggle with, not to mention the overhead they produce – they require space, must be kept at optimal temperatures and need continuous power to have satisfactory uptime, all of which brings your rent and electricity bills up.
This is because there is always a surplus in server, networking and storage infrastructure that's deployed when compared to how much is actually needed.
On-site infrastructure is also more susceptible to downtimes, as well as data loss due to their location and limited backup options.
Cloud servers, on the other hand, store all data off-site, in remote data centres that employ superior infrastructure efficiency. In general, cloud computing reduced the need for IT infrastructure you have on-site.
It's highly flexible and can be upgraded or downgraded as your requirements change. This flexibility makes cloud computing a great alternative, as it eliminates the need for physical upgrades that are much more expensive.
#2 Use cloud storage and become a paperless business
Instead of printing all documents that are necessary and storing them in their physical form, start digitizing all your documents. Digitize all your data – scan everything you already have printed out.
By opting for the paperless approach, you will be able to remove all the storage file boxes and put all the files (after retracting data!) into the recycle bin.
You will also declutter your offices and create more space on the shelves.
Most importantly, you'll have all your files easily accessible, you'll be able to find them much quicker, and they will be easily accessible and shareable.
#3 Use online faxing instead of keeping faxing machines
While considered relics from the past, fax machines are actually still heavily used in the business world, particularly in the health and legal circles. They transfer vast amounts of documents and are seen as the only safe option for lots of sensitive data due to them not being connected to the rest of the systems.
On the other hand, lots of businesses are using all-in-one systems that combine fax machines, scanners and printers, and these are connected to the network.
Since fax machines can't be encrypted because the technology doesn't allow it, they become a security risk too!
Business faxing solutions offer a way to reduce a carbon footprint, as you won't have to keep physical machines in the offices, which will automatically reduce the amount of paper, space you need, and the electricity you use.
Besides, when you send a fax online, you will have a benefit of sending it over a safely encrypted connection that can't be intercepted by malicious actors.
Cloud faxing is an emerging trend that many industries are embracing since it makes faxing more convenient. You won't have to print out a document to send it via your fax machine anymore. Now, you can send a fax from mobile too by using an application such as iFax App, available for iOS and Android.
Online faxing is a much safer alternative because unlike fax machines, online faxing services are encrypted, ensuring that all the faxes sent that way to reach their recipient risk-free. iFax, for example, will only send faxes to recipients that can guarantee the same level
#4 Fix your computers instead of buying new ones
Do not replace your computers as soon as one of them lacks the performance to do the tasks it was doing until now. Instead, see if you can upgrade it to perform well.
You will be reducing the amount of waste generated by your company, as you won't be disposing of a whole device, and your investment will be much smaller when you just buy a few key components instead of buying a whole new unit.
#5 Use smart energy-saving solutions
Reducing energy consumption in your offices can go way beyond choosing cloud servers and online faxing services.
Implement smart lighting and HVAC systems that will learn how you like to keep your offices and set up your preferred parameters only when you occupy them.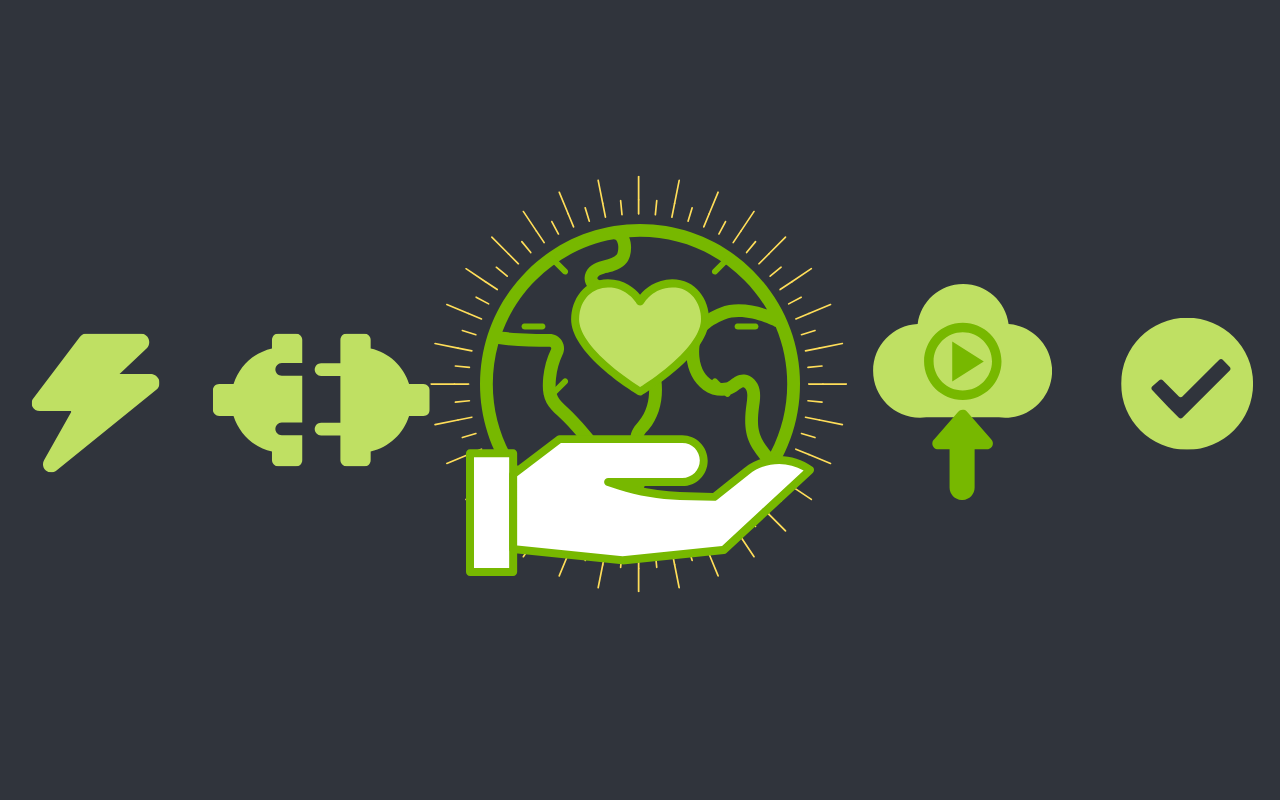 Light sensors will keep the lights on when you enter the room and automatically turn it off once the office has been vacant for a period of time.
Smart thermometers can learn what temperatures you like during the business hours and will automatically adjust them during the day to suit your needs.
Make green part of your corporate culture
Going green and becoming a sustainable business is a necessary step in times of heated debate over climate changes and the human impact on them.
By making the choice to reduce on-premise machinery and accept paperless business models, and actively nurturing such practices in your company, you can become a greener business.
Take the first step today and use a better faxing alternative with iFax online faxing solutions. Send faxes directly from your computer or mobile phone, and put the days of using a faxing machine behind you.
internet fax
online fax
paperless fax
paperless faxing
Send Fax Online