A fax cover letter or fax cover sheet is a must to protect sensitive documents from accidental disclosure. Without it, you risk exposing confidential information, especially if you regularly send faxes to healthcare, legal, and financial institutions.
Depending on the severity of the situation, you may face severe consequences, such as paying hefty fines for noncompliance. You also risk losing your client's trust, which could negatively affect your sales and business reputation.
Luckily, learning how to write a fax cover letter is relatively easy. Here's what you need to do.
What to put on a fax cover sheet?
A fax cover sheet typically includes the recipient's name and fax number, the sender's name and fax number, the number of pages being sent, and a brief message or subject line. It may also include the date, the fax machine's phone number, and any additional information or instructions.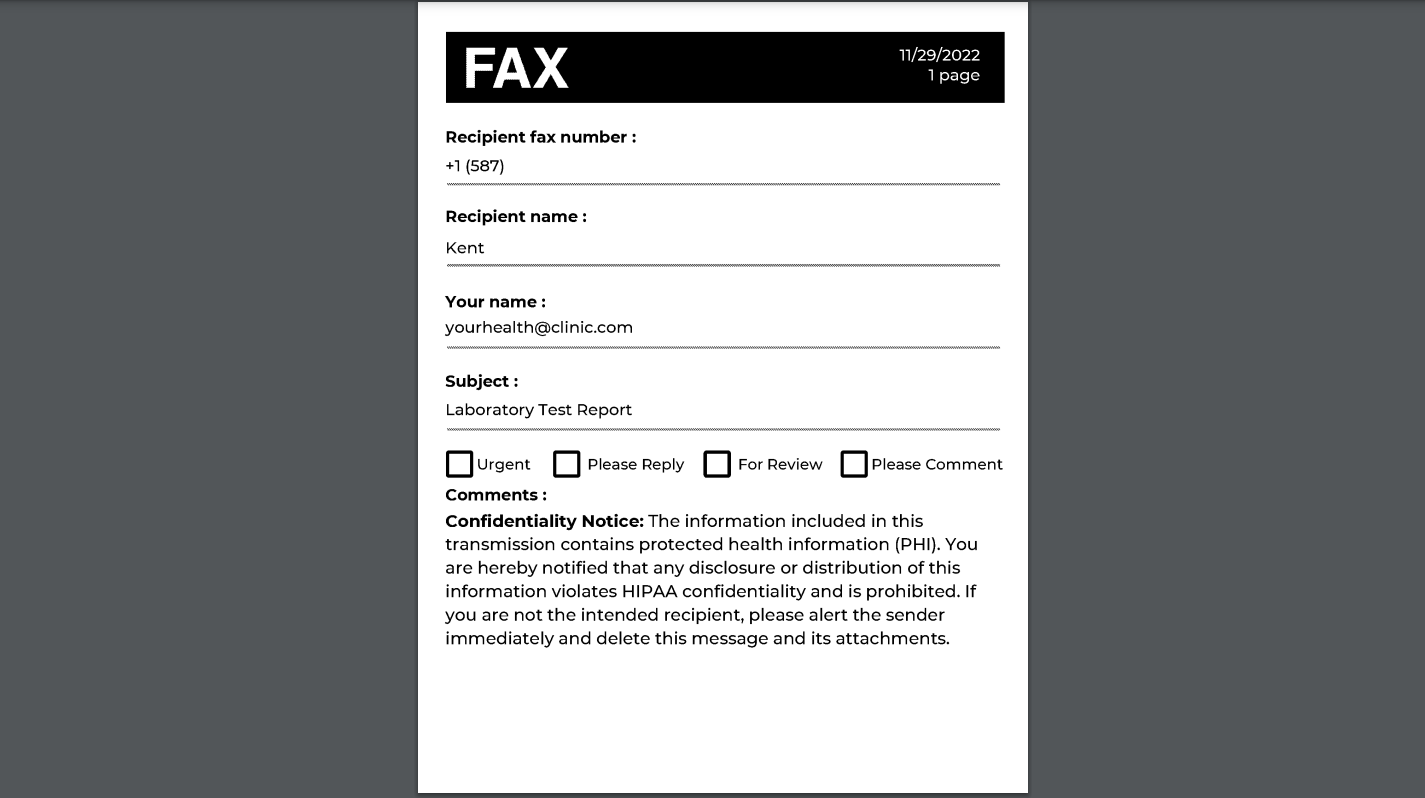 Is a Fax Cover Letter Necessary?
Yes, including a fax cover letter is essential. For one thing, it tells your recipient who you are and your purpose for faxing. If your fax contains confidential information, the person who receives it can forward the document to the correct recipient using the information provided in the cover sheet.
Besides, you can't always guarantee a successful transmission. What if you entered the wrong fax number? The office you're trying to send your fax probably has a shared fax machine, so there's a possibility that your document could fall into the wrong hands.
There's no telling when things could go wrong, so including a cover letter can help secure your faxes. It also helps your business stay compliant, especially if there are privacy and confidentiality standards like HIPAA, GDPR, GLBA, and UETA that you need to uphold.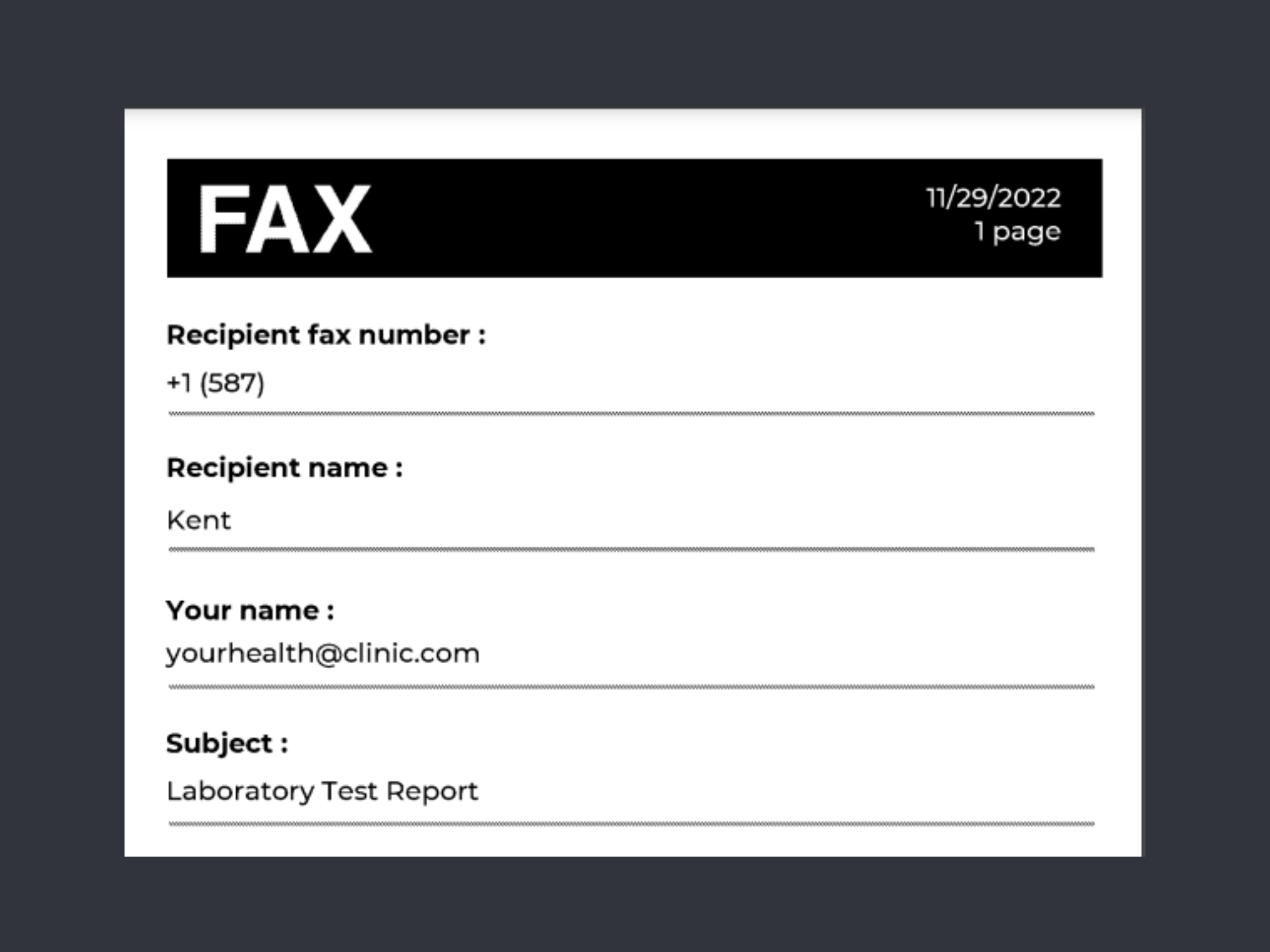 What Should a Fax Cover Sheet Include?
The first step in writing a fax cover letter is knowing what information to include. Make sure it contains the following:
Sender's name and contact information
This section should include your name, office address, fax number, email, and mobile number. Displaying these details on the cover sheet will make it easier for recipients to contact you. An excellent example would be when you are broadcasting promotional messages. You can have recipients send their replies via email or a toll-free fax number.
Sender's company name and logo
For business fax cover letters, it's a must to include your company name and logo. Even if your fax might be treated as spam, your recipients can tell at first glance whether the fax comes from a trusted and reliable source. They simply need to see the cover letter logo.
Date and time of fax transmission
This is crucial if you're sending faxes with time-sensitive information. You can refer to the time and date shown on the cover sheet to verify the validity of a transaction. It also serves as proof in case there's a need to confirm the document's authenticity or double-check whether the fax has been successfully delivered.
Total number of faxed pages
Displaying this information can help recipients verify whether there are missing pages. When showing the total number of pages, you should always include the fax cover sheet in the count. For example, the total page count should be six when faxing a five-page membership form.
Recipient's name and contact information
Including this information is a must whether you are faxing documents to single or multiple recipients. This way, the person or department can quickly identify the document's addressee. If you cannot provide a specific name, you can indicate your recipient's job position or title. For example, you can address your fax to the head of marketing or external relations officer.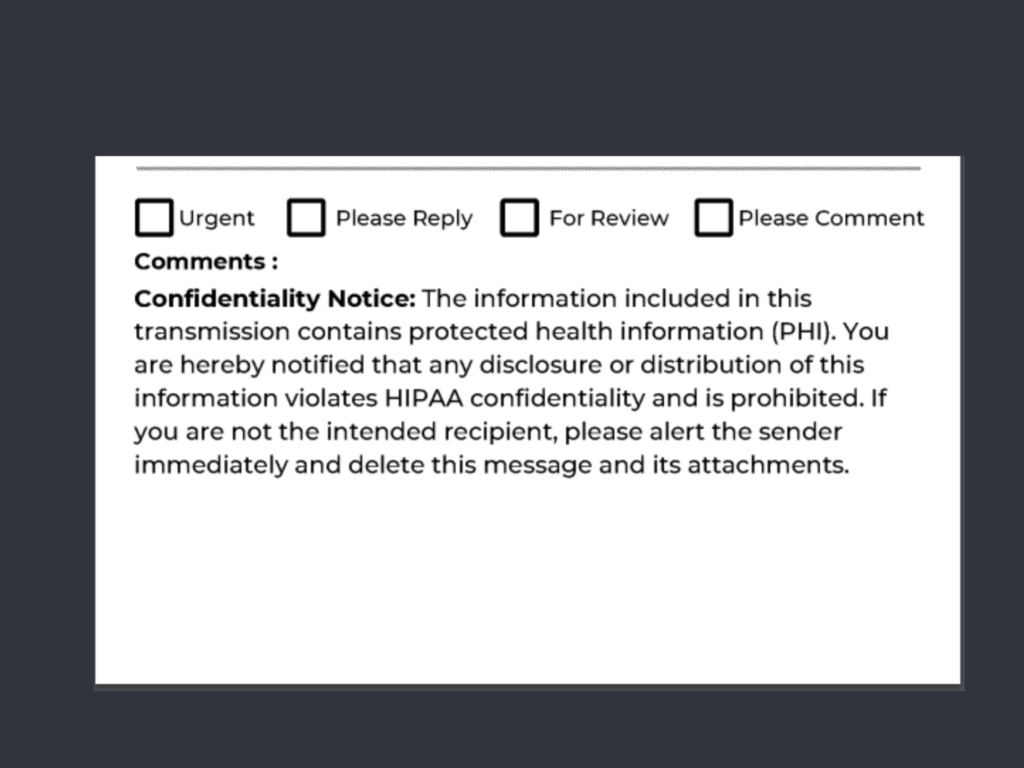 Confidentiality notice
A confidentiality or privacy notice is necessary to warn recipients about the prohibited use of confidential information. You must include this notice every time you fax a document that contains private information, like a laboratory request or financial report. You can also include a notice asking the recipient to destroy the document copy in case they receive it by mistake.
Summary or description
When applicable, you can also write a summary or overview of your fax message. This way, your recipient will have a general idea of what your fax message is about. You can also include a list of all the documents attached.
Relevant notes
Adding relevant notes can help identify whether your fax message requires urgent attention. It can be as simple as a checklist displaying the actions that you'd like your recipient to do. Here are a few examples of the options you can include in your relevant notes:
Urgent
Please reply
Please comment
Please review
As long as you keep these pointers in mind, you'll learn how to write a fax cover sheet or letter in no time.
Fax Cover Letter Example
Below is a fax cover letter sample that you can use as a reference.

				
					
[Your company name and logo]

[Date and time]
[Total number of faxed pages]

To: [Receiver's information]
From: [Sender's information]

Subject line: [Write the subject of your fax message. Make it clear and concise.]

[First paragraph. Write a brief overview of what your fax is all about.]

[Second paragraph. Indicate the reason why you are sending the fax.]

[Closing paragraph. Remember to end your fax cover letter with a positive note.] 

[Relevant notes]

Urgent 
Reply needed
Please comment
Please review
				
			
Effortlessly Create Fax Cover Letters With iFax
With iFax, you can save yourself from the hassle of creating fax cover letters from scratch. All you need to do is send a fax, then choose a cover page from the menu. You may also customize it to suit your needs and preferences.
To add a cover letter to your fax, you simply need to:
Log in to your iFax web dashboard.
Click New Fax > Compose Fax.
Select a cover letter by scrolling through the menu.
Remember to add the receiver's information, sender's information, privacy notice, and relevant notes.
To add your company logo, click the three dots icon at the top-right of the compose window. Select Add Logo, then upload your logo. Click Save.
Add the documents you want to fax and click Send.
Try it yourself and see how easy it is to fax with professionally designed fax cover letters.
fax cover letter
fax cover page
fax cover sheet