It's hard to imagine life without mobile applications in our modern world where we rely on the internet and gadgets. They help us get things done faster, more efficiently, and smarter. Additionally, mobile devices have become more powerful than ever as their functions transcended communication and staying connected – you can now bring work wherever you go.
The mobile devices' advanced capabilities, such as location services and faster data connections, make mobile applications even better than their desktop counterparts for performing tasks such as browsing the internet and sending and receiving emails. These mobile apps provide quick access, improved user experience, and unique features like sending and receiving faxes online.
This article teaches how mobile fax apps can help users send and receive documents using mobile devices without relying on fax machines or scanners. Find out everything you need to know about fax apps, the pros and cons, and how to get started below.
Table of Contents
What Is a Fax App and What Can It Do for Me?
A fax application allows users to transmit documents over the internet via their mobile device by using data, internet, or Wi-Fi connections. It can also receive scanned documents from other devices for viewing on your device's screen or save them onto your smartphone's camera roll for later viewing on another machine with access to email, cloud storage services like iCloud, Google Drive, and Dropbox.
Fax apps are a fast and easy way to send and receive documents, invoices, contracts, or other vital communications without using paper. You can even use eSignature on faxes, so you never have to print it again. Moreover, compromised data is less likely to happen because most fax apps offer secure transmissions of your sensitive information during the process.
Most mobile fax apps can work across several platforms such as iOS, Android, Windows, and Mac, making it convenient for you to download the app on a compatible mobile device or computer. Companies and publishers developing and designing these fax apps use robust IT infrastructure.
The application is hosted in the cloud, data center, or a server to make it accessible for users virtually. Fax apps are also cloud-based mobile apps, as a network of powerful computing resources runs them to ensure security and reliability.
On top of that, you can access the fax apps as long as you have an internet connection. You can make the most of the features without ever buying an expensive fax machine or visiting a store or outlet to send a fax.
A fax app solves the pain points most business owners, professionals, and individuals often experience – no more maintenance costs and no ink and toner replacements.
Why Use a Fax App Instead of a Fax Machine?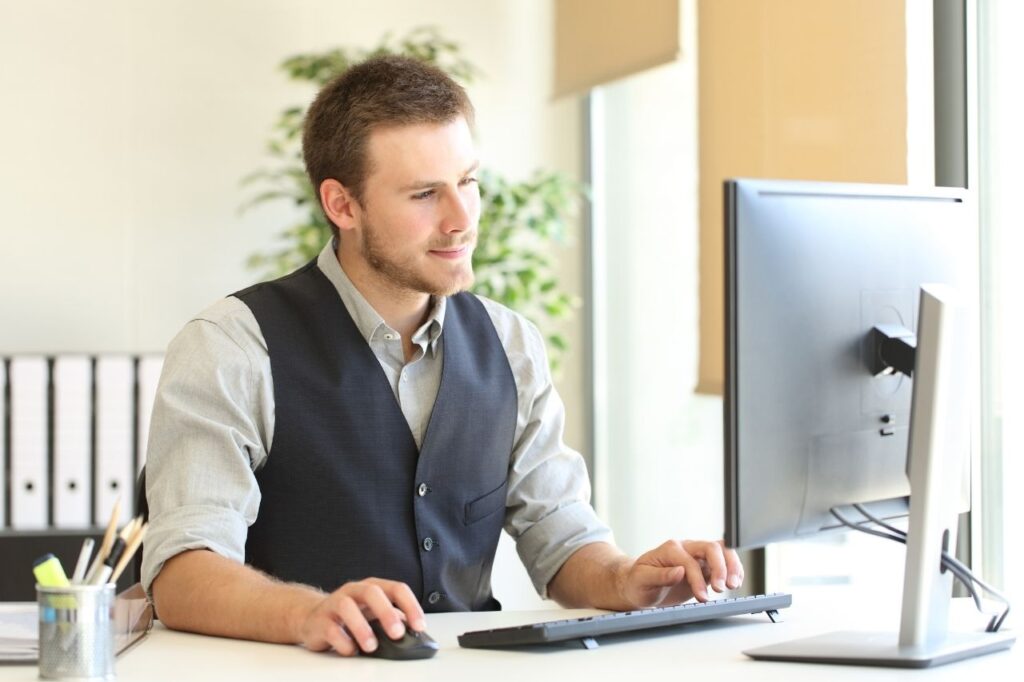 Do you remember the last time you used a fax machine? Chances are it has been quite some time. Why is this? There are many reasons why people have moved away from using physical fax machines in favor of modern alternatives like mobile fax apps.
To grow your business and improve your teams and employees' productivity, you have to take advantage of every technological advancement available through mobile apps.
Fax machines require a telephone line to make them work. You also need to use a modem, depending on the hardware you use on top of the ink and toner replacements, reams of papers every month because you're also printing documents whenever you send and receive faxes. When you use a fax app, your company experience:
Convenience – Mobile fax apps allow the staff to send and receive messages without going down the hall or leaving their desks. They can fax a document as long as their device has internet access, including laptops, tablets, and phones. They don't have to wait for others in line who also need to use the fax machine.
Speed – Modern fax apps provide faster service because there is no need for paper jams or misfeeds. Again, these are time wasters that you should get rid of at the office – these issues are common with older technology, but they rarely occur with mobile apps since you can fax in just minutes.
Productivity – If your company has large teams, sharing fax machines can be time-wasters because they need to leave their desk and wait for their turn when sending sensitive documents, especially handling hundreds of pages a day. With mobile fax apps on hand, they can do that anywhere and anytime because some online fax service providers offer an unlimited number of fax numbers that you can assign to each employee or team.
Nonetheless, companies who still use traditional fax machines have also good reasons why they haven't yet made a significant shift, especially when the line of business or industry requires their regular use of fax machines, such as healthcare, medicine, finance, banking, insurance, legal, real estate, and manufacturing.
Transitioning to a new fax system can be overwhelming and time-consuming because employees must also know the latest methods and apps.
However, with a mobile fax app built for businesses and enterprises, adapting to online fax services can be seamlessly accessible as long as there is complete support from the service provider.
Factors to Consider When Choosing a Fax App for My Business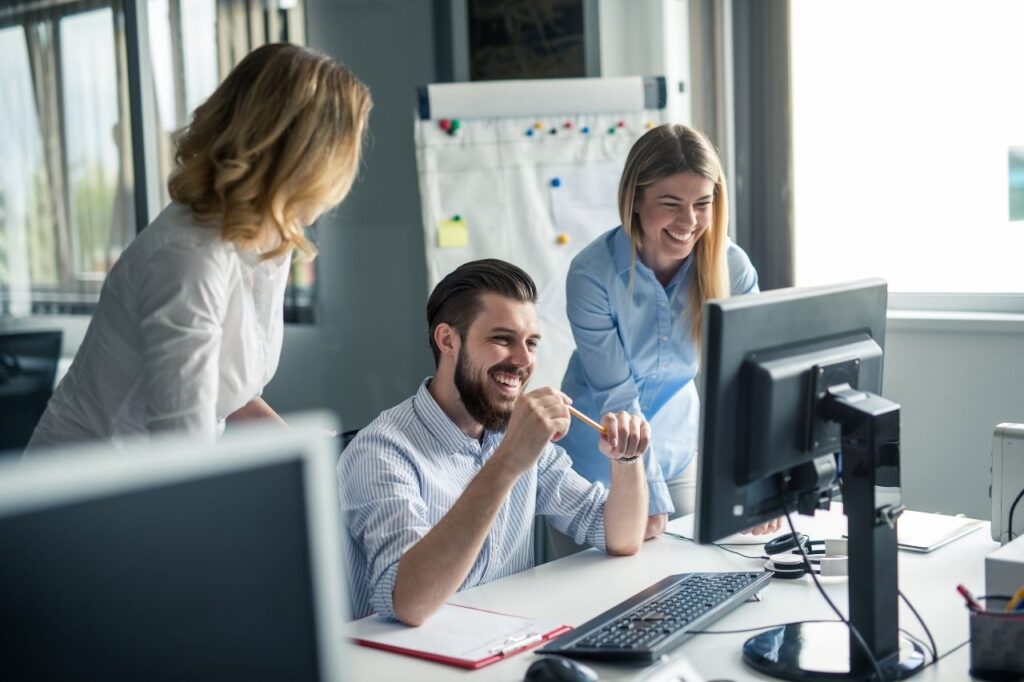 If you're a business owner, company, or enterprise looking for a fax app to use with your existing setup, there are many factors you should consider before making a decision.
From features and integrations to pricing and customer support, the right fax app will depend on what's most important to your needs as an organization. Let's explore some of those key points so that you can find the perfect fit for your business today.
Numbers of Pages Per Month
Mobile fax apps vary in the number of fax pages they allow per user. If you regularly send faxes every day, you may want to lean in between 50 to 100 pages per month. However, if you're running a business with large teams, you may go for 500 pages and above.
Look for mobile fax apps that offer customized plans that let you scale every month on the incoming and outbound faxes – it will help you manage the faxes every month.
Toll Numbers and Fax Numbers Availability
Most online fax services offer free fax numbers for those paying monthly or annual subscriptions. Check how many fax numbers they provide and the areas where you are allowed to send faxes.
Basic plans typically come with a free fax number, whereas some providers offer unlimited fax numbers if you plan to get an enterprise plan for teams. You can assign either employee or team a fax number and only pay for what you need.
Pricing Plans and Payment Options
Of course, price is also a consideration when purchasing a subscription, product, or service. Always check and compare the pricing plans of mobile fax apps you want to use, whether for personal, business, or corporate.
They are available in monthly and annual plans, pay-per-fax, and pay-per-page pricing models. Fortunately, most fax apps offer free trials, so you have time to explore the features on your own.
Choose a fax service that offers flexibility, such as cancellation and upgrade of accounts anytime. If you're not happy with the service, you have the freedom to choose other fax apps that are more affordable and more flexible.
HIPAA-Compliant Features
If you're in the medical, healthcare, and pharmaceutical industries, choose a mobile fax app that has HIPAA-compliant features to protect sensitive information and Patient Health Information (PHI) in fax transmissions.
Fully HIPAA platforms also have fax cover sheets and disclaimers that your employees and teams can use when sending faxes outside your organization.
Ease of Integrations With Other Apps
It would be best to choose a mobile fax app that's easy to integrate with other existing apps that the team is currently using to make it easier for everyone to adapt to the new fax system or app.
For example, most fax apps support cloud integration where you can connect your Google Drive, Box, Dropbox, and iCloud storage to import the files you want to fax online easily.
Aside from this, some fax apps companies specialize in providing custom faxing features like automation, broadcasting, and tracking in an enterprise environment. Your team of developers can build these features using a fax API from the company.
Support Team's Responsiveness
Is the support team available 24/7? It's best to choose a company with a human support team that you can call or chat within real-time.
Consider the support team's responsiveness, so anytime you need help, whether in functionality or technical aspects of the mobile fax app, they can provide solutions to your concerns.
Avoid chatbots and auto-replies, as these could delay getting the information you need, especially if you need an urgent response.
Security Measures
High-caliber mobile fax apps use military-grade encryption to protect the sensitive information you fax online. Look for apps that use 256-bit encryption because this is the strongest and most difficult to crack using brute force.
Above all, you should be able to apply extra-layer of protection such as two-way factor authentication (2FA) whenever you log in on your mobile device.
What Are the Pros and Cons of Using a Fax App for the Business?
Faxing papers has been around since the invention of telephones, but it can be hard to justify using fax in this digital era because there's email, right? That's where fax apps come into play.
Fax apps allow you to securely send and receive documents without using your phone line or an internet connection. Here's everything you need to know about fax app pros and cons for business.
Pros
Cost-efficient because you only pay a low monthly or annual subscription
You have complete control of how many faxes are being sent every month
It's environment-friendly because there's less use of paper and ink
You can be productive anywhere you go and while traveling
Increases security measures and accountability among staff assigned to each fax number
Easy management of faxes and contacts in a unified dashboard
No more fax machines, telephone lines, and maintenance costs
Reduces the clutter in offices and stores
Use any internet-ready mobile device or computer
You can use email to fax and fax to email options
Get real-time notifications and updates for incoming and outgoing faxes on your device
Cons
Requires training (and patience) among non-techie staff and those who are resistant to upgrades
Need to scan notarized documents to create digital versions on the computer
Pay for additional charges (pay-per-page in cents) when you exceed your monthly limit of pages
Some mobile fax apps may charge set up costs
The pros above outweigh the cons of using mobile fax apps, so the decision to make the big switch is up to you if you're still using legacy fax machines.
We hope the information above, including the considerations you need to consider, will help you make informed decisions for those not yet using a fax app.
How Can I Send a Fax From My Mobile Phone or Computer?
To walk you through sending fax online, we use an iFax account to show you how it works. There are two ways to send a fax from your mobile phone – a fax app and an email to fax option. The process works as long as you have a fax app subscription and your device is connected to the internet. Let's get started.
Use iFax Fax App Anywhere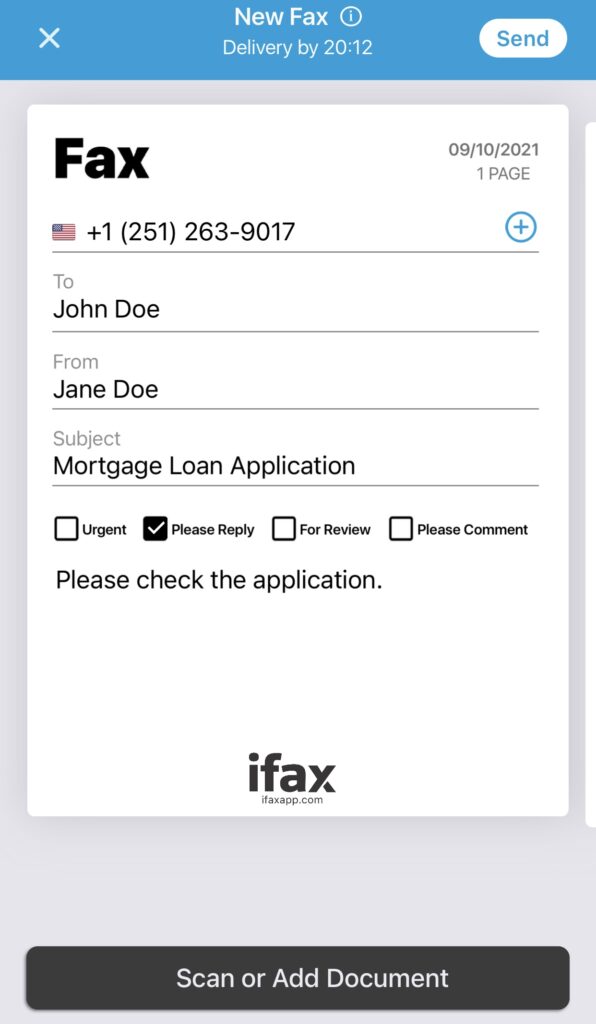 Launch the iFax app on your web browser and click the 'New Fax' button.
A fax cover sheet will automatically pop out on your screen. Fill in the details, including the recipient's name, fax number, sender's name, subject, and comments. Put a check in the small box to prompt the recipient what to do with the fax, such as review, reply, and leave comments.
Click 'Add Document' to upload the files you need to fax right away. Recheck the fax cover sheet information before clicking the 'Send' button.
iFax will ask you if you want to send an email notification to the recipient. You type in their email address, and you're done!
Send a Fax With Email to Fax Feature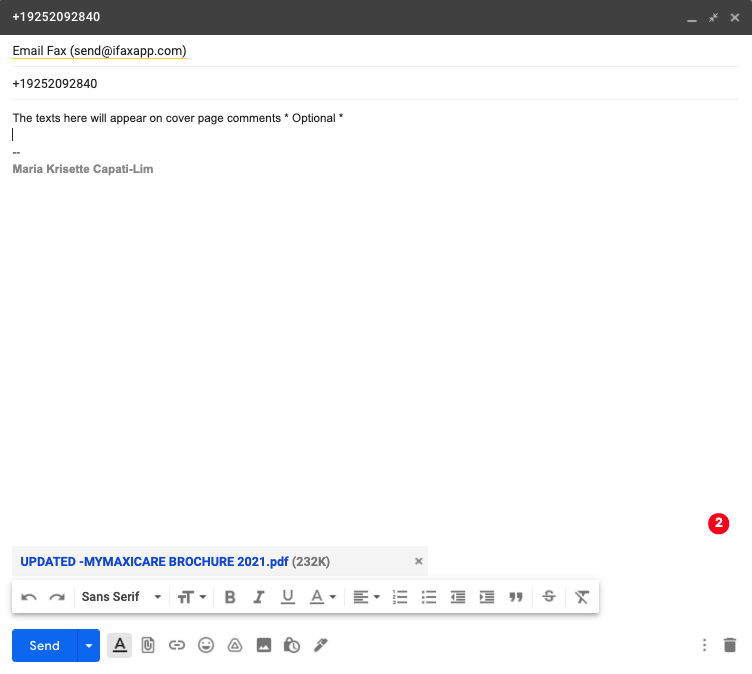 If you're always traveling for business, you can benefit from mobile fax apps' email to fax feature. Did you know you can send a fax by email using your Gmail or any email client of your choice? As long as you have an online subscription that supports this feature, you can do it in a breeze.
Launch your Gmail or email client and compose an email.
Send the fax to send@ifaxapp.com and type the receiver's fax number in the subject. Don't forget to include the local and international codes.
In the body, you can type your comments as these will be on the fax cover page, but you may also attach your own along with the documents you will fax. You may leave the body empty.
Attach the files (like you would add an attachment in email) from your computer, cloud storage, or take a photo of the document if you're using a mobile phone. And you're done!
Probably you're wondering how the recipient will receive the fax. The online fax provider will convert your digital files into printable documents, and the intended recipient will receive them on their fax machine.
5 Noteworthy Online Faxing Tips
So, you're ready to make the big switch to an online fax app? You can increase your productivity while reducing the expenses on your communication tools.
Now that you are equipped with everything you need to know about fax apps, we hope these online faxing tips and tricks can help you make the best of the service.
Activate the transmission receipt or delivery receipt so ensure you have a copy of the timestamp or when the fax was delivered. You can show this to the intended recipients if they want to have a copy. The compliance team can use these in an enterprise context whenever they conduct audit trailing.
If you have recurring faxes of invoices, purchase orders, and other billings, use templates, and a custom fax cover sheet meant for those faxes so you don't have to create new ones every billing cycle.
Take advantage of the fax broadcasting feature to send a fax to multiple recipients. You don't have to send that same fax ever again manually.
Companies in the healthcare and medical sectors use HIPAA-compliant fax cover sheets to protect the sensitive information sent online.
Undecided which mobile fax app you should use? Most fax apps offer a free trial, ranging from 7 to 30 days. You have full access to the features, so this is your chance to test and explore each service as you wish.
Final Thoughts on Mobile Faxing Apps and How to Get a Free Fax Online?
When it comes to sending a fax, is there any difference between using a mobile fax app or a traditional fax machine? The answer depends on your business needs.
Some people may prefer the convenience of being able to send and receive faxes from their mobile phones. In contrast, others might want the security of having a physical copy in case things don't go as planned with emailing documents.
However, when using mobile fax apps, you're more flexible than ever because you can send and receive faxes anywhere. Everything you need to know about fax apps is already provided, including the pros and cons, so take some time to consider what's ideal for your business.
If you're looking for a way to get started right away, we recommend downloading our free iFax app today! With our simplified dashboard, you and your team can easily transition to online faxing and get ahead of the tasks.
best fax service online
cloud-based faxing
fax apps
HIPAA compliance