Mobile phones have gone beyond calls and instant messaging — you can now use them to pay bills, order food, and even work from anywhere. It's not surprising that 85 percent of Americans own a smartphone.
What makes this possible? Mobile apps. They have turned our communication devices into tiny yet powerful computers. As with most online tasks, you can now use mobile fax apps to transmit and receive documents. Instead of relying on fax machines and scanners, all you need is your smartphone or tablet.
With an online fax service, you can send and receive faxes directly from your device, eliminating the need for dedicated hardware. It's a game-changer in terms of flexibility and efficiency. Find out everything you need to know about fax apps in this article.
Table of Contents
What Is a Fax App?
A fax app allows you to transmit documents over the internet through a mobile phone, effectively eliminating the need for a traditional fax machine. It also makes it possible to receive scanned documents from other devices for viewing and editing.
You can save these online faxes on your smartphone or tablet. It's also possible to upload and sync them to cloud storage services like Dropbox, Google Drive, and OneDrive.
To start with, simply download a fax app on a compatible mobile device or computer. You'll need to set up a fax number within the app, which will serve as your unique identifier for sending and receiving faxes. Most mobile fax apps work across several platforms, including iOS, Android, Windows, and Mac.
Keep in mind that you'll need the following to send a fax online:
a fax service subscription
an internet-capable device
a stable internet connection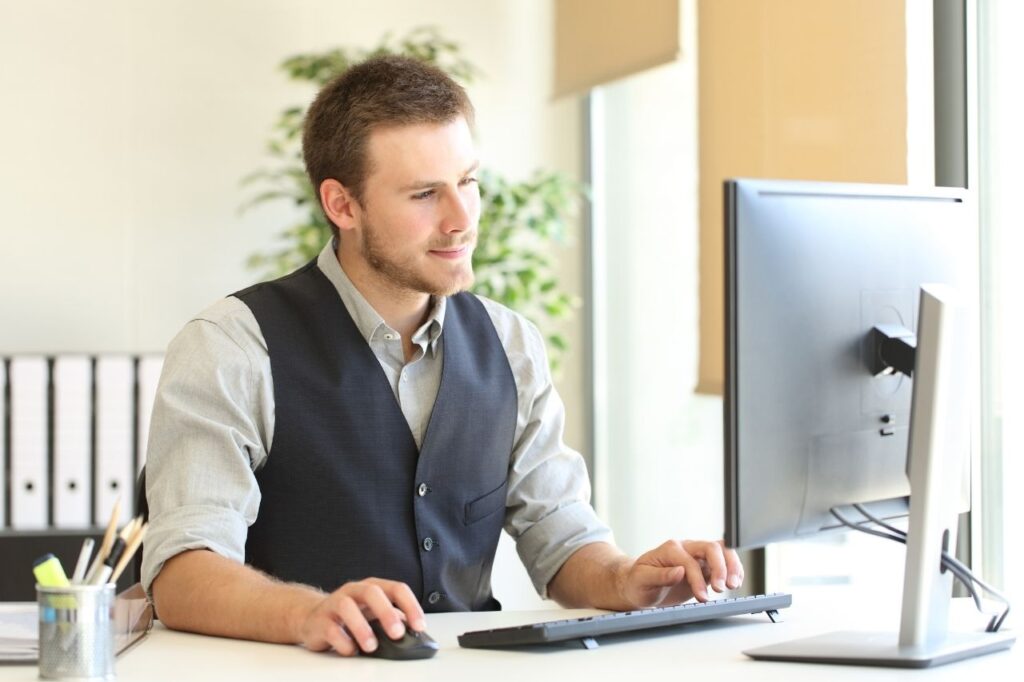 Why Use a Fax App Instead of a Fax Machine?
When you choose a fax app over legacy fax machines, you will experience the following benefits:
Convenience
Your team can fax documents without leaving their desks, so long as they have internet access and a laptop, tablet, or smartphone. They no longer have to wait in line to use the office fax machine.
If you are on a business trip, you can access faxes from a mobile device. View, edit, and scan an urgent fax document using your mobile app. Send a fax message immediately as if you're sending an SMS. For example, a real estate agent can fax a signed contract even while they are out of the office and showing houses to a client.
Security
Encryption ensures that the document in transit is protected from unauthorized access and alteration. Premium mobile fax apps use military-grade 256-bit encryption, the highest and most secure type available.
Compliance with international data privacy laws is also important. Many mobile fax services follow HIPAA and other regulations like GLBA in the United States.
Some people still prefer having a physical copy in case things don't go as planned. When using mobile fax apps, you're more flexible than ever because you still have copies of faxes in your account and in the cloud — all in one place and safe.
Cost-effective
With a fax app, you can send and receive documents electronically, so there's no need to print them out. This can save you a significant amount of money over time if you're faxing frequently. You are also doing a favor to the environment because you help reduce your carbon footprint.
With a traditional fax machine, you have to worry about repairs and upkeep. But with a fax app, all you need is a computer or smartphone and an internet connection. There's no need to worry about costly maintenance, repairs, or replacements.
Top Reasons for the Slow Adoption of Fax Apps
While the benefits outweigh the challenges, some companies are still hesitant to embrace mobile apps because of the following reasons:
No knowledge about the benefits of fax apps
Lack of support from the fax service provider
Limited training for employees on how to use new technology
Lack of empathy for employees who are intimidated by technology
Lack of support from C-level executives and stakeholders
Perception that switching to fax apps is time consuming
Factors to Consider When Choosing a Fax App
The right fax app will depend on your company's size, needs, and budget. Check the following before you commit to a long-term solution.
The number of pages per month
For regular faxing, go for plans that let you send between 50 to 100 pages per month. But if you have a large team or need to send a high volume of documents, choose a plan that lets you fax 500 pages or more.
Availability of fax numbers
Ask if you can assign a fax number to each department or employee. Make sure you only pay for the numbers you need. While basic plans typically come with a free fax number, enterprise plans may charge a fee for each additional fax number. If you are a business owner, toll-free fax numbers are also available.
Pricing plans
Always compare the pricing plans of the mobile fax apps you want to use. Does the fax service provider offer customized plans that allow you to scale every month? This means you can upgrade anytime if you need more inbound or outbound faxes.
Choose from the following payment schemes:
Monthly
Annual
Pay-per-fax
Pay-per-page
Fortunately, most fax apps offer free trials, so you have time to explore the features on your own. iFax stands out as it provides a lifetime of free faxing, allowing you to send up to five pages per month.
HIPAA-compliant features
Choose a mobile app with HIPAA-compliant features to safeguard protected health information (PHI) transmitted via fax. If you violate HIPAA regulations, you'll need to pay a minimum fine of $50,000. If you are a covered entity, don't forget to use HIPAA fax cover sheets and disclaimers when sending confidential information.
Ease of integration
The fax app must be easy to integrate with existing applications you use like Salesforce and HubSpot. It should also be compatible with your preferred cloud storage services for easy uploading and syncing of fax files. Some apps offer fax API for advanced functionalities like automation and broadcasting as added features for enterprise clients.
24/7 customer support
Make sure that customer support is available 24/7. If you need help on a specific feature, the team should be available to sort it out. Phone support and real-time chat are highly recommended. Email support is also acceptable, but make sure that the support team will respond within 24 hours if you need an urgent response.
Security measures
Aside from encryption, your faxing app should have extra layers of protection, including identity verification and two-way factor authentication (2FA). If you log in to an app with 2FA, it will prompt you to enter a unique code that expires in seconds. Entering the correct code proves that you are an authorized user.
How to Send a Fax From a Mobile Phone
Let's take a closer look at how you can transmit or receive faxes with a smartphone. We'll use the iFax app as an example.
Use a mobile app for faxing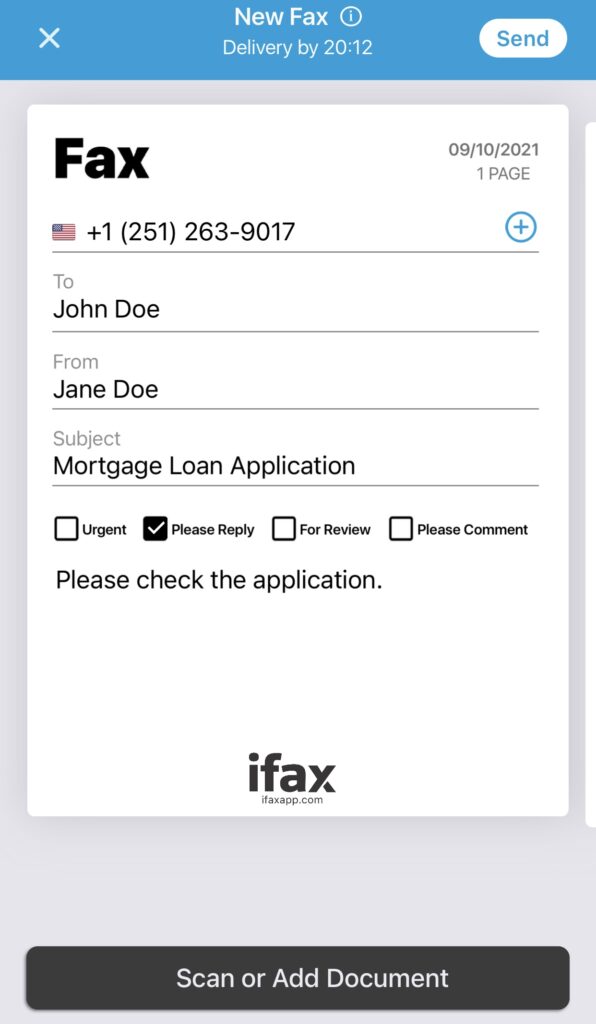 Go to the App Store or Google Play Store and download iFax. Register for free. Once you complete the steps, you will see the main dashboard.
Click the New Fax button. A fax cover sheet will automatically pop up. Type in the details, including the recipient's name, fax number, sender's name, subject, and comments.
Put a check in the small box to prompt the recipient what to do with the fax, such as review, reply, and leave comments.
Click Scan or Add Document to upload the files you need to fax. Recheck the fax cover sheet information before clicking the Send button.
iFax will ask you if you want to send an email notification to the recipient. You can type their email address, and you're done.
Use the email-to-fax feature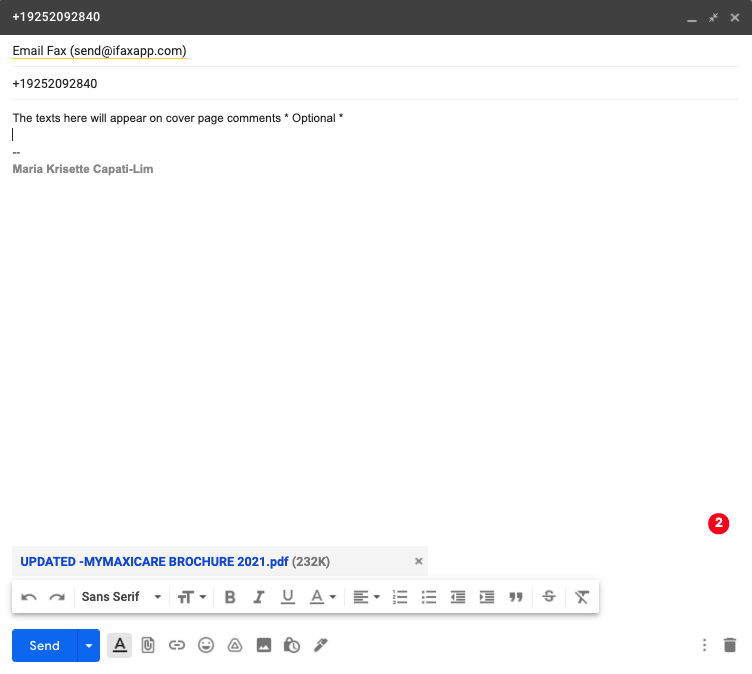 The email-to-fax option is available to Professional account users. You can use your Gmail or any email account of your choice.
Launch and sign in to Gmail or your preferred email app.
Compose an email. Send the fax to send@ifaxapp.com
Type the receiver's fax number in the subject. Include the local and international codes. Make sure there are no spaces.
In the body, type your comments. This will appear on the fax cover page. This step is optional.
Attach the files like you would add an attachment in an email. You may import it from your computer or cloud storage.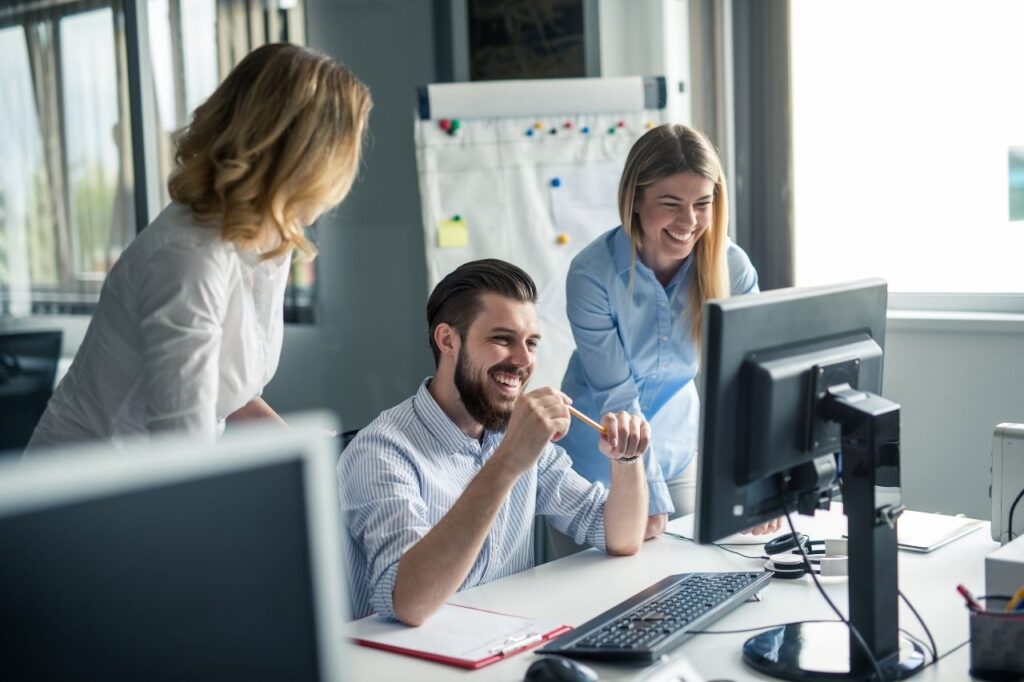 4 Noteworthy Online Faxing Tips
Now you know the basics of fax apps and how they work, here are additional tips to make the most of an online fax service.
Activate the transmission receipts
Transmission receipts are proof that your document was delivered successfully to the recipient's fax machine. This is critical information to have, especially if you're sending time-sensitive or confidential documents.
Without a transmission receipt, you would have no way of knowing if your document was actually received by the intended recipient. In the corporate setting, a compliance team can refer to it whenever they conduct an audit as part of an incident response plan.
Take advantage of fax broadcasting
Fax broadcasting is a must-have for small businesses and startups. It allows you to quickly and easily send a fax to multiple recipients without having to individually address each one. This can save you time and money.
Fax broadcasting also allows you to track which recipients have received your faxes, so you can follow up with those who have not. In addition, it can be used to send reminders or updates to recipients who may have misplaced or forgotten about your original fax.
Use OCR to scan documents
As anyone who has ever tried to send a fax online knows, getting an electronic document to look just right can be a challenge. With so many different file formats and settings to choose from, it's easy to end up with a document that is unreadable or full of errors. This is where OCR comes in.
Optical character recognition (OCR) allows you to convert scanned documents into editable text. This means that you can scan a document and then send it as an online fax without having to worry about the quality of the image.
OCR also makes it possible to search through faxes for specific keywords, which can be a huge time-saver when trying to find a particular document. Luckily, iFax supports this feature.
Maximize free trial offers
Free trials give users the opportunity to test out the service before committing to a paid plan. This way, you'll know if the service is a good fit for your needs. Free trials also allow users to try out features that they might not be able to use with a paid plan, such as additional storage or custom branding.
Most fax apps offer a free trial of up to 30 days. You have full access to the features, so this is your chance to test and explore each service as you wish.
Get Your Lifetime Access to Free Faxing With iFax
If you need to fax an urgent file, you can register for a free account with iFax. Enjoy a lifetime of free faxing. We recommend downloading the iFax app today. There's no need to provide credit card information when you sign up for an account.
You can upgrade anytime if you need access to advanced features. With our simplified dashboard, you can easily transition to online faxing using your mobile phone. Get started today.
best fax service online
cloud-based faxing
fax apps
HIPAA compliance