Companies are still using around 10 percent of conventional faxing – it's one of the most reliable methods when sending sensitive information. That's why having a fax number is indispensable when running a business.
A dedicated fax number provides more than an efficient way of sending and receiving documents—it also brings credibility and reliability that will impress potential customers and associates alike.
In this article, we'll look at how having a designated fax number makes conducting business easier while helping you build a strong reputation.
What Is a Business Fax Number?
A business fax number is associated with a standard fax machine or an online fax service. It allows you to send documents, images, and other business files from one fax machine to another.
Used as an alternative to email or postal mail, a business fax number is uniquely tailored for each company. It establishes itself as much more secure than its online counterparts.
It generally has the same number format as most telephone numbers. You may either apply for a telephone line to get a fax number or sign up for an online fax service for a virtual fax number.
Benefits of Having a Dedicated Fax Number for Business Communication
Your fax number can significantly impact your brand's image. When you purchase yours, you'll also reap these benefits.
1. Enhanced professional image
A dedicated fax number for your business gives the impression of a well-established and professional organization. In addition, when you purchase one:
It shows that your company takes communication seriously and is willing to invest in a dedicated line for fax purposes.
It adds credibility to your business and builds trust among clients, vendors, and partners.
When you have these, as mentioned above, you can have better working relationships and higher chances of success.
2. Improved organization and business efficiency
With a dedicated fax number, all communications are centralized and much more manageable. Here's how:
Separate essential documents like contracts, invoices, or purchase orders from other communications like emails or phone calls.
It helps maintain and manage fax logs efficiently, which can be crucial for auditing or record-keeping purposes.

Streamlines the process, allowing employees to locate and reference documents and fax messages quickly.
Improves productivity and reduces time-wasting activities because everyone knows where to get files and documents.
3. Reliability and reduced downtime
A dedicated fax number ensures that your company can consistently receive and send faxes without experiencing delays, disconnections, or interruptions. Here are the other benefits:
Business transactions requiring time-sensitive information relayed promptly, like signing contracts or issuing invoices, can be received instantly.
A dedicated line minimizes the risk of your fax number being busy or unavailable. It's because it's not shared with phone calls or other telecommunications services.
This reliability improves relationships with customers, suppliers, and other third-party entities who appreciate receiving prompt replies and updates.
4. Confidentiality and security
Fax transmissions are primarily more secure than email because intercepting them is difficult.
With a dedicated fax number, your business can ensure that sensitive data is not accidentally sent to the wrong recipient, minimizing the chances of confidential information falling into the wrong hands.
Moreover, as many regulatory bodies and industries require faxes to transmit sensitive data for compliance purposes, a dedicated fax line helps your business comply with industry-specific regulations.
5. Flexibility and scalability
A dedicated fax number can grow and adapt to the changing needs of your business. If your company experiences an increase in the volume of fax communications, adding more lines or upgrading to a more sophisticated fax system is more manageable.
Integrating a dedicated fax number with your existing communication tools, such as your email or document management system, can further streamline the process. It ensures that all employees can access and share essential documents efficiently.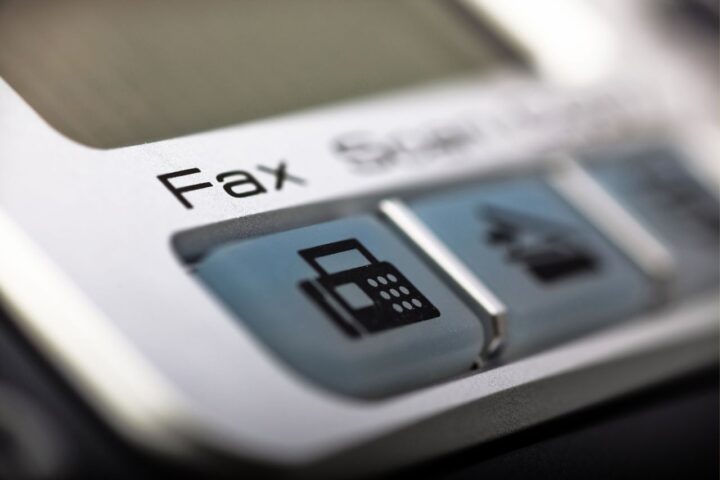 Common Uses of a Business Fax Number
Relying on emails for communication alone may not be enough. Let's dive into why investing in a business fax number can make all the difference.
Learn how to streamline workflow and manage processes like correspondence more efficiently.
1. Receiving important documents
In business, time is of the essence. That's why immediately receiving important information is crucial in making informed decisions and maintaining a competitive edge.
Companies deal with a high volume of essential paperwork daily. A dedicated fax line ensures that documentation is accessible from a unique, traceable number.
Say you're dealing with time-sensitive paperwork such as invoices or purchase orders. A dedicated fax number helps ensure that documents are received and acted upon promptly. It enables the company's financial management department to prevent potential chaotic backlogs.
2. Marketing and advertising
A dedicated business fax number allows companies to target a larger audience. Businesses can efficiently send bulk faxes containing promotional materials or new product announcements to many potential customers.
This is particularly useful for companies trying to penetrate new markets, launch new products, or expand their client base. Fax machines are still widely used, especially among older and more established businesses.
For example, a real estate company might use its fax number to send promotional materials to local businesses, potential buyers, and even real estate agencies to increase awareness of available properties.
Meanwhile, an advertising agency can also fax media kits, and campaign proposals will demonstrate a high level of organization and expertise to their prospective clients.
3. Financial transactions
Transmitting financial transactions requires a secure channel. That's why having a fax number is a valuable investment for any business owner. A secured line reduces the risk of fraud, data breaches, and other financial mishaps that can damage the company's reputation.
Say a supplier may need to send an invoice to you. They can send it immediately to your fax number instantaneously, without the need for printed mail or email.
Healthcare providers can send and receive sensitive financial documents, such as invoices and insurance claim forms, with a secure fax number. It contributes to the organization's financial stability and ensures patient satisfaction, as delays or errors in billing can lead to negative experiences for the patient.
4. Government transactions
Government agencies are required to adhere to strict standards and protocols when it comes to information handling and document processing. For instance, a business dealing with government contracts may need to send confidential financial or technical documents to a government agency.
Using a dedicated fax number for these transactions ensures the safe transmission of vital information. It maintains compliance with privacy regulations and federal requirements.
5. Medical records management
The Health Insurance Portability and Accountability Act (HIPAA) mandates strict security measures to protect patient information. Healthcare providers must ensure that their channels of communication are fully compliant.
Faxing provides a secure means of transmitting documents containing confidential patient information. It's less vulnerable to hacking or unauthorized access than email.
Healthcare providers frequently receive and transmit a substantial volume of records. A separate fax line dedicated to managing medical records ensures that these documents are not lost or mixed up with other faxes from different departments.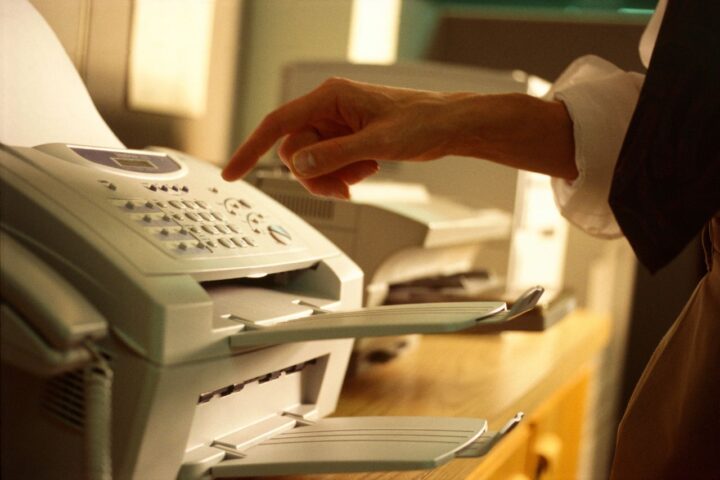 Setting Up a Dedicated Business Fax Number With iFax
Thanks to advanced technology, obtaining a business fax number has become simpler. Now, you can purchase a dedicated fax number online anytime, without the hassle of setting up a dedicated telephone line, through iFax.
Setting up a dedicated business fax number with iFax comes with various features designed to boost productivity and streamline operations.
First, you'll be granted the flexibility to choose a local, toll-free, or international fax number, depending on your business needs.
Second, iFax provides a user-friendly app, making sending and receiving faxes from any smartphone, tablet, or computer easy. This cloud-based platform means your documents are stored securely and can be accessed anytime, anywhere.
Third, iFax's robust security measures, such as SSL encryption, ensure that your sensitive data remains protected, giving you peace of mind.
Finally, iFax's cost-effective pricing plans cater to businesses of all sizes, making it affordable and efficient for everyone.
Investing in a dedicated business fax number with iFax positions your company for success by prioritizing efficient communication and streamlined document management.
Make your business stand out in the modern world of fast communication. Let iFax be the engine that drives your company's success.
business fax number
dedicated fax number
fax number
virtual fax number