If your company faces a high volume of fax transmissions daily, you should consider moving to a more secure and reliable enterprise fax solution. Secure fax servers safeguard your business processes, improve productivity and deliver significant cost savings.
Large organizations will likely already have an online delivery system for outbound and inbound faxes, though there's always room for improvement. On the other hand, small businesses need to go beyond simply sending sensitive documents to email addresses.
Such businesses need to embrace online faxing that integrates well with document storage and management tools, like Google Workspace and other custom-built business applications. That said, let's explore the top 5 best enterprise fax solutions below to give you an idea of how you can efficiently fax online.
What Are the Best Enterprise Fax Solutions?
Looking for an enterprise fax software that is reliable, efficient, and affordable? If so, you are in the right place. We will discuss the best enterprise fax solutions on the market.
We will provide an overview of each solution and talk about the benefits of using them. So, keep reading, whether you are looking for a new fax solution or just curious about what is out there.
iFax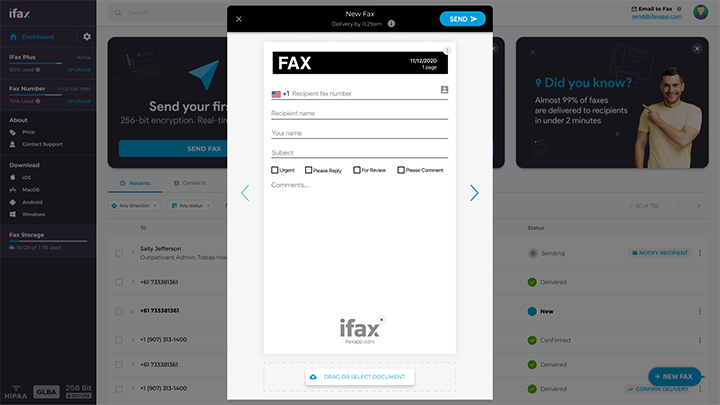 iFax offers a reliable enterprise fax service for businesses of all sizes. It's a cloud fax solution that enables users to send and receive faxes from any device, anywhere in the world.
iFax, a fully HIPAA compliant and including GLBA, offers several features that make it the best enterprise fax solution in the market. As one of the premier fax applications, it provides:
A simple and user-friendly interface that makes sending and receiving faxes easy.
Adding security features such as password protection and encryption ensures that confidential information remains secure.
A robust tracking system lets users see when a fax has been sent, received, and delivered. This helps in efficient management of fax recipients.
Affordable pricing plans to scale to meet the needs of businesses of all sizes.
Fully HIPAA-compliant and valuable for medical and healthcare faxing.
iFax is the perfect enterprise fax solution for businesses that need a reliable, secure, and easy-to-use platform. With its simple interface, robust tracking system, and affordable pricing plans, iFax is the best choice for business faxing.
eFax Corporate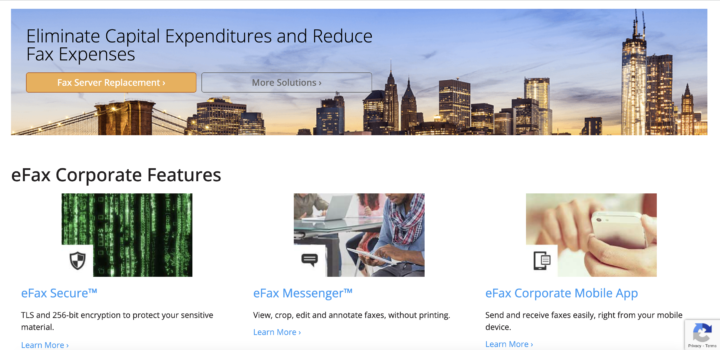 eFax Corporate can streamline faxes into a digital workflow. With eFax Corporate, enterprises can send and receive faxes anywhere, anytime, and from any device. The key features of eFax Corporate include:
Send and receive faxes from any device, including smartphones, tablets, laptops, and desktop computers.
Integrated document management capabilities that make it easy to store and share faxes.
The ability to track all sent and received faxes.
eFax Corporate integrates with various other business applications so that businesses can manage all of their faxes in one place. With its robust features and integration capabilities, eFax corporate is yet another corporate fax solution that is worth exploring.
mFax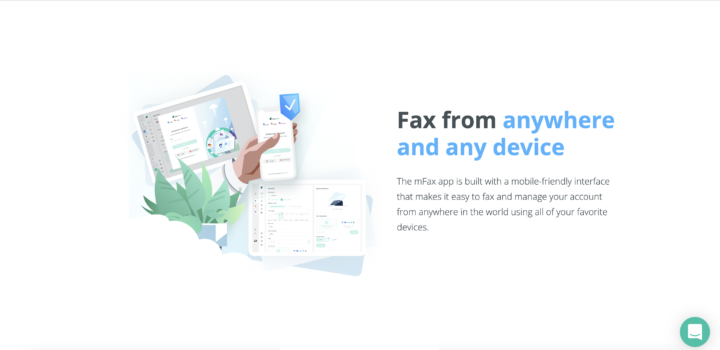 mFax is a cloud-based fax service that offers businesses a simple and reliable way to send and receive faxes. With mFax, you can send and receive faxes from any device with an internet connection, making it a handy solution for businesses that need to stay connected while on the go.
Support multiple users and groups allow businesses to manage and monitor fax usage easily.
An intuitive web interface makes sending and receiving faxes online easy.
Support for international faxing, making it a great choice for businesses with global reach
mFax offers advanced features such as drag-and-drop document conversion, electronic signatures, and confidential faxing. These features make mFax one of the best enterprise faxing solutions in the market.
OpenText RightFax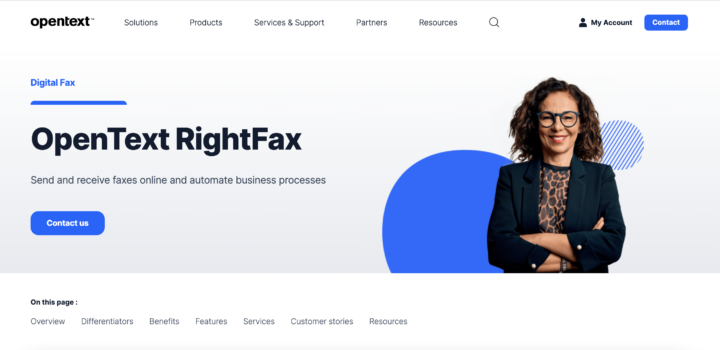 While most fax machines are standalone devices, fax server software solutions can also be installed on a computer.
One of the most popular fax server software solutions is Opentext Rightfax. Here are some of the key features that make Opentext Rightfax the best enterprise fax solution:
Send and receive faxes electronically without using a physical fax machine.
Integration with popular email clients and Microsoft Office suite, so you can send and receive faxes directly from your email inbox.
Robust security features protect your confidential information, including data encryption and user authentication.
Scalability, so you can easily add more users as your business grows.
If you're looking for a comprehensive enterprise fax server software solution, Opentext Rightfax is a good option for your business.
RingCentral Fax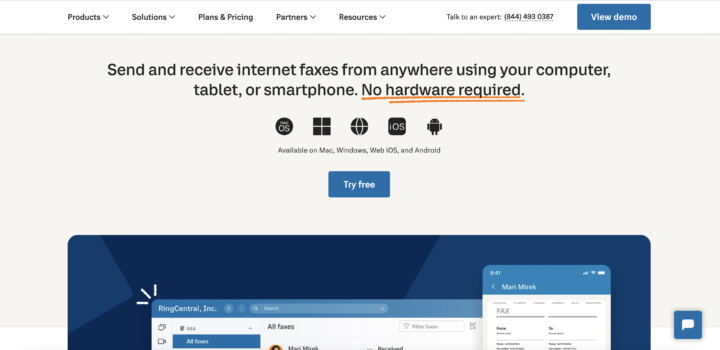 RingCentral is a cloud-based business phone and fax solution that's designed for small to large businesses. It offers many features, including VoIP, HD video conferencing, voicemail, call forwarding, and more.
It's also one of the market's most affordable enterprise fax solutions. RingCentral's key features include:
It can scale to meet the needs of any size business, from small businesses with just a few employees to large enterprises with thousands of employees.
Reliable and robust solution designed to keep your business connected, even during power outages or other unexpected events.
Offers a wide range of features and options that can be customized to fit the specific needs of your business.
RingCentral provides industry-leading security and compliance features, making it a top choice for businesses requiring high data protection levels.
How to Choose the Best Enterprise Fax Solution for You?
Fax machines have come a long way since they became available to consumers in the 1980s. Today, many different types of enterprise fax solutions are on the market, and choosing the right one for your business can be a challenge.
Here are five things to keep in mind when evaluating different enterprise fax solutions:
1. Scalability
As your business grows, you will need a fax solution that can scale with you. Make sure to choose a solution that offers features like unlimited users and simultaneous connections so that you can add new employees and departments without any hassle.
2. Reliability
Faxes are crucial for businesses of all sizes, so you need a reliable fax solution that is always available when you need it. Make sure to choose a provider with a robust infrastructure and proven uptime records.
3. Security
Faxes contain sensitive information, so it is important to choose a fax solution that offers high levels of security. Look for features like encrypted transmissions and password-protected accounts to ensure your faxes are safe from prying eyes.
4. Ease of use
Faxing should be simple and straightforward, so look for an easy enterprise fax solution to set up and use. Choose a provider with an intuitive interface and helpful customer support who can assist you if you have any questions or problems.
5. Cost
Enterprise fax solutions can vary widely in price, so choosing a solution that fits your budget is important. Get quotes from multiple providers and compare features to find the most affordable option for your business.
Final Thoughts
So, what are the best enterprise fax solutions? The answer to that question depends on your specific needs.
If you want something more affordable that still offers all the bells and whistles for enterprise features while effectively managing your fax costs, iFax is a great option. The service provides comprehensive fax functionality, making your fax communications hassle-free and efficient. And if you just need to send or receive a few monthly faxes, RingCentral Fax or mFax might be better choices for you.
Whichever enterprise fax solution you choose, try out iFax first – we think you'll love our service. Sign up for a free account without credit card required.
enterprise fax
HIPAA compliance
HIPAA fax