With a Yahoo Mail account, you can access and keep track of all your email messages in one convenient location. It does not matter where you are or what device you are using. Plus, you can find and sort attachments automatically for easy management and monitoring.
And guess what?
You can also use this email service to send a fax to any fax number, locally or internationally.
If you want to know how to fax from Yahoo Email, follow the steps outlined below.
Can I Send a Document From Yahoo Mail to Fax?
Yes, you can send a document as a fax through Yahoo Mail. However, it is only possible if you have an online fax service. Fax services like iFax allow email faxing, so you do not need to use a separate software or app.
To configure email faxing or, in this case, Yahoo faxing, you must first link your email account. After this, you can start sending and receiving faxes directly on your email.
How to Fax Using Yahoo Email (6 Easy Steps)
Here, you will find step-by-step instructions on how to fax from Yahoo Email. But first, you need to make sure that you have the following:
An online fax service that supports faxing over email
Any device with a stable connection to the internet
A working Yahoo Mail account
Remember to link your email to your online fax service first and set the appropriate user roles to ensure secure access.
[See also: How to set custom user roles and permissions in iFax]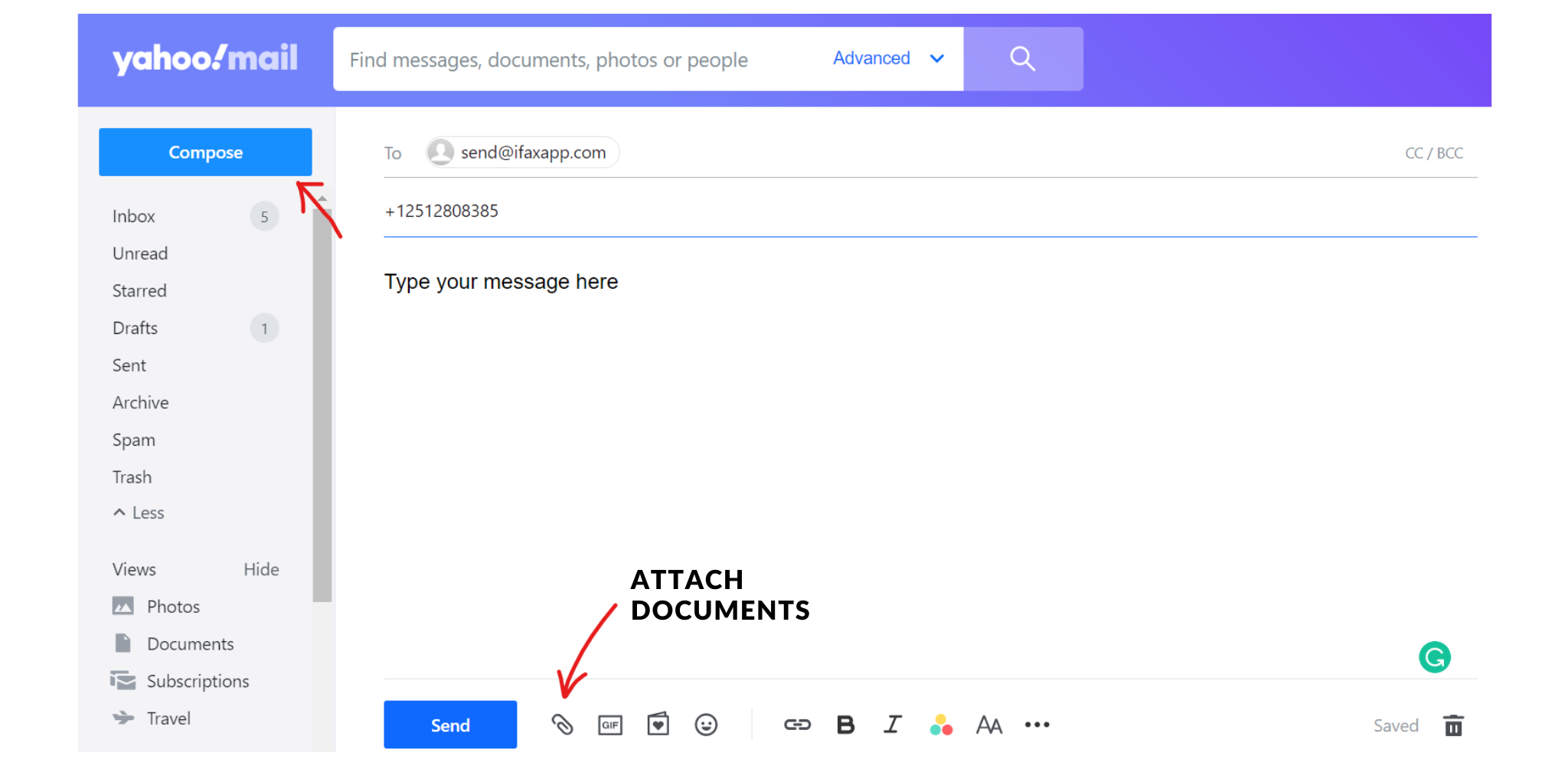 Sending a fax through Yahoo Mail
Go to the Yahoo Mail website. Log in using your account email and password.
Click the Compose button to send a new email.
Type your recipient's fax number.
Write a cover message in the email body. You may also leave this section blank unless necessary.
Click the paperclip icon at the bottom of the compose window to upload your documents.
Send the email and wait for confirmation regarding your document's status.
A few things to remember:
The steps will vary depending on your chosen online fax provider. While most providers require you to enter the fax number in the To field, some don't. It's always best to check the specific guidelines first to avoid potential delays or transmission issues.
Always include a fax cover page when uploading documents with sensitive information.
You do not need a Yahoo plugin or extension to start faxing.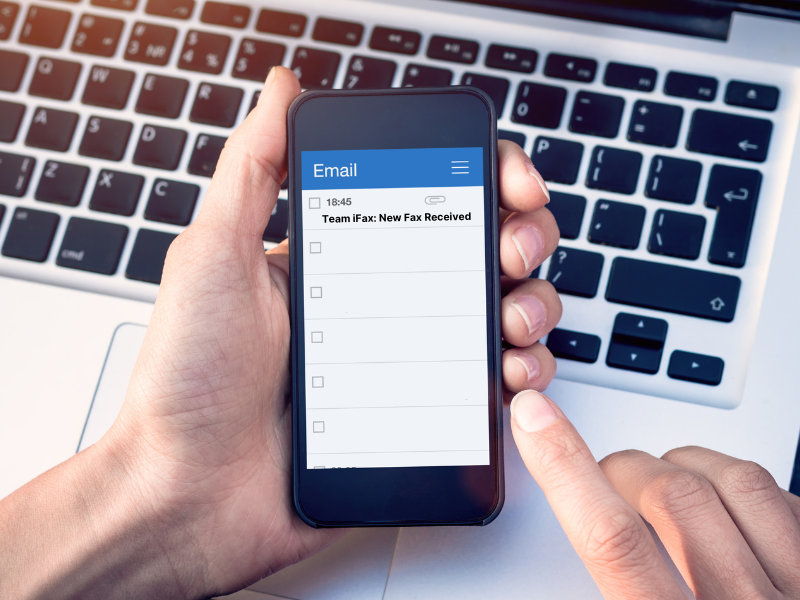 Receiving a fax through Yahoo Mail
Aside from sending a fax, you can also configure your email settings to receive faxes directly to your inbox. This way, you won't have to use another app to open the fax.
If you want to receive faxes directly on Yahoo Mail, here's what you need to do:
Subscribe to an online fax service.
Get a virtual fax number. Ask your sender to send the faxes to this number.
Configure your fax service settings. Have it send a copy of your incoming faxes to your email.
That's it. All you need to do is wait for the fax to arrive in your email. You may also download a copy of the fax and save it to your computer.
5 Key Benefits of Faxing Using Yahoo Mail
Learning how to fax from Yahoo Email offers plenty of benefits.
Here are a few of them:
Convenience: With the ability to fax directly from Yahoo Mail, you don't have to worry about finding a nearby fax center. You can simply send and receive faxes from your phone or computer.
Security: Online fax services use encryption to safeguard documents during transmission. You can also restrict unauthorized access by setting up accounts with individualized permission levels.
Value for money: Faxing through Yahoo Email eliminates the need for machine purchase and costly maintenance. You can also save money by choosing an online fax service with flexible pricing and upgrade plans.
Efficiency: There's less time waiting since you can expect your faxes to arrive within minutes. You can also automate specific tasks like sorting document attachments and adding contacts.
Compliance: Faxing via Yahoo Mail can help you stay organized and ensure compliance with applicable regulations. It can also help you keep track of important documents and provide an audit trail if needed.
Frequently Asked Questions
Here are some frequently asked questions about faxing directly from Yahoo Mail.
Are there online fax services compatible with Yahoo Mail?
Yes. Many online fax providers allow faxing by email. You can look into the following services and choose according to your needs and budget.
iFax. Our fax service has email-to-fax and fax-to-email features that you can use without paying extra setup fees.
eFax. This provider allows faxing by email, so you can fax whenever, wherever.
WiseFax. You can use this service to fax using Yahoo and other email clients.
CocoFax. This service allows you to integrate faxing with Yahoo Mail.
Fax.Plus. You can use the email-to-fax feature of this service to send faxes directly from your Yahoo email account.
Can I send a fax from Yahoo Email for free?
Yes, for as long as your online fax service allows you to. If your fax service has a free plan, you can send faxes from Yahoo Mail at zero cost. However, be mindful that you can only fax within the allocated limits. If you exceed the limit, you can wait until it resets or upgrade to a paid plan.
Do I need an email app or software to send a fax?
No. Yahoo Mail also works as a web-based application. Installing its mobile app or desktop client is entirely optional. It will work on any device with a web browser and stable internet.
Effortlessly Fax From Your Yahoo Mail With iFax
Learning how to fax from Yahoo Email is a straightforward process. It does not require any expensive hardware or complicated setups. All you need is a dependable and secure fax service like iFax.
With iFax, you can:
Send a fax directly from email, including Yahoo Mail, Gmail, and Outlook.
Get a virtual fax number that is available for immediate use.
Fax effortlessly using your phone, tablet, or computer.
Start using iFax today and see how it can help streamline your workflow.
fax via email
fax via yahoo
yahoo mail