Many healthcare institutions rely on cloud-based EHR systems to streamline clinical workflows. Thus, choosing a reliable EHR system is a must for healthcare professionals, businesses, and organizations. When looking for a cloud-based EHR, you'll most likely stumble into Practice Fusion.
In this post, you'll get to learn more about this industry-leading EHR and how its digital approach to practice management can benefit today's rapidly evolving health systems.
Table of Contents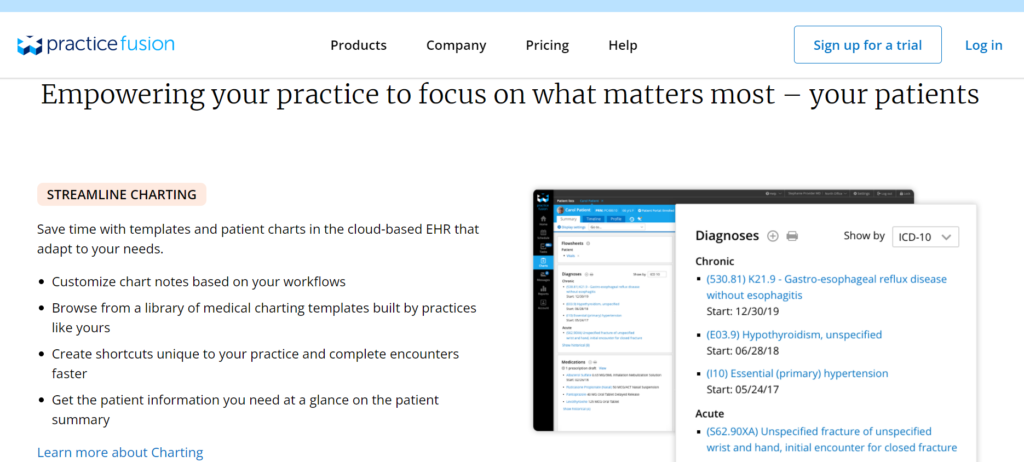 What Does Practice Fusion Do?
Practice Fusion offers healthcare professionals a comprehensive patient management solution. It is an industry-leading cloud-based EHR (electronic health record) system capable of doing multiple tasks such as booking patient appointments, medical charting, and providing e-prescriptions. It can also connect with laboratories and imaging centers to instantly collect, monitor, and share lab and imaging results.
The cloud-based EHR remains one of today's ideal solutions for improving patient management in clinics, hospitals, and other healthcare institutions.
Features:
Comprehensive patient engagement system for online appointments, check-ins, follow-ups, free messaging, and patient portal access
Integrated billing solution with automatic eligibility checks and verification
Intuitive charting dashboard with specialty-specific templates and integrated dictation support
Supports interoperability through eReferrals (electronically send charts to any U.S. based medical provider)
Advanced e-prescription options for seamless management of prescriptions and refill requests
Cloud-based lab and imaging integrations
Automatic updates for EHR policies with live webinars and video tutorials
Is Practice Fusion Still Free?
Unlike before, Practice Fusion no longer offers a free EHR solution. The good news is users can still avail themselves of its free 14-day trial with no credit card required and no upfront charges. For those who wish to upgrade their accounts after the trial period, the cloud-based EHR provider offers a subscription-based licensing model wherein pricing varies depending on the number of providers. The lowest monthly plan starts at $149 for a single provider license.
With a single provider license, a medical professional will be able to issue e-prescriptions for regular and controlled substances, sign medical charts, sign documents, process refill requests, submit claims, and perform all other EHR-related tasks.
On top of this, healthcare providers who signed up for a free trial can also request a demo of the said cloud-based EHR solution.
See also: Best EMRs for Hospitals.
Can You Fax With Practice Fusion?
Practice Fusion users can send and receive faxes directly from the cloud-based EHR platform. The San Francisco-based company partnered with Updox as its exclusive fax service provider, making it easier to manage all fax documents in a single unified inbox. On top of this, users can also link their Practice Fusion accounts to other applications, such as iFiiT and MyWellnessBuddy.
For non-Updox users, it's still possible to send faxes to any Practice Fusion account. You can just use an alternative faxing solution that is fully capable of sending HIPAA-compliant faxes. One good example of this is iFax.
With our revolutionary cloud-based faxing service, you can send faxes worldwide and improve the efficiency of your document processes. iFax also encrypts all fax transmissions using the highest level of encryption. With our ever-reliable fax service, you'll feel more at ease knowing that your faxes are safe and duly compliant.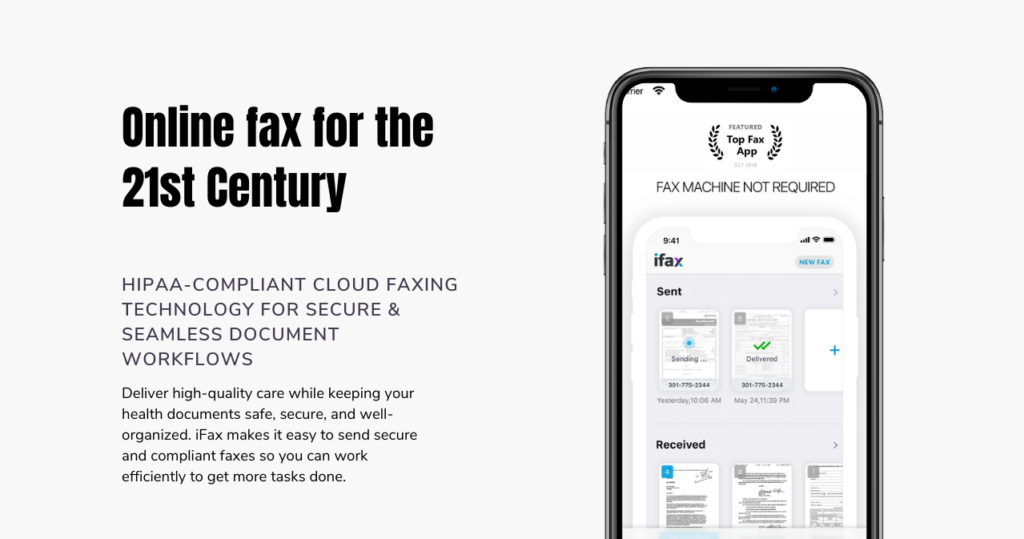 Why do medical records need to be faxed?
Faxing medical records is still considered one of the safest ways to transmit documents containing PHI (protected health information). Moreover, fax technology has already evolved to a point where faxing can be easily integrated into existing software or management systems. With fax integration, medical practitioners can directly receive and send faxes from existing patient management systems, making the process more secure and convenient.
Some of the advantages of using online fax to fax medical records include:
Reduced risks of non-compliance (faxing without paper limits human errors)
Increased security using advanced level encryptions
Sustainability (paperless faxing helps reduce CO2 emissions)
Automatic audits of fax reports
Cost-efficient (no need to pay for costly machine maintenance and monthly landline subscriptions)
As long as you ensure that you are using a HIPAA-compliant fax service, you won't ever need to worry about faxing medical records.
Is Practice Fusion a Good EMR (EHR)?
As an EHR (electronic health record) system, Practice Fusion continues to be one of today's well-sought solutions for practice management. With a 3.7 average rating on Capterra, the cloud-based platform raked good reviews, with its benefits mostly outweighing its cons. When it comes to patient scheduling, the said EHR system has a score of 8.3 out of 10 on TrustRadius.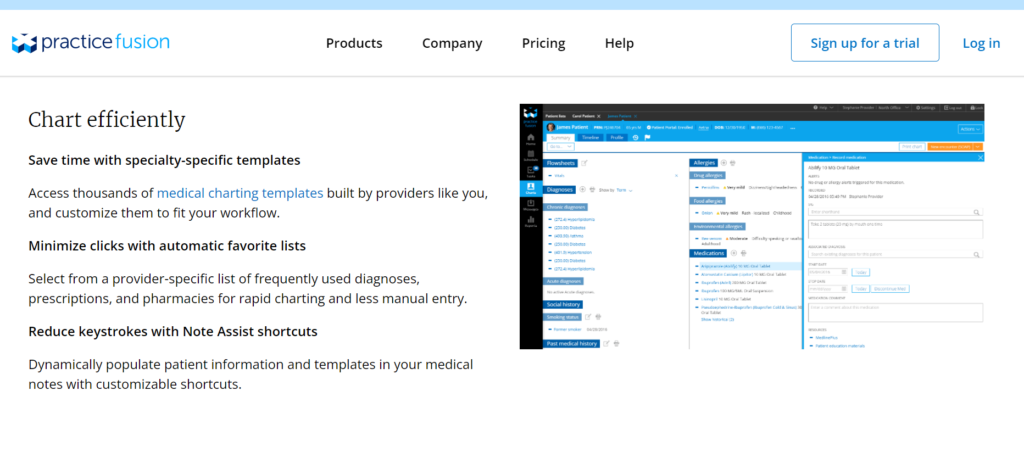 Does Practice Fusion Have an App?
Those who want to access the industry-leading EHR on mobile can do so on their Windows, Android, and iOS phones and tablets. There is no mobile app needed. The cloud-based EHR supports cross-platform functionality, so all you need is to navigate to its online dashboard using your phone or tablet's mobile browser.
Given the increasing demand for mobile accessibility, it is high time for EHR providers to offer cross-platform solutions. This way, medical professionals have the flexibility to manage tasks using only their tablets or smartphones.
Final Thoughts
EHR systems provide many advantages. Aside from the fact that they help simplify and automate tasks, EHR systems have also proven to be a valuable component for improving patient experience. As such, it is crucial to choose a secure EHR system that is reliable and easy to use. With Practice Fusion, you are sure to get your money's worth. It is a comprehensive solution that is ideal for medical practitioners running small clinics, especially those who are looking for an EHR that can efficiently implement specialty-specific workflows.
Protect your data from common threats and vulnerabilities. Send HIPAA-compliant faxes using iFax.
With iFax, you have more reasons to fax. Our cloud-based fax service is ideal for the healthcare industry because it uses the highest level of encryption to protect your faxes while at rest or in transit. Check out our flexible pricing options and choose a plan that best suits your needs.
Cloud-Based Fax Solutions
HIPAA-Compliant Faxing for Secure Document Workflows
Learn how iFax's revolutionary faxing technology is helping healthcare institutions maintain compliance while streamlining workflows.
ehr software
emr software
fax for healthcare
medical faxing
medical software
Practice Fusion