Fax machines are still widely used in many offices. If you need one, Samsung offers various models that cater to specific requirements. On top of that, Samsung fax machines are known for their quality and durability. You can also do more than just faxing, as there are models with printing, scanning, and copying capabilities.
This post highlights some of today's best Samsung fax machines available. Whether you need to send documents quickly or receive signed contracts, you can rely on these machines to streamline your business workflow.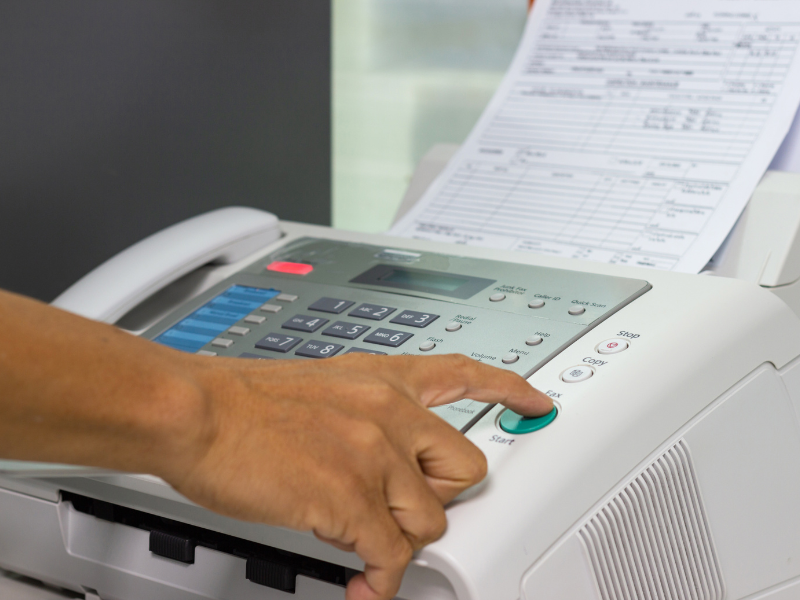 Why Buy a Samsung Fax Machine?
There are several reasons why buying a Samsung fax machine is a good investment. Here are some of them:
Reliability: Samsung is known for producing reliable products. Its fax machines are no exception since they are built to last.
Functionality: Some of their models include features like printing, scanning, and copying.
Versatility: The electronics company offers various models at different price points, so all you need to do is choose.
Intuitive controls: Samsung fax machines are generally easy to use. Some models even have one-touch buttons for frequently used functions.
Inexpensive: Some models offer basic fax features and functions, making them an excellent choice for those on a tight budget.
Overall, Samsung fax machines can help keep your business moving as they offer reliable performance at a reasonable price.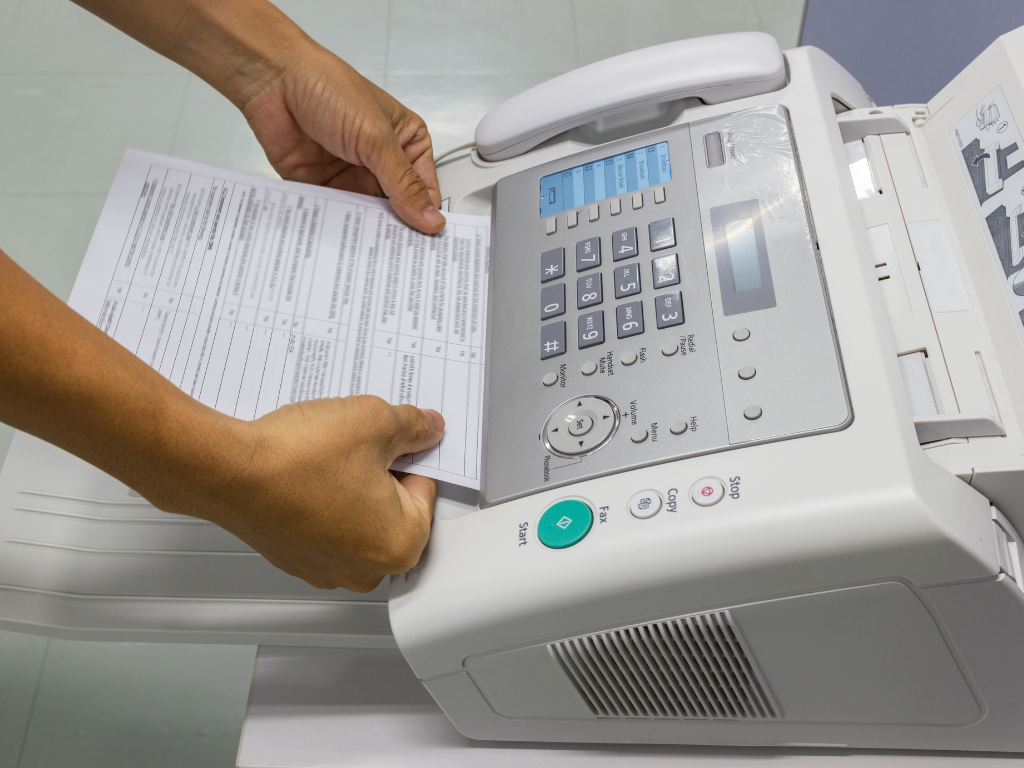 6 Top Samsung Fax Machines to Consider
Here are our top picks when it comes to Samsung fax machines:
1. Samsung SF-760P
The Samsung SF-760P is a multifunctional device with printing, scanning, copying, and faxing capabilities. It's a compact yet robust machine with dedicated fax functions such as multi-send, one-touch dial, and auto reduction. With a fax modem speed of up to 33.6 Kbps, this model can easily handle large-volume fax transmissions.
Meanwhile, its fax memory can store up to 600 pages, which is more than enough for most businesses. This model also features a decently sized paper tray that can hold up to 250 sheets. Plus, you can use this machine for PC faxing, which means you can fax documents directly from your computer.
2. Samsung SF-560
Still a part of Samsung's multifunction printer series, the SF-560 features advanced fax functions. It can broadcast or send delayed faxes, allowing you to schedule your fax transmissions. With a faxing speed of up to 33.6 kbps, you can rely on this machine to send your faxes quickly.
Another thing to note about the Samsung SF-560 is its large paper capacity. It can store up to 250 sheets. Plus, it has an automatic document feeder that can save you from the hassle of frequent refills. This model also has a DRPD mode, allowing you to receive both fax and voice calls on a single telephone line.
3. Samsung SCX-3405FW
Multifunction Samsung fax machines like the SCX-3405FW are ideal for homes or small offices. It is a monochrome printer with 4-in-1 functionality, meaning you can use it to fax, print, scan, and copy. It also has a one-touch WPS button for easy wireless setup and supports mobile printing through Samsung's Mobile Print App.
With the SCX-3405FW, you can fax documents as fast as 3 seconds per page. It also has a 150-sheet input capacity making it suitable for handling large print jobs. This model also has recyclable toner cartridges.
4. Samsung Xpress SL-C480FW
The Samsung Xpress SL-C480FW is a versatile and reliable printer ideal for professional or business use. It can handle various printing and scanning tasks ranging from simple black-and-white documents to high-quality color prints. It also has Wi-Fi connectivity for wireless printing.
With the Xpress SL-C480FW, you can get a high-performance machine at an affordable price. It also has 128MB of memory for storing large documents and a USB port for direct printing from a USB drive.
5. Samsung SF-5100P
The SF-5100P was one of Samsung's early forays into the office equipment market. It is a monochrome laser fax machine with a modem speed of 14.4 Kbps. This model is known for its reliability and affordability, making it ideal for anyone who needs to send and receive faxes regularly.
In addition to faxing, the SF-5100P also functions as a printer and copier. It can print at a maximum speed of 10 pages per minute. It can also make up to 99 copies simultaneously. Although it may be challenging to find this model in stores nowadays, it remains a popular choice despite the emergence of newer models.
6. Samsung SL-M2870FW
If you want to save money by only needing to maintain a single piece of equipment, consider getting the Samsung SL-M2870FW. It is an all-in-one machine that can print, copy, scan, and fax documents. It also supports wireless connectivity, allowing you to print from a smartphone or tablet.
With the SL-M2870FW, you can transmit faxes at 33.6 Kbps faxing speed. Its fax memory is 6MB, enough to store up to 500 pages. On top of its automatic redial feature, it can do delayed sending and fax forwarding. On top of this, this model supports several fax protocols, including ITU-T G3, ECM, and PC-FAX.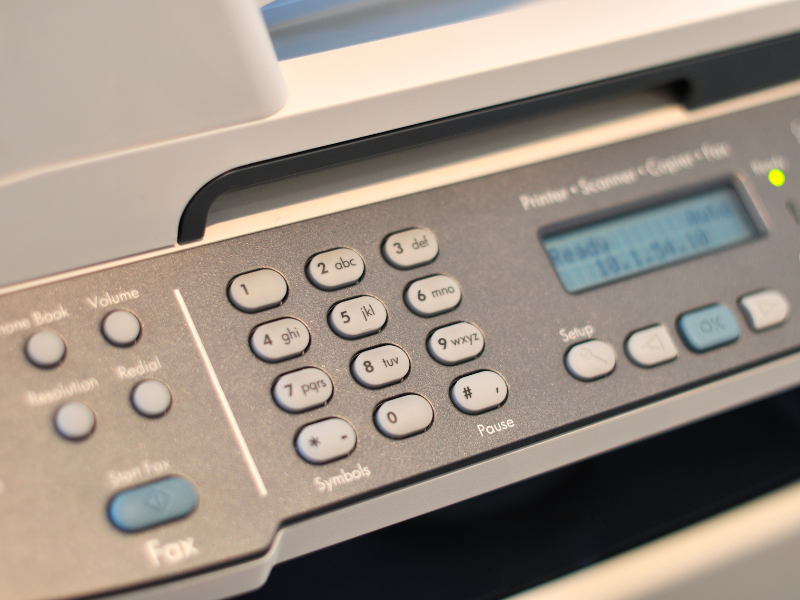 Choosing the Best Fax Machine for Your Business
Fax machines are integral for businesses that need to send and receive documents quickly and securely. When choosing a fax machine, it is crucial to consider other factors that may affect your business in the long term. These factors include the following:
Fax machine type: There are two types of fax machines, standalone and multifunctional. Standalone fax machines are dedicated to faxing and have limited functionality, while multifunctional models can scan, print and copy.
Transmission speed: The faster the transmission speed, the better. Models with outdated fax modems can significantly slow down the faxing process.
Memory capacity: A fax machine with low memory capacity can only store a limited number of pages, leading to delays and missed messages.
Paper handling capacity: Samsung fax machines with large paper trays can lessen the need for frequent refills. It will allow you to focus on faxing without interruptions.
Cost: Consider your budget and look for options that fit within it. Evaluate the long-term costs to determine if a more expensive option may be worth it in the long run.
Compatibility: The fax machine should be compatible with your phone line. It should also be able to fax documents according to your preferred format (e.g., colored pages).
Features: Look for additional features that may help improve your fax workflows, like speed dialing, fax broadcasting, and scheduled sending.
If buying a Samsung fax machine is not an option, consider using an online fax service. With online faxing, you can fax from anywhere without needing a fax machine. It's also more cost-effective since you do not need to print documents. You only need a phone or computer to send and receive a fax.
iFax: A Convenient Alternative to Samsung Fax Machines
With iFax, you can easily send faxes from your mobile device or computer, making it a convenient alternative to Samsung fax machines. Our online fax service includes advanced features that help you manage your faxes effortlessly.
By using our online fax service, you can:
Secure faxes with 256-bit encryption and 2FA authentication
Schedule faxes at a later time or date
Send and receive faxes by email
Broadcast faxes to unlimited recipients
Create a branded company fax page
See how our fax service can help simplify and automate your fax workflow. With a free account, you can start faxing documents right away.
best fax machines
fax machines
top fax machines