You do not need a fax machine to process and send faxes directly to email. With the best fax to email services, all you need is a device that can instantly connect to the internet. Got a smartphone? How about a laptop? If you do, you are only a step away from streamlining your fax workflow.
The question is, how can you be sure that the fax to email service can meet your specific needs? In this case, it would be best to start by looking into the best fax to email tools in the market.
Top 8 Fax to Email Services for 2023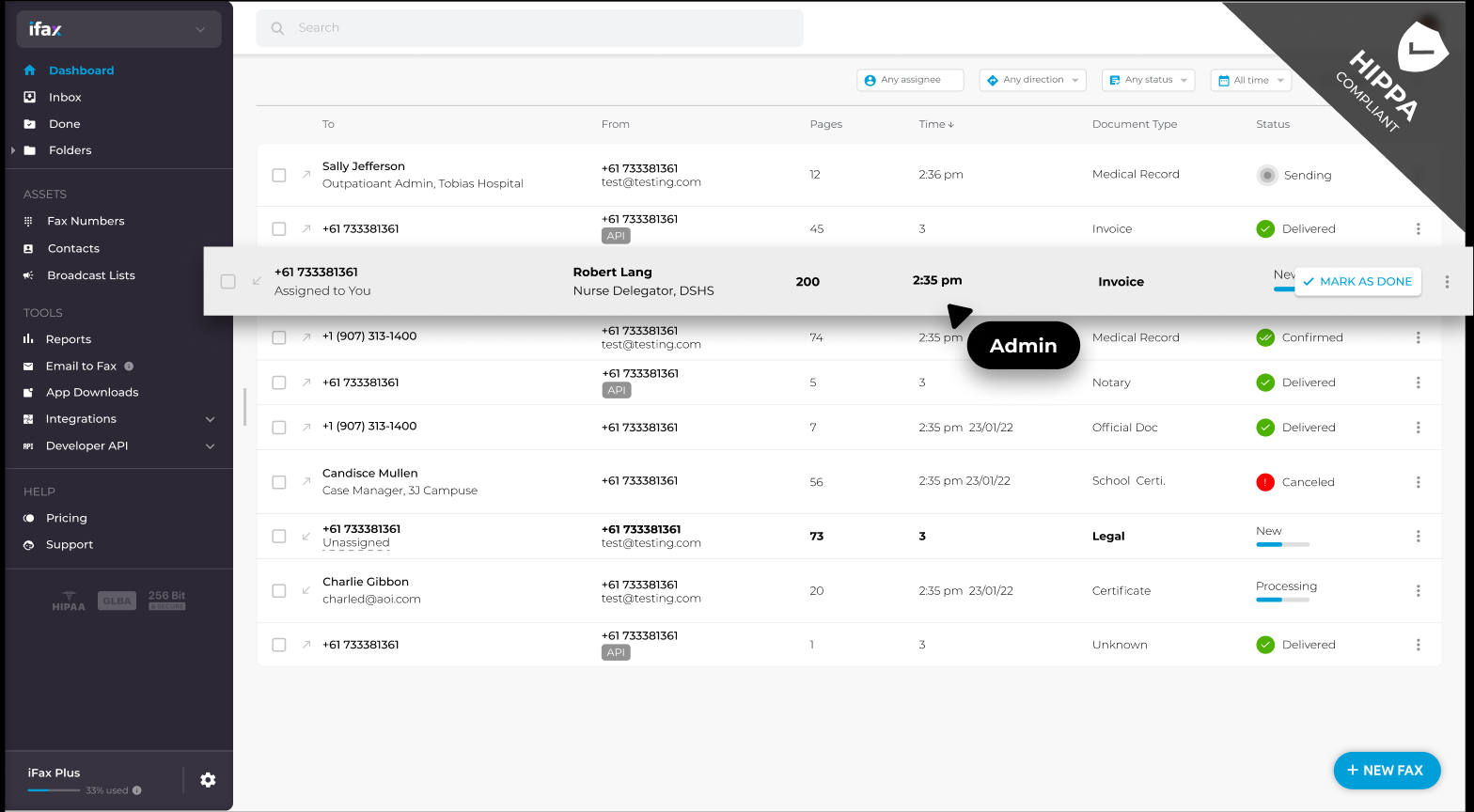 1. iFax
iFax is one of the best fax to email services to date. It lets you send faxes to email using any device with just a few clicks of a button. The process is similar to sending an email but by fax. The best part? This service offers a free plan that lets you send up to 5 fax pages per month.
Upgrading to a higher plan gives you access to premium features like faxing from third-party apps like Gmail, Google Drive, and Outlook. With iFax, you can upgrade your account anytime without worrying about hidden fees or overage costs.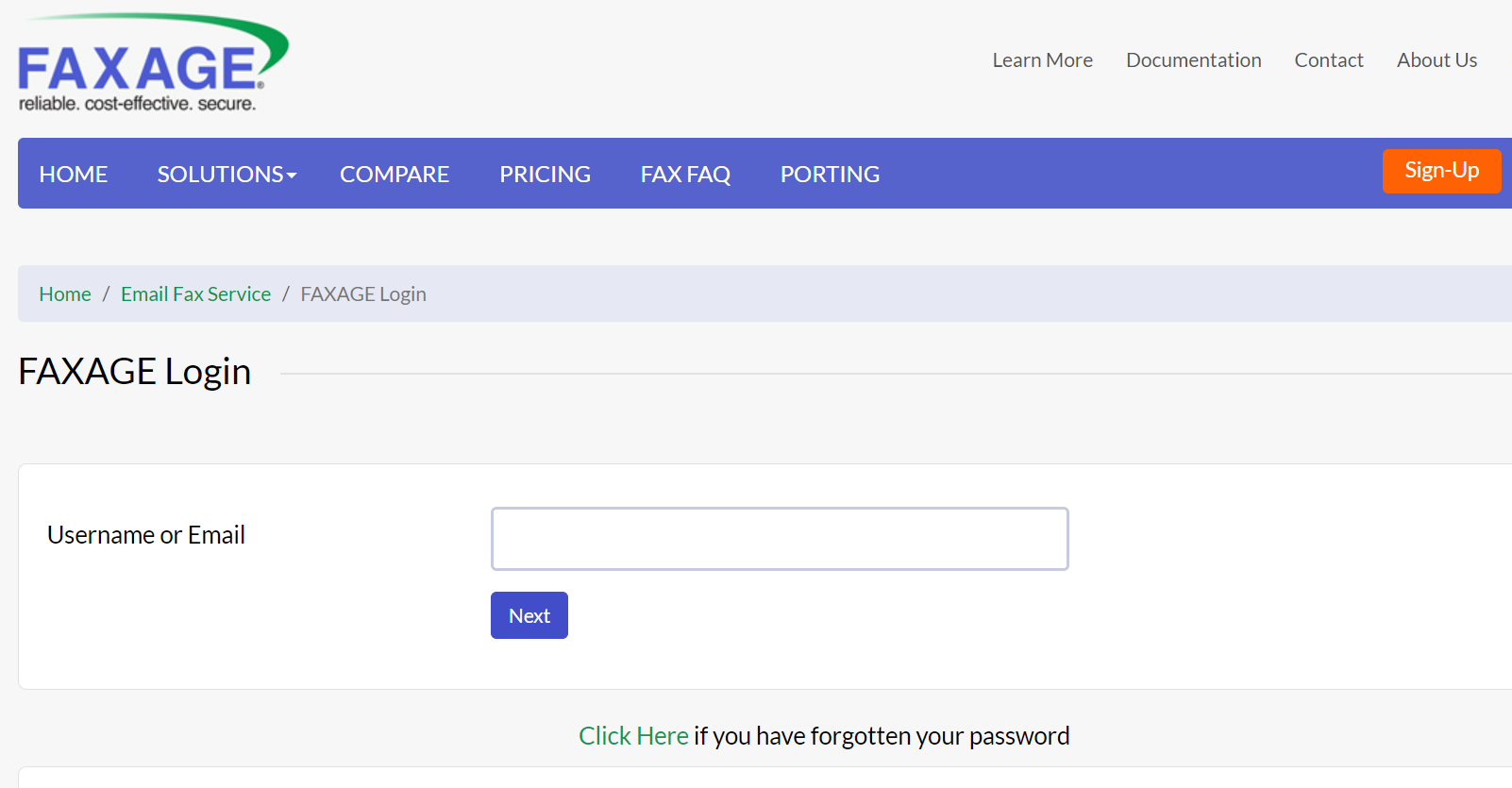 2. Faxage
Faxage is a cloud-based service that supports outbound faxing to the United States and Canada. With this service, you can enjoy paperless faxing without using a fax machine. Starting at $3.49 monthly, you can deliver your fax documents directly to your recipient's email. There's no need to open a separate app or log in to another platform. You can also store your faxes in its online storage at no additional cost.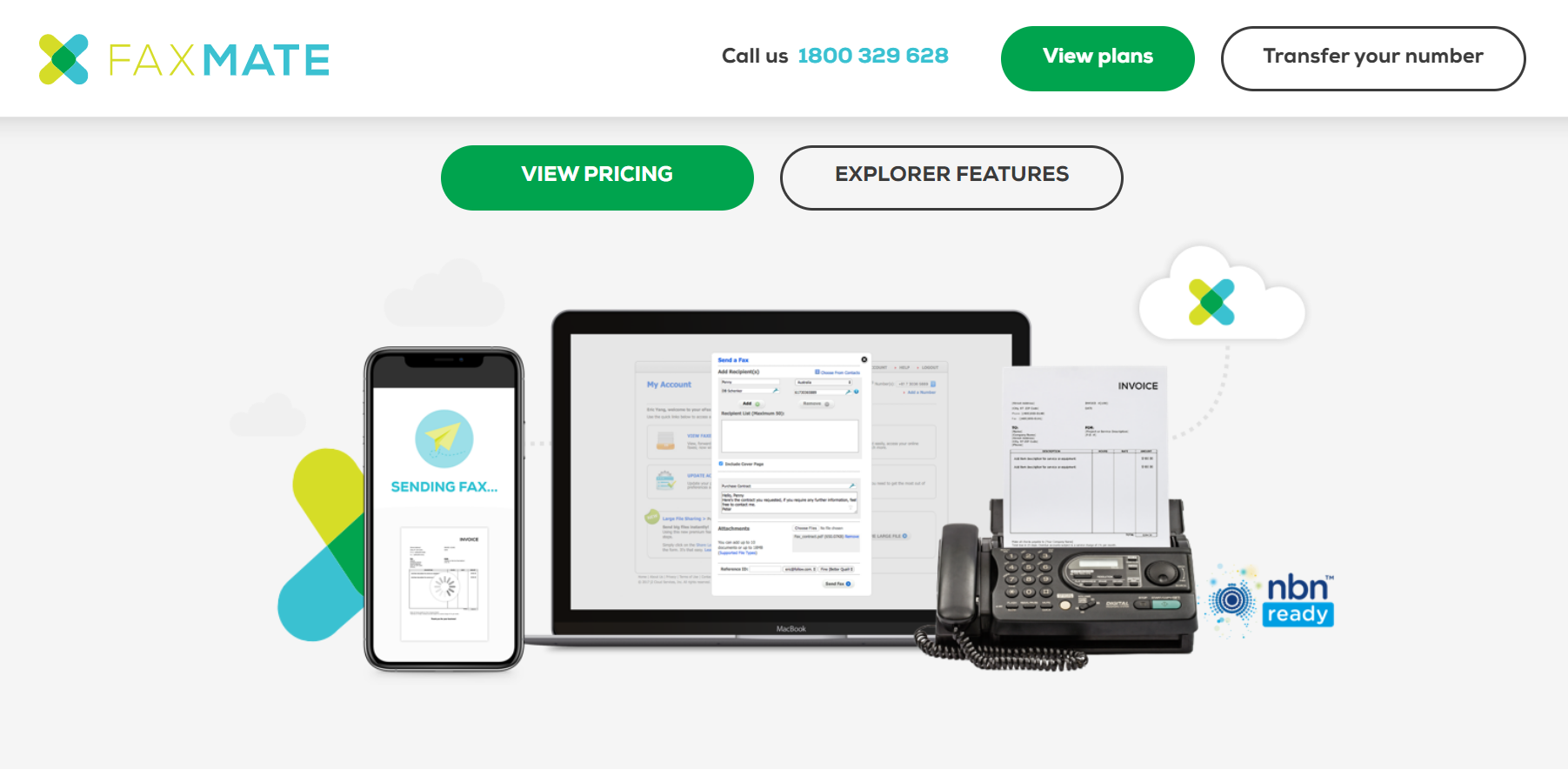 3. FaxMate
Faxmate is an online fax service that combines the efficiency of sending emails with online fax. With it, you can send and receive faxes effortlessly without a physical fax machine or telephone line. Its pricing starts at $12.95 per month with an outgoing fax allocation of up to 80 pages. The said plan already includes a free local fax number.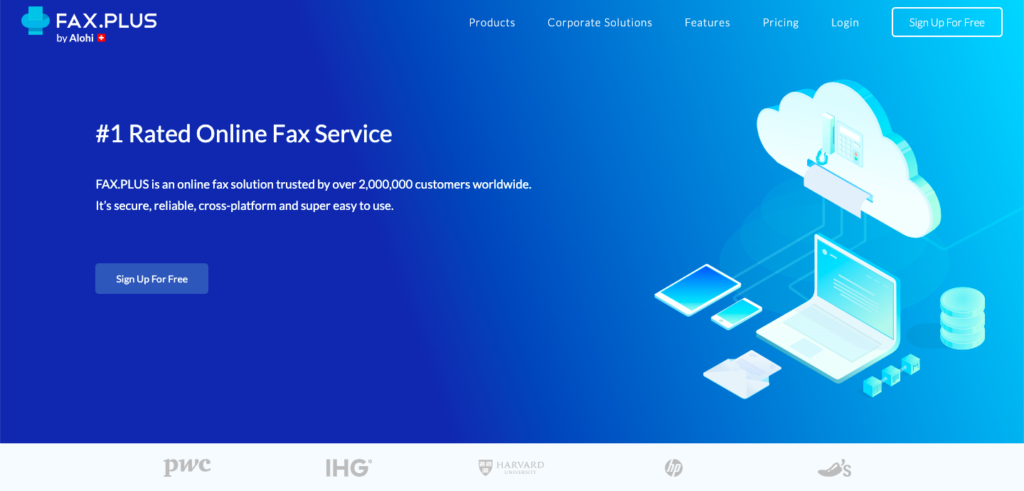 4. Fax.Plus
Fax.Plus offers users the ability to send faxes directly to email. This faxing service allows you to easily send important documents to any recipient, regardless of location. You can also fax conveniently to over 180 countries using your phone, laptop, or PC. Pricing for this service starts at $8.99 per month, which is already suitable for users who fax occasionally. If you want access to advanced features like Zapier and Slack integration, you will need to upgrade to a higher plan.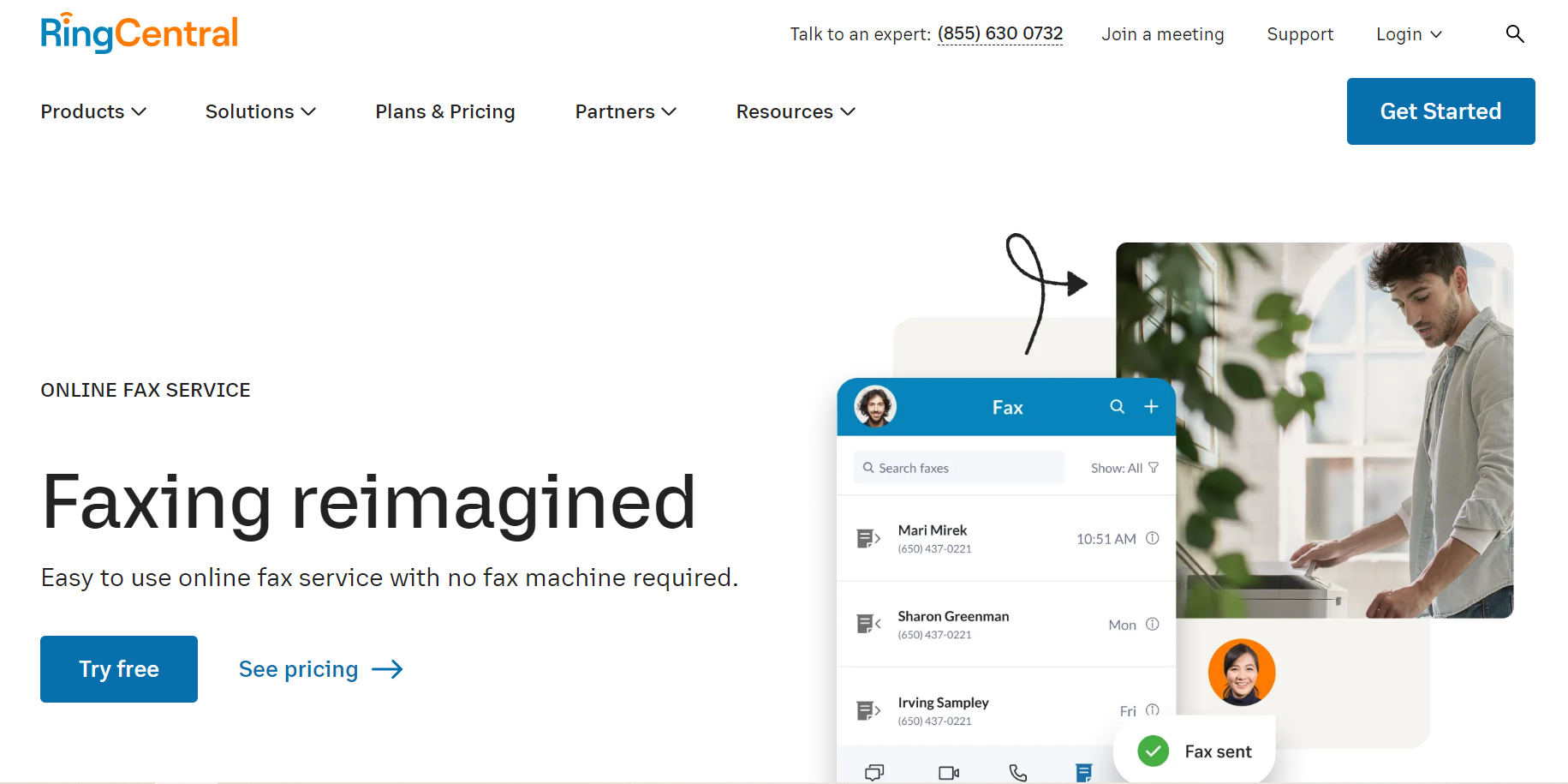 5. RingCentral Fax
With RingCentral Fax, you can fax documents online and deliver them straight to your recipient's email inbox. You can also use this service to send faxes to multiple contacts. There's also the option to track the status of your sent faxes. This way, you will know whether your documents have been delivered. To use RingCentral Fax, you will have to pay a monthly fee of $22.99 per user.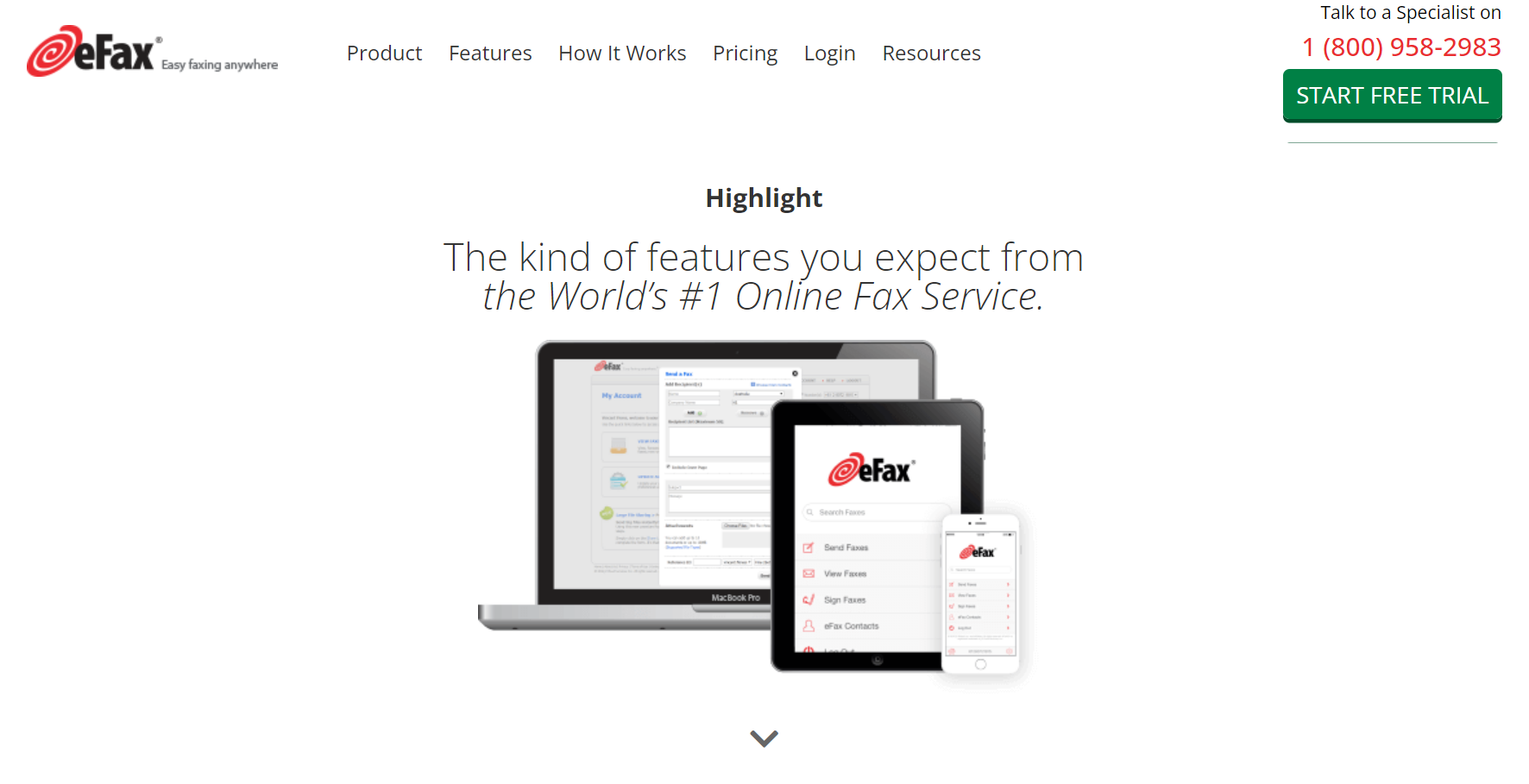 6. eFax
eFax offers the convenience of sending and receiving faxes without needing a physical fax machine. It is a popular online faxing solution that provides users with a secure and reliable way to transmit documents. With this service, you can send faxes to any fax number and have your recipient view the fax in their email inbox. Pricing for eFax starts at $18.95 per month. Each plan includes access to advanced features like fax number porting and digital signatures.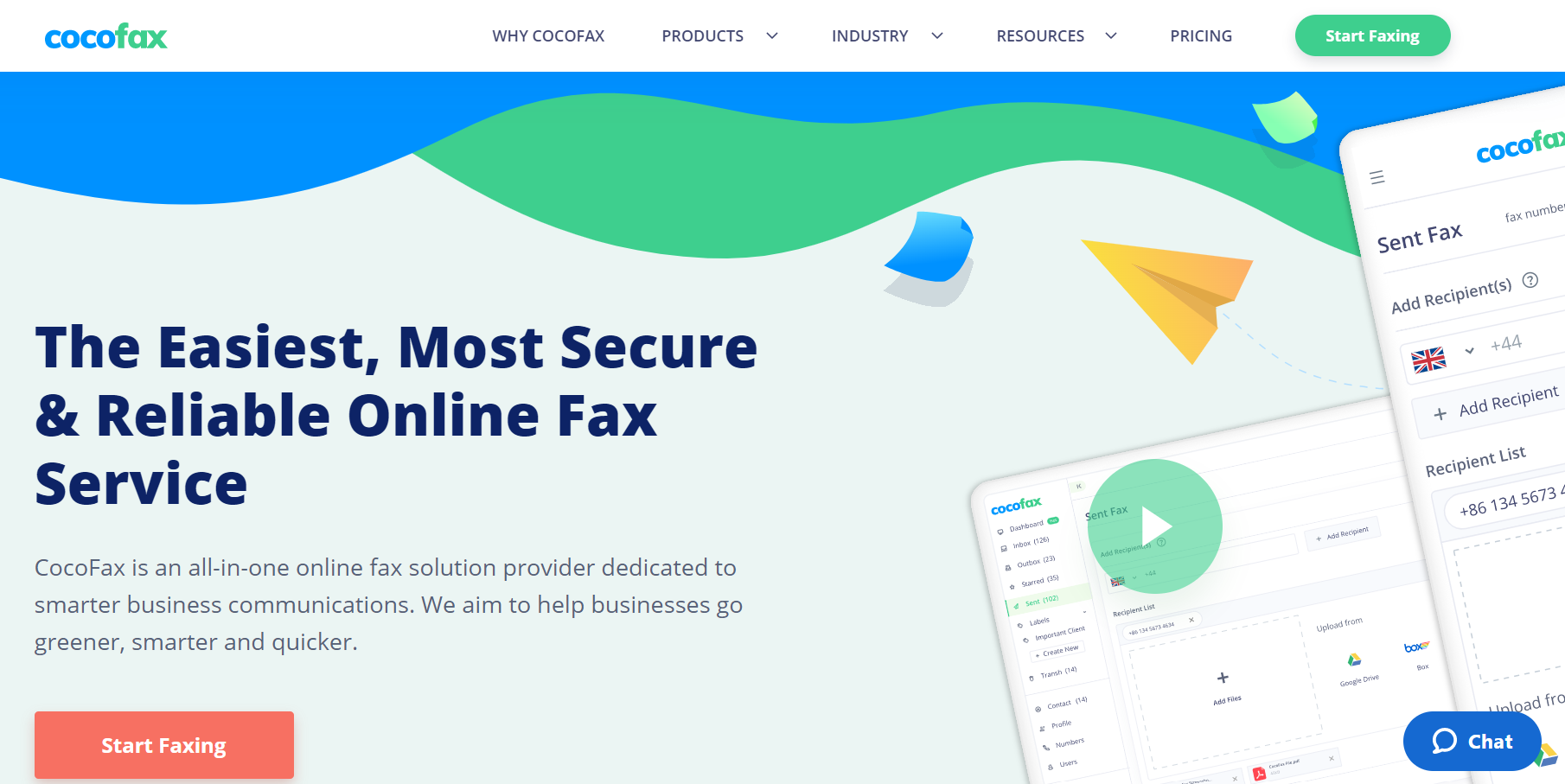 7. CocoFax
CocoFax is an online faxing service that features a minimalist, user-friendly interface. Not only does it let you send faxes directly to email, but it also allows faxing by email. You can use this service to send secure faxes online to unlimited recipients. Pricing for CocoFax starts at $7.99 per month for its Lite Plan.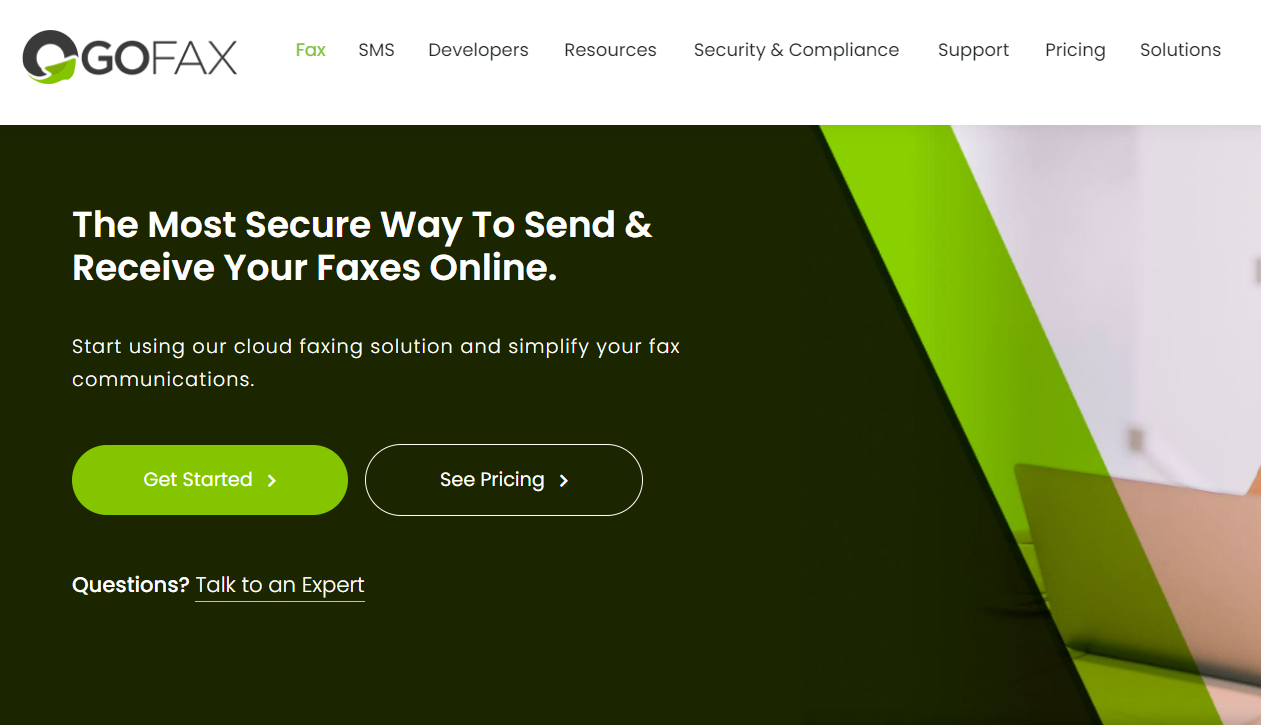 8. GoFax
With GoFax, you can fax any document even if you don't have immediate access to a fax machine. All you need is a device that can readily connect to the internet. When sending faxes directly to email, GoFax will automatically attach the documents as either PDF or TIFF. You don't have to attach the fax pages yourself. Pricing for this service starts at $14.95 per month with 150 send credits, TLS encryption, and API access.
Things to Consider When Choosing a Fax to Email Service
Choosing the best fax to email service can be difficult, especially if you don't know what to look for. Thus, it would be best to have a list of criteria to refer to when making a decision.
Compatibility: It pays to check whether the service supports faxing to email without additional hardware or software setups.
Security: Look for a service that uses bank-grade encryption to secure your faxes while at rest and during transmission.
Reliability: Check for reviews and positive user feedback. There's no better way to find out about a service's reliability than to get insights from actual users.
Features: Consider the features offered and see if they match your faxing needs. You should also be able to integrate the service with other platforms like Gmail and Zapier.
Cost: Compare the pricing plans offered. Look for one that fits your budget while providing all the necessary features to streamline your faxing process.
Customer support: Look for a service that offers top-of-the-line customer service, such as live chat and 24/7 support.
How to Send a Fax to Email Using iFax
With iFax, sending a fax to an email is as easy as clicking a few buttons. You can also rely on our service to deliver your faxes securely, complete with real-time delivery notifications.
To send a fax to an email, you simply need to:
Go to the iFax website and open your web dashboard.
Click New Fax > Compose Fax.
Enter the recipient's fax number. Fill out the rest of the required fields. You can also write anything you want in the message body.
Attach the documents you want to fax.
Click Send, and wait for the delivery confirmation dialog to appear.
Once you see it, type your recipient's email address in the field provided. Remember to check the box next to Include Fax Link. This option will allow your recipient to view the fax by clicking the link included in the email.
Click Send.
Note: The document link can be used only once. A new link needs to be sent if the recipient wants to view the fax again. The recipient must also have an email linked to an existing online fax number for this feature to work.
[See also: How to get an online fax number]
Have Your Emails and Faxes Delivered to One Inbox
Faxing documents online is easy. With help from the best fax to email services, you can unify how you send and receive faxes. There's no need to switch apps or platforms to keep track of important messages and transactions. You can have all your communications streamlined in one location.
If you want to experience hassle-free and borderless faxing while saving money, use iFax. Our fax to email service lets you send, receive, and manage faxes from your existing email inbox.
Create an account for free to get started.
fax to email
fax to email service
fax to email tools
fax to gmail
fax to outlook