If you have been looking for a way to securely fax documents from your mobile device or computer, then now is the time as it has never been more important to protect information online. Your device can be exposed to hacking incidents and cybercrime when it's connected to the internet. However, the safety of your faxes online is possible with secure online fax services without ever printing the documents on hand or using a traditional fax machine.
You can send a confidential message in seconds without worrying about it being intercepted by unintended recipients. It's made for those who want convenience and efficiency when sending faxes with sensitive information using their mobile devices. You will need a dedicated fax number from your fax service provider to do this.
This article will help you learn more about how secure online faxing works, why it's essential for your business faxing, and an app that makes sending secure fax as easy as sending an email.
What is a secure fax?
Secure fax protects against unauthorized access or interception. It typically uses encryption or other security measures to ensure the confidentiality and integrity of the faxed information. Secure faxing is often used in industries or situations where the confidentiality of the transmitted information is of critical importance, such as in healthcare or financial services.
Table of Contents
What Is a Secure Fax?
Secure fax is a fax that is transmitted over a secure network. It implies that the contents of the message are encrypted and can only be read by the intended recipient. Secure faxes may be sent using traditional fax machines, internet services, or even through cloud faxing solutions.
The term "protected fax (also known as secure facsimile and confidential fax)" refers to sending and receiving fax messages via an encryption service to prevent third parties from reading the contents of the message during transmission or after it has been received. This sort of fax solution is offered by a reliable fax service provider.
By encrypting data between two points on a network, unencrypted information can be sent over otherwise insecure links, such as the internet. The sending computer encrypts the data using a key agreed upon with the receiving party.
After this, each message block is encrypted with a symmetric cipher using that session key and then sent to the receiver. To decrypt each message block, one would have to have access to the session keys of both parties.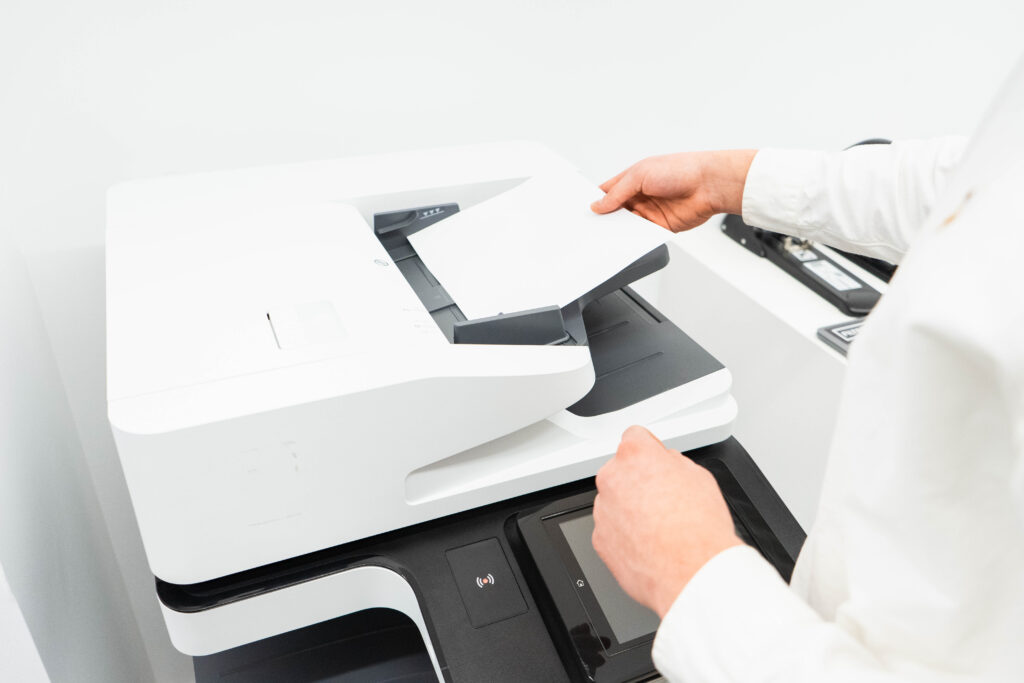 Fax messages are often automatically forwarded by machines within an organization to others outside it over phone lines. However, they may also be delivered directly, either one-off or regularly depending on needs. Since these calls are not secure, it exposes the transmitted information to eavesdropping. To avoid this insecure link scenario, faxing over a VPN is preferably done.
When both the sender and receiver agree to use secure fax, data connections from their respective fax machines are encrypted by a symmetric key algorithm before transmission. This ensures that only the intended recipient can read the information sent for a secure faxing.
Even if an attacker could intercept this information, it would be practically impossible to decrypt without access to a common secret (i.e., session key). The contents of messages protected in this way are indistinguishable from white noise during transit except to authorized parties who possess the session key used for decryption.
What is Secure Online Faxing, and How Does it Work?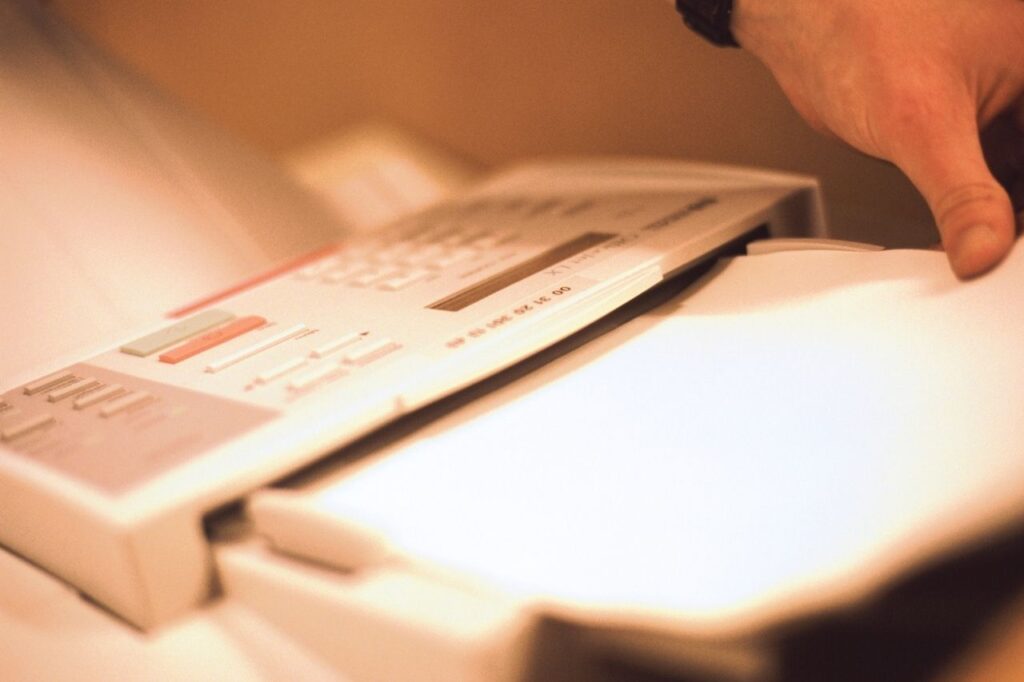 The difference between regular fax sent online, and a secured one is encryption. Online fax services use encryption to safeguard the fax transmissions online, making it a secure and safer way for users to send and receive faxes over the internet without a fax machine. Online fax providers protect the data with advanced security options before transferring the transmissions to the fax servers.
The US National Security Agency (NSA) only approved the Advanced Encryption Standard (AES), the first publicly accessible cipher to protect top-secret information. Your fax transmissions are in good hands when an online fax service is equipped with such security on their fax software or application. Moreover, when it's an AES-256-bit, that's the largest bit size that's incredibly unbreakable by brute force, making it the most powerful encryption.
To simplify the concept, imagine that a paper with information is sent with a unique key. You bring it on the other side of the room protected and of which it can only be decrypted or opened with that same unique key used in the padlock. In short, when you use AES encryption, there's only one unique key that can cipher and decipher data that passes through the web.
Another thing that online fax providers use for an additional layer of protection is Secure Sockets Layer (SSL) to secure the internet connection. When users log in to the fax application on the web, they will see a padlock beside the website's URL address, which means the site connection is secured when sending and receiving faxes using the web browser.
SSL is another encryption that protects the communication of the user and the server. If you have shopped online, then trusted eCommerce websites have this feature since you will give your personal information and credit card details when checking out. In short, SSL allows you to transmit sensitive data over the internet with confidence.
Why Use a Secure Faxing Online?
Companies, healthcare organizations, and medical professionals are aware of the HIPAA regulations that require the protection of data of patients and clients when sending sensitive information, whether offline or online. This is where advanced fax technology and reliable fax apps come into play.
Industries that require strict compliance on handing clients' documents would only use high-caliber faxing services with advanced encryption. Some of these industries are finance, banking, government, healthcare, insurance, and real estate, to name a few.
Of course, courier services are available, but when sending critical documents, no one would think of using third-party individuals or companies – secure HIPAA compliant fax is still the best option.
Is Faxing Actually Secure?
There are fewer security risks associated with faxing, which is why it's considered a more secure means of communication than email. But that doesn't mean there are no risks. Someone might be able to see the data you're sending if they intercept your fax transmission through an unencrypted network.
Furthermore, if someone obtains access to a confidential document sent through fax, there's always the chance that it will be leaked. Despite these potential security risks, faxing can still be a relatively safe way to send information, provided that you take some basic precautions.
For example, make sure that you only use a secure fax machine and keep your confidential documents locked away in a safe place. Additionally, it's always a good idea to password protect your faxes if you are using an online fax service so that unauthorized individuals won't be able to access them. Doing these things can help ensure that your faxes remain secure and confidential.
How Can I Send a Secure Fax Online?
If you're looking for a reliable and secure faxing app, you may want to try iFax, a HIPAA-compliant faxing service that uses 256-bit AES end-to-end encryption for sending and receiving faxes. To illustrate how to send secure fax online, here's a simple walkthrough of iFax on a web browser.
Step 1
Visit www.ifax.com and sign up for a 7-day free trial on Apple Store or Google Playstore. Choose any of the plans you want to explore for sending free faxes.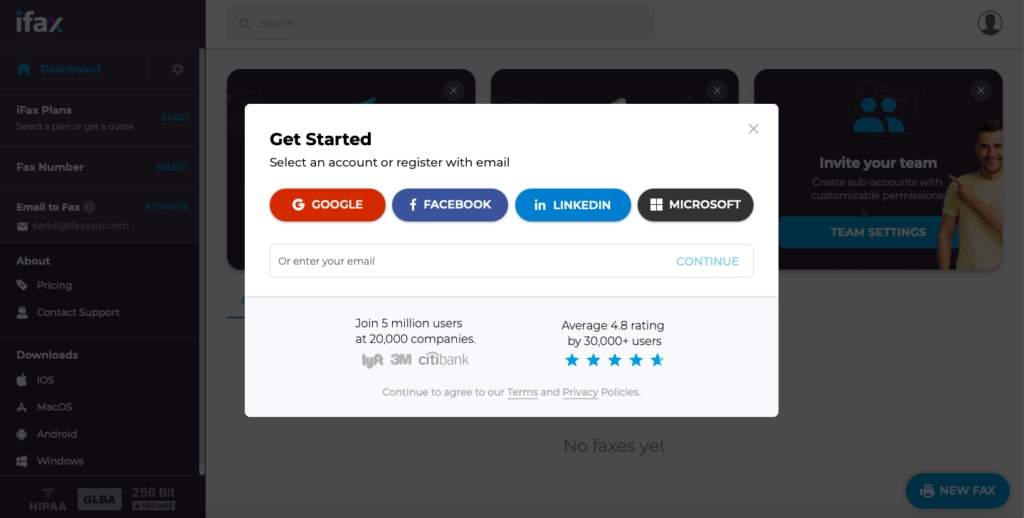 Step 2
After registering, you will see the iFax user-friendly dashboard. This is where you manage all inbound and outbound faxes. Send your first fax by clicking 'New Fax.' A default HIPAA-compliant fax cover sheet will pop out, and fill in the details, including sender and recipient's name, fax number, subject, and comments.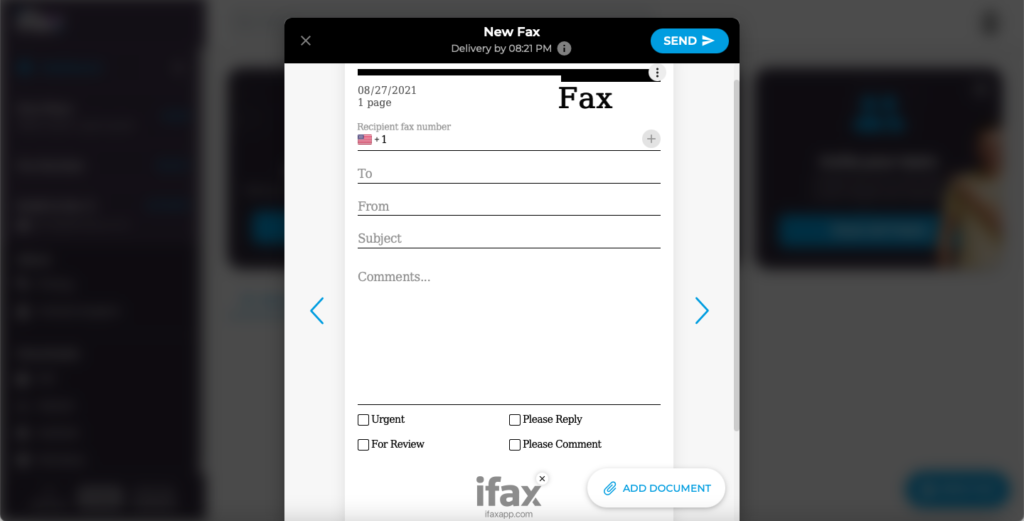 Step 3
Attach the documents you need to send by clicking 'Add Document,' which lets you upload files from your computer or connected cloud storage. When you click the 'Send' button, iFax will pop another confirmation box that shows the estimated delivery time. You may toggle on the Secure Fax for the encryption. The intended recipient will only view the document with a code received in the fax when you do this. How cool is that?!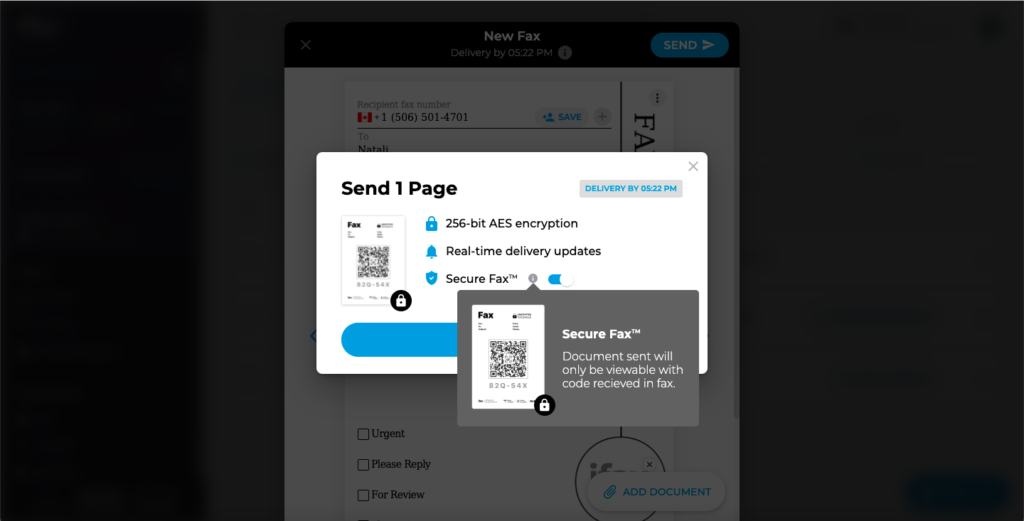 Final Thoughts
Security is as important now more than ever than everything else since tasks, communications, and project management tools are all connected online. If you regularly send fax online, you should look for an online fax service provider that prioritizes the security and privacy of fax transmissions and is also a HIPAA-compliant. Fortunately, iFax has features that companies can rely on when sending faxes online.
iFax is one of the leading internet fax providers available in iOS, Android, Windows, and Mac. Medical professionals, healthcare organizations, and technology companies are satisfied and confident with its HIPAA compliant app featuring military-grade 256-bit end-to-end encryption to protect all fax transmissions.
Download the iFax app now and see why it's one of the highly-rated fax apps on Apple Store and Google Playstore.You will need a dedicated fax number from your fax service provider to do this. (NLP)
HIPAA fax
secure cloud faxing
secure fax online
secure fax service
secure faxing service