Newer models and online faxing may have replaced the HP 1040 fax machine, but you will never know when to stumble on one. First released in 2008, this model packs additional features besides sending and receiving faxes.
Known for its compact and functional design, this model best suits those working in a small or medium-sized office. It is a simple yet reliable fax machine with a tiny screen and tactile buttons that allows you to input data in a specific sequence.
Read further if you want to know more about this fax machine's features and how it works.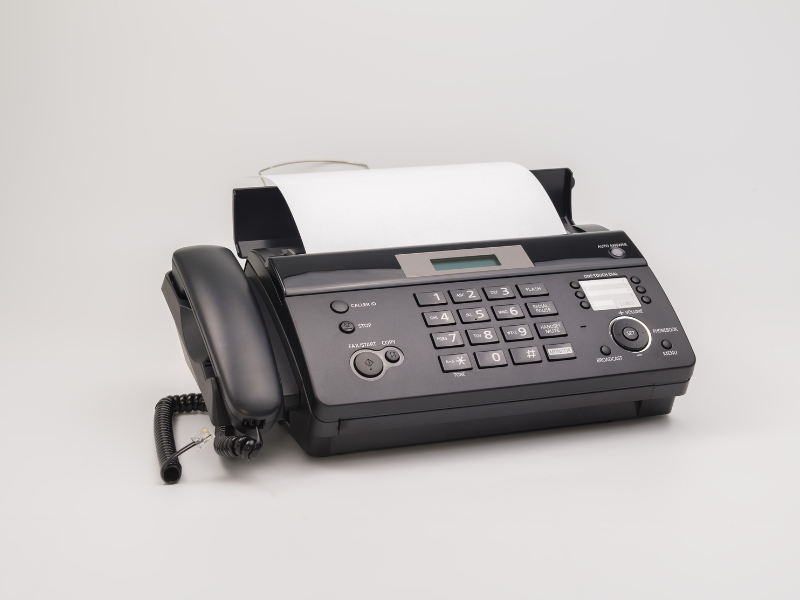 HP 1040 Fax Machine: Key Features
The HP 1040 is a fax machine that can send and receive faxes via an analog phone network. While it may lack support for wireless faxing, it has all the basic capabilities of a standard and functional fax machine.
With the HP 1040 fax machine, you can:
Fax standard pages in seconds
You can fax standard black and white pages in approximately 6 seconds. Faxing complex documents (e.g., those with detailed graphics) may take longer. Nonetheless, its 14.4 kbps faxing speed will suffice, provided you only send and receive a few faxes daily.
Make copies of multi-page documents
The HP 1040 fax machine also functions as a standalone copier. You can use it to produce copies not exceeding ten pages. Besides that, you can also adjust the contrast of the copied documents according to your preference.
Identify an incoming call by phone number
With this fax machine's caller ID feature, you can quickly identify an incoming call and know who is calling. There's no need to think twice about whether you should lift the handset. Just remember that enabling this feature requires a separate caller ID subscription.
Answer phone calls automatically
Like other fax machine models, the HP 1040 can answer calls automatically. With its phone answering capability, you can set up the machine to receive voice messages while you are on vacation leave.
Fax multiple pages without hassle
If newer models have an automatic document feeder (ADF), so does the HP 1040 fax machine. With it, you can fax multi-page documents effortlessly. There's no need to wait for the machine to finish scanning the previous page. You can multitask and do other errands while sending a fax.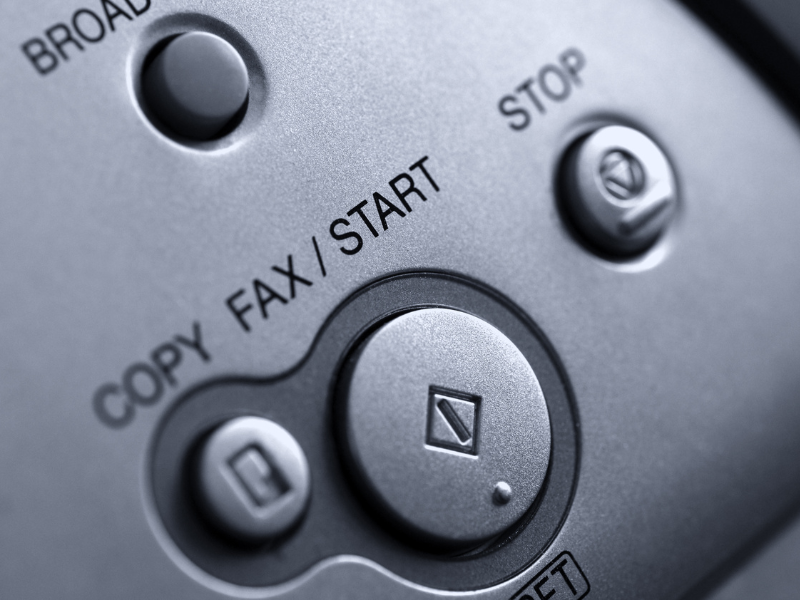 Faxing With HP 1040: How It Works
Faxing with HP 1040 only requires familiarity with the basic fax setup. Since it has tactile buttons, you must press them accordingly and in proper sequence.
Below is a step-by-step guide on how you can fax documents from the HP 1040 fax machine:
Connect the HP 1040 to an active analog telephone line using the cable provided. Turn the machine on.
Load the documents you want to fax to the machine's ADF. You can fax up to 10 pages at a time. You can send the documents in batches if you need to fax more than that.

When loading documents, ensure that there are no crumpled ends. You must also remove any item that could obstruct the paper path, like clips and staples.

Using the numeric keypad, dial your recipient's fax number in the correct order. Remember to include the prefixes like area codes or international access codes.
Press the Start/Enter button to proceed and send the fax.
Wait for the fax machine to complete the transmission. You will know once it's done since it will automatically print a confirmation page.
If the fax failed, you would also know since the machine will show it on the screen. In this case, you can either try again or recheck if the number you're trying to send your fax to is still active.
Can You Fax From the HP 1040 Without a Phone Line?
No. The HP 1040 fax machine requires an analog phone line to work. If you wish to fax without a phone line, or better yet, without a fax machine, consider switching to online faxing.
With online faxing or digital faxing, you can send and receive faxes over the Internet. It does not require any phone line, caller ID, or fax machine. You can use the device that you already have, like your office computer or laptop. You can even use your mobile phone or tablet.
More importantly, you need an online fax service to facilitate the process. Doing so will free you from the need to print every fax you receive. Plus, you can obtain a fax number without paying monthly for a landline service.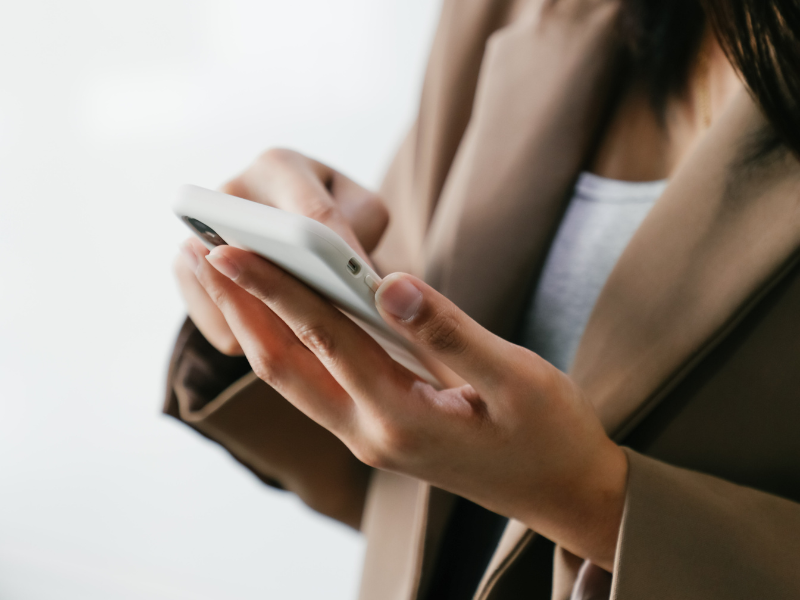 5 Reasons Why Online Faxing Is Better
Faxing online offers several benefits over traditional fax. Besides not needing a fax machine and having extra space in your office, you can also obtain the following benefits:
1. Paperless faxing
Not needing to fax from HP 1040 and other fax machines means less hassle. You don't need to load documents into an input tray or place them one by one on the scanner bed. There's less effort on your part since the process is entirely paperless. All you need to do is select and upload the electronic documents you want to fax.
2. Cost-savings
Since online faxing is paperless, you can save on ink, paper, and other office supplies. You can also save on maintenance fees and repairs. Instead of spending money on a fax machine, you can allot more budget towards improving the productivity and efficiency of your business.
3. Seamless transactions
Sending and receiving faxes online opens more opportunities for seamless transactions. You can automate repetitive tasks like fax number dialing and call forwarding. You can even schedule faxes to be sent at a later time. If you want to fax in bulk, you can quickly do so by clicking a few buttons.
4. Increased security
Fax machines like the HP 1040 lack the security to prevent accidental disclosures and unauthorized access. When faxing confidential files, you need more than a cover page to ensure privacy. There's also a possibility of exposing sensitive data to others due to machine malfunctions or human error. By faxing online, you can minimize these risks. You can also encrypt the fax data and ask for IDs or eSignatures for further verification.
5. Improved compliance
Faxing online helps improve compliance with HIPAA, GLBA, and other federal guidelines. These guidelines require strict measures to safeguard sensitive information. If you stick with using fax machines, you could put your business at risk of non-compliance. You will also face the possibility of paying hefty fines and jail time for serious compliance violations.
Go Paperless and Inkless With iFax
Say goodbye to faxing hassles by switching to a modern fax solution. iFax has everything you need to fax conveniently and securely. You can send and receive faxes quickly and even at the same time. There are no confusing reception modes to set. You only need to sign up and create an account.
With our online fax service, you can fax paperlessly from anywhere. You can even send faxes to international fax numbers. Best of all, you can integrate our service with your existing software or CRM system. You can even fax documents directly from Gmail or Google Drive.
If you want uninterrupted faxing that is not only secure but also affordable, try iFax. See how our online fax service can help streamline your business operations.
fax machines
HP fax machines
traditional fax
traditional to online faxing