Running a small office or home-based business can be challenging. You're bound to juggle multiple tasks, including faxing and sorting hard copies. Of course, one way to streamline these tasks is to shift to online fax. Or, if you have the HP DeskJet 4100e, you might as well take advantage of its built-in fax feature.
That's right. Faxing with HP DeskJet 4100e is possible as it is a multifunction printer. With it, you can print, scan, copy, and fax documents all in one device. There's no need to switch between machines.
Here's a detailed guide as to how it works.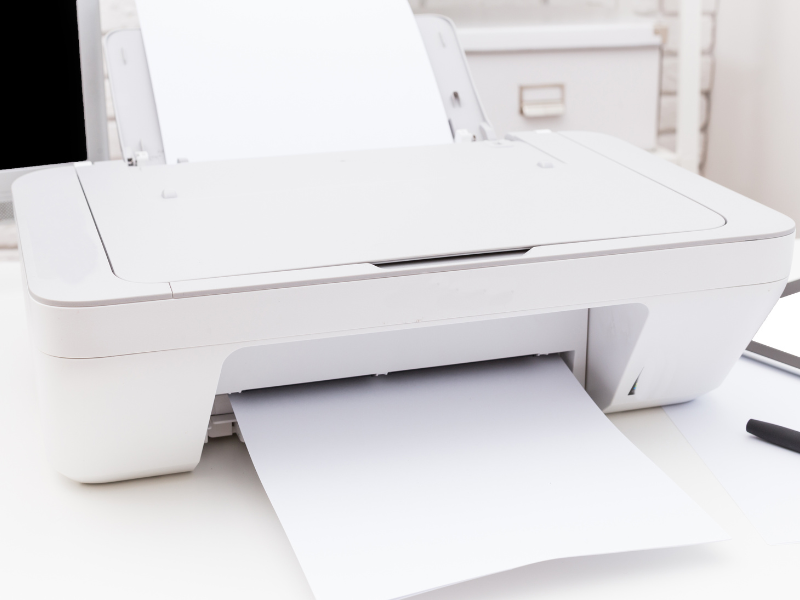 HP Deskjet 4100E Printer: Key Features
The HP DeskJet 4100e is an all-in-one printer that lets you multitask effortlessly. Aside from its sleek and modern design, it also offers a variety of features ranging from hands-free document feeding to mobile faxing. This printer also has a 2.2-inch display screen that allows you to navigate its functions efficiently.
On top of this, the DeskJet 4100e also features the following:
All-in-one functionality
With this printer, you can effortlessly multitask as it can scan, copy, print, and fax documents. Everything you need is in one place. There's no need to use other types of equipment. Plus, this printer can print black and colored pages in optimum resolution. It can also handle multiple media types, including brochure paper and envelopes.
Mobile fax capability
With the HP DeskJet 4100e, you can do mobile faxing and send faxes to any fax number, whether local or overseas. It frees you from the constraints of only faxing from the office. With this printer, you can fax documents using only your mobile phone. There's no need to carry a bulky machine every time.
Simple print and fax setup
Faxing from the DeskJet 4100e doesn't require any complex or time-consuming setups. It only takes a couple of minutes to set up and use. Plus, it offers a variety of options for customizing fax settings. With it, you can easily set up your preferred resolution and contrast. You can also count on its automatic document feeder to transmit multi-page documents as a single fax. There's no need for any manual intervention.
Advanced faxing options
Aside from its mobile faxing capability, the DeskJet 4100e all-in-one printer also has options for adding custom cover pages, then saving them as templates. With this printer, you can also access your detailed fax history. You will be able to see all the faxes you've sent and your drafts. You can also edit and resend a failed fax with just a few clicks of a button.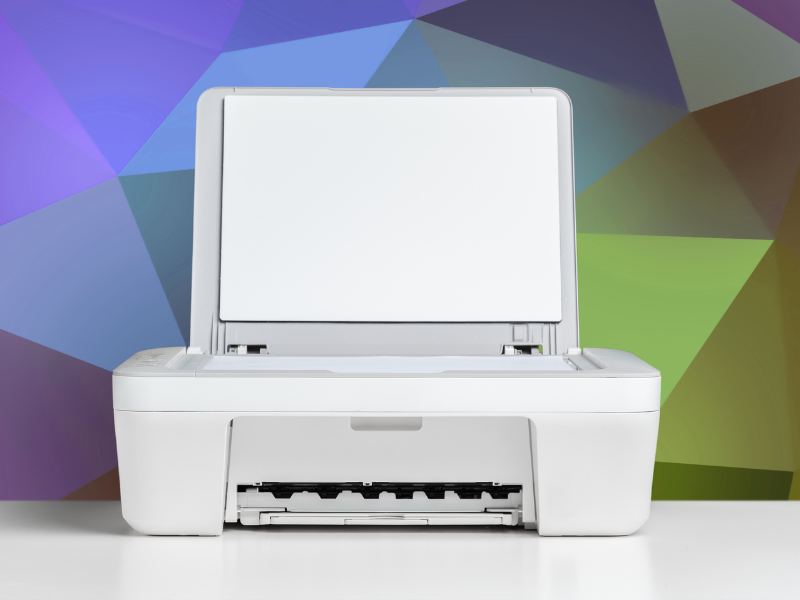 How to Fax Using the Deskjet 4100e
To fax using the HP DeskJet 4100e printer is easy. All you need is to follow some simple instructions. Best of all, you don't need to connect the printer to an active landline. Its fax functionality works by installing the HP Smart app on your mobile device.
Install the HP Smart app on your computer and phone. Make sure that both devices are connected to the same network.
Select the HP DeskJet 4100e printer, then choose the Mobile Fax tile. In case you don't see this option, you may do the following:

On your Windows computer, go to Settings > Personalize Tiles. Click the toggle switch next to Mobile Fax.
On your mobile device, tap Personalize Tiles, then enable the Mobile Fax option by tapping its toggle button. Once you are done, press Home.
On your Mac, navigate from the menu bar to HP Smart > Personalize Tiles. Set the option for Mobile Fax to On.

Enter your recipient's fax number and other required details.
To add a fax cover page, click the toggle button next to Add a cover page. Remember to include a subject and a message.
Using your phone camera, scan the document you want to fax. You can also attach a supported file (e.g., TIFF, PDF, and JPEG) from your laptop's local drive.
Proceed with faxing and wait for the app to notify you that your fax has been successfully delivered.
Note: Unlike other multifunction HP printers, the 4100e model cannot receive faxes. You can only use it for faxing documents online.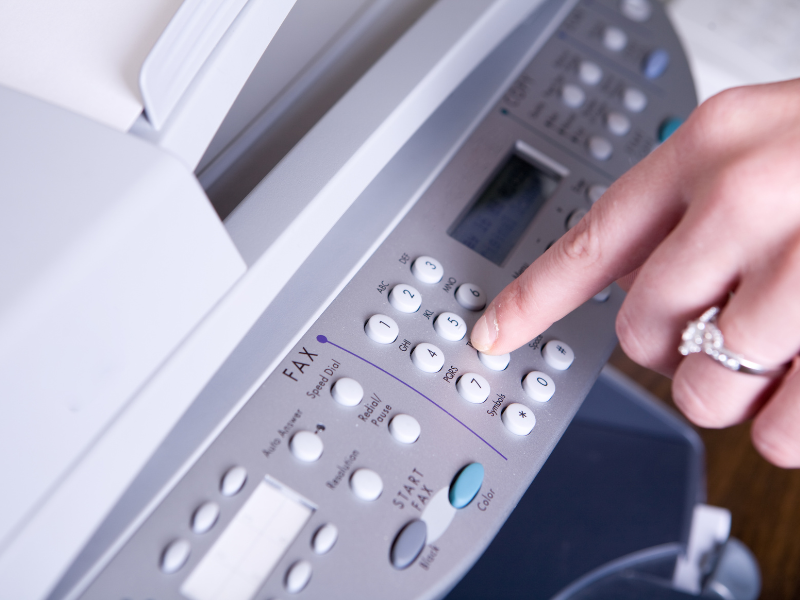 HP Deskjet 4100e Not Faxing (Quick Fixes)
Faxing troubles are bound to happen, especially if you're faxing traditionally. The same goes when you're faxing using the HP DeskJet 4100e. If you encounter issues, such as your fax not sending, you can try these steps for basic troubleshooting:
Check your printer's connection. Chances are there may be some issues with the connecting cable. You may also want to check if there's a working power source.
Verify your recipient's fax line. The recipient's number may no longer be active, or they may have switched to a different number. Confirm with your recipient whether the number is still correct.
Check the error code shown. Look for any error code on the printed confirmation page. If there's one, compare it with HP's list of codes for fax errors. It should tell you the reason behind your failed faxes.
Inspect the document feeder. If the fax fails to send, something could be blocking the document feeder. Check for paper jams. There shouldn't be any crumpled pages or frayed edges.
Use online fax as an alternative. If you keep running into issues while sending faxes, consider using an online fax service. This way, you won't have to go through all the trouble of finding a quick fix. You can simply focus on accomplishing your faxing tasks on time.
Is Online Fax Better Than HP Deskjet Printers?
While HP DeskJet printers are known for being reliable and efficient, they can still limit you from faxing optimally. Besides, you would still have to find a place for it in your office. You cannot instantly bring it anywhere, especially when you need to do some offsite work.
Online faxing, on the other hand, gives you more freedom to fax without connecting to any machine or wired network. All you need is access to any device (e.g., phone, laptop) with an internet connection. You may then use your choice of fax service to transmit documents swiftly and securely.
Experience Seamless and Secure Online Faxing With iFax
It's time to bid goodbye to the hassle of waiting by the printer. With our online fax service, you can fax documents anywhere, anytime. All it takes is a few mouse clicks to send and receive faxes. You can be in your office, at home, or on the go. The location won't matter since all your faxes will be stored and transmitted online.
With iFax, you can also fax with confidence since our service uses enterprise-grade encryption to protect your documents from unwanted access. Concerning compliance, you can be at ease knowing that our service duly meets the requirements of various regulations, such as HIPAA and GLBA.
Create an account today to start faxing and exploring our user-friendly platform.
fax machines
HP deskjet printers
HP fax machines