Online faxing has made it easier for companies to communicate with one another. As online faxing solutions continue to grow, it is best to learn more about the different features to know which is best for you.
The Sharp UXB700 fax machine is a remarkable embodiment of cutting-edge technology, combined with user-friendly design elements that streamline the faxing process. Its prominent features include excellent fax resolution, large capacity, and quick dialing, which together make it an indispensable tool in any professional setting.
Key Features and Capabilities of the Sharp UXB700 Fax Machine
Good fax resolution
Starting with the fax machine Sharp UX-B700's exceptional fax resolution, this feature ensures that every document sent or received maintains its original quality. The machine's superior transmission resolution results in faxes that closely mirror the original document, ensuring clear and crisp text and graphics.
This high-resolution capacity makes the UX-B700 an ideal choice for businesses where the clarity of faxes is of utmost importance. Whether you're transmitting intricate diagrams, detailed reports, or simple text documents, the UX-B700 ensures your faxes are always clear and professional-looking, enhancing the quality of communication within your business.
Large capacity
Another key strength of faxing with Sharp UX-B700 is its large capacity. This fax machine is designed to handle a high volume of faxes, making it perfect for busy office settings. The device features a substantial paper tray that minimizes the frequency of refilling, saving valuable time and effort.
In addition, the UX-B700 boasts a large memory capacity, capable of storing a significant number of pages. This becomes particularly useful during peak times when the machine may receive more faxes than it can print, or when it runs out of paper. In such cases, the incoming faxes are stored in memory and can be printed out later, ensuring no information is lost.
Quick Dialing
Quick dialing is another feature of the faxing machine Sharp UX-B700 that enhances its efficiency and user-friendliness. This feature allows for the storage of frequently dialed numbers, reducing the time taken to send faxes to regular contacts. With the touch of a button, users can access stored numbers, making the faxing process faster and more convenient.
Easy Receiving System
The UX-B700 automatically answers and prints out incoming faxes or stores them in memory if it's out of paper, ensuring no important documents are missing.
The machine's large capacity allows it to handle substantial amounts of incoming and outgoing faxes, accommodating the needs of busy offices.
Other Key Features
The Sharp UX-B700 offers a host of other capabilities. It also has an automatic document feeder, allowing easy sending of multiple-page faxes. This way, there will be no need to feed each page manually. Lastly, it features an energy-saving mode that reduces power consumption when the machine is not in use, making it an environmentally-friendly option.
The Sharp UX-B700 Fax Machine shows efficiency and reliability. Its excellent fax resolution ensures clear and precise document transmission, the large capacity caters to high-volume faxing needs, and the quick dialing feature enhances speed and convenience.
The UX-B700 is not merely a traditional fax machine; it's a tool that leverages technology to make a worker's life easier. The blend of these features truly sets the Sharp UX-B700 apart, making it a worthy contender in fax machines.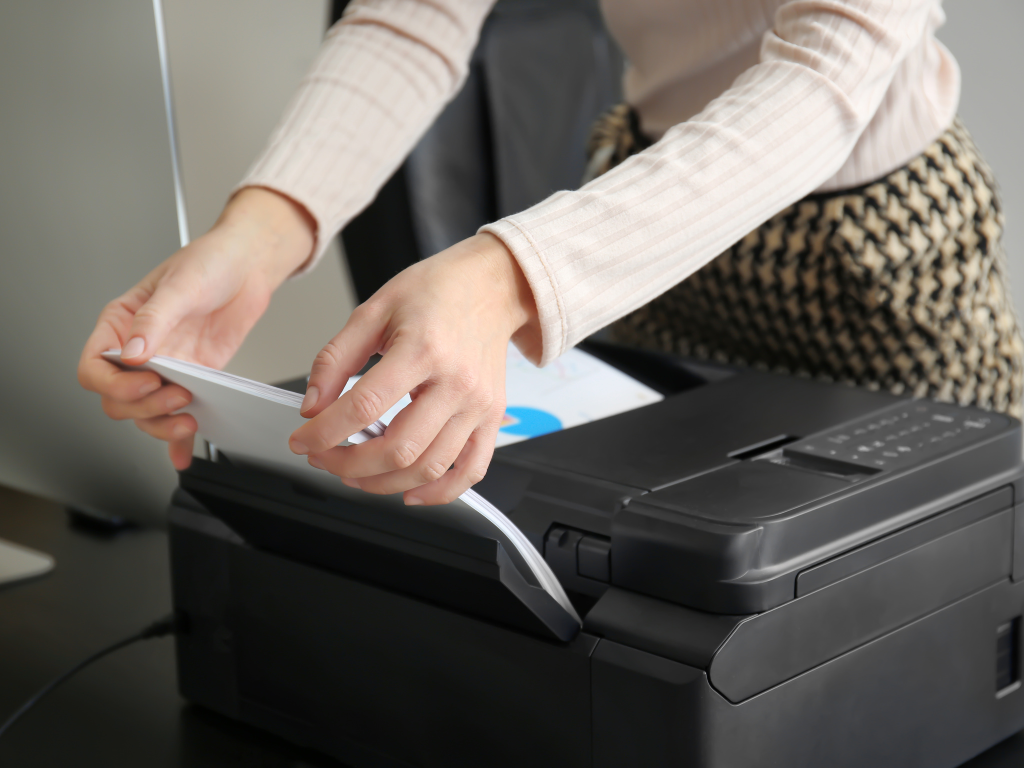 Using The Sharp UX-B700 Fax Machine for Business Faxing
The Sharp UX-B700 Fax Machine is a remarkably efficient tool that can significantly streamline business communication. Its large capacity, excellent fax resolution, and quick dialing feature make it well-suited to the high-volume, fast-paced nature of business environments.
To Send
Users simply place the document in the automatic document feeder,
Enter the recipient's fax number—either manually or using the quick dial feature for stored numbers.
Press 'Send.'
The high-resolution transmission ensures the received document maintains clarity and professionalism, which is crucial for business communications.
Moreover, the quick dialing feature significantly reduces time spent dialing frequently used numbers, boosting productivity. Overall, the Sharp UX-B700 offers a seamless, efficient solution for business faxing needs, balancing high performance with user-friendly operation.
Best Reasons To Make The Switch From Traditional Fax to Online Fax
Switching from using traditional fax to online fax brings various benefits.
Convenience and flexibility
The use of online faxing will allow you to send and receive faxes from any place at any time, using any device with internet access. Such flexibility will significantly make people's lives easier.
Cost savings
Online faxing eliminates the need for a dedicated fax line, fax machine, maintenance, paper, and ink, thus reducing overhead costs.
Environmentally friendly
As it reduces paper waste, this in turn contributes to sustainable business practices.
Enhanced security
As faxes can be sent and received directly to and from email, this eliminates the risk of sensitive documents being unattended.
Easy storage and retrieval
As the documents are stored digitally, this makes it easier to search, access, and manage. This also means there's no need for physical storage space, which can be an advantage for businesses operating in smaller spaces.
The switch from traditional to online fax can enhance convenience, reduce costs, improve security, and streamline document management, making it a smart move for any business.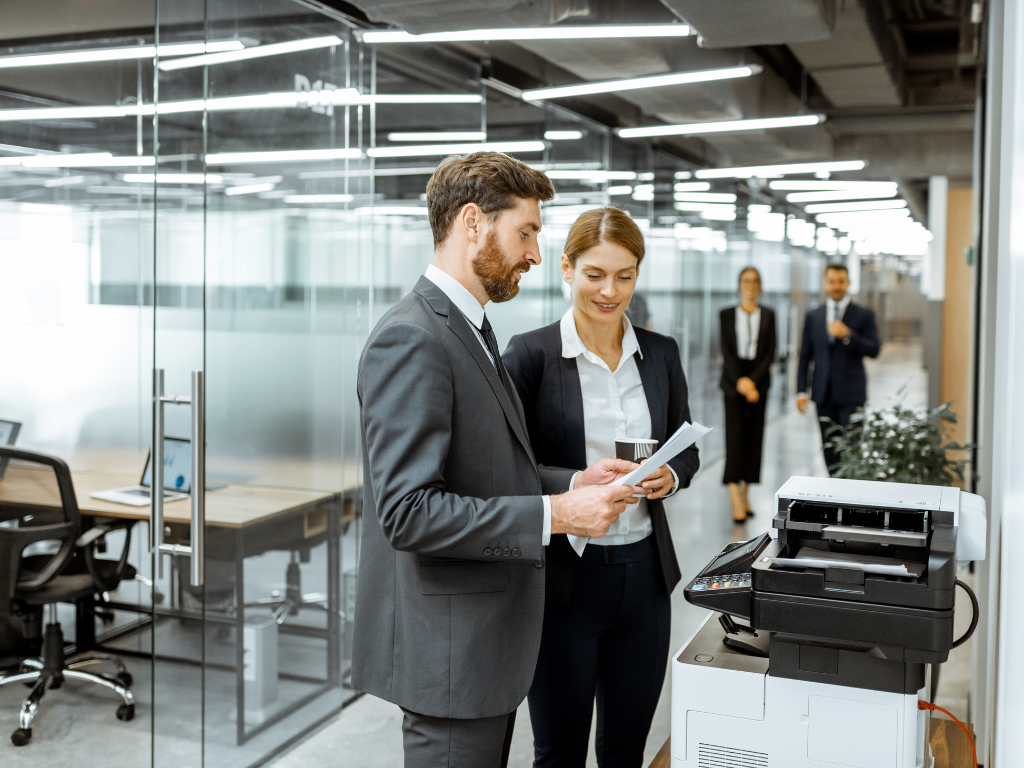 Sharp UX-B700 Fax Machine vs iFax: Which One Should You Use?
Choosing between the Sharp UX-B700 fax machine and iFax depends largely on your business needs and working environment.
The UX-B700 offers impressive fax resolution, large capacity, and quick dialing, catering to businesses with high-volume, frequent faxing needs. Its tangible printouts may be a necessity in industries where physical documents are required for record-keeping or legal purposes. However, it also involves costs for maintenance, paper, and ink, and requires a dedicated landline.
On the flip side, iFax offers a digital and paperless solution for your faxing needs. This online service allows you to send and receive faxes from anywhere via a device with internet access, offering flexibility and convenience. It eliminates the cost of paper, ink, and machine maintenance, making it a cost-effective option.
Furthermore, it facilitates easy digital storage and retrieval of documents and enhances security as faxes can be sent and received directly to and from your email. However, it's reliant on a stable internet connection and may not be suitable for those needing physical documents.
If you're looking to learn more about the different ways iFax can improve your business operations, feel free to contact us and sign up for an account today.
Sharp fax machine
Sharp UX-B700 Fax Machine
Sharp UXB700