Paperless fax has been all the rage lately, and rightly so. We use over 210 billion pages for faxing each year. Yes, we'll give you a minute to process that. 210 billion. This means more clutter, more waste and more cost for your company. Going the paperless fax route may be the exact thing your firm needs.
Many companies and enterprises have already embraced this technology because of its convenience and efficiency, but what about you? If you're still not convinced that it's time to switch to paperless fax services, then read on because this ultimate guide will radically change the way you fax.
Table of Contents
What is Paperless Faxing?
Paperless faxing is a remote transmission of scanned documents delivered to an intended recipient over the internet. It's acceptable in any situation where conventional fax machines may not be available. The concept is simply sending fax online, which doesn't require printing documents in an office, bank, or hospital setting.
It has many advantages over legacy fax machines, such as lower cost, higher quality, and time efficiency. In addition, it reduces paper waste and saves employees from having to commute while still fulfilling their work duties remotely. In an office setting, employees don't need to queue or wait for their turn to use the fax machine because paperless fax providers have fax software or apps, which can be installed on mobile devices and computers quickly.
Why Paperless Fax Is Important to Your Business?
Did you know that your business can save up to $1,000 per year by switching from traditional faxing services to paperless fax? Paperless fax is a fast and easy-to-use service which makes it perfect for anyone who needs to send or receive documents on the go. You may send contracts, invoices, proposals, credit card authorizations, insurance claims, or any other document that would otherwise require a paper-based fax machine.
With the help of fax software and fax apps, users can quickly fax an electronic file to someone on their mobile devices in just minutes. Moreover, these fax apps provide proof of successful deliveries through transmission receipts, making it easier for your team to track outbound faxes. These are helpful for the compliance team whenever they conduct audit trialing for all faxes.
How to Get Started With a Paperless Fax Strategy?
Are your faxing needs growing faster than you can handle? Do you find yourself spending more time looking for documents or trying to locate a working machine? If so, it's time to get started with your paperless fax strategy. It's the ideal solution for today's professionals who need the convenience of digital fax transmission without sacrificing security and reliability. There are three ways to do it. Each one has advantages and disadvantages.
Send a Fax With Your Mobile Device or Computer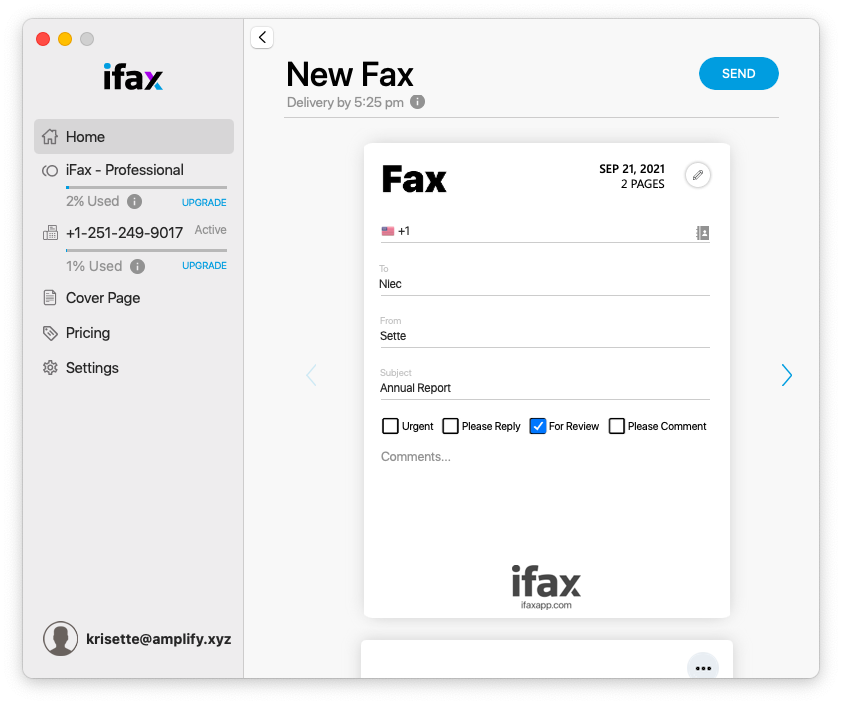 Assuming you have an active subscription to their service and an internet connection, then you're all set. If you choose this option, you only need to download the application of your chosen online fax service on your smartphone, tablet, or computer. Here's a simple walk-through of how you can do this through iFax.
Open your App Store or Google Play Store and register for free on your mobile device to enjoy a 7-day free trial on your iOS and Android devices. iFax will not charge you for seven days, so you have time to explore its settings. You will also receive an email notification to remind you to cancel the subscription before your trial ends. You may also register on the website and download the iFax app for your Windows or Mac computer.
Once your subscription is activated, you can send your first fax on the dashboard, where you see the incoming and outgoing faxes. Generally, the iFax team will send you a welcome fax message. From there, you would have a preview of how to receive a fax online. Click 'New Fax' to send a test fax.
There's a fax cover sheet you can fill in with details such as the sender and recipient's name, fax number, and email addresses. Fill in the subject and add comments if necessary to provide instructions to the intended recipient.
Click 'Add Document' to attach the file for faxing. It must be in a readable black and white – PDF, Word Document, or Excel file. You may also import files from your cloud storage such as Dropbox, Google Drive, and One Drive. iFax lets you connect your cloud storage accounts with ease.
Once the file is all set, click 'Send,' and iFax will prompt you again to confirm sending the fax, and you're good to go. You may also notify the recipient by sending an email that his or her fax is on the way.
The advantage of using this paperless fax approach is that you can scan a document right off the bat when you use your mobile device. Of course, the caveat is that when you have a limited internet connection, this might not work, so you have to make sure you're always connected online.
Send Fax by Email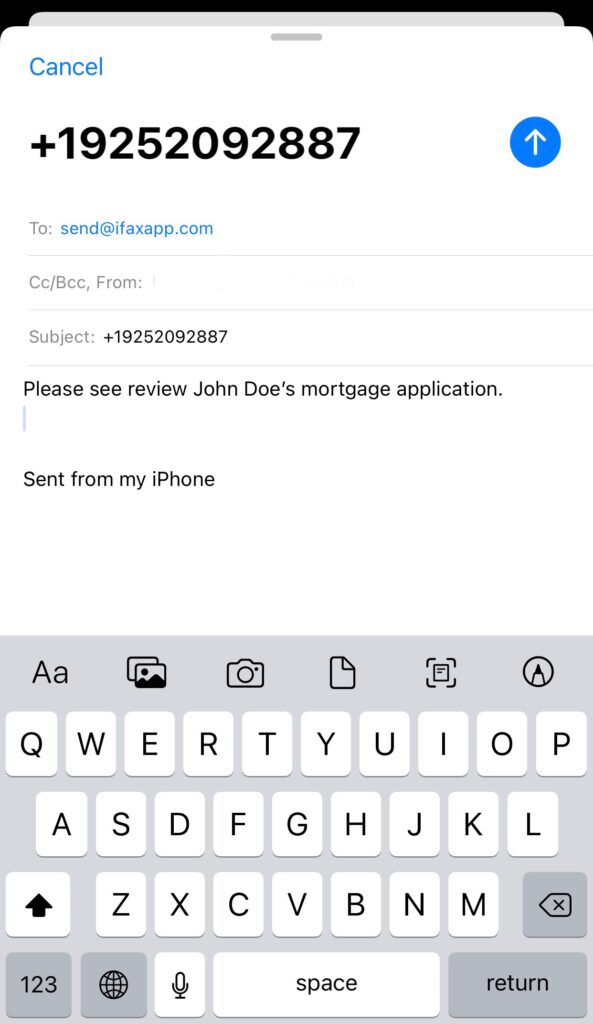 Sending a fax by email is super easy because you can do it as long as you have an online subscription to your preferred online fax service provider. For this guide, we use the iFax email to a fax feature to be easier for you to tag along. This is another way to adopt paperless faxing.
Open your Gmail client or any email client of your choice and compose a new email.
In the 'To' field, type 'send@ifaxapp.com'
In the subject, type the recipient's fax number, including the international and local area codes, without space and dashes.
In the body texts, you may include comments and instructions. These will be visible on the fax cover, or you can leave it blank.
Attach the documents for faxing by uploading them from your computer or importing them to your cloud storage. If you're using a mobile device, this will be a lot easier, and you may also take a photo of the document and make it an attachment.
Click send, and the recipient will receive your documents to his or her fax machine and fax number. iFax always notifies the sender if the transmission is successful.
Email to fax feature is available if your online fax service offers this in the bundle you purchase. What's good about this is that you can always fax anytime using a web browser or mobile device. The downside is that if you're using a computer, and there are physical documents you need to send, you must convert them first into digital format by scanning them.
Send Fax on a Web Browser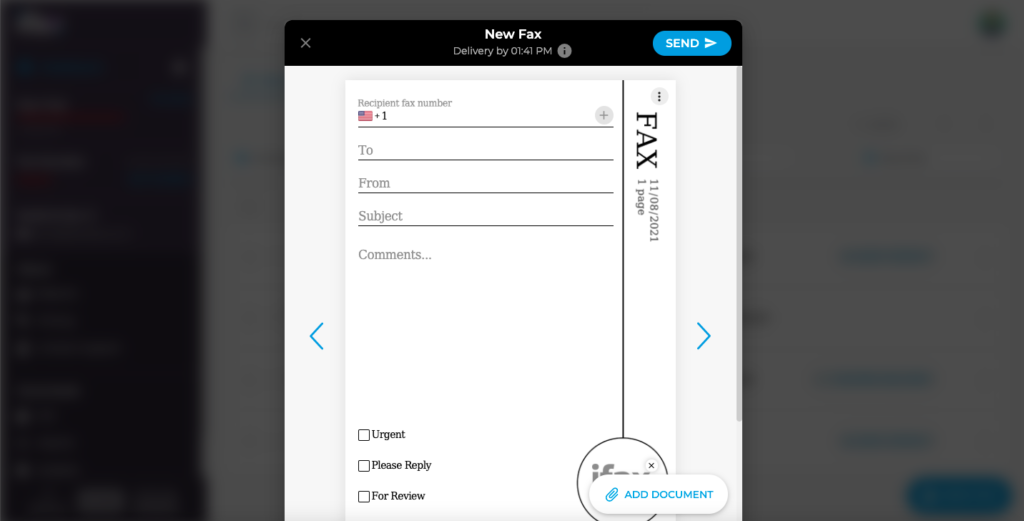 Last but not least, there's another paperless fax approach you can do especially without visiting a store on at outlet for faxing services. If you're only going to fax two to three pages, you can fax for free with iFax's 7-day free trial. You can log in directly on your web browser without downloading an app on your computer or smartphone.
iFax website lets you upload your digital files and fax them to the recipient right away anywhere in the US and Canada.
Visit www.ifaxapp.com and log in to access the dashboard. Click the 'New Fax' button and fill in the fax cover sheet.
Click the 'Add Document' to attach your digital copies, whether it's a PDF or Word Doc.
Check the details on your fax cover sheet one more time and if everything is all set and ready, click 'Send'
Of course, everyone wants a free fax service, especially if you only need to send one or two documents. Using this method is a good option because you don't have to go out and visit an outlet nearby to fax a single page.
What Are the Benefits of Going Paperless With Faxes?
Faxing is one of the oldest and most important technologies in business. Fax machines were invented when we didn't have email or smartphones. But it still has its place today. And for some companies, faxing is essential to their success, so here are the benefits of switching to a paperless approach.
Environment-friendly – paperless faxing eliminates paper waste and reduces your company's carbon footprint up to 90%. Moreover, this process saves trees and lessens the errors from scanning or retyping papers, which can be tedious.
Flexibility – if your teams are constantly working outside the office – like sales agents in real estate, insurance, and cars – they can efficiently work remotely and fax clients' documents in a breeze to expedite the application process.
Reduces maintenance costs – since your staff won't need to print documents, you reduce the costs on ink cartridges and toners and maintenance of the fax machines. While laser printers aren't overly expensive, they require toner cartridges that cost $50 or more per cartridge. With some multifunctional printers now selling for well under $100, it's easy to see how even a few free digital fax pages each month can quickly subtract hundreds from an office budget over a year.
Security in transmission – faxing online is secure because premium fax service providers use high-caliber encryption such as 256-bit, the gold standard and hardest to crack and hack. The content of your fax that goes through the internet is encrypted to ensure that hackers and cyber snoopers can't access or view sensitive information.
Increases productivity – your teams can easily track the incoming and outgoing faxes when you use paperless fax through mobile apps, especially when working on tight deadlines. Using fax apps that support Dropbox, Google Drive, Box, and others can give employees instant access to file without dealing with bulky USB drives or memory sticks.
What Are You Waiting for – It's Time to Make the Switch!
Paperless faxing is the best way to reduce paper waste and become more environmentally conscious. iFax offers a variety of ways for you to go paperless, including an app that you can download on your mobile device or tablet. If you're not sure where to start with your strategy, our team at iFax will help guide you through making the switch from traditional faxes to digital ones.
The benefits are clear – decreased costs, reduced environmental impact, increased security and encryption, greater convenience (online access anytime), and flexibility. So make today the day when you say goodbye to old-fashioned fax machines and hello to going green with iFax. For enterprise, you can get a custom plan that will match your faxing needs.
The transition doesn't need to be cumbersome, as you can always avail a free trial to explore the dashboard and access all features. Download iFax now on your mobile device or computer and find out why more than 5 million people rely on it.
internet fax
online fax
online fax service
Online faxing
paperless faxing