Healthcare organizations often store sensitive patient information such as medical records, test results, billing information, and more, which is why laws such as the Health Insurance Portability and Accountability Act (HIPAA) exist. Entities covered under this law must comply with specific guidelines. Not taking the required action may lead to significant repercussions.
HIPAA-compliant data storage serves as another layer of protection, keeping patient information secure while also allowing easy access. All you need is to choose the best storage service for optimum compliance and security.
Top 5 HIPAA-Compliant Data Storage Services: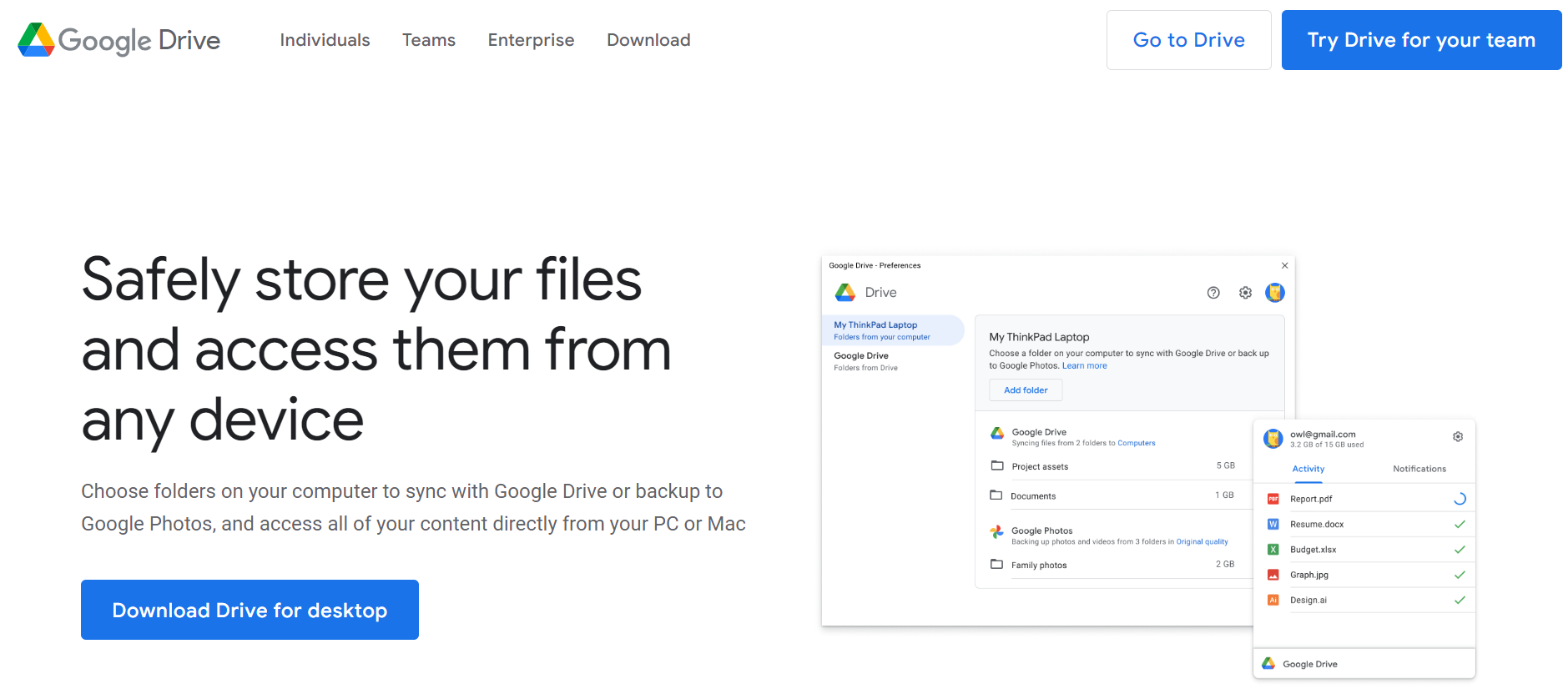 Check out these outstanding HIPAA-compliant cloud storage solutions below:
1. Google Drive
Google has a generous free plan and is a widely used cloud solution. However, you need to upgrade to a paid Google Business Workspace account to be HIPAA-compliant.
Google Workspace, which includes Google Drive, offers HIPAA compliance data storage and can process a Business Associate Agreement (BAA). The agreement covers other Google Suite products like Gmail, Google Calendar, and Google Vault. Its integrated platform makes it an ideal choice for increasing convenience and boosting productivity.
Pros:
Ideal collaboration tool with sharing access and version histories
Offers two-factor authentication
Offers offline access with Drive folders synced to devices
Cons:
A Google account is required to gain access
Prone to slow download and upload speeds
Pricing: Business plan starts at $6 per user per month for 30GB of data storage
Best for: Healthcare organizations who need a low-cost collaborative and data storage solution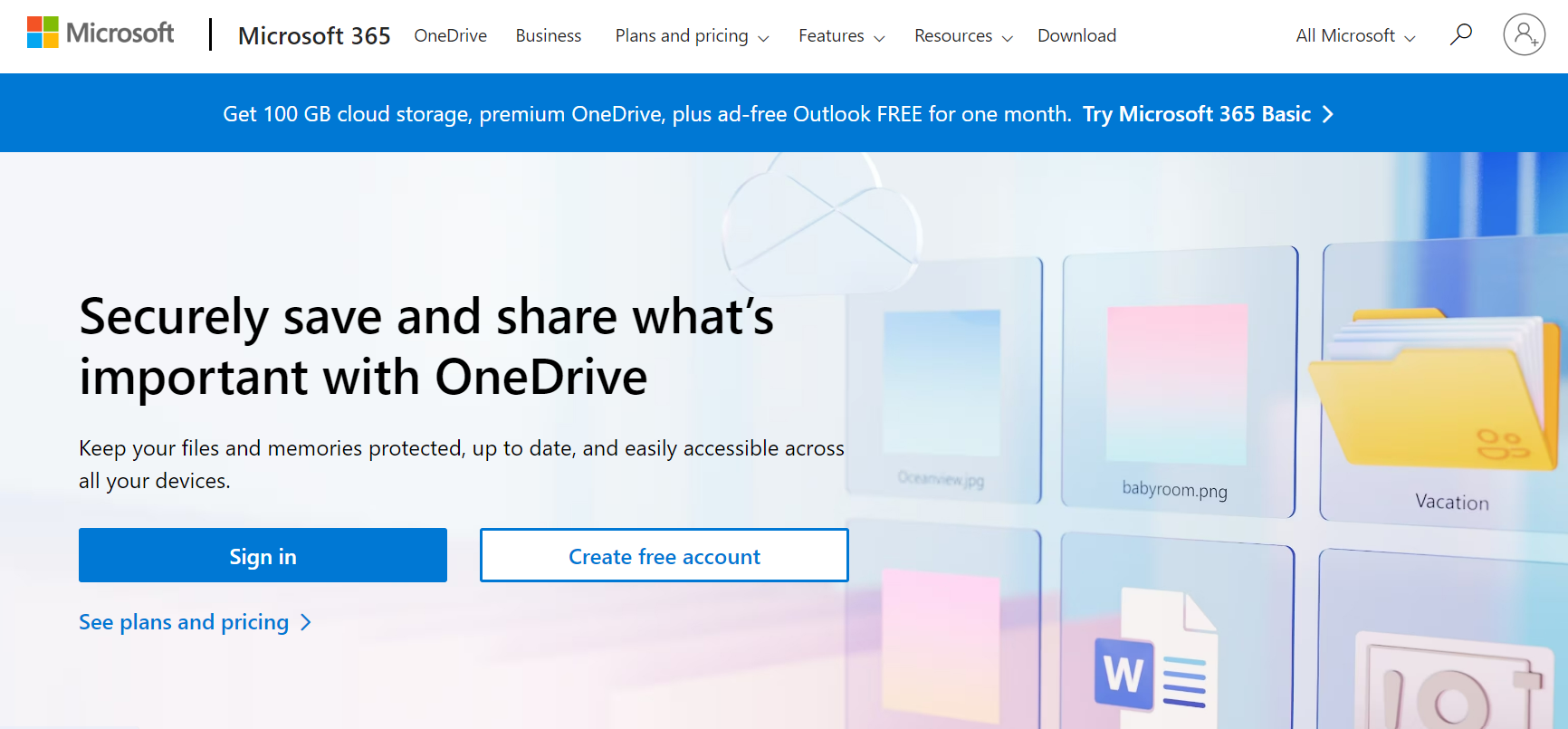 2. Microsoft OneDrive
Microsoft OneDrive has robust security features and seamless integration with other Microsoft services, making it one of the best HIPAA-compliant cloud storage solutions. You can conveniently use it for document sharing and collaboration, with features like co-author, mentions, and block downloads.
If you already have a Microsoft 365 subscription, you can get advanced protection like ransomware detection and recovery, OneDrive restore, and personal vaults. Microsoft plans also come with a standard BAA, ensuring you can use their tools for handling PHI.
Pros:
Can use custom domains
Seamlessly integrated with Microsoft 365 apps like MS Word, Excel, and Outlook
Uses AES 256-bit encryption and two-factor authentication
Cons:
Pricing: Plans start at $19.99 for 100GB of cloud storage for one person
Best for: Practices who are already using other Microsoft applications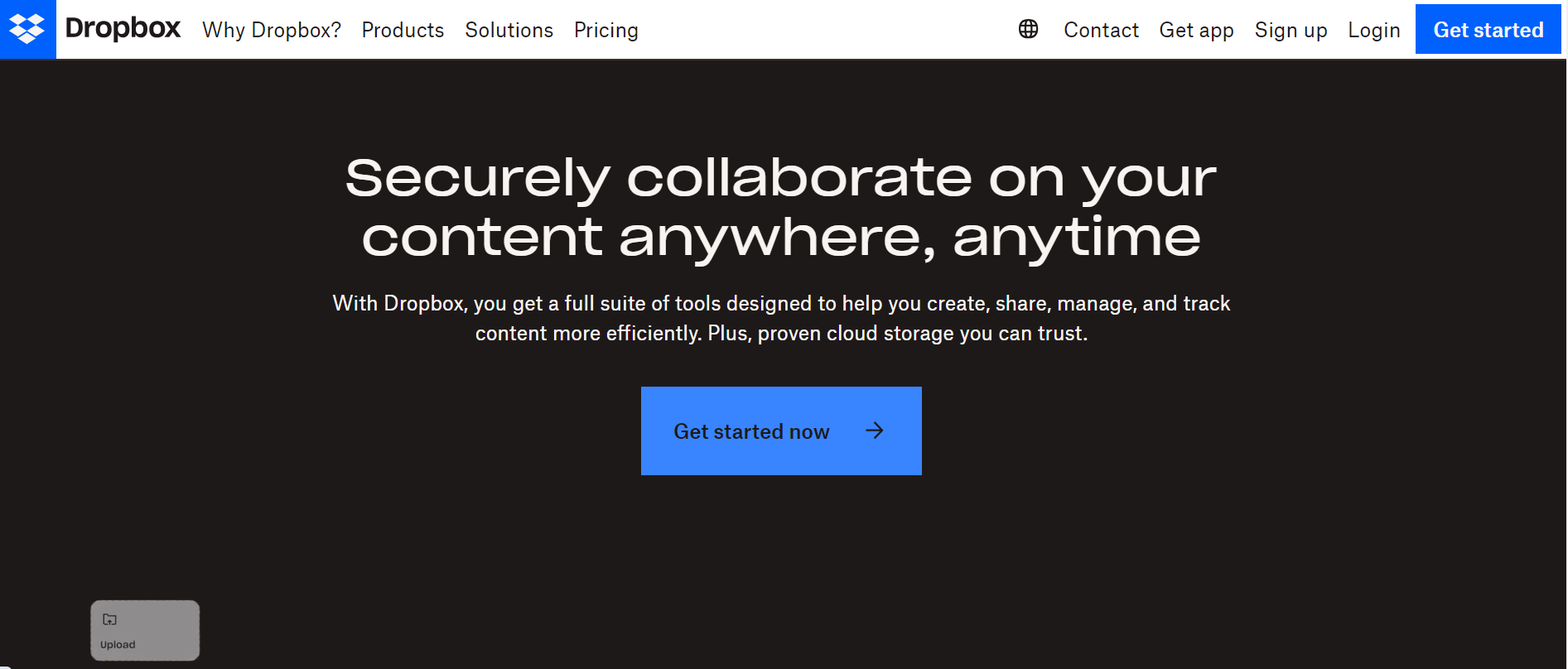 3. Dropbox
Dropbox is an easy-to-use, secure, and reliable HIPAA-compliant cloud storage. You simply drag-and-drop files into folders, and it'll automatically sync to the cloud every time you make changes. You can also enjoy collaboration tools like file requests, sharing roles, and password protection.
The data storage service meets HIPAA and HITECH legal requirements, but only if you're on a Business Plan. You can also access a minimum of 9TB of storage shared by 3 users. For an integrated workflow, you can connect Dropbox with third-party apps like Slack, Microsoft, and Google Workspace.
Pros:
Has monthly and discounted annual plans
Can incorporate personal accounts into a business account
Simple to use
Cons:
HIPAA compliance is only available for Business Plans
Individual plans are not HIPAA-compliant
Pricing: Starts at $16 per user for the Business Plan with 9TB of cloud storage
Best for: Non-tech-savvy practitioners looking for a simple data storage solution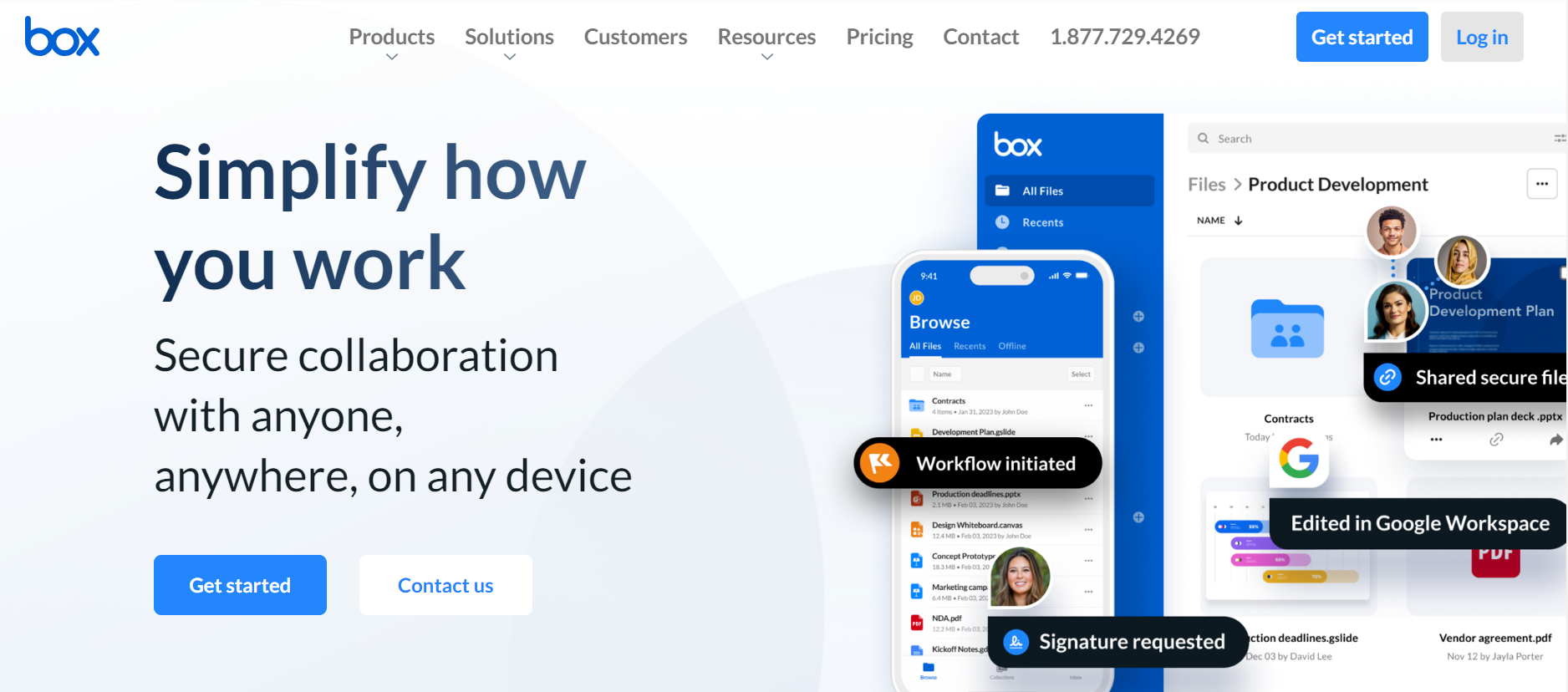 4. Box
Box offers unlimited data storage, making it ideal for teams with lots of files to upload. The Enterprise plan provides HIPAA and HITECH compliance and comes with other security features like device trust, password policy reinforcement, and document watermarking.
Similar to Dropbox, Box has an easy-to-use interface with integration to 1,500+ third-party apps for a better workflow. You can use it with Microsoft Office, Google Workspace, Slack, and more.
Pros:
Extensive third-party app integration
Can invite unlimited external collaborators
Has extra useful features like eSignatures and workflow automation
Cons:
Need at least 3 users for the Business Plan account
Files may synch slowly
Pricing: Enterprise starts at $42 per user per month (minimum 3 users)
Best for: Large healthcare organizations who need unlimited data storage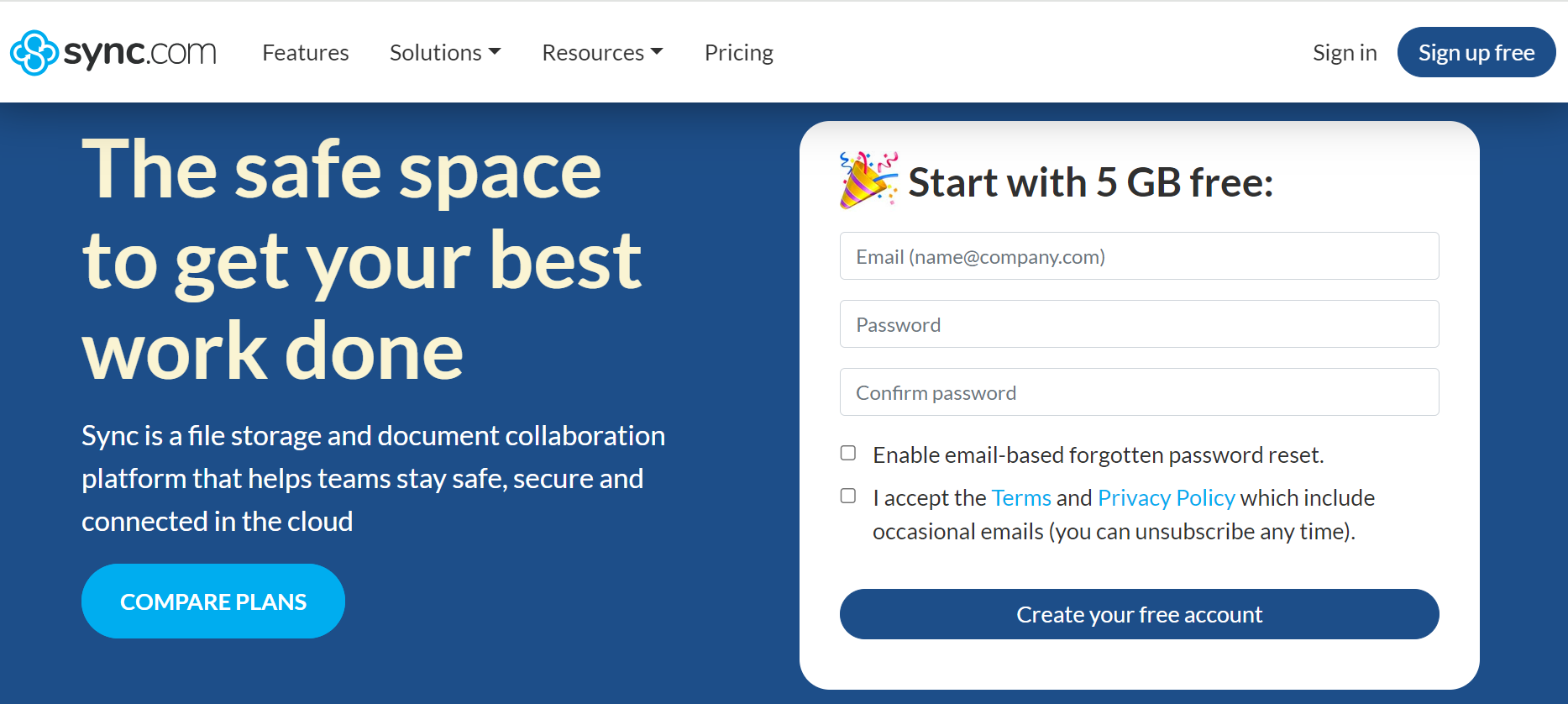 5. Sync.com
Sync.com encrypts files stored on its servers using a zero-knowledge encryption policy, which means Sync can't decrypt and access the files you store. It's a security-focused HIPAA-compliant cloud storage solution that backs up your files in real time so you can restore them anytime.
You can also create a custom-branded file portal and centralize all your folders for internal and external collaborators.
Pros:
File history is stored for one year
HIPAA compliance is available for solo professional plans
Extensive security and compliance features
Cons:
Limited third-party app integration
Only offers monthly billing to some plans
Price: HIPAA-compliant plans start at $20 per month for 6TB of storage
Best for: Health professionals who want robust security features in a data storage
Why Healthcare Needs HIPAA-Compliant Data Storage
Cybercriminals target healthcare data because of its huge resale value in the black market. Using HIPAA-compliant data storage, you can prevent patient data from being compromised in cyberattacks and data breaches. These data storage solutions have robust security measures like encryption, access control, and data backup strategies that will keep patient information safe from unauthorized access.
Patients will also trust your organization if they know you're using HIPAA-compliant data storage solutions to safeguard their information. Being involved in a data breach can severely damage your practice's reputation.
In case of unforeseen events like natural disasters, cloud data storage ensures you have backups of critical patient information so you can successfully restore and keep them accessible.
Key Features of HIPAA-Compliant Data Storage Providers
When choosing among the different storage solutions, look out for the following key features:
Encryption: Data must be encrypted at rest and in transit so that even if it's compromised, it will remain unreadable without the proper decryption keys.
Access controls: You must be able to restrict access and patient data modification to authorized personnel only using role-based access control systems.
Audit trails: The data storage solution must have data audit monitoring logs so you can track who has accessed or modified the patient data.
Data backup and recovery: In case of system failures, disasters, or data corruption, you must be able to regain access to your files. Data storage providers should have regular backups, redundancy, and rapid recovery options.
BAAs: For any solution to be HIPAA-compliant, they must be willing to sign a BAA with you. Most data storage providers include a BAA with their higher-tiered plans so make sure to get these instead of the lower-cost or free ones.
Data portability: You must be able to export and migrate your data seamlessly to another provider if you choose to.
Secure deletion: When you no longer need the patient data and choose to delete it from the storage solution, the provider must be able to confirm that it's permanently deleted and irretrievable.
Benefits of Using HIPAA-Compliant Data Storage
There are many advantages to using HIPAA-compliant data storage services, including:
Enhanced patient data security
Higher security creates patient trust and confidence, signifying that your organization is committed to their privacy. HIPAA-compliant data storage providers should have robust security protocols that prevent unauthorized access to your stored data.
Legal compliance and reliability
HIPAA-compliant cloud storage reduces the risks of hefty fines and penalties for HIPAA non-compliance. It assures patients that you're a reliable organization that's invested in managing their data according to established legal standards.
Efficient data retrieval and sharing
You can create timely decisions and deliver the best patient care by accessing accurate patient information anytime, anywhere. HIPAA-compliant cloud storage also allows secure data sharing among authorized healthcare personnel, resulting in better coordination of patient care.
Protect Patient Information With HIPAA-Compliant Data Storage Services
As you store larger volumes of patient information, keeping them safe from prying eyes and malicious users becomes all the more critical. With the HIPAA-compliant data storage solutions above, you can find the best provider with the most cost-effective and secure solution for your data storage needs.
data storage hipaa
data storage services
data storage solutions