Faxing technology has evolved so much that nowadays, even computers can function as fax machines! One fax software is all that's needed to manifest this sorcery. All kidding aside, this kind of technology isn't new.
Since the inception of online fax (Internet fax), faxing has already gone through several phases of transformation. It's also because of this that people can now send and receive fax using any device.
How it usually works is you either install an app or software that allows your device to send and receive a fax. The process is pretty straightforward.
For Windows, there are free desktop apps or fax software that you can download online. The easiest way to acquire such is to sign up for an online fax service with multi-platform support.
Table of Contents
Does Windows have a built-in fax software?
The answer is yes. When you purchase a Windows computer, it comes with built-in fax software called "Fax and Scan." This app allows Windows users to use their computers to send and receive faxed documents without a fax machine.
The built-in app is available on Windows versions starting with Vista up to Windows 11. Just search "fax and scan" using Windows Search. Another way to access this app is by opening the "Start" menu. Scroll through the programs list and open the folder called "Windows Accessories."
However, getting the app to work requires advanced Windows setup knowledge. It is also important to note that this app requires an analog phone line. It won't work as an online fax app. If you're aiming for the latter, you better read further into this post.
Can you fax from your computer without a phone line?
While a phone line is required to use the built-in Windows fax app, you can always go for workarounds. The best workaround would be to look for an app or fax software that lets you fax from your computer without a phone line. More specifically, look for an app or software that you can use to fax using the Internet!
If you look online, there are lots of free and paid fax software available for Windows. It can be hard to choose one, especially if you do not know where to look. It would be best to choose one that comes from a secure and reliable online fax service with top-level security and advanced features.
What is the best fax software for Windows 10?
If what you want is the best fax software for Windows 10, then use iFax.
iFax is the best free fax software that's available on Windows 10. You can download and install the app for free at the Microsoft Store. All you need is to create an iFax account to use it.
With the iFax fax software for Windows 10, you can turn your computer or laptop into a portable fax machine. There's no need to connect a phone line or modem.
As long as you have an Internet connection, you can send and receive faxes on your computer.
How to set up fax on Windows 10?
Setting up your Windows 10 computer to send and receive fax doesn't require advanced technical knowledge. If you carefully follow the steps below, then you'll be able to do it in no time!
Download the iFax fax software (app) for Windows 10 from the Microsoft Store. To download, you need to sign in to your Microsoft account. You can download and install the fax software for free.
Once installed, launch the fax software. Make sure to add it to your Windows Start menu for easy access.
Upon launch, the software will ask you to sign in or create an account. Go to ifaxapp.com to create an account.
For existing iFax users, go to "Settings" and select "Login." When prompted, enter your associated email and password.
Once logged in, you can configure your iFax software for Windows using the options available in the left panel.
To start receiving faxes, you need to create a fax number or port an existing fax number.
To start sending fax, click the "New Fax" button at the bottom-left of the main control window.
That's it! Setting up your Windows 10 computer to send and receive faxes will only take a few minutes. If you are already using iFax online, your data will automatically sync. Just make sure that you have an Internet connection while using it.
Faxing on a Windows 10 PC using a fax software like iFax is for all types of users. Whether you're a business or a casual fax user, you can use the fax software to turn your computer into a portable fax machine.
Why Use Fax Software for Windows
There are plenty of reasons why you should install a fax app or fax software on your computer. First and foremost, it's way better than a bulky fax machine! There's no need for extra space in your office. You can also save on repair and maintenance costs.
Going paperless is also another good reason why you should start using fax software on Windows. Using your computer to fax does not require paper or ink. You can send and receive digitized fax documents. Even affixing your signature is digitized but still legally binding.
Since your faxes are digitized, you can manage your fax records more efficiently. It is also easier to search and organize fax records using fax software. Just type a keyword and search.
When using fax software, you also get real-time delivery receipts. You will get notified as soon as the fax arrives and vice versa. If you have the fax software installed on your laptop, you can bring it anywhere. There is no need to look for a fax center nearby. You can even fax while you travel or do business meetings abroad.
Using fax software is also far safer than traditional mail service. You can fax your documents online to anywhere you want. There's also less risk of it getting stolen or lost. There's also no need to wait for days or weeks for it to arrive.
Since sending faxes online usually takes minutes, communication is faster. If your message is urgent, you can also expect an immediate reply. If you've faxed a document that requires a signature, you can expect it back duly signed.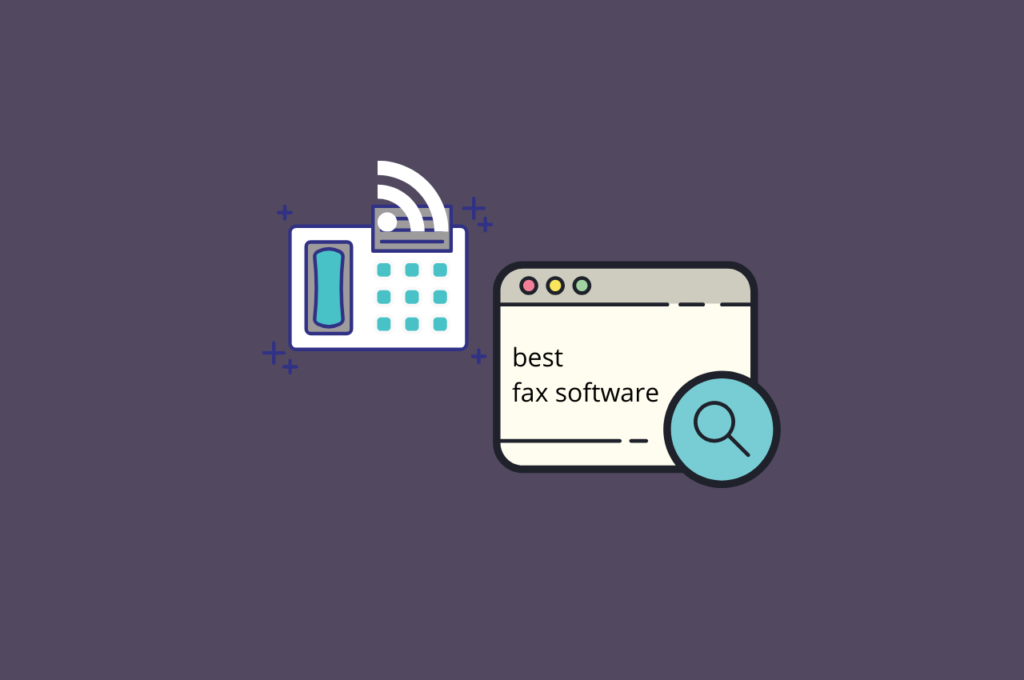 The Best Fax Software for Your Windows Computer
The best fax software for your Windows computer is one that does not require a phone line. It should run as standalone software. There should be no need to connect it to any hardware like a fax machine or an all-in-one printer.
Most of today's online fax services offer free fax software for Windows. As long as you use the fax service, you can also use their software for free. Just make sure to choose an online fax service that's secure enough to protect your fax documents. It should have top-level security that could easily fend off brute force attacks.
Speaking of which, here are some of the best fax software for Windows that you can download for free:
iFax for Windows
iFax for Windows is the best free fax software that turns your computer into a portable fax machine. iFax uses enterprise-grade fax technology that is guaranteed to provide you with a secure and unparalleled online faxing experience.
iFax is also one of the first HIPAA-compliant fax software with a user-friendly interface and seamless syncing across all supported platforms.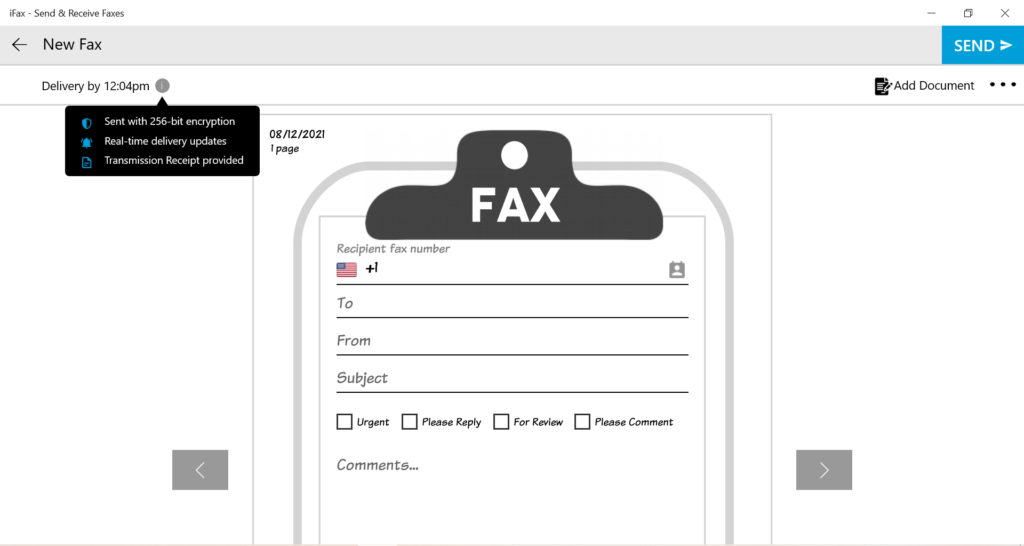 Why is iFax the best free fax software for Windows? Here are some of the reasons why:
You can send and receive faxes from any location across the globe.
You get a free local inbound fax number in US and Canada for seven days.
You get real-time delivery updates.
It offers fully customizable fax cover pages.
It is HIPAA and GLBA compliant for secure online faxing.
It has electronic signature support.
It has a built-in document and photo scanner.
It offers seamless cross-platform data syncing.
It offers affordable pay-per-fax options.
Your computer must be running on Windows 10 64-bit before you download and install this software from the Microsoft Store.
CocoFax
CocoFax is a faxing software for Windows with a clean and user-friendly interface. It also allows users to sort and organize contacts into groups. Aside from this, CocoFax offers unlimited fax storage and Slack integration.
This fax software works well on Windows 7, 8, and 10.
eFax Messenger for PC
eFax Messenger is a free software packed with features for seamless faxing on a PC. With it, users can edit and send faxes directly from their computers. You can use this software as long as you are an eFax Plus or eFax Pro user.
This fax software works on Windows 10 with 64-bit (x64) processor.
Fax Software for Other Platforms: More Ways to Fax!
What's great about using fax software is that you aren't limited to a single platform. You can fax using multiple devices running on different operating systems. You can even do so without downloading any fax software or app!
As long as your online fax service supports multiple platforms, doing this is a breeze!
Fax Directly from a Mac
If you want to fax directly from a Mac, you can download a fax app for Mac. Like Windows, the setup process for faxing on Mac will only take you a few minutes.
After setting up the fax app on Mac, you can immediately start faxing! What's nice about iFax for Mac is it also supports dark mode. Plus, it syncs with your other Apple devices like your iPad and Apple Watch.
Fax Directly from Your Phone
If you want to fax directly from your phone, all you need is an app. By installing an app, you can turn your Android or iPhone into a portable fax machine.
Android users can go to the Play Store to download and install a fax app. On the other hand, those with iPhones can use the App Store to search for a free fax app.
Convenience-wise, using a fax app is a lot easier than operating a fax machine. Plus, you can take it with you. You can send a fax in an instant. You also get notified in an instant as soon as a new fax message arrives!
Fax Directly from Your Email
There are online fax services that let you fax directly from your email. When faxing from email, you don't need fax software or a phone app. All you need is an email account.
Faxing from email is almost similar to sending a regular email. However, there are a few notable differences. For example, you need to enter your recipient's fax number in the subject field.
Most importantly, you need to be using an online fax service with fax to email support. Without fax to email support, you can only receive faxes via email. Even so, faxing from email is quite handy. You can also use it at times when you can't access your fax software or fax app.
Send and Receive Fax Online
Yes, you can send and receive fax online without any software or app. Just fax directly on your web dashboard. You can do this by opening up a browser window or tab. Load your web dashboard and log in to your online fax service account.
After that, start faxing! To have access to a web dashboard, you must have an existing online fax service first.
The Best Way to Fax
Today, faxing is no longer dependent on phone lines and fax machines. Modern fax users are no longer faxing using a single device. Therefore, fax services have to adapt and keep up with today's modern faxing lifestyle.
With this in mind, the best way to fax is using whatever you have given your present circumstance. It's all about flexibility and accessibility. Since most online fax services today have cross-platform support, it's so easy to switch in between software or apps.
What also matters more today is the user's privacy. With increasing cybercrime attacks, it's best to choose an online fax service with robust security. The number of users who use fax software to send and receive fax online is also growing. It's not just the businesses and corporates anymore who use fax.
Of course, having a reliable app or fax software that you can use on your computer is a plus! After all, we are living in an era where people rely a lot on computers. People of today use computers to accomplish a lot of things – even online faxing!
If you are looking for a secure multi-platform online faxing service, try iFax! Sign up for an account today. You can also download and install its fax software for free on your Windows computer, tablet, or phone.
Cloud-Based Secure Faxing That Businesses Trust
Learn how iFax's revolutionary faxing technology is helping businesses boost productivity by streamlining workflows.
best fax software
best fax software windows
internet fax
online fax service
windows 10 fax software