Jonathan Coopersmith, author of Faxed: The Rise and Fall of the Fax Machine, writes that faxing is often viewed as a failed technology in two ways. For instance, back in the 1840s, the inventors and entrepreneurs tried their best to offer it to the market yet could not push it even before offering the products. It was only in the mid-1980s when it has reached its peak and popularity.
In the late 1990s and early 2000s, the emergence of the internet, emails, smartphones, and file sharing overshadow its functionality. No wonder people today would instead send the document via email because it's fast. But regardless of the rise and fall of faxing, it's still alive and highly used in industries that require strict compliance in handling critical information.
Technology didn't compete with faxing – in fact, it has improved it, making it more accessible to people. The rise of internet fax services paved the way for people to send and receive faxes from computers without a fax machine. Fax may seem an archaic way to send documents in the age of emails and instant messaging. But the concept remains, and it's helpful in offices and businesses.
This article aims to guide through the steps on how to fax from computer. You'll also learn other aspects that will help you understand how online faxing works!
Table of Contents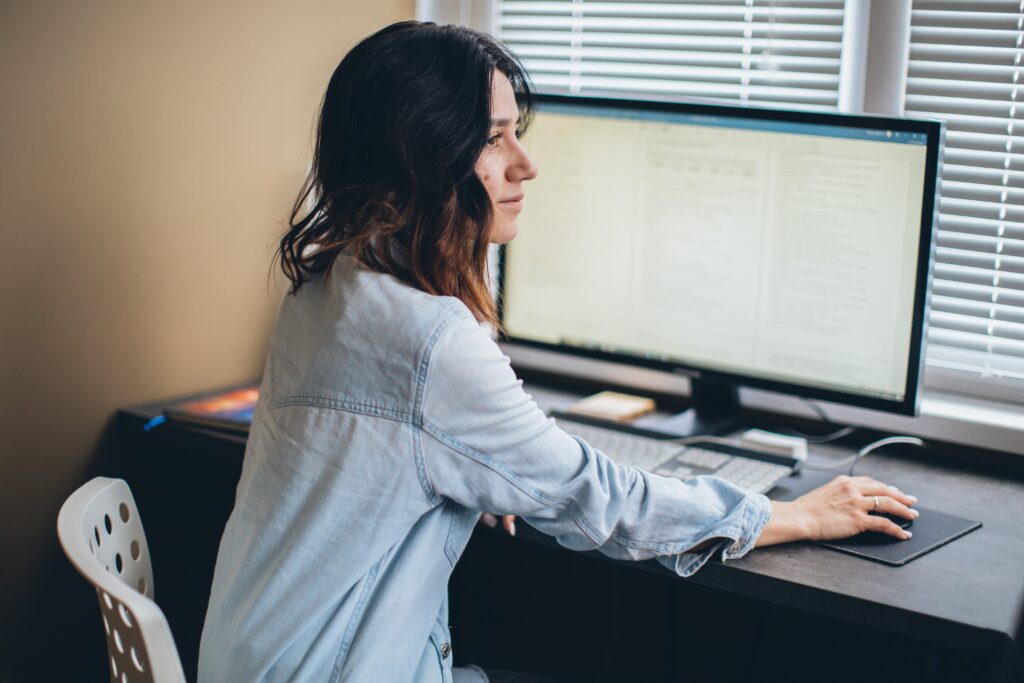 Fax From Computers: How Faxing Evolved Over Time
Despite having emails and online messaging, a lot of people still use fax. Businesses and organizations also prefer fax over other online file-sharing solutions. Faxing, in the traditional sense, may become outdated but not fax. The technology of faxing will only continue to evolve. Today, people are enjoying the modern way of faxing – faxing from computers.
Faxing using a computer may still sound like a new and questionable concept for some. You may wonder whether it's truly possible to fax using only a computer without a fax machine. Besides, you could end up questioning how it works. Is there still a need to connect to a phone line? Do you need to configure your computer settings? Thankfully, it's much simpler than that!
Faxing from a computer does not require advanced computer skills. It only requires basic computer know-how. If you can use a computer to send emails, you can pretty much learn how to set up your computer to send and receive faxes.
Can You Send a Fax From Your Computer?
Since the emergence of online fax, faxing has become easily accessible to anyone who owns a computer. Even without a fax machine, you can now send a fax directly from your computer. Just set up your computer and connect it to the Internet. After doing so, it's all set to send and receive faxes!
There are two ways to send a fax using your computer. The first one requires installing a desktop application. Meanwhile, the second one is purely web-based. For a more detailed guide on how this works, check out the article below.
Fail-Proof Ways to Fax from Windows PC!
Can You Send a Fax From Computer for Free?
To send free fax from your computer, you'll need a free online faxing service. Using a free online faxing service is ideal for sending one-time faxes or if you're only faxing a few pages.
Do note that there are certain limitations when it comes to free faxing. For example, you can only send a fixed number of pages per fax. Some services also limit their free faxing service to local numbers only. If you are faxing to an international number, you need to pay a fixed amount per fax.
Check Out: Advantages of sending faxes online
How to Set Up Your Computer to Fax?
You cannot use your computer to fax without setting it up first. Fortunately, setting up your computer to fax isn't a complicated process. First things first, you need to connect your computer to the Internet.
Once it's connected, you need to follow these steps:
Sign up for an iFax account. iFax is an online fax service that lets users fax from their computers.
Get a free fax number. You need a fax number to start receiving faxes without a phone line. To get a fax number using iFax, you can refer to this in-depth guide.
That's it! Setting up your computer only takes two steps. Once you've signed up for a fax service and have acquired your fax number, you're almost ready to send and receive faxes from your computer.
How to Send and Receive Fax from Computer (Step-by-Step Guide)
It doesn't take an expert to send and receive faxes using a computer. All you need is to do the steps properly to make it work. Please note that the steps below will only apply to Windows computers.
8 easy steps to fax from computer using iFax:
Step 1: Download and install the iFax software (app) for Windows.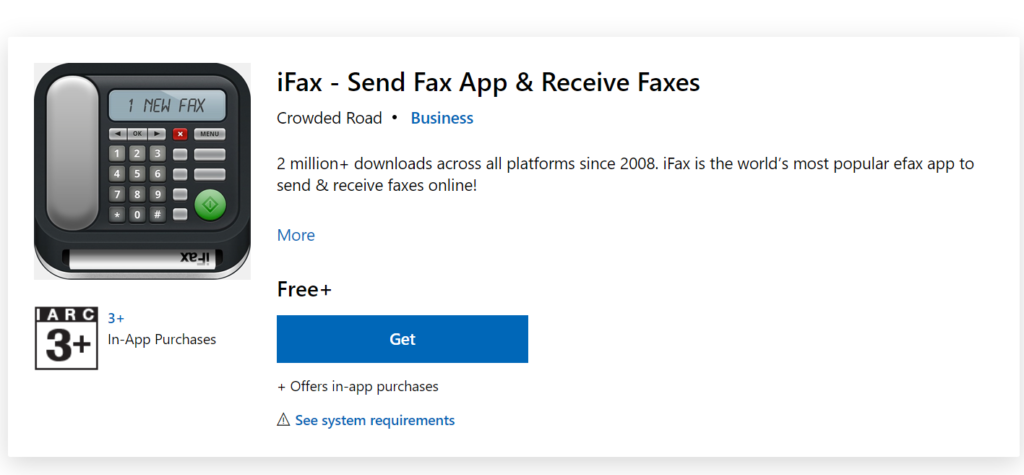 Step 2: Open and run the app on your computer.
Step 3: Log in to the app using your existing iFax username and password.
Step 4: To send a fax, go to the left panel and click "New Fax." Doing so should open the compose window.
Step 5: Fill out the required fields and make sure you are providing the correct fax number.
Step 6: Use drag and drop to attach your documents. You can also select the documents manually by clicking the "Add document" button. If you click the three dots next to this button, it will open the options for removing the cover page and logo.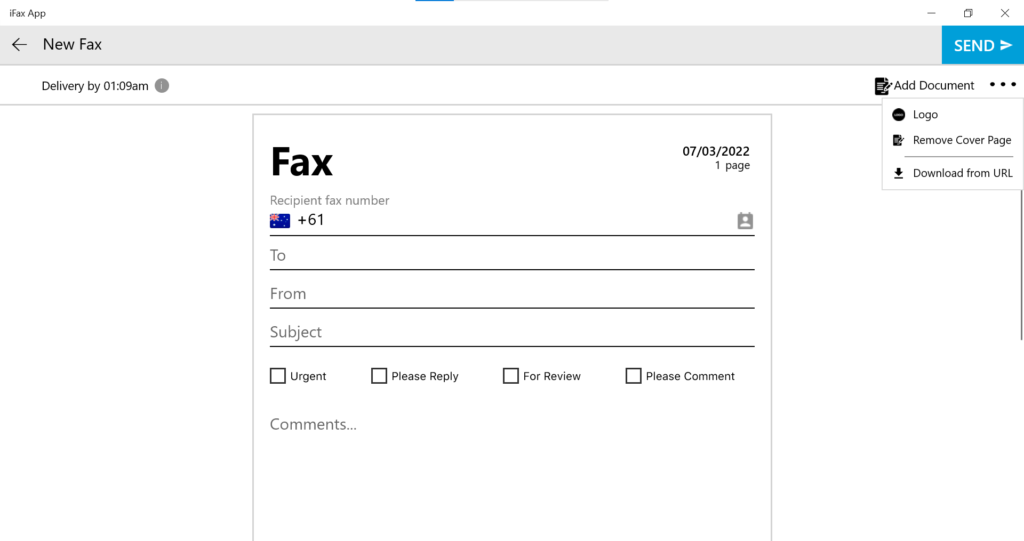 Step 7: Click "Send." You will then receive a pop-up notification saying that your fax has been successfully delivered!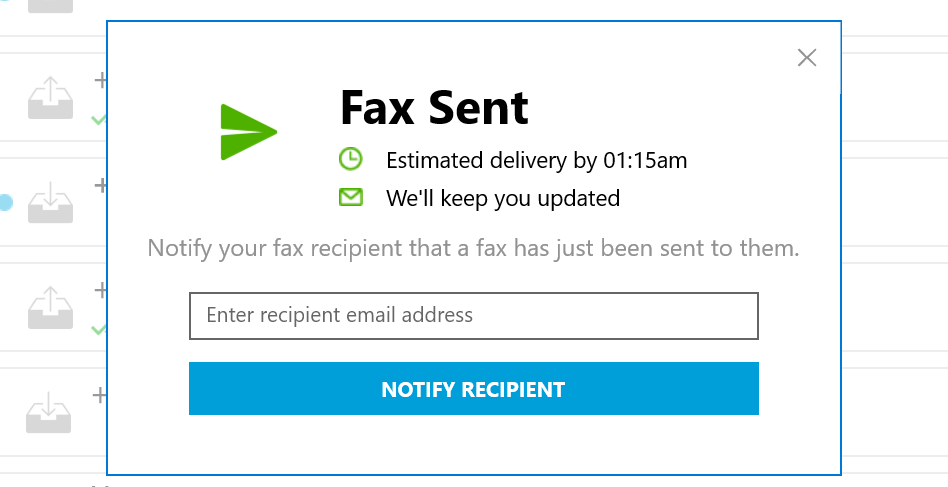 Step 8: To receive faxes, the sender should send the fax to your fax number. Every time you receive a new fax, it should show up as unread on your app dashboard. You'll know if a fax is unread because it will have a blue dot right next to it. Just click the unread fax to view it.
There you have it! Fortunately, there's nothing complicated about sending and receiving faxes from your computer. It's even easier than using a fax machine. The steps are so simple that it's almost like you're just sending an email. The thing with email is there's the matter of security vulnerability. Meanwhile, if you fax from a computer using iFax, you're guaranteed that all your fax transmissions are encrypted. iFax uses 256-bit military-grade encryption, a type of data encryption that is extremely difficult to break.
How Can You Fax From Computer Without a Phone Line?
One of the best things about faxing from a computer is that it doesn't require a phone line. There's no need for a fax machine and phone service. There's also no need for any plug-in device. All you need is your computer.
Not needing a phone line to fax is advantageous because there's no need to pay for monthly phone service. You can cut down on costs and maintenance fees. Plus, faxing from a computer is more hassle-free since there is no need to clean a scanner bed or refill the ADF.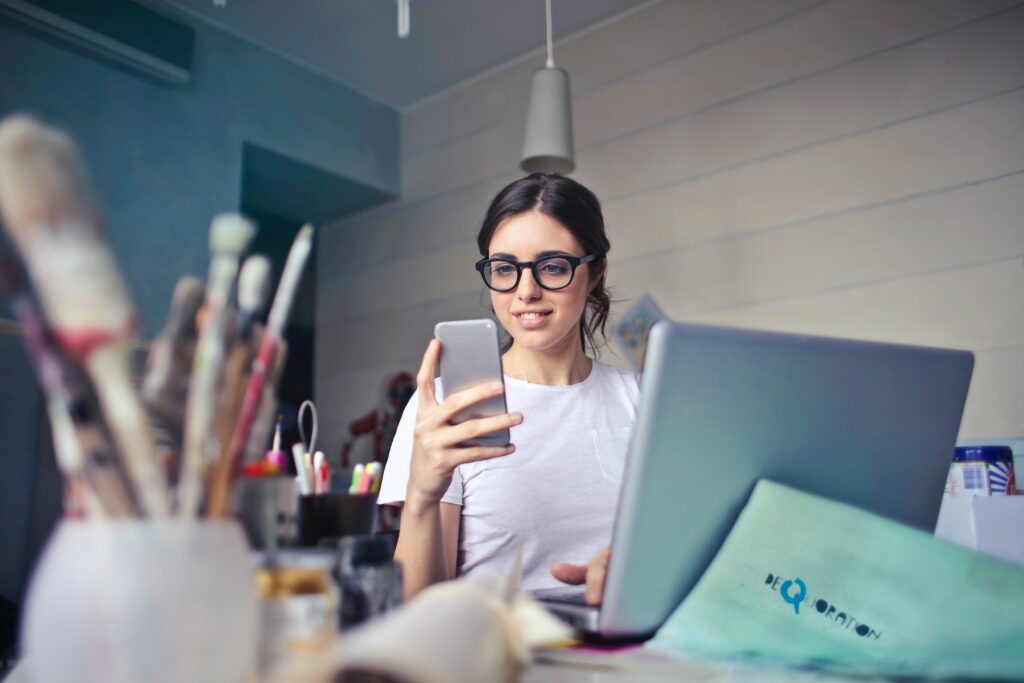 How Can You Fax From Your Laptop?
What's even more convenient than faxing from a computer? It's faxing on a laptop! With a laptop, it's like having a portable fax machine. You can take it with you wherever you go. Even if you're going on vacation or an overseas trip, you can still fax!
What faxing from laptop offers is convenience and accessibility. Plus, the process of setting it up is just the same. Just follow the step-by-step guide above. Moreover, you don't need to choose between faxing from a computer and faxing from a laptop. You can do both! Just install the iFax app for Windows on both devices. It will automatically sync your fax records!
If faxing from a computer or laptop isn't enough, you can also fax using mobile. You can use your mobile device as a fax machine and take it wherever you go. With mobile faxing, you can fax from anywhere and even sign important documents using your phone. It's the ideal faxing lifestyle for people who are always on the go!
Note: If you are using a MacBook or Mac computer, you'll need to refer to a different guide.
How to Fax From Computer on Windows 10?
If your computer is running on Windows 10, you need to ensure that the fax app meets the minimum system requirements. Some fax apps can only run on older Windows versions. The iFax app, on the other hand, supports Windows 10.
As long as you're using iFax, you can fax from any computer running on Windows 10 without any problem. The process for sending and receiving faxes on a computer running on Windows 10 is also the same. Just refer to the step-by-step guide above.
Can You Fax From Computer Using Gmail?
Faxing from a computer using Gmail is not a problem as long as you are using iFax. If you have already installed the Gmail app on your desktop, there's no need to install the iFax fax software (app).
Faxing from your computer using Gmail is easy. The way it works is that instead of putting the email address on the "To" section, you need to address the message to "send@ifaxapp.com." As for the fax number, you need to put it on the "Subject" field in the correct format with no spaces or any other unnecessary characters. You can type whatever you like on the "Message" field.
Now, go ahead and attach your documents. It's the same as attaching files when sending regular emails. Click "Send" and wait for the email notification saying that your message got delivered. It's that simple!
Sending a fax using Gmail not only consolidates your documents but also provides a better way to filter out spam. Plus, faxing from Gmail lets you schedule your fax messages.
Fax From Computer or Fax Using Fax Machine?
Fax machines have always been the go-to option for faxing. However, that's no longer the case. Online fax is gradually changing the perspective of people when it comes to faxing. Before, faxing used to be a tedious task. Nowadays, people can easily fax from computers!
Compared to a fax machine, a computer is more compact. It doesn't take up much space. Plus, it can do more than just fax! A computer is also capable of processing multiple tasks simultaneously, something that a conventional fax machine lacks.
When it comes to choosing between faxing from a computer and faxing using a fax machine, faxing from a computer is way better. It also suits today's modern lifestyle. A fax machine, on the other hand, will continue to be regarded as a novelty.
Why Send Fax From Computer Instead of a Fax Machine?
Here are more reasons to fax from a computer instead of using a fax machine:
No paper jams and ink leakages.
You can save money because there's no need to replace expensive ink cartridges.
You can completely go paperless! It helps the environment.
No annoying junk faxes. iFax has a fax number blocking feature that controls spam.
Send and receive faxes in minutes! Your faxes will arrive almost instantly. No more waiting time.
Faxing from the computer streamlines your workflow. You can do work and send faxes using only one device.
You can fax more pages without worrying you'll run out of paper.
Conclusion
Fax is evolving for the better. It is now adapting to the modern needs and demands of its users. Computers now play an essential role in how people live and accomplish tasks. Therefore, it is only befitting for people to use computers to fax.
Learning how to fax using a computer is also an easy task that can anyone can master. If sending an email is easy, so is sending fax!
Do you need a better way to fax? Turn your computer into a fax machine using iFax!
iFax is a secure and convenient online faxing service that can turn your computer or laptop into a fax machine! It's so easy to use and also super easy to set up. Start by signing up for an account today! Get the free trial and experience a whole new level of faxing with iFax Professional for 7 days!
internet fax
internet faxing
online fax
online fax services
Send Fax Online