There are many important aspects of faxing, from the document itself to the cover sheet. If you frequently send faxes, a fax header should be considered.
This component of a fax transmission contains essential information about the sender and receiver.
To ensure your fax transmissions look professional and error-free, understand what should be included in a fax header.
We'll walk you through this article about everything you need to know about fax header, what to include in it, why you should use it, and how to configure a fax header online.
What is a fax header?
A fax header is sent at the beginning of a fax transmission. This includes information like sender's name, company name, date, and fax number.
Table of Contents
What Is a Fax Header?
A fax header contains information sent at the beginning of a fax transmission. This information typically includes the sender's name, company name, phone number, date, and fax number.
The fax header may also include a page count or other relevant information. The purpose of the fax header is to ensure that the recipient knows who's sending the fax, and so if there are any problems with the transmission, he can contact the sender.
The fax header may sometimes track down a lost or misdirected fax. For example, if a fax is sent to an incorrect number, you can use the sender's information in the header to track down the correct recipient.
What Should I Include in a Fax Header?
There is no one-size-fits-all answer to this question, as the information you include in a fax header will depend on the specific needs of your business.
However, there are some general guidelines that you should follow to ensure that your fax header is professional and compliant with the law.
1. Date
You should include the date in the fax header for several reasons. First, it helps to ensure that the information contained in the fax is up-to-date and accurate.
It also helps to establish a clear timeline for follow-up or action items. Including the date in the fax header can protect your legal rights if there is a dispute over the information in the fax.
Intentionally adding a fax header is a simple way to help safeguard your business interests.
2. Name
There are a few key reasons always to include your name in the fax header. First, it's a form of identification. If the recipient isn't expecting your fax, they can at least confirm who it's from by looking at the header.
Second, including your name personalizes the fax and makes it more likely that the recipient will pay attention to its contents.
A name also gives the recipient a way to contact you if they have questions about the fax or if there was a transmission problem.
Finally, some businesses require their employees to include their names on all outgoing faxes as a way of tracking which employees are sending what communications.
Regardless, it's generally best to err on caution and include your name in the fax header.
3. Fax Number
There are a few key reasons you should always include the fax number in your fax header. First, it helps to ensure that your fax is going to the correct recipient.
If the fax number is incorrect or omitted, there is a risk that your fax could be sent to the wrong person or company. You could have exposed sensitive information to an unintended recipient.
Including the fax number in the header can help to avoid these problems. Finally, the fax number in your header is good business etiquette. It shows that you are professional and organized and pay attention to detail.
Why Use a Fax Header When Sending a Fax?
A fax header helps ensure the recipient knows who sent the fax and can easily contact them if there are any questions or problems. It provides a record of when the fax was sent, which can be important if there are any delivery issues.
Finally, a fax header can contain other important details, such as a confidentiality notice or special instructions for the recipient.
The bottom line is that using a fax header is generally a good idea, whether legally required or not. Including key information in the header can help ensure that your fax is properly received and acted upon.
What's the Difference Between a Fax Header and a Fax Cover Sheet?
When sending a fax, you need to include a header and a cover sheet. The header goes at the top of the first page of your fax document, and it contains your name, company name, phone number, and fax number.
The cover sheet is a separate document that you attach to the front of your fax. It includes the same information as the header, as well as the date, time, pages being sent, and any special instructions.
The cover sheet also has a space for you to write a brief message to the recipient. Generally, it is up to the sender to decide whether to use a header or a cover sheet (or both).
However, if you send a confidential document, you may want to use a custom cover sheet so that only the recipient can see your contact information.
By including a header and a cover sheet, you can be sure that your fax will be properly received and filed.
Examples of Fax Header Templates
Fax headers are generated automatically when sending a fax, which you will see on top of the fax cover sheet.
For fax machine users, refer to your device manual or guide on how to include fax headers. But in general, they are by default available and activated.
On the one hand, the software or application also generates the fax cover if you're using an online faxing service.
For illustration purposes, here's what a fax header looks like on the iFax online faxing platform.
The fax header is a key element of a fax cover. This screenshot shows a default fax cover sheet on iFax.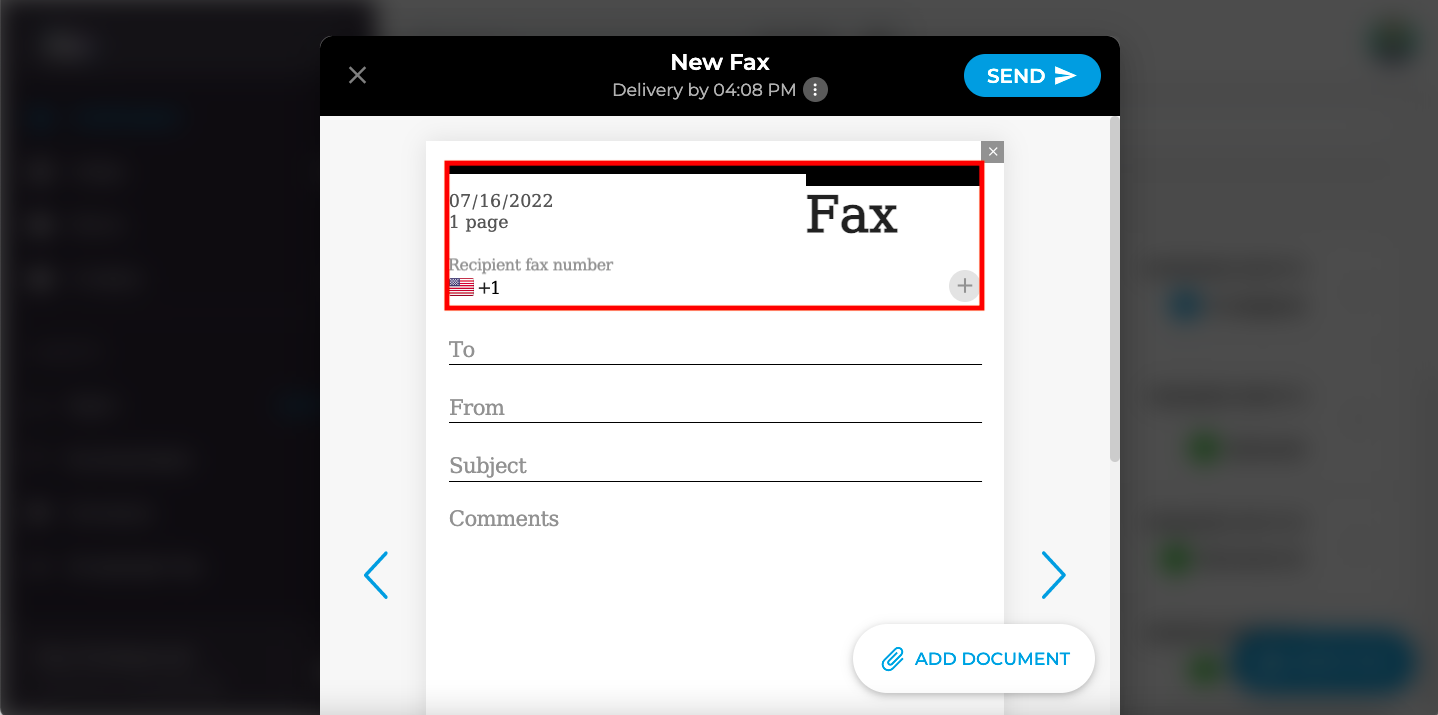 You can also change the cover sheet layout, which will have a different fax header layout but includes the date and number of pages.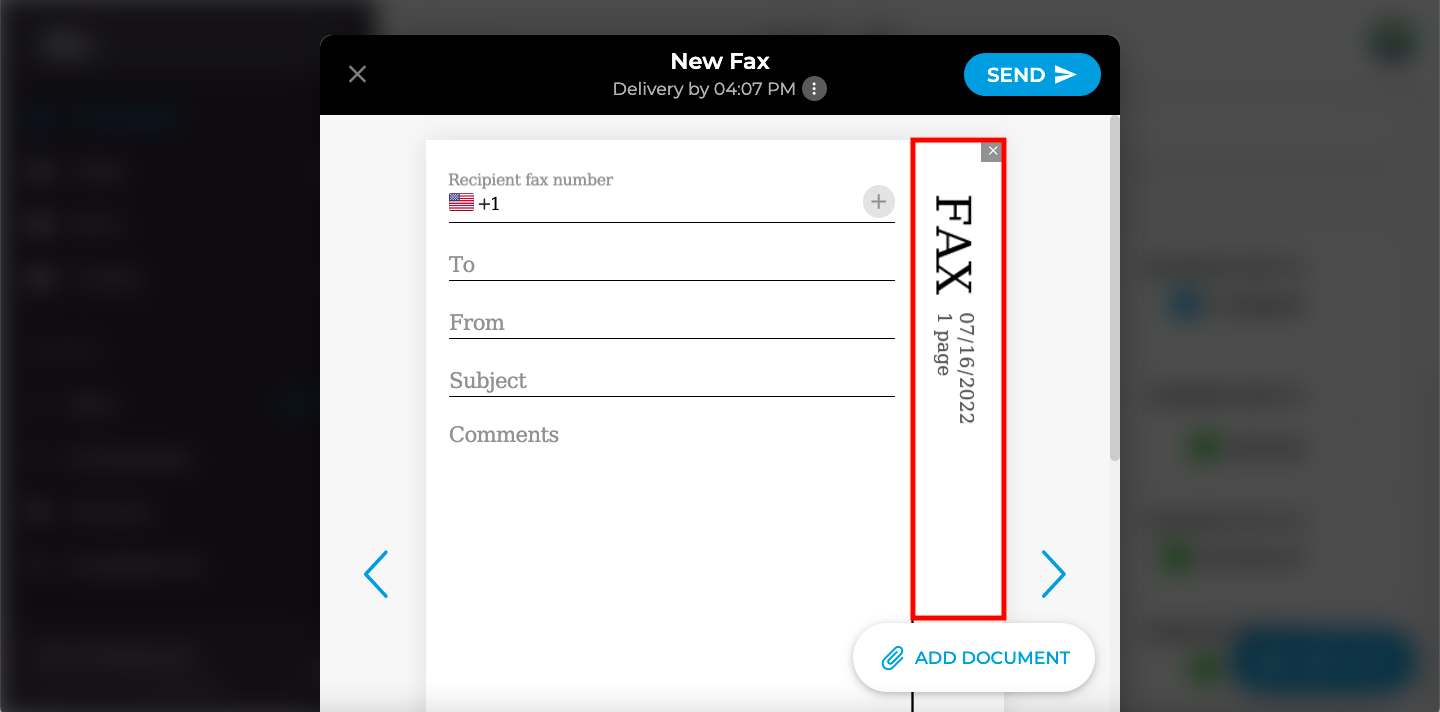 How to Configure a Fax Header on iFax Online
Configuring a fax header on iFax is straightforward. Since it's already pre-designed with the cover sheet, you can choose from any five pre-made fax cover pages.
While it may appear as overwhelming at first most especially when you're in a hurry, it's just easy to configure a fax header. Here's how you can easily do it: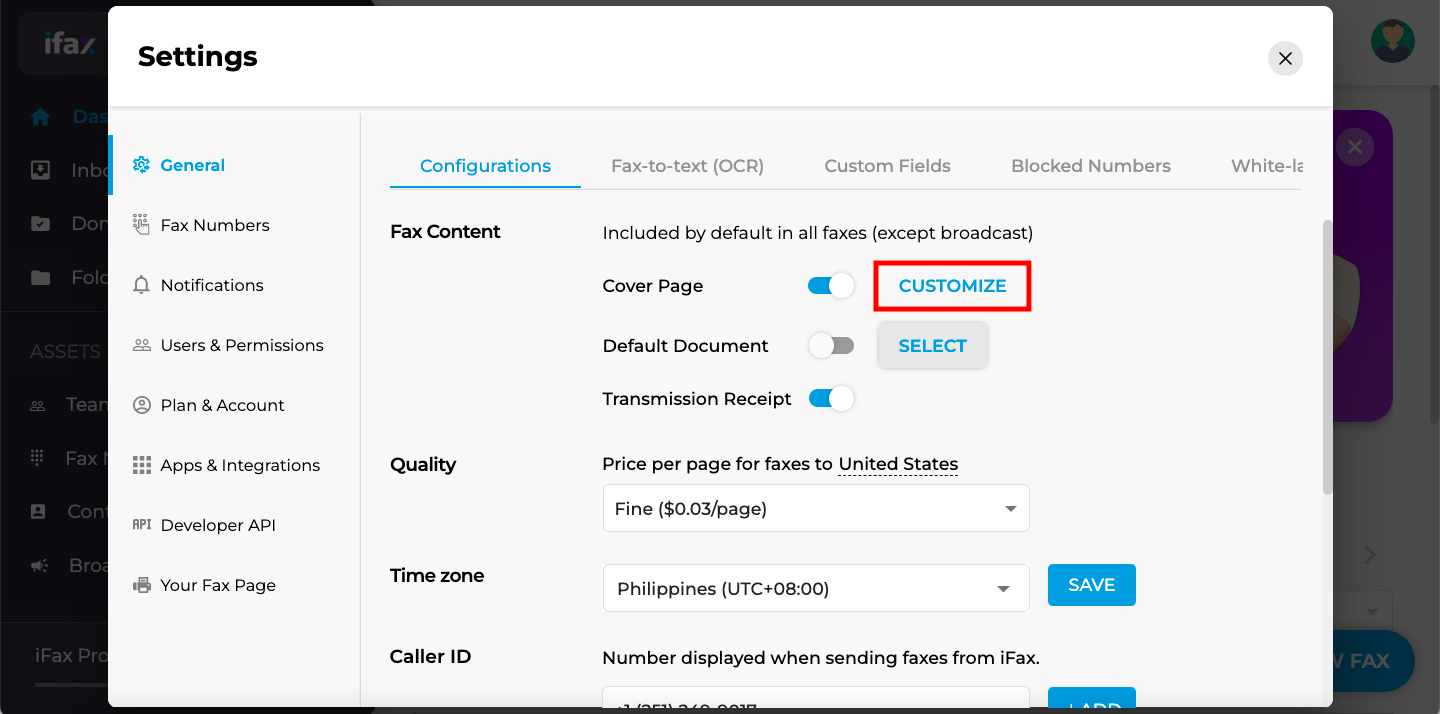 Step 1. Open the iFax web platform or mobile app to access the Settings on your fax dashboard.
Step 2. Click the Settings, the gear icon at the left-bottom of your screen, and choose General > Configurations
Step 3. Under the Fax Content section, click the Customize button on the Cover Page.
Step 4. Choose the layout of your fax cover sheet, and you'll see the fax header.
Final Thoughts
In conclusion, a fax header is integral to a fax cover sheet and during the fax transmission. It helps ensure that your fax message is delivered correctly and provides the necessary information for the recipient.
In general, fax machines have this feature by default, or you can create one manually. If you use an online fax service like iFax, the fax header is already included in the cover sheet.
iFax makes it easy to configure faxes on our online platform, so you can easily send high-quality faxes. Why not try out our free trial today to explore its features.
You'll get free pages to test the basic features and see how we can help you boost your business communications.
fax cover sheet
fax header
internet faxing