For over three decades, fax machines have been a standard in the commercial world. They are a necessary tool for sending and receiving papers quickly and easily. However, many businesses now operate without a telephone line since there is a different method to send and receive documents. Enter FoIP faxing (Fax over Internet Protocol).
FoIP allows you to send and receive faxes using your computer or mobile device while connected to the internet. Because it uses data rather than voice channels. It is frequently less expensive than traditional phone lines, making it more cost-effective for small businesses on a budget and large corporations who would otherwise require costly dedicated phone lines only for their fax machines.
Fax Over IP (FoIP) has been around for a while, but it is still a widely unknown technology. In this post, we'll go over the basics of FoIP, the advantage of using it, the benefits of switching to FoIP, best practices for successful implementation, and more to help you understand whether or not it's right for your business. Let's get started.
Table of Contents
What Is FoIP or Fax Over Internet Protocol?
FoIP or Fax Over Internet Protocol is the use of your internet to send and receive faxes. It is similar to traditional faxing but with the internet. Fax machines use circuit-switched technology, while FoIP uses packet switching technology. While there is a slew of obscure abbreviations (sorry for the acronyms), this method makes things simpler for you in the end.
This difference in protocol offers many benefits to both small and large businesses. Because traditional faxing requires dedicated phone lines, which can be expensive to maintain, FoIP allows companies to send and receive documents quickly with inexpensive internet service – like the ones they use at the offices like LAN or WAN network – rather than costly analog phone lines.
Fax machines and multifunctional printers (MFP) that support FoIP can be set up without the telephone line. Instead, you will configure the fax machine and connect it to your Ethernet. However, there are also fax machines and MFPs that support both telephone lines and Ethernet cable connections. It's your call on how you would want to configure your fax systems.
Furthermore, FoIP allows users to store incoming messages online instead of on a physical machine or piece of paper (which may be misplaced or misfiled) since some online fax providers offer software or a unified platform, which you can control and manage all faxes.
Today, FoIP is commonly used by businesses with their private PBX phone systems and those with VoIP telephony systems. To successfully use FoIP, the sending and receiving parties must utilize compatible software and broadband internet connections.
How Does FoIP Work and Why Should I Use It Over Traditional Faxing Systems?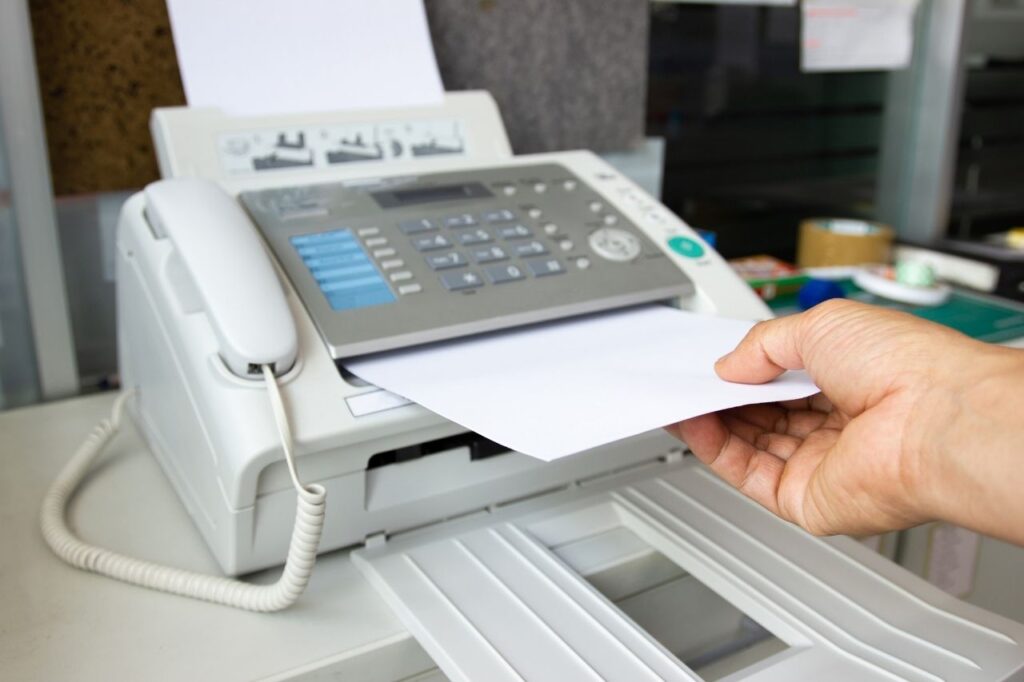 Fax over IP works by digitizing the document, breaking it into packets of information, and sending those packets through your phone or computer. The other user receives the packets, reassembles the original document, and sends it to their fax machine. In short, it's a way to send fax online without a telephone line.
The use of data-based networks—and not analog telephone networks—allows faxes to bypass traditional providers that were previously necessary for successful faxing. That means you can avoid paying high prices for access to these legacy systems since FoIP operates on a local network connection separate from your voice phone lines.
In addition, there's no need for a dedicated landline phone line to send or receive fax as is required with a standard fax machine. Of course, if you still want to use an old fax machine, you can. You may have to use a FoIP-compatible fax machine to make this possible. Some online fax services offer fax applications or fax software to connect your online faxing system to your hardware but with less network complexity.
FoIP may eliminate the use of legacy fax machines with telephone lines and maintenance costs. That said, wherever you are, you can fax online without searching for a fax service nearby or pay for expensive per-page charges. Furthermore, with FoIP's advanced technical features, you can integrate custom features into your existing online fax system or software to automate and schedule faxes and efficiently manage everything in one place.
Why Would I Need to Send a Fax Over IP if I Can Just Email It as an Attachment?
With the rise of cybersecurity threats and data breaches, companies are more cautious about what they send. In many cases, email attachments have been the least option when sending documents with sensitive information. While you can always send attachments via email, chat, or file-sharing apps with your clients, faxing is still the gold standard option in particular industries such as healthcare, finance, legal, real estate, insurance, and more.
Email is a much slower method of sending documents. The recipient has to download the copy and then print it out before having it faxed. If you're going through a third-party provider to send your fax like USPS, they may charge for this service. In addition, you have no control over when your message gets sent. With an online faxing system or software package powered by FoIP, you can schedule a time for your document to be sent so that it gets delivered at the most convenient time possible.
Another drawback with email is that if something happens to go wrong in transit, there's absolutely nothing that you can do about it except wait until the other user picks up their phone or computer and try sending it again. By using a dedicated online faxing service, you have backup plans in place when things go wrong and can re-send your file if necessary. Moreover, most internet fax providers offer online storage that lets you save files in secured cloud storage, making it easier for you to track, manage, and archive files and faxes.
What Are the Benefits of Using Fax Over IP?
Modern technology has expanded the capabilities of businesses to send and receive faxes without the need for traditional phone lines. We've compiled a list of benefits when you use FoIP for sending and receiving faxes via the internet from your smartphone, tablet, or computer.
Fax from any location – You don't need a dedicated fax machine in your office, home, hotel, or anywhere else to send and receive faxes. The sending and receiving of faxes are very simple and convenient because you can do it whenever and wherever you have access to the internet. You won't miss essential faxes since they will be saved online for future access anytime, anywhere.
Receive faxes straight to your mobile devices – All faxes sent through the Fax Over IP service will be saved online, allowing you to access them at any time without having to purchase additional paper. A free Android and Apple iPhone fax app let you receive incoming faxes directly on your smartphone. Because there are no extra costs for printing, this saves money. Most internet fax services provide free trials so that you may exchange faxes for free during a specified amount of time.
Auto document preview – This feature helps quickly retrieve vital information contained in a fax document by letting you see thumbnails (preview) of documents before downloading the entire file. The user interface provides high-contrast images to make reading easier even with poor lighting conditions or darkness around. All you need to do is just rotate your mobile device, and the content gets automatically adjusted in landscape or portrait mode.
Unified inbox – Most online fax services have fax apps that neatly combine all incoming faxes (received via Fax Over IP and traditional analog fax) into a unified inbox or dashboard. This way, you can check out all of your received document faxes from one place without having to open several different apps. Every time you get an incoming fax, it will notify your smart device to avoid missing anything important.
Compatible with multiple smart devices and computers – The best part about fax over IP is that it does not require any specific device or operating system since this service is compatible with multiple platforms. You can fax from any smart device – Android, Apple, or Windows devices.
Reliable fax service – Fax Over IP is a reliable service because it uses dedicated internet fax lines separate from telephone lines. This ensures stable and fast transmission of fax data since there are no interferences from voice calls on the same line/network.
No power or paper waste – Traditional fax machines either require wasteful power supplies or physical paper documents to operate. With Fax-Over-IP, you'll never have to stock paper or replace any cartridges. That means you can enjoy the benefits of sending and receiving unlimited pages over your internet connection without wasting power or paper.
Is Cloud-Based Faxing the Same as Fax over IP?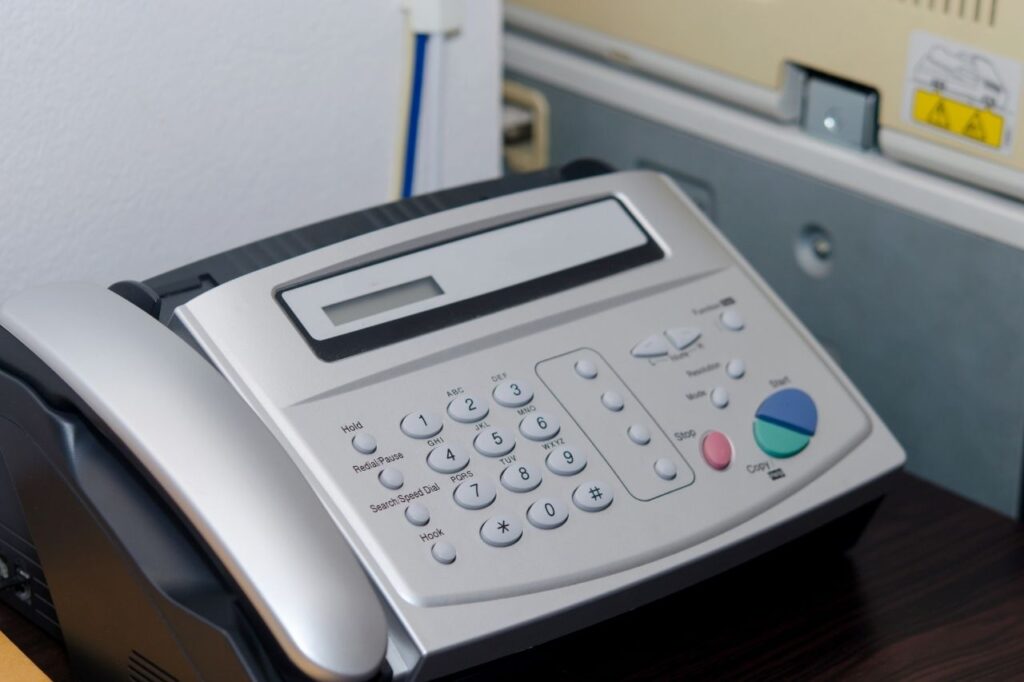 With cloud-based faxing, you may send and receive faxes using any device, including a facsimile machine, computer, or smartphone – all you need is an internet connection. There's no additional equipment to buy or anything to install on your PC. Access the service through standard web browsers such as Mozilla Firefox, AOL Explorer, Netscape Navigator, Google Chrome, or Safari. If you have a fax modem or a VoIP phone, you may also use it.
If you have a small staff and only require basic fax capabilities, a cloud-based internet fax service is the way to go. It's also an excellent choice for small firms without the money to purchase additional devices such as MFPs, fax machines, or multi-line phones but who want a more advanced system. A cloud-based solution has more features and is easier to integrate into your current business apps.
Service providers offer different features – from managed services that take care of all aspects of running your faxing systems, including backup and storage, to full outsourcing that includes designing custom solutions, managing users, and enforcing security measures. In addition, they provide toll-free or local number fax numbers, send and receive reports, manage your business' contacts and provide incoming fax routing capabilities.
Cloud-based providers also offer a range of add-on features, including email to fax, SMS notifications, scanning services, data storage and hosting, video conferencing, and more.
Fax over IP, on the other hand, replaces traditional premises and equipment with internet technology. The combination of hardware (i.e., devices) and software components required for sending and receiving faxes over an IP network is usually your company's LAN or WAN network. The method will include modems on PCs or servers within your firm and client-server software that gives system administrators advanced reporting capabilities, including usage monitoring job tracking, among other things.
So, in short, they are almost the same since you only use the internet to send a fax, but not entirely.
First, fax over IP may or may not use fax machines, yet you can send and receive faxes as long as you have an internet connection, and the fax machine is FoIP compatible – most of these are configured within your IT infrastructure.
On the other hand, a cloud-based faxing system can eliminate the use of physical fax machines, and instead, the provider has software or application hosted in their server. Anyone can access the fax software or application anytime and anywhere with their smartphone or computer and send digital faxes without printing papers.
Should I Use Fax Over IP in My Company?
For smaller teams or departments with simple needs, cloud faxing may be a better alternative. For bigger organizations with complex levels of customer service that need the freedom to let authorized users send and receive faxes from anywhere on earth at any time, an IP-fax solution or FoIP is ideal.
Whether you're a small firm or an organization looking to install an office phone system, you'll want to research essential aspects such as price, scalability, dependability, encryption options, and other elements that will affect your future growth needs.
That said, there are some things to consider before you commit to a new service provider, including:
What phone system technology do they use? Will it work with your existing equipment and platforms?
How long have they been in business? Do they still stand behind their services? How many customers do they currently serve?
Can you find a reference that can verify their experience paying for fax services from this company and how satisfied they are with the outcome of their transactions?
Do they have an excellent customer support and onboarding IT team to help you get started?
Do they offer a lock-in period and additional charges on set up costs?
Does the company offer a free trial to give your company time to explore the features?
Can you refund your money in case you are not satisfied with their service?
When you hire a company or provider to perform a specific service, be sure to compare the service with other multiple sources. Learn what others have to offer – even if it isn't precisely what you want. Compare the options provided by your primary applicant. While there is no such thing as a foolproof method for finding the best fax over IP service, you'll know whether the company providing the service has the experience and is capable of delivering what you require.
Lastly, the most crucial aspect to consider when faxing within your office is security. Because information sent via facsimile can be intercepted, it's essential to take steps to safeguard your data. Make sure that the company or provider offers robust security and encryption.
Final Thoughts
Fax over IP is a technology that allows you to send and receive faxes from your computer, tablet, or mobile device through an internet connection. You may use it with a fax machine or MFPs that support fax over IP technology. You may opt to use it without a fax machine, but instead use software, which you can access all faxes anytime virtually from your computer.
Fax over IP is ideal for large companies and enterprises with complicated IT infrastructure layers that require advanced faxing features. It can be used in place of traditional faxing systems like an office phone line with a dedicated machine. FoIP offers many benefits for you and your clients, such as convenience (no need to buy expensive machines and dedicated phone lines), no more worries about paper jams, higher security for confidential documents, and lower risk of data loss due to power outages.
However, if you would like to migrate to digital faxing – without the use of any fax machine or hardware – then iFax cloud faxing is for you. It's designed to cater to businesses and industries looking for essential advanced faxing capabilities.
iFax is a cloud faxing service provider that lets individuals, businesses, and enterprises send and receive faxes as quickly and as easily as sending an email. Find out why more than 5 million users in over 20,000 companies are satisfied with its service. Take advantage of the 7-day free trial where you can have full access to your chosen plan.
cloud fax
fax over internet
fax over ip
internet fax
internet faxing