HIPAA-compliant form builders are pivotal in upholding compliance, particularly for entities and businesses handling protected health information (PHI). Thus, it's crucial to choose a form builder with features that can help maintain the integrity and confidentiality of PHI.
The list below showcases the best HIPAA-compliant online form builders, enabling you to collect and process sensitive patient data.
Top 5 HIPAA-Compliant Form Builders
Below are the top five HIPAA-compliant form builders with features that help ensure the safe storage and handling of protected health information.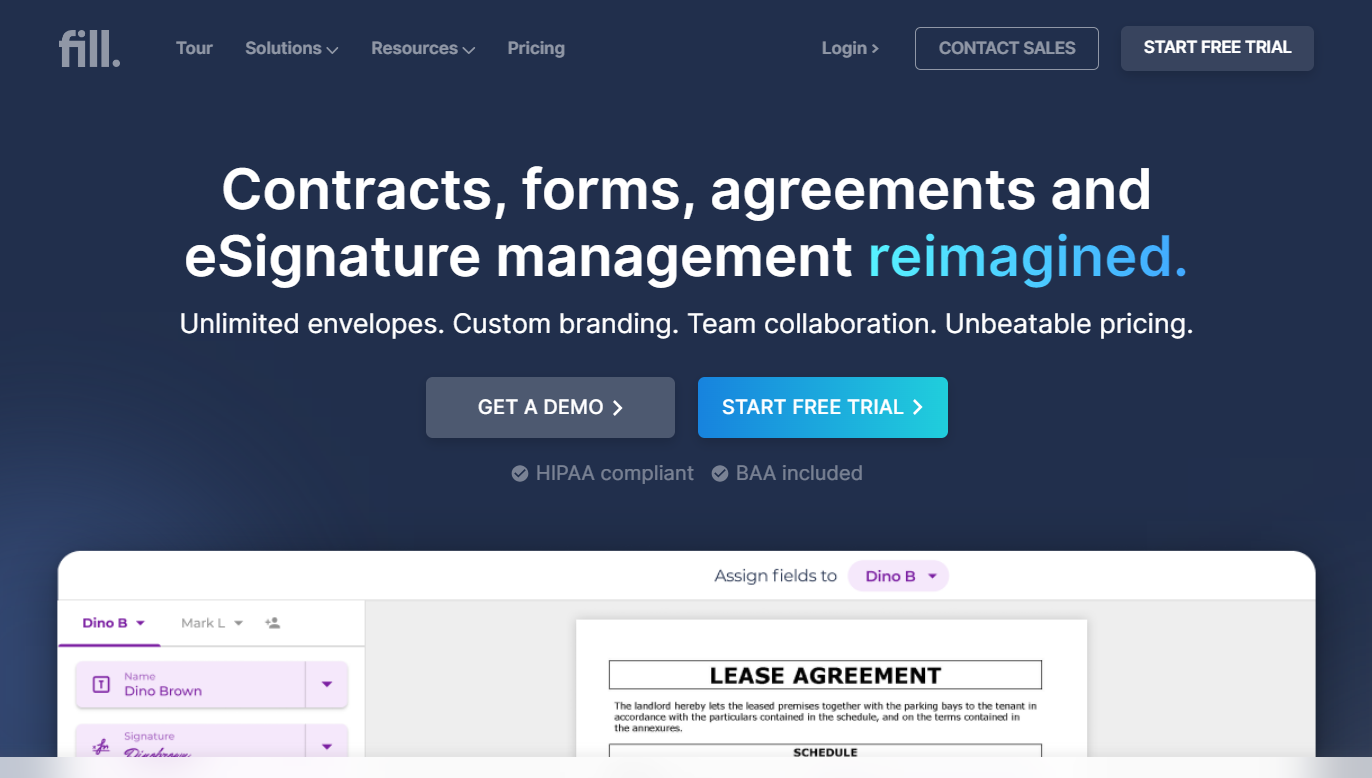 Fill offers security and efficiency without all the overwhelming and unnecessary complexities. This HIPAA-compliant online form builder employs 256-bit AES encryption to ensure that all data entered into the forms remain secure and safe from unauthorized access. With solid security features like digital signatures, Signer ID verification, and document trails, you can rest easy knowing that every piece of patient information you collect remains protected against potential threats.
On top of this, Fill's intuitive dashboard makes it easy for anyone to create and publish forms. It also has a vast collection of healthcare form templates, so you don't need to do everything from scratch. More importantly, it signs Business Associate Agreements (BAAs) for free. It's already a given once you sign up for a Pro plan.
Pricing for Fill's plans starts at $8.33 monthly when billed annually.
2. FormStack
Another HIPAA-compliant online form builder is Formstack. It provides a range of practical features, including personalized branding, multilingual capabilities, and constant customer support.
Users benefit from its user-friendly drag-and-drop interface, which empowers them to craft intricate healthcare forms without coding or technical expertise.
In addition, the platform enhances user insights through real-time analytics, offering a dynamic overview of form performance. Notably, Formstack presents the advantage of limitless storage, alleviating concerns about storage capacity when gathering medical records and other health documents.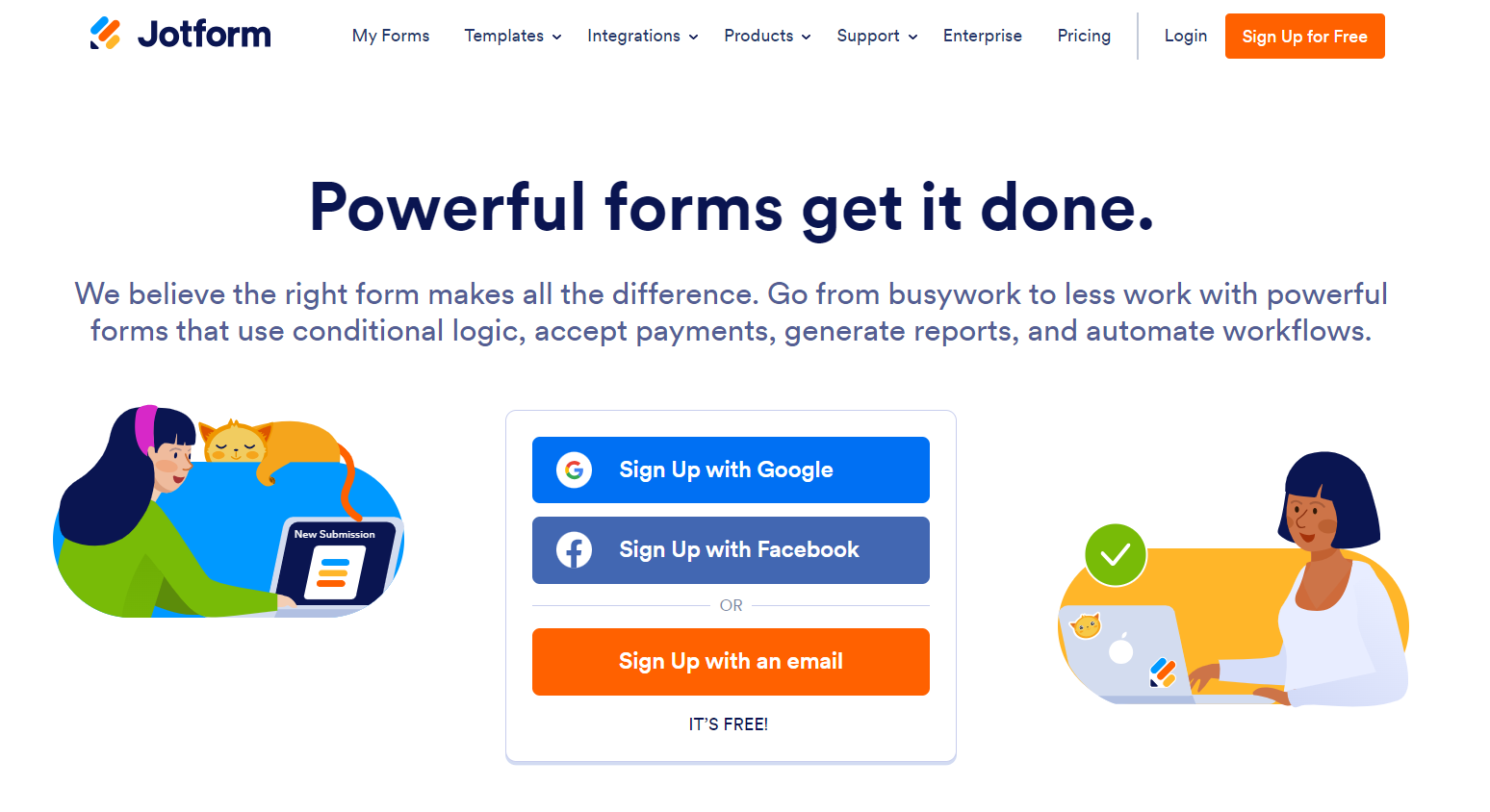 3. Jotform
JotForm stands out as a popular choice among HIPAA-compliant form builders in today's market. Its user-friendly drag-and-drop builder enables users to craft professional forms quickly and effortlessly.
Moreover, this form builder provides an array of templates to select from, freeing you from the hassle of building and designing forms from scratch. This alleviates the need for meticulous scrutiny of each field for compliance assurance.
Through JotForm, users can confidently gather sensitive patient information via encrypted forms while adhering to HIPAA standards and guidelines.
4. FormAssembly
FormAssembly has upheld its compliance with HIPAA since 2016. This continual commitment involves regular gap and risk assessments and following industry best practices, including NIST, ISO, PCI, and HITECH standards.
In addition to its dedication to HIPAA compliance through Sensitive Data Management, users can determine data access privileges, temporarily release reports containing sensitive information, track instances of data access, and much more.
It's ideal for organizations aiming to take complete control of their data collection process.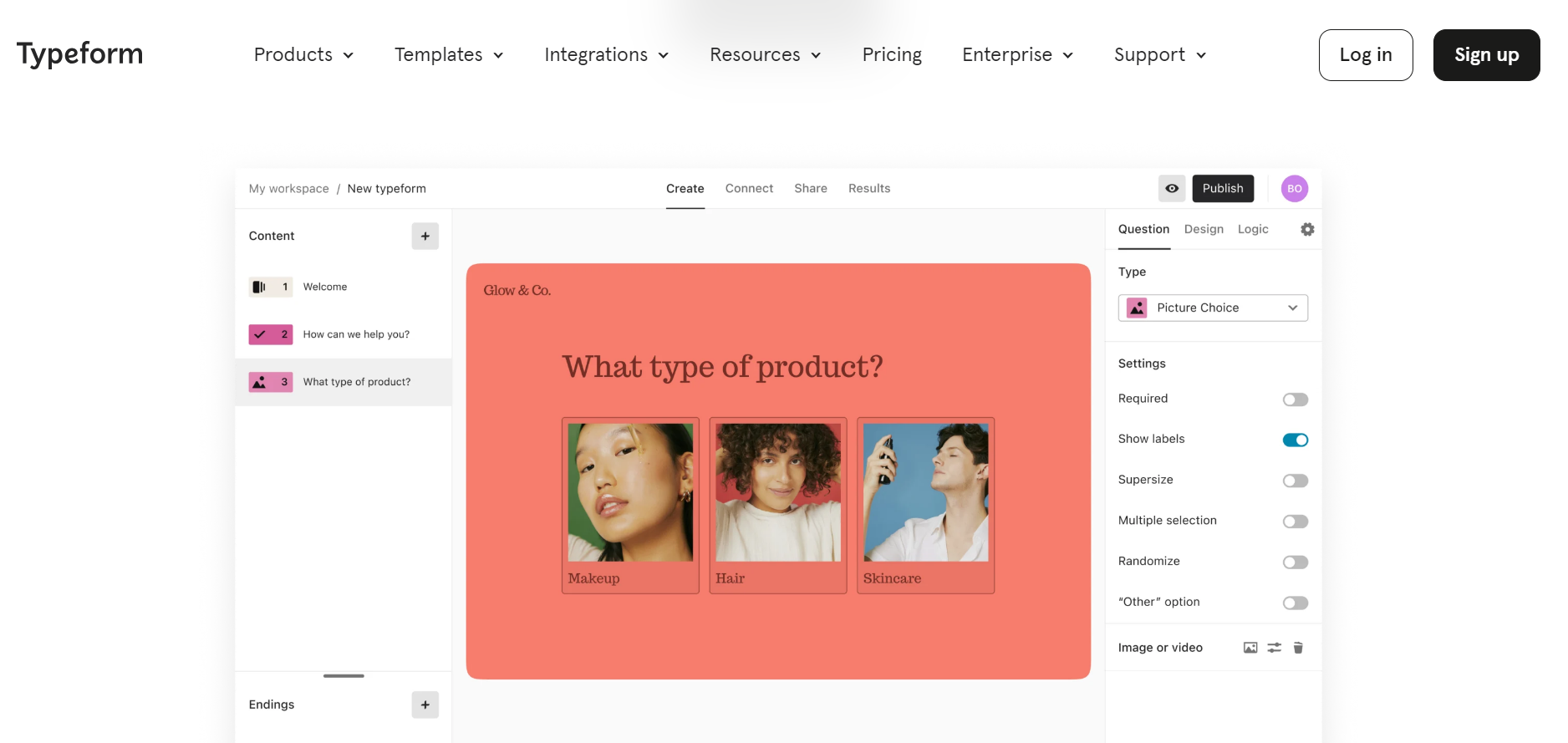 5. Typeform
Typeform boasts ISO27001 and SOC2-certified protocols, ensuring top-notch security measures. It also aligns with HIPAA and GDPR requirements, fortified by cutting-edge data safeguards like TLS 1.2 and AES with a 256-bit key.
Adding to these robust security features, Typeform offers flexibility in terms of scalability and integrations. You can take advantage of its capability to integrate form-building into existing apps, including HubSpot, SalesForce, Notion, and Slack.
The price for ensuring compliance using this form builder varies depending on your business needs and desired response limits.
Why Choose a Hipaa-Compliant Form Builder?
Creating online forms while sticking to HIPAA rules is extremely important when handling sensitive information. In today's healthcare landscape, threats lurk everywhere, even in the simple act of using forms. Thus, it's crucial to understand the importance of keeping patient data secure and private.
Using online forms can make things easier for patients, but it shouldn't put sensitive information at risk. This balance means being careful at every step, from patients filling out forms to how medical professionals use and store that information.
Things To Consider When Choosing a HIPAA-Compliant Form Builder
Many form builders claim to follow HIPAA rules and regulations, but how can you be sure they'll keep your online forms and patient information safe?
Here are five key things to consider when evaluating HIPAA-complaint form builders:
1. Business associate agreement
A business associate agreement, or BAA, is a legal contract between a covered entity and a third-party service provider. A duly signed BAA is necessary as it outlines the perimeters within which your form builder can utilize the PHI it gathers. This encompasses the specific safeguards implemented to protect the sensitive data collected and the course of action in case of a data breach.
2. Electronic signatures
What must come together when building compliant forms is the option to add or insert signatures that comply with HIPAA, the E-Sign Act, and other industry regulations. By adopting this approach, healthcare entities can secure their forms and the information they collect from fraud and identity theft.
3. Robust security features
Ensuring that your chosen form builder offers industry-standard encryption is imperative to establishing secure connections. Additionally, evaluating the availability of other security features like password protection and activity logs is crucial. These features can further enhance the security of your form data, enabling you to safeguard PHI effectively.
4. Seamless integrations
Integrating form-building capabilities into EHR and EMR systems helps facilitate streamlined patient data collection. Instead of entering information in separate systems, it updates the collected data directly into the EHR or EMR system. Besides saving time, this capability eliminates the possibility of duplicate data entry.
5. Real-time monitoring and notifications
Instant alerts and ongoing monitoring help manage and mitigate security threats. Real-time notifications of threat alerts and potential breaches allow organizations to act swiftly, thereby minimizing the impact of security incidents. It also leaves room for covered entities to implement necessary changes to prevent future threats.
By selecting HIPAA-compliant online form builders, your organization can mitigate the risk of data breaches and unauthorized access to PHI. Additionally, it displays dedication to protecting patient privacy, which is a must for enhancing trust and credibility. It's a necessary step, especially if you want to avoid the hassle of dealing with potential legal consequences and hefty noncompliance fines.
form builders
HIPAA forms
HIPAA-compliant forms