Epson fax machines are reliable and feature-rich, making them a top choice for businesses and individuals alike. With advanced features like high-speed transmissions, you can rely on these machines to streamline your faxing tasks. The global brand also offers a large selection of models that cater to different needs and budgets.
If you are in the market for one, consider investing in a machine with features that align with your specific requirements.
Check out our list below for some of the top-rated options.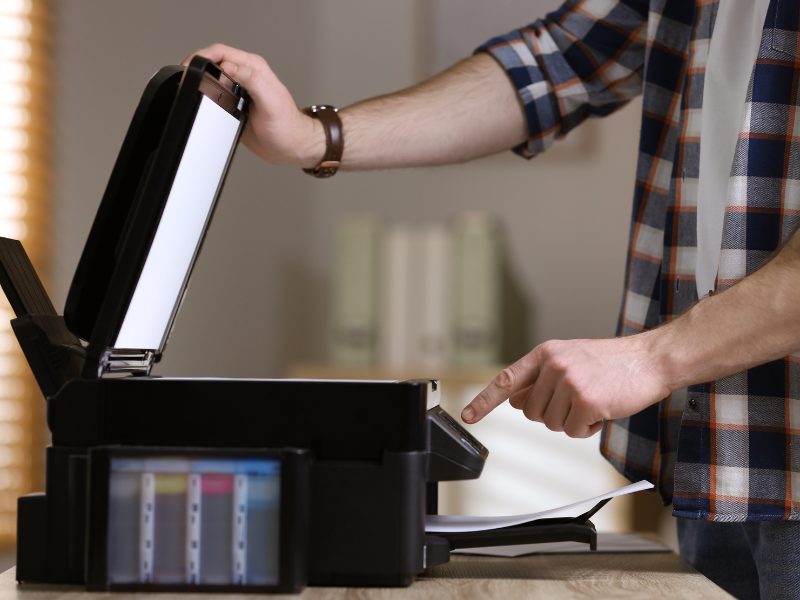 Why Choose an Epson Fax Machine?
Epson fax machines are known for their reliability and efficiency, making them a top choice for any office or home. They also offer a range of features that enable you to fax documents quickly and easily.
Here are some reasons why you should consider buying an Epson fax machine:
High-quality output: Epson fax machines produce high-quality faxes with clear text and images.
Versatility: Besides faxing, you can also print, scan, and copy documents of varying formats and sizes.
Ease of use: There is no need to go through tedious configurations. You can easily set up the machine on your own.
Durability: Thanks to its high-quality materials and sturdy construction, you can expect your equipment to last for years despite frequent use.
Energy-efficient: Epson fax machines consume less power, making them an eco-friendly option.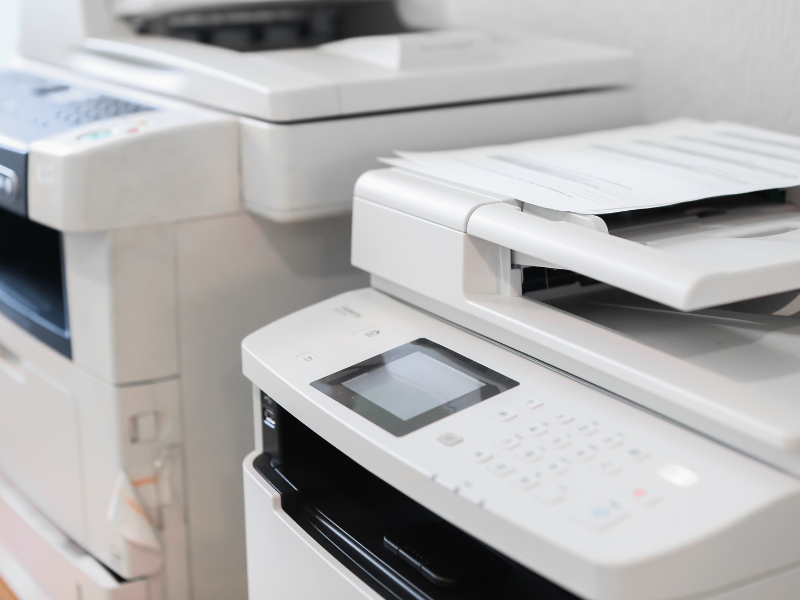 The 8 Best Epson Fax Machines of 2023
Since Epson is a company that makes a variety of fax machines, it can take time to determine which one is best for your needs. Our list below provides an overview of this year's top-rated Epson fax machines.
1. Epson WorkForce Pro WF-C5790
The Epson WorkForce Pro WF-C5790 is a multifunctional machine that can print, scan, copy, and fax. Ideal for small to medium-sized offices, this machine can produce high-quality prints at fast printing speeds and low running costs. It also features advanced security features, including user authentication and secure printing, to safeguard confidential and sensitive information.
With the WorkForce Pro WF-C5790, you can print up to 24 pages per minute (ppm) with a maximum resolution of 4800 x 1200 dpi. The all-in-one device also boasts a 50-sheet automatic document feeder, which can help you save a lot of time. Plus, it's eco-friendly, making it an excellent choice for those who want to contribute to a more sustainable environment.
2. Epson WorkForce Pro WF-4820
The Epson WorkForce Pro WF-4820 is a versatile and reliable machine. With its fast fax speed of up to 33.6 kbps, you can easily handle tasks that require you to fax in high volumes. Additionally, this machine supports mobile printing with Apple AirPrint, Google Cloud Print, Epson Connect, and more.
With the WorkForce Pro WF-4820, you can enjoy faxing using its 2.7-inch color touchscreen. It also offers a wide range of connectivity options, allowing you to print and fax from virtually anywhere. The print speed for this model is up to 25 pages per minute with a maximum DPI of 4800 x 1200.
3. Epson Workforce WF-3640
If you want an all-in-one inkjet that can print, fax, copy, and scan, consider getting the Epson Workforce WF-3640. Ideal for small to medium-sized businesses, this printer can print up to 19 pages per minute in monochrome. It also has a large paper capacity, so you don't have to refill its paper tray frequently.
That's not all. You can also connect the Epson Workforce WF-3640 to your network via Wi-Fi. With it, you can print and fax documents using other devices on your network. There is no need to connect these devices to your printer physically.
4. Epson Workforce WF-2750
The Epson Workforce WF-2750 is a multifunction inkjet printer that can print, scan, copy, and fax. It offers wireless printing and supports both Apple AirPrint and Google Cloud Print. It is also compatible with both Windows and Mac.
With the Epson Workforce WF-2750, you can print up to 13.7 black and white pages per minute. When printing in color, you can expect a speed of up to 7.3 pages per minute. The printer also has a 30-page automatic document feeder for effortless multi-page faxing. It's a versatile addition to any home office or small business.
5. Epson XP-830
The Epson XP-830 is a compact multifunction printer, making it ideal for offices with limited space. With its print, scan, copy, and fax capabilities, you can efficiently complete all your office tasks with just one device. Additionally, the XP-830 offers a range of connectivity options, including Wi-Fi, Wi-Fi Direct, and NFC.
Usability-wise, the XP-830 has a 4.3-inch touchscreen display for easy navigation. Plus, this machine can hold up to 30 sheets at a time, which is excellent for recurrent printing and faxing tasks. It also uses four individual ink cartridges, which means you only need to replace the color that runs out.
6. Epson Ecotank ET-4700
With the Epson Ecotank ET-4700, you can save up to 90% on ink costs compared to standard cartridges. Suitable for high-volume, low-cost printing, its large integrated ink tanks can last up to two years. Plus, it allows easy printing from smartphones and tablets via Wi-Fi and Wi-Fi Direct.
The ET-4700 offers print speeds of up to 10.5 pages per minute for black and white pages. This 4-in-1 wireless inkjet printer can fax multiple pages with its 30-sheet document feeder.
7. Epson Stylus CX9400Fax
The Epson Stylus CX9400Fax offers high-quality printing, scanning, copying, and faxing capabilities. It is a multifunction inkjet printer with individual ink cartridges and a built-in automatic document feeder. It also has a 2.5-inch LCD screen for previewing contacts and editing photos.
With the Stylus CX9400Fax, you can enjoy wireless printing and scanning. You only need to connect it to your device via Wi-Fi, and you're all set. It also makes faxing documents easier since you can speed-dial a fax number.
8. Epson NX300
If you want an affordable all-in-one printer with high-speed fax functionality, consider getting the Epson NX300. This machine can fax in black and white and in color. It also features one-touch copying and high-quality scanning, which makes it ideal for small businesses that require a versatile printer.
With the NX300, you can store up to 60 numbers for speed dialing. Additionally, you can fax documents at a transmission speed of up to 3 seconds per page. In terms of connectivity, this Epson printer has both USB and Ethernet ports. It is also compatible with Windows and Mac, so you can easily connect it to any computer in your network.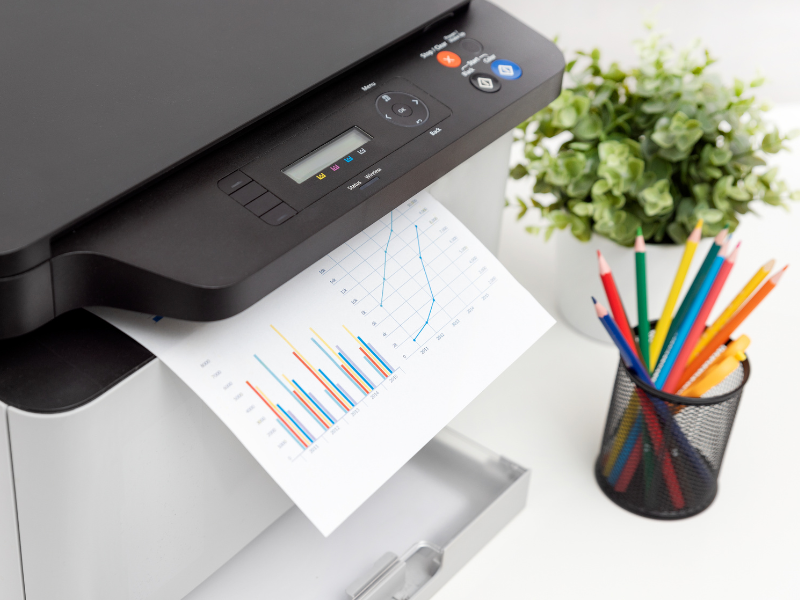 How to Choose the Right Fax Machine for Your Business
Choosing a suitable fax machine for your business can be daunting, but it's crucial for ensuring smooth communication. Here are some of the factors that you need to consider when making a decision:
Faxing Volume: If you expect to send or receive a high volume of faxes, you'll want a machine with a higher paper capacity.
Budget: Epson fax machines can vary widely in price, so consider how much you're willing to spend.
Additional features: Consider whether you need extra features like color printing, wireless faxing, and automatic document feeders.
Compatibility: Check the fax machine's specifications and see whether you can connect it to your existing office or business phone.
Ease of use and maintenance: Look for models that are easy to operate and maintain with simple configurations that don't require costly maintenance.
Fax Without an Epson Fax Machine Using iFax
The best Epson fax machines can guarantee high-quality and reliable fax transmissions. Regardless of your choice, you can rely on these machines to deliver clear faxes with minimal errors. The thing is, like other fax machines, your expenses can quickly add up. You have to consider the cost of maintenance, ink refills, and paper supplies.
With iFax, you save on costs by faxing digitally. Our cost-effective solution eliminates the need for traditional fax machines. You can fax from anywhere using a phone, computer, or tablet. There's also no need for your devices to be in the same network to send and receive a fax. It makes faxing more convenient and accessible.
That's not all. Our fax service lets you fax confidential information while ensuring the highest level of security and privacy. You can also track, store, and manage all your faxes in one place. It's the best alternative to an Epson fax machine, especially if you want to increase efficiency while reducing paper waste.
Take faxing to the next level with iFax. Sign up for a free account or upgrade to a paid plan.
best fax machines
fax machines
top fax machines