Virtual fax is not a newly coined term. It's a technology that existed for many years now. Back then, not a lot of people know about it. It wasn't widely used until the Internet became more accessible to the public.
If you hear the term "virtual fax", two things will come into mind — fax and the Internet. By now, you should already have an idea about what it is. Some people view it as the future of fax technology. Others see it as a more convenient way to fax.
So what is exactly is it? This guide aims to explain all the basic things that you need to learn about virtual fax including:
Now that you have an overview of what this guide is all about, simply scroll over the sections below.
What Is Virtual Fax?
Also known as electronic fax, or Internet fax, virtual fax is a modern approach to faxing. It is a fax technology that uses the Internet. It lets users send and receive fax without a phone line and a fax machine.
Oftentimes, it is referred to as online faxing. With online faxing, a fax user can still acquire and use a fax number. The major difference is there is no need to have a phone line to send local, domestic, and international fax. Users can also receive facsimiles using a online fax number with an area code of their choosing.
To send or receive online fax, a user must avail of an online fax service either via subscription or a one-time fee.
Virtual Fax: How Does it Work?
In essence, a virtual (online) fax works using a secure online faxing system. To access this system, you will need to use an online fax service. This type of service offers users access to its online fax system (portal).
To access the online fax system, many virtual fax services require users to have an account. Having an account means subscribing to the service via a subscription or by purchasing a packaged plan.
However, this isn't always the case. There are also virtual fax services that work on a pay per fax basis. With pay per fax, you simply fax the document then pay. Such services would typically charge per number of pages sent. This type of straightforward online faxing approach doesn't involve any recurring charges.
6 Things to Remember When Using Virtual Fax
Before going further, here are 5 things to remember when using virtual fax to send and receive documents.
1.) Users don't need a fax number to send a fax.
A fax number is only required when receiving a fax. When sending a fax, all you need is to enter the details of your recipient together with the cover page and the documents you need to fax.
2.) A transmission receipt is created for every fax sent and delivered.
For every virtual or online fax sent and received, a transmission receipt is automatically created. This receipt serves as proof that the document has been successfully transmitted. It also contains valuable information that is extremely useful for keeping track of sensitive document exchanges.
3.) Users can access their fax records virtually to keep track of their fax activities.
What's great about using online fax is that there is a virtual record of all document exchanges. This record is readily available on the user's online fax portal. It's extremely useful for searching and organizing fax documents.
Also, unlike traditional document filing, managing online fax records are way easier than going through a large file of documents stored in cabinets.
4.) How to structure an online fax
Just like traditional faxing, there's a recommended structure for sending fax documents. According to standards, a fax cover sheet should be placed before any document. The fax cover sheet should also include important details such as the recipient's name, fax number, time, date, priority status, etc.
5.) Including a fax cover page (fax cover sheet) is not mandatory.
It is up to you whether you include or remove the fax cover page. However, do note that a fax cover page serves a purpose. It also provides an added layer of security especially for documents containing sensitive information.
6.) Online fax providers follow strict security guidelines to ensure user privacy and data protection.
What's great about faxing online is that you can rest assured that your documents are secured. Many of today's online fax services provide a certain level of encryption. This prevents unauthorized people from viewing the contents inside your faxed documents.
What Is an Online Fax Number (How To Get One)
A virtual (online) fax number may look a lot like a phone number but it shouldn't be mistaken as one.
Typically, it is a number chosen and created by a virtual fax service user. So as long as you are using a virtual fax service, you will have a fax number.
With a virtual fax number, you can establish a connection to a fax machine or fax server. This way, you can receive documents via fax from anyone across the globe.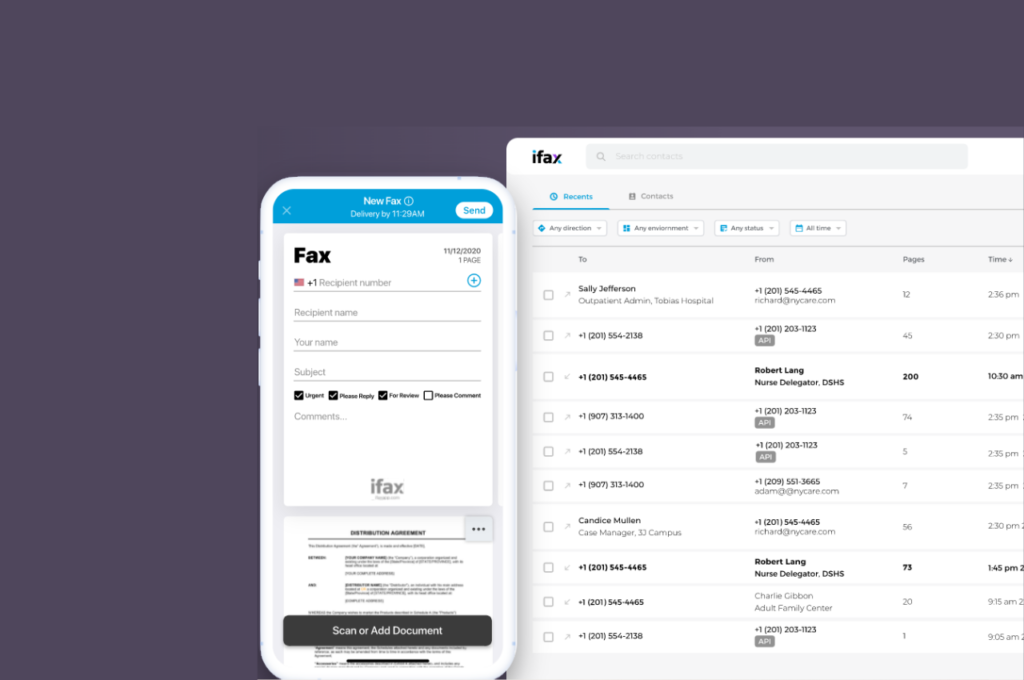 How to Send a Virtual Fax Online (No Download Required)
Most virtual fax services are web-based with multi-platform support. This means the service will completely work on your web browser. There is no need to download any app or install a desktop client on your computer.
Here are the basic steps on how to send a fax online:
Choose an online fax service then create an account. Depending on your web service of choice, you can either subscribe to a plan or avail of its free trial (if available). In this case, let's use iFax as a reference.
Once you are subscribed to iFax, you simply log in to your web dashboard. You can open your dashboard using any browser (ex. Chrome, Firefox, Edge).
Click "New Fax". It's the blue button that appears on the lower-right corner of your dashboard's main screen.
When prompted, select "Compose Fax".
What you will see next should be a fax cover page with empty fields. Fill out these fields with the information required (ex. recipient fax number, name, etc).
Click "Add Document" then select the documents that you wish to add. You can add documents in different formats such as DOC files and PDFs.
Do not forget to select a priority status. This way, your receiver will know how urgent you need a response. You can also add some personal comments if you want.
Make sure to review the details first. If everything is correct, click "Send".
You should be notified in real-time whether the fax you sent has been successfully delivered.
You can track and view the status of the fax you sent by checking the records shown on your online dashboard.
How to Send a Virtual Fax from PC
Sending online fax from a PC requires a desktop client. With iFax, this desktop client can be downloaded for free.
Here's what you need to do to get it done:
Download and install the Windows desktop client for iFax.
Launch the client. Log in using your existing account username and password.
Click "New Fax". It should be located at the bottom-left section.
Select your preferred cover sheet.
Fill out the details listed in the cover sheet. It should include the recipient's fax number and the recipient's name.
Drag and drop the documents you wish to fax onto the attachment box.
Review the details of your fax message. Whenever you are ready, click "Send". You should be able to track whether the fax has been sent because the app will display its status on the dashboard.
Once sent, you can preview the document you faxed and download its transmission receipt (if needed).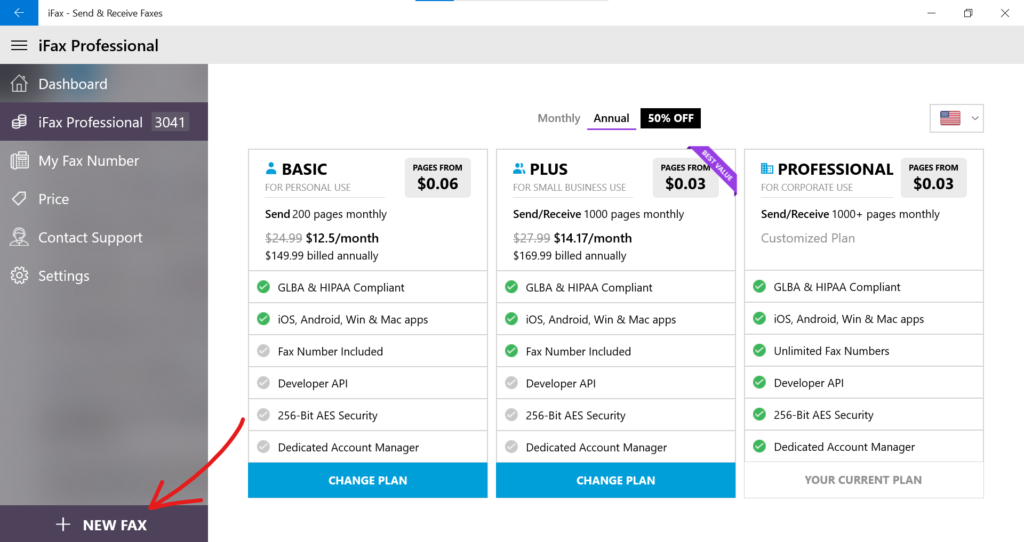 Sending Virtual Fax Via Fax Apps: How it Works
If you wish to send a fax online using mobile fax apps, you simply download the correct app for your phone.
For iOS, you need to download the iFax app from the App Store. For Android, you need to download the app from Google Play. Both of these mobile fax apps are safe and free to download.
Once you've downloaded and installed the correct app, you need to follow the steps below:
Open the app on your phone.
Tap "New Fax". It's located at the top-right of the main screen.
Scroll left or right to select your desired cover page.
Enter the recipient details on the cover page. This should include the recipient fax number, recipient name, sender name, subject, etc.
Tap "Scan or Add Document". After this, you can either scan the document directly or upload it from your cloud storage or local file manager.
Adjust the document and set its color mode (ex. black and white) when prompted. Tap the check icon when done.
Once you've added all the documents, click "Send".
You should be notified once your fax has been successfully delivered. You can also check its status on the app's home screen.
How to Send a Virtual Fax With Gmail
Some online fax services like iFax support faxing via email. In particular, you can send a fax from your Gmail account. It's also really easy to do. It's similar to sending a regular email but you have to fill in the "To" and "Subject" fields with the correct details.
For the "To" field, you need to put "send@ifaxapp.com" as the recipient. As for the "Subject" field, you need to put the correct recipient fax number without any dashes or spaces. Don't put anything else in the subject field.
Below is a more detailed guide on how to send a fax from Gmail. Note that this will only work for iFax Professional users.
Send Fax from Gmail: Step-By-Step Guide
Best Way to Send Fax Online
When it comes to sending online fax, it's great to have multiple options. However, no method is better than the other. It will all depend on which method is the most suitable for a certain situation.
What's great about online fax is you can freely choose among these methods. You are not restricted to a single platform or device. You can easily switch methods based on your preference or need.
Virtual Fax Vs. Other Fax Services
Compared to traditional fax, virtual fax is way more convenient and reliable considering today's modern and fast-paced lifestyle. User demands have changed. With online fax, it's easy to send and receive fax documents just like how easy it is to send emails.
Furthermore, online fax offers a more advanced level of security. Compared to the old-school way of faxing, sending encrypted documents via online fax feels more safe and reassuring.
Choosing the Best Virtual Fax Service
There are a lot of virtual fax services in the market but it's only befitting to choose among the best. Don't just go and choose a service without carefully thinking about whether it truly fits your needs.
It's not enough to say that one online fax service is better because it's cheaper. There are various factors to consider. You have to consider the quality of the service. There's also the factor of security. Is it secure enough for you to hand over your sensitive documents and confidential information? Does it offer military-grade encryption? Is it GLBA and HIPAA compliant?
Ultimately, you need to choose a credible online fax service that offers the best features at a reasonable cost.
In a Nutshell
Virtual faxing offers a modern but straightforward approach. It is because of this that online faxing has achieved significant market growth. Besides, online faxing is accessible for everyone. It caters to all types of users.
Learning how to send a fax is as easy as learning how to send emails. Understanding its basics won't take up too much time and effort. So even for a complete newbie, it won't require a full learning course.
Want a Secure but Affordable Virtual Fax Service? Try iFax!
Send and receive encrypted fax documents at an affordable cost. Sign up and get your FREE 7-day trial of iFax Professional today! No hidden setup fees. Cancel online anytime.