Having a printer at home can save you a trip to the nearby fax center. You can even own one for a price below $100. With the HP DeskJet 4152e printer, you will surely get your money's worth.
Whether for personal use or business, this printer is more than capable of handling various administrative work. Plus, it lets you print, scan, copy, and fax documents from anywhere in your home.
In this post, you will see why getting this printer is worth considering, especially if you are still deciding whether to switch to online faxing.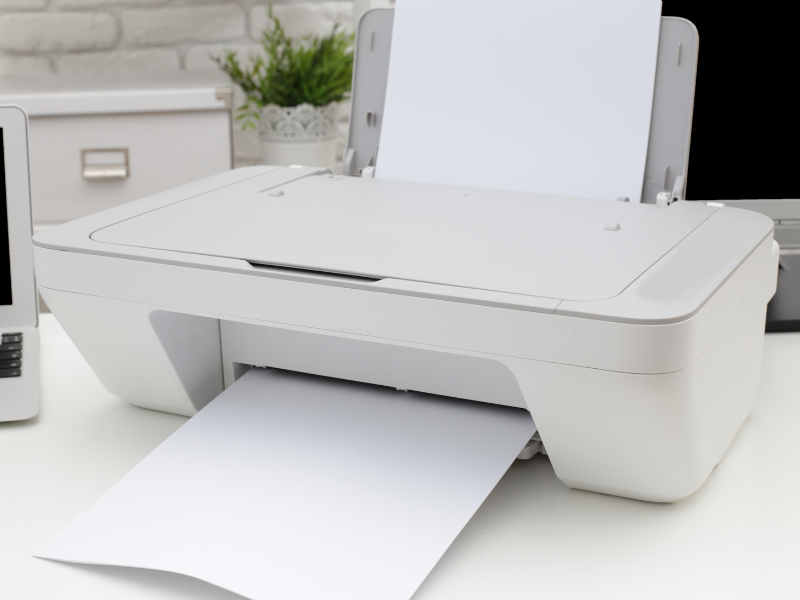 HP DeskJet 4152e Key Fax Features
Ideal for home office printing, the HP DeskJet 4152e is an all-in-one printer with faxing capabilities. Its faxing features may not be as advanced as its more expensive counterparts (ex. Canon PIXMA G7020), but it can still handle your basic faxing needs.
The HP DeskJet 4152e printer has the following key fax features:
Mobile faxing
Faxing with HP DeskJet 4152e can be liberating as it allows you to do it using your mobile phone. It frees you from the usual constraints of being near the machine to fax. With its cable-free faxing option, you can fax documents even if you are in the kitchen or living room.
Automatic document feeding
The DeskJet 4152e has an automatic document feeder capacity of up to 35 sheets. Thus, you can rely on it to handle all your multi-page faxing tasks smoothly. There's no need to stress over the fact that you need to feed each page manually.
Decent memory capacity
The HP DeskJet 4152e printer can store unsent faxes or drafts in its built-in memory. This way, you can avoid resending a failed fax by starting all over. Not only does this save you time, but it also lessens the effort needed to fax a single or multi-page document.
Advanced fax-sending options
This multifunction DeskJet printer lets you add files directly from your mobile device. You can even use your phone's camera to scan a printed document and send it as a fax. There's also the option to easily add a cover page, which is a must when faxing documents with sensitive data.
Space-friendly design
The HP DeskJet 4152e printer features a clean and minimalist design, making it suitable for any home or small office. It also frees up valuable desk space, giving more room for other valuable items. Plus, it fits easily in any tight space. You can place it anywhere or move it around as you please.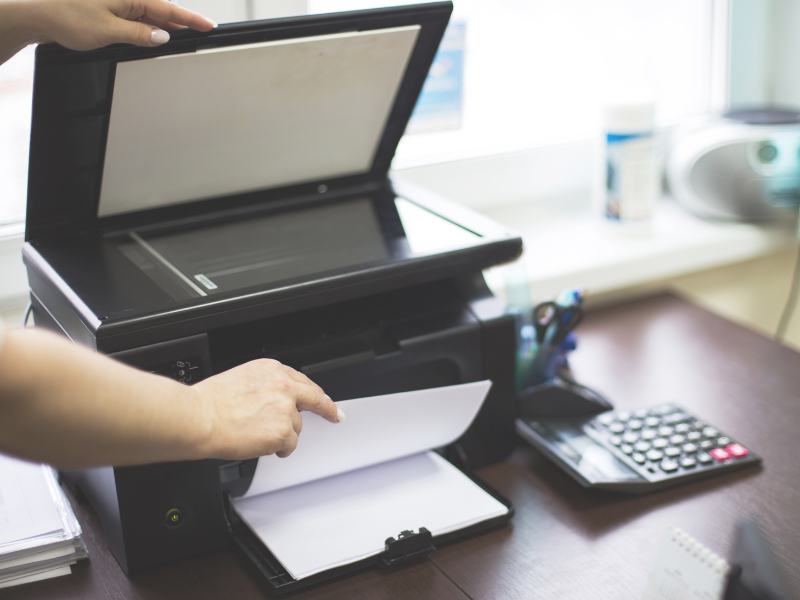 How to Fax From the HP DeskJet 4152e Printer
It should be noted that the DeskJet 4152e printer only supports mobile faxing. It has no built-in fax modem, meaning it won't work like a traditional fax machine. You cannot connect it to a telephone line to send a fax. Also, you cannot use this printer to receive a fax.
You can, however, use the HP DeskJet 4152e for mobile faxing. You just need to set up its mobile faxing capability.
Here's how it works:
Plug the 4152e printer into a power source and turn it on. You cannot send a fax using your device if the printer is offline.
Connect the printer to your Wi-Fi network. You will know if it's connected because the blue light indicator next to the Wi-Fi button will stop flashing.

If you've previously connected the printer to a network with an Ethernet cable, disconnect it first.

Install the HP Smart app on the device you want to use for mobile faxing. You can also install it on your computer.
Connect your phone or computer to the same Wi-Fi network as your printer.
Launch the app and make sure to enable the mobile device location service. Doing so will allow the device to locate your printer.
Click Add Printer to add the HP DeskJet 4152e on the app.
Once added, the HP Smart app should display a list of options. Select the Mobile Fax option.
It should load the compose screen. From there, the process is pretty straightforward. You only need to fill out the required fields, like your recipient's fax number.
Next, click (or tap) the Files and Cover Page option to add your documents and a cover page if necessary. Note that you can only attach up to 20 pages per fax.
Proceed by pressing Send Fax. Wait for the printer to print a confirmation page. Check the page to see if there are any errors or missing details.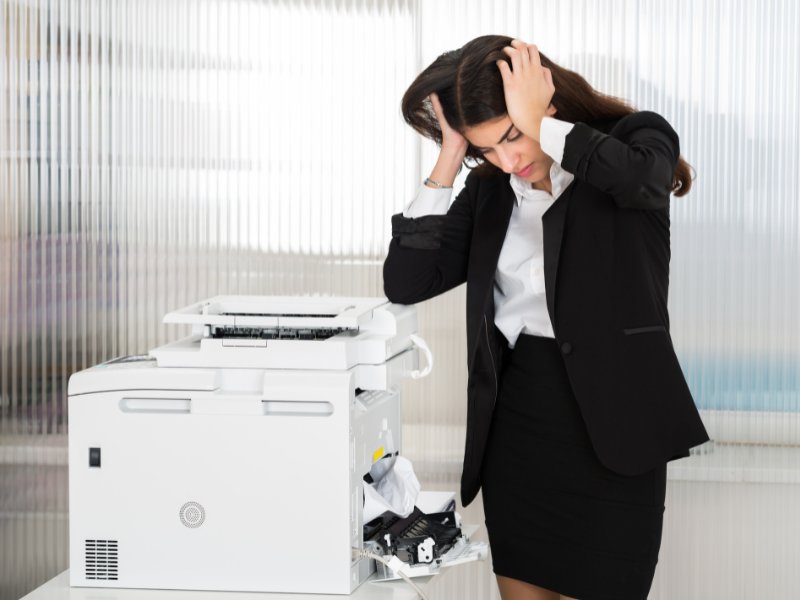 Practical Fixes to HP Deskjet's Common Faxing Issues
Like any standard fax machine, the HP DeskJet printer line may encounter issues related to faxing. When this happens, here are some practical fixes that can help resolve the problem:
Check for unstable connections. The Wi-Fi network where you're connected may be offline. Either switch to a working network or wait until the connection issue has been resolved.
Fax to a different fax number. There's a possibility that the number you're trying to send your fax to is busy or unavailable. If the recipient has another number you can use, send the document to that number instead.
Send a test fax. HP offers a free service where you can send a test fax. It helps determine whether the problem is on your end or your recipient's.
Check your fax settings. Some misconfigurations could disrupt the flow of your faxing process. You may need to correct your printer's settings first before you can resume faxing your documents.
Update the HP Smart app. For an app to run smoothly, you must regularly update it. Otherwise, it could disrupt or delay your faxing workflow.
HP DeskJet 4152e Faxing vs Online Faxing
If faxing using the HP DeskJet 4152e printer won't suffice, such as when you need to receive faxes, you can always use an online fax service. By faxing online, you can fax freely, swiftly, and effortlessly. There are no messy cables to set up. Plus, you can fax without a fax machine or an all-in-one printer.
With online faxing, you can enjoy the following benefits:
Borderless faxing
You can send and receive faxes on any device. There's no need to limit yourself to faxing only in the office or home. You can fax from virtually anywhere. You can take a business trip or vacation while keeping tabs on your faxes.
Paperless faxing
Online faxing frees you from paper clutter. Plus, you can minimize the effort it takes to organize files. You can also fax multi-page documents faster by uploading the pages in bulk.
Cost-savings
You can save on machine maintenance and cartridge replacements. There's also no need to purchase a printer or additional faxing equipment. More importantly, you can minimize human errors, which can be costly since it often leads to miscommunication, rework, and delays.
Experience Cable-Free Faxing to the Next Level With iFax
When it comes to online faxing, you can always count on iFax to provide a seamless and secure faxing experience. You can send and receive a fax from anywhere, making it a perfect alternative to faxing from an all-in-one printer.
With advanced features like bulk faxing, API integration, and team management, our secure platform has everything you need to streamline your faxing process. More importantly, you can transmit and store sensitive data while meeting HIPAA and GDPR compliance standards. You can use our online service to encrypt and safeguard your data from unauthorized parties.
Start faxing your documents online today. Give iFax a try and see how convenient it is to track and manage your faxes in real time.
all-in-one printers
fax machines
HP deskjet printers