Comparing fax machine prices and features can be daunting, especially if you browse in different stores like Staples, Walmart, and Office Depot.
Don't worry; we've got you covered. Instead of you doing the legwork, we've created a list of the most affordable fax machines and where you can find them. This article will help you buy fax equipment that would best suit your specifications. Let's explore these options below:
The 8 Most Cost-Effective Fax Machines
If you are looking for a more affordable way to fax, check out these top-rated fax machines that you can purchase for less than $300.
1. Canon imageCLASS MF236n
The Canon imageCLASS MF236n is one of the most affordable all-in-one printers with fax capabilities on the market. If you're looking for a compact machine with printing, faxing, scanning, and copying functionalities, you can't go wrong with this laser printer.
This fax machine produces monochrome, high-quality output on texts and images. It also has a transmission time of three seconds per page when sending a fax with a modem speed of 33.6 Kbps Super G3. Its 256 MB memory capacity can save up to 256 pages with a 200 x 400 dpi fax resolution for an ultra-fine print.
Where to buy: Walmart at $199 Canon
2. Canon FAXPHONE L100
The FAXPHONE L100 combines a laser printer, digital copier, and fax machine to cater to your needs. It's ideal for a small office or home office setup. Think of this as a fax machine with printing and copying as secondary features.
Its memory capacity can accommodate up to 512 sheets. This means that if you run out of paper in the middle of a transmission, the machine can save your incoming fax. Moreover, it has a duty cycle of up to 8,000 pages per month.
Where to buy: Staples at $199.99 | Walmart at $199.99
3. Brother FAX-2840
Whether it's for a small store or a home office, this compact, high-speed laser fax is your best bet. This 250-sheet capacity multifunction printer has 2.5 seconds of transmission time. It can also save up to 400 pages in its memory for incoming faxes.
This fax machine has plenty of positive reviews from customers, most of whom say that it's easy to set up and efficient to use. However, keep in mind that this Brother fax machine can only print documents in black and white.
Where to buy: Staples at $219.99 | Office Depot at $229.99
4. Canon Pixma TR8620
If you are concerned about fax machine prices but also want something of good quality, the Canon Pixma TR8620 is a great option. It not only supports faxing but also printing, copying, and scanning. This all-in-one inkjet printer comes with a 4.3-inch LCD touch display.
This Canon fax machine also flaunts a sleek and minimalist design, which makes it ideal for a home office. Plus, it has both wired and wireless connectivity options. It can print monochrome (black and white) and full-color pages for fax. Meanwhile, its memory capacity can save up to 250 pages.
Where to buy: Best Buy at $159.99
5. HP OfficeJet 3830 All-in-One Wireless Printer
The HP OfficeJet 3830 is an all-in-one machine that allows you to print, scan, copy, and fax documents in a breeze. It has a 2.2-inch display that makes it easy for you to access its settings and controls. Aside from being budget-friendly, this fax machine is also ENERGY STAR certified.
This model supports wired and wireless connectivity, allowing you to work seamlessly with other devices. It also comes with a remote mobile app that lets you print and fax directly from your mobile phone or tablet.
Where to buy: Walmart at $257.99
6. Brother MFC-7240
This laser all-in-one consolidates all your printing, scanning, faxing, and copying needs. If you need to produce high-quality monochrome documents, then this machine should be at the top of your list. Its compact design makes it a great option for home offices and small businesses.
The Brother MFC-7240 is equipped with a 20-page capacity automatic document feeder, which is enough to cater to your everyday faxing needs. It also has the capacity to print 21 pages per minute. This model meets federal guidelines for energy efficiency, which allows you to save money and reduce your carbon footprint.
Where to buy: Walmart at $227.05 | Office Depot at $219.99
7. Brother FAX575
For people who are conscious of fax machine costs but who do not want to stint on quality, the Brother FAX575 is worth looking into. This lightweight fax machine keeps you on top of your business and office tasks with its faxing and copying functions.
The FAX575 has a built-in interface that lets you fax and receive voice calls via a single line. It even allows you to connect with an external answering machine. With its 10-page capacity ADF, you can send multiple documents without constantly replenishing your paper supply.
Where to buy: Walmart at $274.95
8. Brother FAX-4100E
The IntelliFAX-4100e is a full-pledged cost-effective fax machine designed to meet your everyday business needs. It comes with a 30-page capacity automatic document feeder and can hold up to 250 sheets in the paper tray.
If your operations involve a regular flow of incoming and outgoing faxes, this is your best bet as it's reasonably priced. Time-saving features include automatic dialing for up to 132 numbers and fax broadcasting to almost 200 recipients.
Where to buy: Staples at $399.99
Fax Machine Prices: A Comparison
Choosing the right machine for your business can be quite overwhelming, especially with the sheer number of options available to you. One of the things that can help you make a decision is to check the fax machine prices and see which one fits your budget.
We made a quick snapshot comparing the prices of all fax machine models we just listed.
| | | |
| --- | --- | --- |
| Brand and Model | Type of Printer | Price Starts From |
| Canon imageCLASS MF236n | Laser | $199.00 |
| Canon FaxPhone L100 | Laser | $199.99 |
| Brother FAX-2840 | Laser | $219.99 |
| Canon Pixma TR8620 | Inkjet | $159.99 |
| HP OfficeJet 3830 | Inkjet | $257.99 |
| Brother MFC-7240 | Laser | $219.99 |
| Brother FAX575 | Laser | $274.95 |
| Brother FAX-4100E | Laser | $399.99 |
Based on our list, which fax machine would be best for you?
Best for limited budgets: Canon imageCLASS MF236n or Canon FAXPHONE L100
Best energy-saving option: HP OfficeJet 3830
Advanced features: Brother IntelliFAX-4100e

Physical Fax Machines vs Online Fax Services
Sending and receiving faxes is still very much in practice today. Unlike other methods of document transmission, faxing provides more security for confidential information. Faxing is also easy and convenient to use.
Nowadays, there are two ways you can fax: the traditional way, which uses a fax machine, and online faxing. Let's compare which one's the better option, especially in terms of costs and functionality.
Cost
The fax machine price typically ranges between $100 and $500, depending on the brand and specifications. At first glance, it's not really that expensive, considering that most machines are now multifunctional. Nowadays, fax machines can perform other tasks such as scanning, printing, and photocopying.
However, you must consider the cost of consumables such as ink cartridges and printing paper. You also have to set aside money for maintenance and repair in case your machine breaks down. If you sum up all these expenses, you could end up spending more than what you originally planned.
Online faxing, on the other hand, is more cost-efficient. You do not have to buy additional equipment as you can use your computer, tablet, and even your mobile phone. You only have to pay a subscription fee monthly or annually. Using an online fax service will generally be much less expensive compared to maintaining a traditional fax machine.
Portability
It is impossible to be mobile when using a fax machine. Not only is it bulky, but it also needs to be attached to a power source and a dedicated phone line to function. This means you can only send and receive faxes from a stationary location, like your office or home.
In contrast, digital faxing means you can transmit faxes from anywhere as long as you have a smartphone. An online fax service lets you take care of everything by simply opening up your browser and signing in. This means that if you are on vacation or traveling internationally, you can view faxes that come in without having to rush back to the office.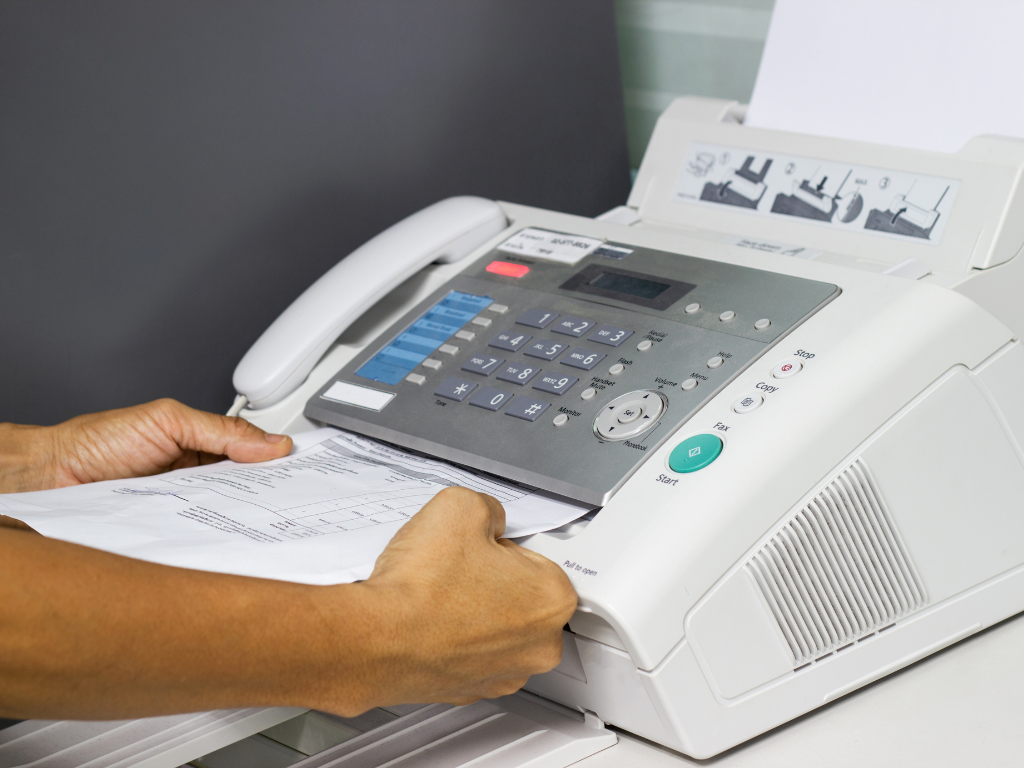 Security
Fax machines communicate through phone lines, which are more difficult to breach. However, if you compare legacy faxing to digital, the former pales in comparison.
With traditional faxing, there's always the risk of misplacing important files. If you're not careful, someone might be able to access your faxes without your knowledge. Such is not the case with online faxing.
Online fax services offer the ability to store your faxes in an electronic format with an individual password for access. Moreover, online fax uses military-grade encryption, which makes it virtually impossible for unauthorized parties to access your documents. When you use an online fax service, you will also have a dedicated fax phone number, which provides an extra measure of privacy.
Storage
Online faxing offers a paperless solution that not only helps you save money but also space. Instead of having reams of paper stored away in filing cabinets, all your files will be stored in the cloud. Digital files are easily accessible to all the people you have shared them with, especially if you need to find or resend a document that you first accessed months ago.
Speed
Since most fax services are connected to the internet, they can provide faster transmission times than traditional fax machines. If somebody sends you a document via a fax machine, it may take minutes to arrive, especially if somebody else is using the machine.
Switch to Online Faxing Today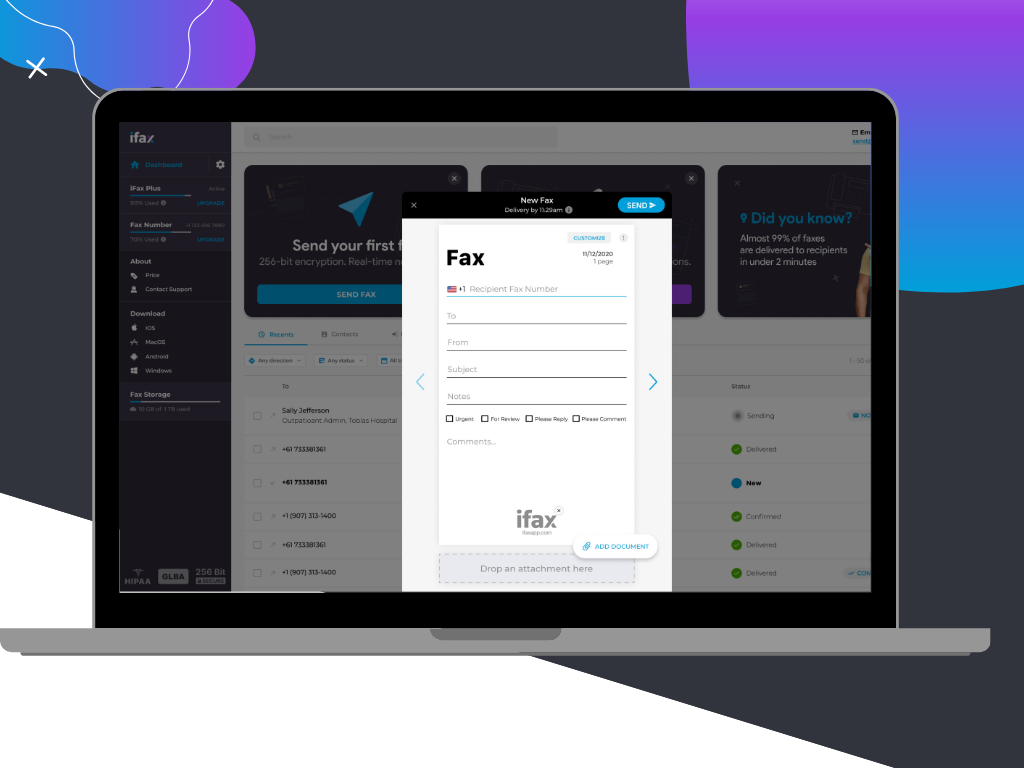 While buying a cheap fax machine may help you save on faxing fees, it has its share of downsides. For one, it requires space and a dedicated power source. It's also a hassle to take a fax machine with you when you travel.
Good thing you can always switch to online faxing. With a service like iFax, you can fax anywhere at any time.
The iFax Plus plan starts at $16.67 per month, which lets you send and receive up to 500 pages. You no longer have to think about maintenance costs, equipment, printing supplies, storage, and telephone lines. That's a huge amount of savings each year. With iFax, you can fax securely using any iOS, Android, Windows, or Mac device.
Start online faxing today.
affordable fax machines
all-in-one printers
cheap fax machines
fax machine prices
low-cost fax machines