Anyone looking for a reliable printer should look into getting the HP ENVY 6000. On top of having a built-in scanner and copier, it also offers a range of features that can help streamline your day-to-day office tasks.
With the HP ENVY 6000 printer, printing, scanning, and copying documents can be a breeze. Plus, it can also send and receive documents by fax. Its faxing feature certainly comes in handy when you want to avoid sending documents by mail.
Is it as good as sending a fax online? That's what you are about to find out.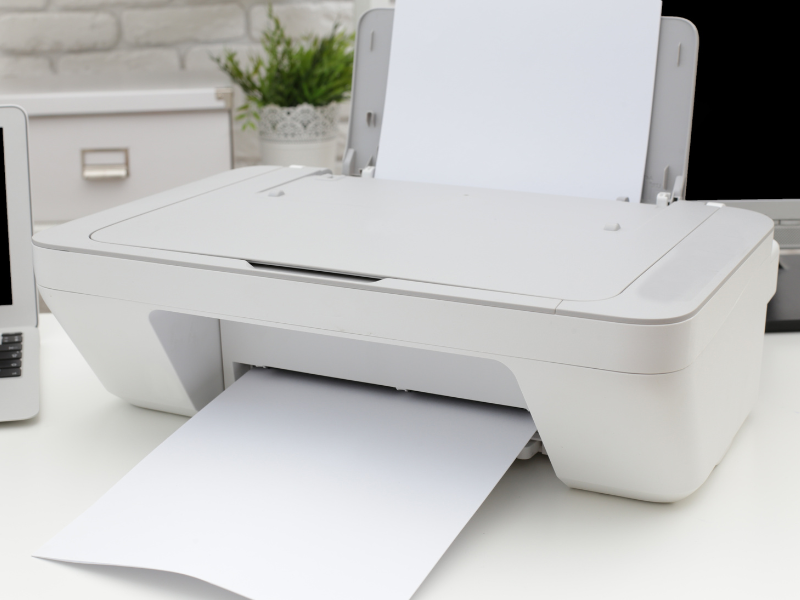 HP ENVY 6000 Key Faxing Features
The ENVY 6000 is an all-in-one printer with faxing capabilities. It features a 2.65-inch color touchscreen for easy navigation and an automatic document feeder for faxing multi-page documents. It also supports wired and wireless connections, making it ideal for both personal and office use.
On top of this, the HP ENVY 6000 printer lets you send faxes using your phone or tablet. It's far more convenient than manually operating the printer to send a fax.
Here are some additional faxing features of the ENVY 6000 that are worth noting:
Multi-page faxing
Faxing with HP ENVY 6000 printer means you can save more time and effort. With its 35-page automatic document feeder, you can fax multi-page documents more efficiently. There's no need to wait for each page to go through individually.
Easy setup
With the ENVY 6000, you can fax with ease using the HP Smart app on your phone or computer. There are no confusing settings. You also don't need to install any additional hardware. The process for faxing is quite similar to sending an email. You can even attach a custom fax cover page.
Fax drafts
If you have an unsent fax, the HP ENVY 6000 will automatically save it as a draft. Plus, this printer will show your detailed fax history. You can also edit and resend the faxes that you've already sent.
And while this specific model cannot receive faxes, you can always rely on it to print, scan, and copy documents swiftly and efficiently. Besides, its compact design fits nicely on any desk or shelf. You won't have to worry about it taking up too much space.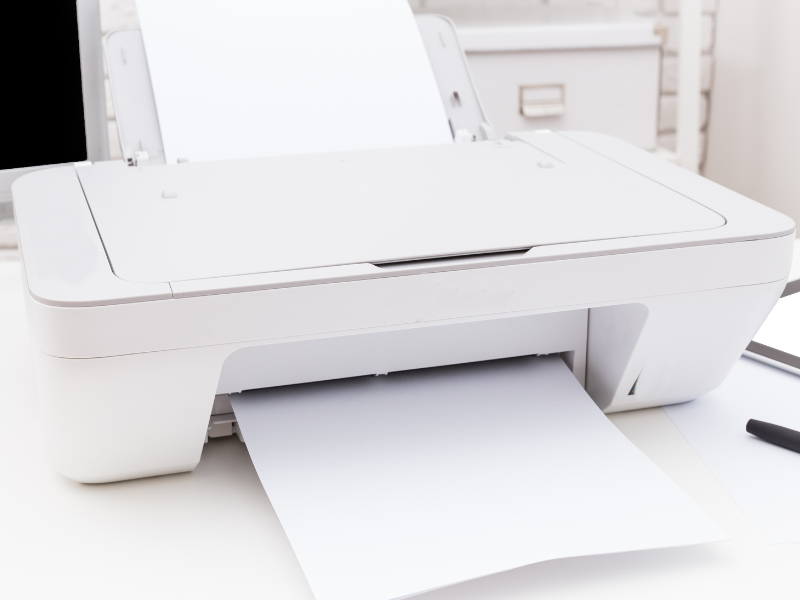 Faxing With HP ENVY 6000: How It Works
To fax using the HP ENVY 6000 printer is easy. All you need to do is follow this step-by-step guide.
Connect your phone or laptop to a Wi-Fi network.
Download and install the HP Smart app.
Once installed, launch the app. If you don't have an existing account, you must sign up using your email or mobile number first before you can sign in.
On the app's screen, click the Mobile Fax tile. It should display a compose window similar to an email client.
Enter all the required information, including your recipient's fax number. Don't forget to specify the country or region.
Click Files and Cover Page to add the documents. You can also include a cover page. The maximum number of pages you can attach per fax is 50.
If you are faxing using your phone, you can tap the camera icon to capture any document. Click the plus sign to add more pages.
Click the Send Fax button to proceed.
Wait for the HP printer to print the fax confirmation page. It should display all relevant information about the fax, including the time and date of delivery. It should also show the total number of pages faxed.
Pro tip: Always double-check with your recipient and confirm if there are any missing or illegible pages. You don't want to risk sending incomplete information, which can cause further delays and confusion.
Fixing Common Faxing Issues With the ENVY 6000
The HP ENVY 6000 printer is no exemption to the common faxing issues. At some point, you will encounter problems like your faxes failing to reach their intended recipients. When this happens, it's best to perform some basic troubleshooting first.
Here are some steps you can take to check for some common faxing issues:
Check if the printer is offline. You cannot use the HP Smart app to send faxes when the printer is offline.
See if your device is connected to a Wi-Fi network. There could be some network issues affecting your fax transmissions.
Verify if the fax number is correct. The number you are trying to send your fax to might no longer be in use.
Try faxing past peak business hours. Your recipient's fax line may be busy. Or, you can send the fax to another number and see if it gets through.
Update the HP Smart app. The issue may be caused by an outdated application, which can be easily fixed by installing the latest app version.
If, upon troubleshooting, you still encounter issues while faxing, consider calling for expert assistance. If you have some faxes pending, you can use an online fax service with 99.99% uptime.
HP ENVY 6000 Printer vs Online Fax
Faxing from the HP ENVY 6000 printer seems convenient, but it still lacks the mobility that online faxing can offer. Plus, you still have to consider the cost of restocking office supplies. Since it's an all-in-one printer, you need ink and paper to keep it running.
Another factor is scalability. This specific model is only ideal for average printing and faxing usage. As your needs grow, you will eventually need to spend money on a more robust and efficient printer.
Online faxing, on the other hand, offers more flexibility and convenience. It lets you fax from anywhere, even outside your office or home. You can also save on costs since there's no need to buy paper or pay monthly for a dedicated phone line.
Here are some practical reasons why faxing documents online is better:
Cost-efficient. You can save money on paper, ink, and other office supplies. There's also no need to pay for regular machine maintenance.
Secure. You can better secure your files and protect them from unauthorized access. With online faxing, you can safeguard fax transmissions using end-to-end encryption.
Zero downtime. You don't need to wait until the line is no longer busy before sending a fax. You can fax anytime while minimizing the risk of delays and errors.
Real-time tracking. You can track the status of your fax deliveries in real time. There's no need to wait for confirmation or worry about missing copies.
Say Hello to Paperless Faxing With iFax
Instead of faxing from the HP ENVY 6000 printer, you can fax your documents online using iFax. Our online faxing service offers a hassle-free yet secure way to fax. There are also no bulky machines or messy cables to worry about. You can enjoy the convenience of faxing from your phone or laptop.
With iFax, you can:
Store your important documents safely in the cloud
Access your faxes from anywhere
Stay compliant with industry regulations, including HIPAA and GLBA
Scale your faxing needs with pricing options that fit your budget
Automate repetitive tasks and streamline your faxing process
Switch to online faxing today. Create an account to get started.
fax machines
HP ENVY
HP fax machines
HP printers