With the latest technological advancements, it is only natural for a business to choose a more efficient solution. Take online faxing, for example. It offers a modern way to fax, eliminating the need for paper-based communication.
Still, having the HP fax machine 640 in your office can provide a reliable backup option. With it, you can still send and receive faxes in case of an internet or power outage. You can also count on its scanning and copying capabilities to speed up your document workflow.
Below, you will learn how faxing with HP 640 works (and why it's important).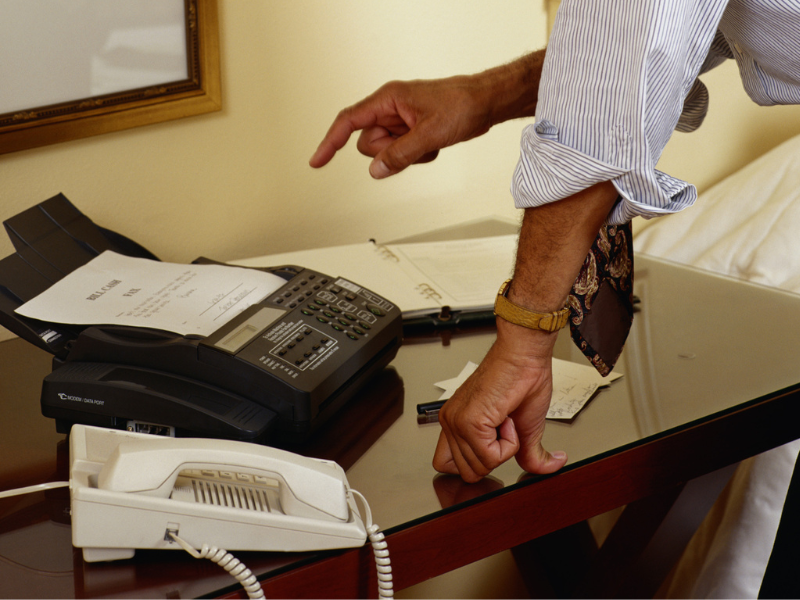 HP Fax Machine 640 Key Features
The HP 640 is an inkjet fax machine with a compact design. Unlike its bulky predecessors, this model can easily fit on tiny desks or office cubicles. Additionally, it offers fast and reliable faxing, with a transmission speed that can go up to 33.6 kbps. It also has a document feeder tray, which can hold up to 20 standard pages.
Other notable features of the HP fax machine 640 include:
Black and white faxing
The HP 640 inkjet fax machine can produce high-quality faxes in black and white copies. It can also print them in letter (8.50″ x 11″) and legal (8.50″ x 14″) sizes. Thus, you can fax any document according to your work or business requirements.
50-page fax memory
You won't have to worry about missing a fax or having to redo a failed fax. The HP 640 has adequate memory that can store up to 50 pages. It is plenty enough to accommodate your daily faxing needs.
Advanced fax options
If you want to improve your faxing efficiency, you can take advantage of this model's advanced features. Faxing with the HP 640 allows you to speed dial up to 50 locations. You can also track faxes using detailed confirmation and activity reports.
One-touch buttons
Unlike newer HP fax machines, the 640 model has tactile one-touch buttons. It's also easier to operate. There are no complicated menus, and if you want to access any setting, you can do so with just a single touch of a button.
Reasonably priced
The HP 640 costs cheaper than other fax machines in the market. Priced below $100, it is a suitable choice for anyone who wants a fax machine for their home or small business. It's ideal for everyday faxing and would free you from the hassle of going to the nearest fax center.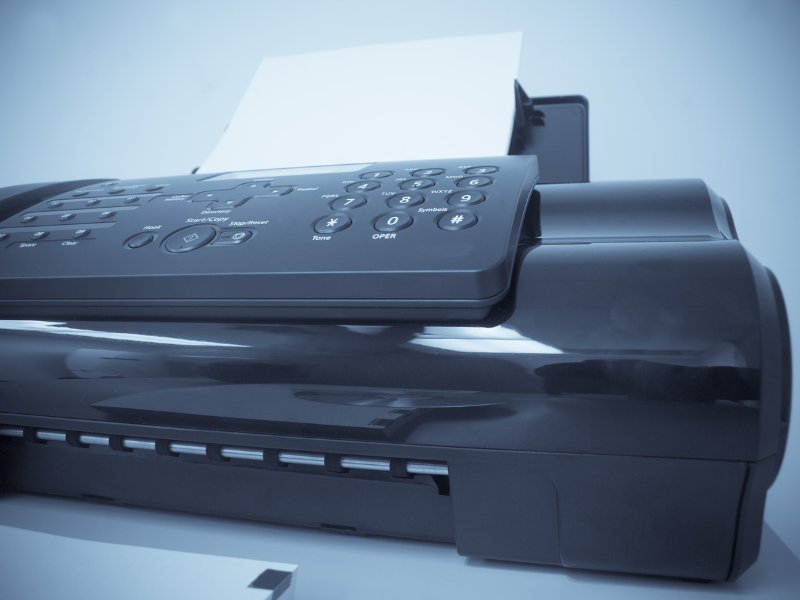 Faxing With HP 640: How It Works
You can use the HP fax machine 640 to send and receive faxes. First, you must set it up by connecting it to an analog telephone line. Once connected, turn the device on, then follow these steps:
Sending a fax
Load the documents on the input tray (document feeder). You can place up to 10 sheets of letter or A4-size paper at once.
Dial your recipient's fax number on the dial pad, then press Start/Enter. Or, you can press the Speed Dial button to select a phone book contact.
Wait for the machine to finish faxing. It should print a confirmation page once done.
Receiving a fax
Set your preferred Answer/Receive Mode. To do so, remove any document from the input tray, then press the Rcv. Mode/Contrast button.
Select your desired receive mode. You can choose from the following:

FAX Mode – the machine will only receive faxes, with no voice calls
TAM Mode – the machine will use an external answering device when receiving faxes
AUTO Mode – the machine will automatically detect whether the incoming request is a fax or a call

If you've set the answer mode to FAX or TAM, the device will automatically receive the fax and print the documents. Make sure you have some sheets ready in the input tray.
If you've set the answer mode to AUTO, the telephone will ring several times. Once it reaches the set number of rings, it will automatically switch to FAX receiving.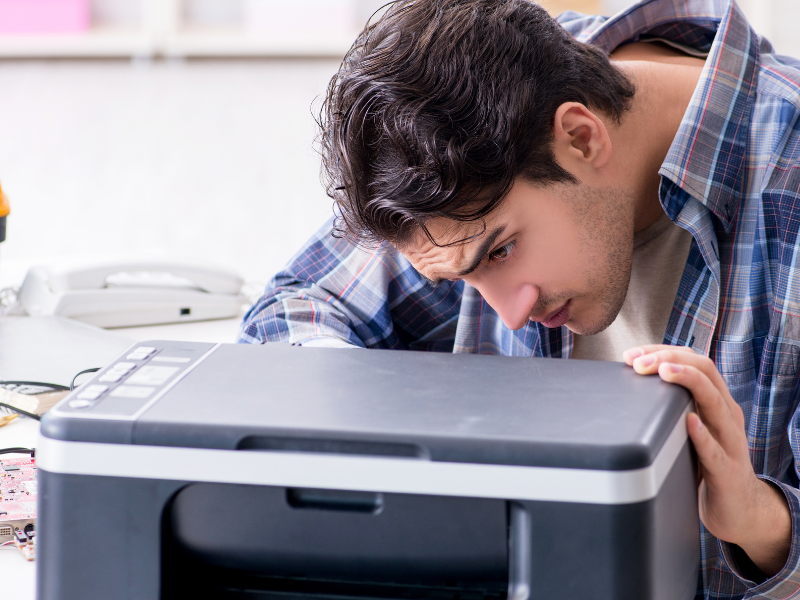 HP 640 Fax Machine Troubleshooting
At some point, the HP 640 might fail to function as intended. It may have trouble sending and receiving faxes. You can try troubleshooting the issue and apply some basic fixes when this happens.
Here are a couple of things you can do:
Double-check the landline connection. The telephone line may be dead or unreachable. You can wait until it gets fixed or connect the fax machine to a different telephone.
Check for paper jams. There may be an object or debris blocking the paper path. To clear it, you would need to remove the cause of the blockage.
Redial the correct number. Check if the fax number is valid. You may have made a mistake while dialing the country code or digit.
Replace your ink cartridge. Low ink levels usually cause the prints to appear smudged or faded. There should always be enough ink to print your incoming fax.
Use an online fax service. If it takes time for the faxing issue to get resolved, you can always switch to an online fax solution.
With an online fax service, you can fax documents at any time. You only need a phone or laptop.
Can the HP 640 Send Faxes Without a Landline?
The HP 640 fax machine can only send and receive faxes when connected to an analog phone. It doesn't support any wireless faxing option. While it's excellent for faxing everyday documents, it is not ideal for faxing large or complex files.
Should you need to fax in high volumes, consider looking for a secure and reliable online fax solution. With an online fax service, you can fax documents electronically while keeping them safe from unauthorized access. You can also implement advanced security measures like two-factor authentication and user ID verification.
If you need to fax files containing sensitive medical or financial information, iFax would be the best option. Our online fax service is not only HIPAA and GLBA-compliant; it also has all the tools you need to streamline your document management. Best of all, you can turn any device into a portable fax machine. There's also no need to stress yourself over busy lines.
Seamlessly Fax From Anywhere With iFax
Fax machines like the HP 640 are great for daily faxing, but only to a certain extent. With an online fax service like iFax, you can fax more while spending less. There's no need to spend on ink cartridge refills and machine maintenance. You can also access and manage your faxes better by eliminating the need for manual filing.
With iFax, you can:
Send faxes using a phone, tablet, or computer
Receive faxes without connecting to a telephone line
Set up team accounts for easy collaboration
Access advanced features like bulk faxing, fax forwarding, and fax scheduling
Integrate faxing with your existing software or business application
Set up a dedicated fax page for your company or business
Have multiple fax numbers without paying for monthly landline subscriptions
Try iFax today and see why it's a better choice, especially if you want to take faxing to the next level.
fax machines
HP fax machines
HP printers