Fax machines have come a long way. Nowadays, they are more advanced and feature-rich. Most of them have even been incorporated into multifunction printers. Take the Canon TR 8600 printer, for example. It's an all-in-one printer with faxing capabilities. Plus, it lets you scan and copy documents as well.
This post will give you an in-depth look at how to use the Canon PIXMA TR8600 to streamline your faxing process. You will also learn some tips on how to fax without using a fax machine or connecting to a phone line.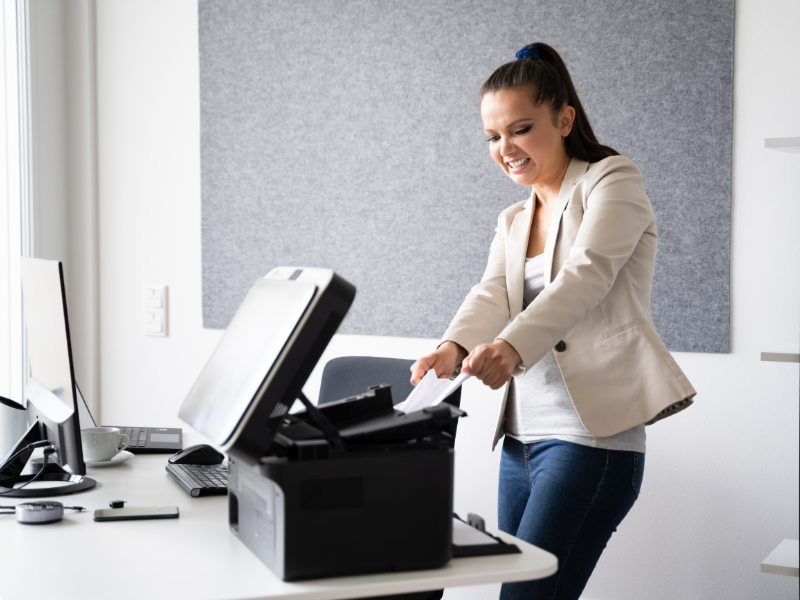 Canon TR 8600 Printer Key Features
If you are looking for a multifunction printer that costs less than $200, the PIXMA TR8600 is an excellent option. With it, you can accomplish a variety of paperwork. From printing to scanning, copying, and faxing, this Canon PIXMA model can do it all. It also has a compact design, which makes it perfect for offices with limited space. You can also use it at home.
On top of this, the Canon TR 8600 Printer also features the following:
Steady fax transmissions
This PIXMA model uses the Super G3 fax technology to send faxes at 33.6 kilobits per second. Through this, you can promptly transmit faxes over a telephone line. It will take approximately 3 seconds to fax a black page and up to a minute per colored page.
High fax memory capacity
The Canon TR 8600 printer has a memory capacity that can store up to 250 pages, which is plenty for anyone doing home office tasks. With this memory capacity, you can refrain from constantly clearing out the old faxes to make room for new ones. There will be plenty of storage for all your business documents.
Wireless connectivity
Like other PIXMA models, the TR8600 can print wirelessly through the Canon PRINT app, Mopria, and AirPrint. This model also supports Wi-Fi Direct, making printing directly from your phone easier without a router. Plus, it has a wireless fax feature, which lets you fax from any PC or laptop in your office or home.
Space-saving form factor
This model features a compact design that can fit perfectly on any desk or shelf. You don't have to worry about it being bulky and taking up too much space. It is also light enough to carry and move into another location.
Extra fine mode and other advanced options
This Canon PIXMA model can fax documents in extra fine mode. Thus, you can rely on it to produce high-quality faxes with crisp texts and vivid photos. On top of this, the TR8600 also comes with advanced options like auto redial and fax forwarding. It can also check Check RX Fax info, which is useful for keeping track of incoming faxes.
Faxing With Canon TR 8600 (How It Works)
Sending a fax using the Canon TR8600 all-in-one printer is as easy as pressing some buttons. You only need to familiarize yourself with the basic steps. After that, you will be able to fax documents of any type.
The guide below will walk you through the steps on how to fax using the Canon PIXMA TR8600:
Set up the printer by connecting it to an active telephone line.
Once a connection has been established, turn the printer on.
Next, load the documents on the scanner bed or document feeder (ADF).
Press Fax on the touch screen.
Dial the recipient's fax number. If you are faxing to a registered contact, simply search for your contact's ID number in the directory.
Tap the Black button to fax black pages. Tap Color if you want to fax some colored pages.
Wait for the printer to scan and send your faxes.

If you placed the documents on the scanner bed, follow the on-screen prompts, then select Send Now to start sending. If via the ADF, the printer will automatically send your fax.

To cancel an ongoing fax transmission, press Stop.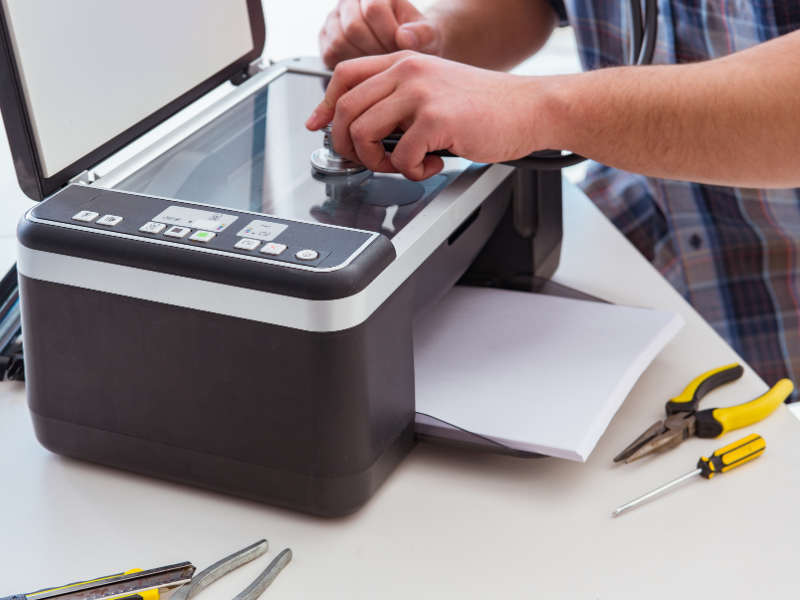 Tips on How to Fix the PIXMA TR8600's Faxing Issues
If you are unable to fax using the PIXMA TR8600, chances are it could be due to several reasons:
Poor connection: The connection between your phone line and the all-in-one printer might be weak. You can try replacing the cable to free up any obstruction or interference.
Wrong fax number: You may have entered your recipient's number incorrectly. Double-check the number and try again.
Low ink or toner: Check if the ink or toner levels are low. Replace them if necessary to keep your faxes and prints clear and legible.
Incorrect settings: Misconfigurations often cause issues like missing pages or distorted images. Adjust the settings and run a test fax to see if the transmissions go through.
Outdated firmware: Your fax may fail if your printer's firmware hasn't been updated for quite some time. Regularly check for updates and install them as soon as they become available.
Simply put, it always helps to have a backup plan when faxing using an all-in-one printer. If you're still unable to fax despite trying different troubleshooting steps, consider using online fax instead.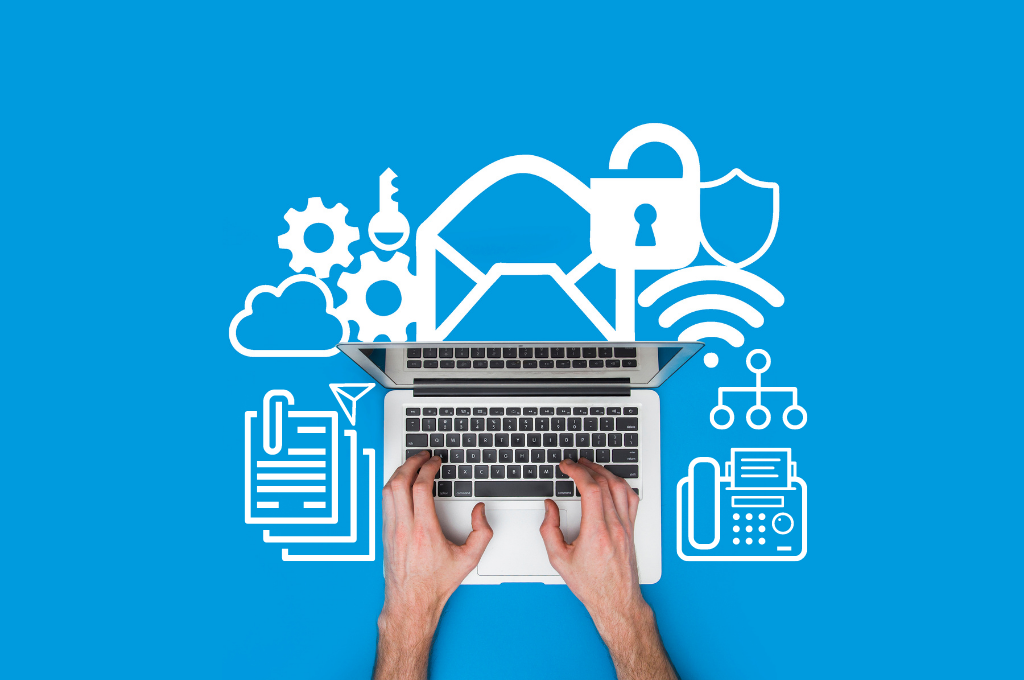 Is Online Faxing Worth It? Canon TR8600 vs Online Fax
By faxing online, you can always send a fax regardless of time or location. There's also less hassle since you don't need to replace the ink or check for faulty cable connections.
The list below shows a quick comparison between online faxing and the Canon TR 8600 printer. See how they stack up against each other.
Online faxing
No need for hardware setups or maintenance
Can fax anywhere, at any time
Can fax from any device (phone, tablet, laptop)
There's no need for any paper or toner
Canon PIXMA TR8600
Limited paper handling, which isn't ideal for high-volume faxing
Costly ink replacements
No support for two-sided scanning
Though compact, the printer may still take up some space
High energy consumption
Online Faxing: A More Cost-Effective Solution
While the Canon TR8600 offers a more convenient way to perform various office tasks, it still comes with the added cost of doing traditional fax. You still need to restock on ink and paper in case the supply runs low. Plus, you are more prone to delays and errors, especially if there is a poor line connection.
With online faxing, you can decrease expenses while boosting efficiency. You can fax documents quickly and scale your faxing needs according to your business requirements. Undoubtedly, it's way more cost-efficient than any traditional fax machine combined.
However, not all online fax services offer the same level of security and convenience. If you want to fax safely, quickly, and effortlessly, iFax is the best option. Our online fax solution has all the tools you need to keep up with today's ever-changing market demands.
Streamline Your Faxing Experience
With iFax, you can send and receive faxes without a fax machine or all-in-one printer. You can also fax sensitive documents while complying with industry and privacy laws, including GLBA and HIPAA.
Here are some key features of our fax service that are worth noting:
256-bit encryption
High-volume faxing
Free fax number porting
Auto-resend option for failed faxes
Advanced fax features (bulk faxing, fax scheduling, fax forwarding)
Works on any platform (e.g., Windows, Mac, Android, iOS)
Does not require any fax modem or phone line
Create an account today and enjoy the benefits of secure and reliable faxing without any hassle.
canon fax machine
canon printers
fax machines