Recent technological advancements have made faxing completely possible to do without using fax machines to transmit files and documents. You won't even need a dedicated phone line anymore. Nowadays, you can easily send and receive faxes using your mobile phone.
Sending a fax using your Android phone, or any smartphone, has completely changed the game for document sharing. It's a lot easier to do and requires less effort. Everything is quite literally accessible at your fingertips.
To send a fax using your mobile device seamlessly, you first need to find the best fax app for android. Here's some of the software you can choose from.
Table of Contents
What is the best fax app for Android phones?
It gets overwhelming to choose the best Android fax app for you with a wide variety of choices online. So, here is a quick rundown on some of the apps worth checking out:
iFax
Average Rating: 4.8/5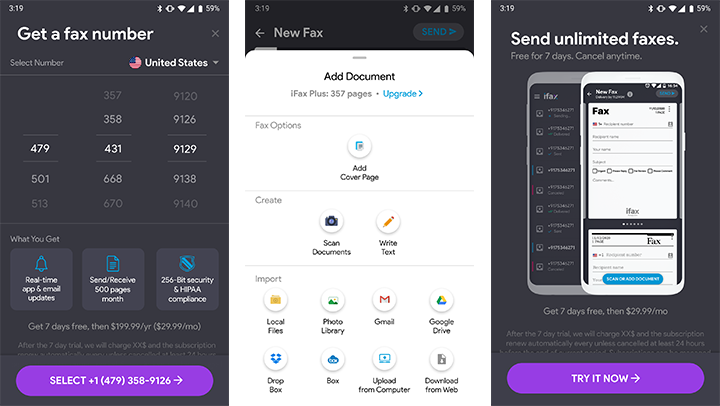 With over five million satisfied and happy customers, iFax remains one of the most trusted and downloaded faxing apps for Android available in the market today. In fact, it has over one million downloads on Google Play Store.
iFax offers robust fax solutions for businesses of all sizes. They have the lowest-cost fax service you'll find. In fact, it has a completely free plan. Meanwhile, the paid plan starts for as low as $16.67 per month.
Their fax app for Android boasts an intuitive user interface and design that's easy to use and navigate. And with excellent features, online faxing has never been this seamless and convenient to do. It allows you to access e-sign mode, scanner tool, inbuilt fax templates, and the ability to sync your device with your online storage accounts.
Key Features:
Competent Fax API
Email to fax capabilities
Completely free account
24/7 customer service support
Dedicated local or toll-free fax number
High-level 256-bit military-grade encryption
Cloud integration and unlimited cloud storage
Built-in document scanner that lets you edit the images
Cross-platform for convenient and seamless online faxing
Multiple file formats supported (JPG, PNG, PDF, Doc, etc.)
Integrated with Google Workspace and Microsoft Office 365
Real-time push notifications to help you stay on top of your faxes
Fax Burner
Average Rating: 4.1/5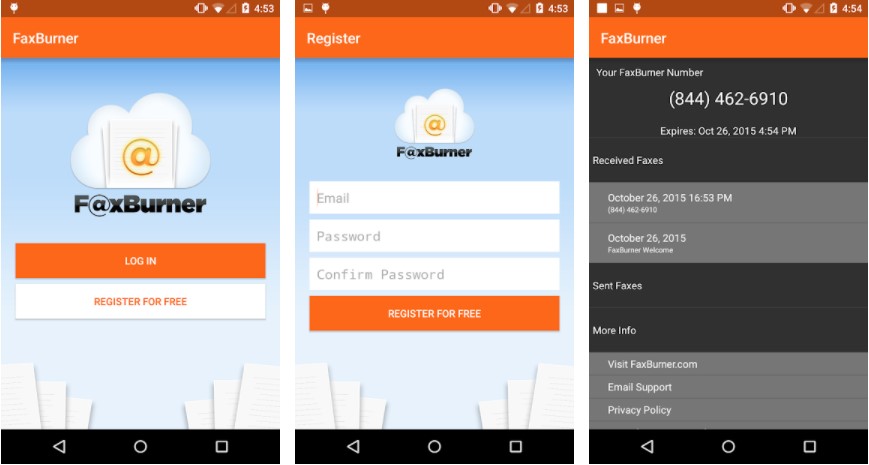 The FaxBurner fax app for Android offers a free package that gives you your own disposable fax number you can use for the first 24 hours. It also lets you send five pages of outbound faxes and receive up to 25 pages of inbound faxes.
To maximize the benefits of FaxBurner and all its features, you can avail of their paid packages starting at $12.95. A significant downside with FaxBurner, however, is that they are not HIPAA compliant. So, you have to take extra precautionary measures when sending documents containing highly sensitive data.
Key Features:
Multi-page faxing
Easy to use and quick set up
Free fax number (US numbers only)
Protects faxes using TLS (Transport Layer Security) Protocols
Simple Fax
Average Rating: 4.7/5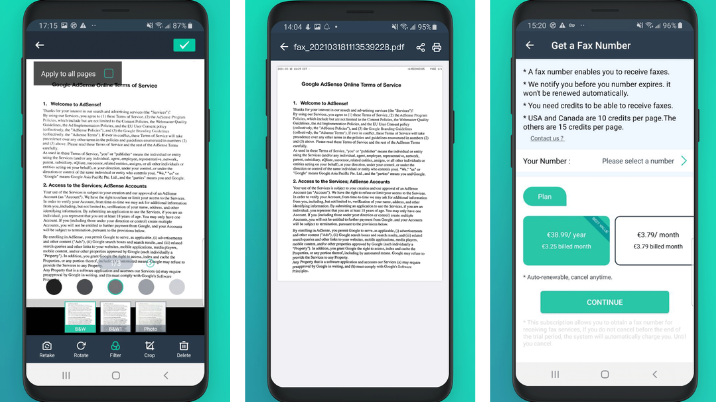 Another online fax service provider that offers one of the best android fax app is Simple Fax. The company offers a range of plans and subscriptions suitable for businesses and individuals alike. You can either pay it monthly, quarterly, or annually, starting at $3.99 a month.
Key Features:
Manage fax receipt
Fax images from Gallery or using a camera
Send a single-page or multiple-page faxes
Provide international fax numbers and a list of countries
FaxFile
Average Rating: 4.3/5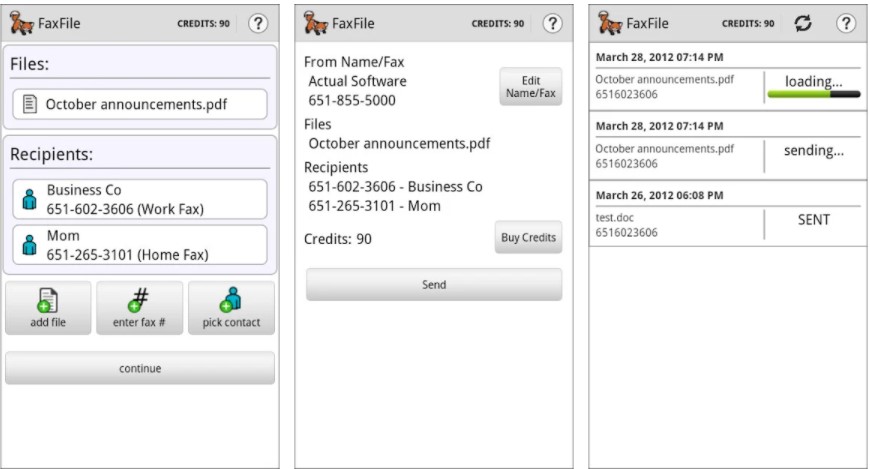 While FaxFile does not require users to pay for monthly subscriptions, you do have to purchase (in-app purchase) fax credits at $2.99 per 50 credits. This is ideal if you do not send faxes in high volumes.
FaxFile lets you send faxes not only to fax numbers in the USA and Canada but also to many international locations. But, the fee might be more expensive for international transmissions.
Key Features:
HIPAA Compliant faxing app
Supports a variety of file formats
Automatically resends failed fax transmissions
Easy access to the phone's camera to fax images
eFax
Average Rating: 3.6/5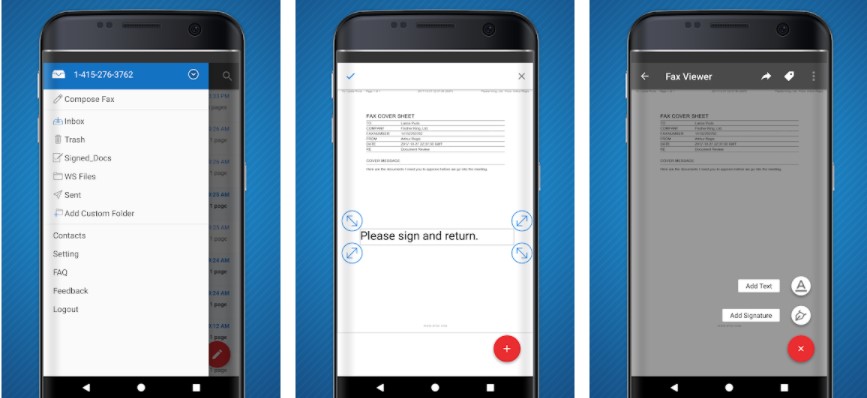 Having been in the faxing industry for over twenty years, eFax is one of the leading online fax apps today.
With plans starting at $16.95 with an additional setup fee, you can transform your smartphone into a full-functioning fax machine. Their mobile app lets you send, sign, edit, and receive faxes on the go, and it's compatible with both iOS and Android phones.
Key Features:
Toll-free numbers
HIPAA-compliant faxing
Works in over 200 countries
Ability to print faxes from cloud storage or mobile phone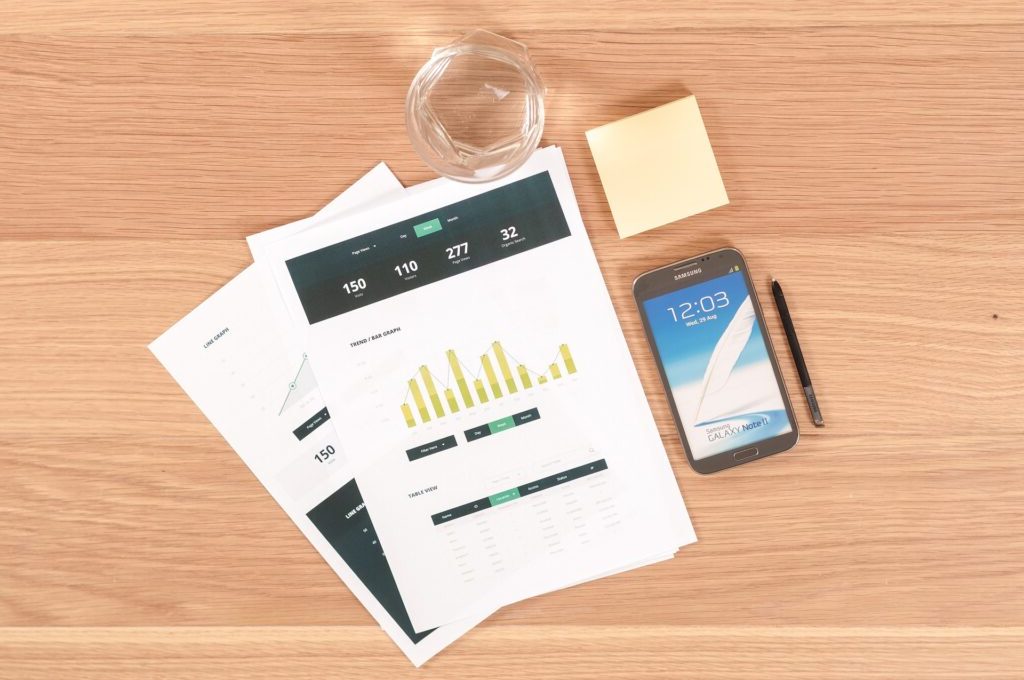 Why do you need to start using a mobile fax app for Android?
Mobile phones are pretty much a necessity at this point. Over the years, they have evolved into something that does more than just texting and calling. It has become such a powerful device that can send and receive a fax, among others.
But why do you exactly have to make the switch? Why do you need to start using the best android fax app instead of the conventional faxing method using the traditional fax machines? Here are some of the factors why:
Convenience
Living in a highly digital age requires you to be on the go at all times, which is why mobile faxing is better than traditional faxing. The best free fax app for android phones enables you to share files no matter where you are. Unlike traditional faxing where you have to be attached to a machine with wires and servers.
Moreover, one of the best features of mobile faxing, especially when using the best fax app for Android, is that you can easily scan your documents using your phone's built-in camera. As most phones are now equipped with high-resolution cameras, you do not have to worry if the texts are legible or if the image is unclear.
With mobile faxing, you can send and receive faxes on the go.
Cost
Traditional faxing is quite a hefty investment. Not only do you need to buy a fax machine, but you also have to install a dedicated phone and server. You also need to buy ink cartridges, toners, papers, and other necessary supplies.
On the other hand, installing the best fax app for Android is a lot more cost-efficient. You do not need to buy new hardware or equipment as you can just use your phone. The only cost that you need to think about is the monthly subscription or plan, and they are generally quite inexpensive.
Eco-Friendly
Mobile faxing gives you the option to go completely paperless as everything comes in digital format. You do not necessarily have to print out the faxes for safekeeping anymore. Since everything is stored in a cloud, you can gain access to your files any time you need them.
Security
One of the reasons why faxing has remained extremely relevant and essential even in the wake of very advanced messaging technology is the security it offers its users. The best fax app for Android greatly reduces the risk of breaches and data theft and hacks with state-of-the-art security measures.
Mobile fax apps for Android use robust encryption, which is great if you send and receive highly sensitive information regularly.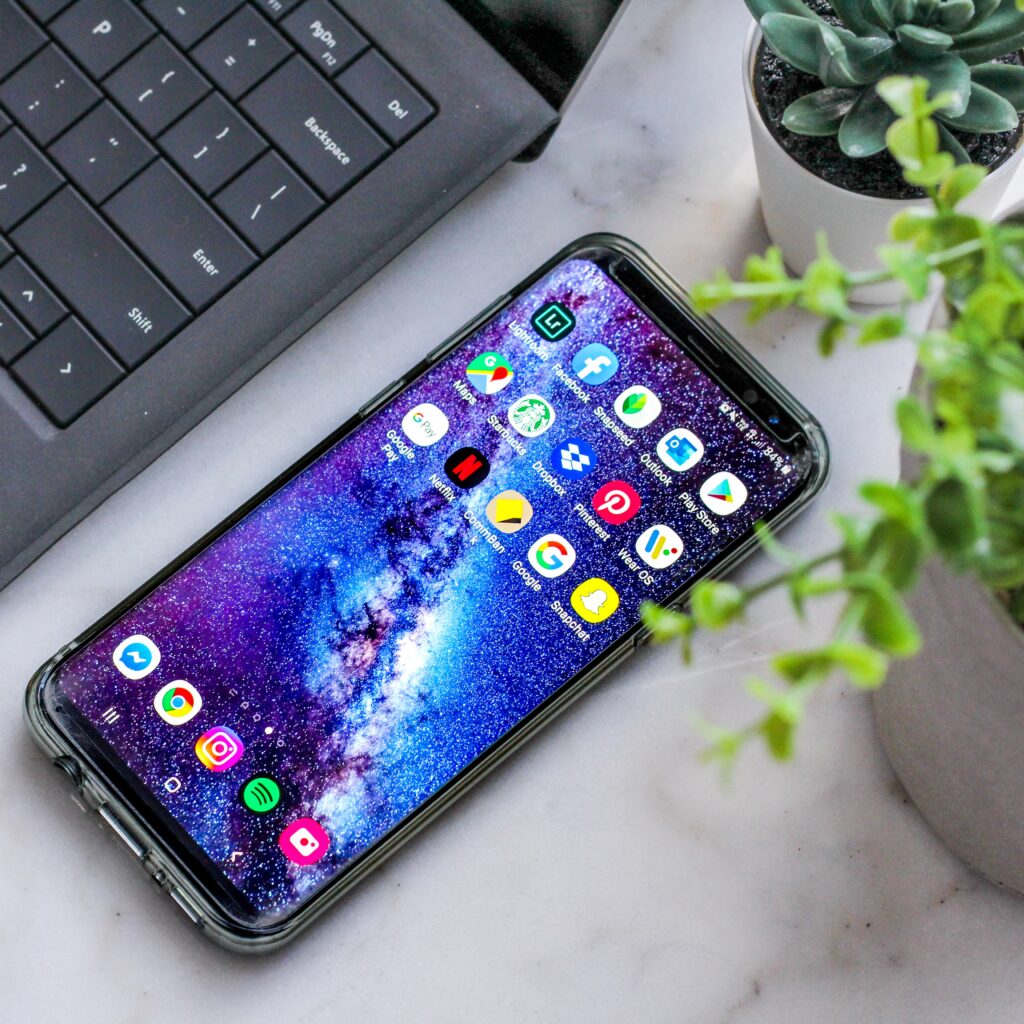 What are the features you need to look for when choosing the best fax app for Android?
There are quite a lot of mobile fax apps for Android in the market these days. To help you narrow down your choices, we've devised for you a list of features that you need to look for for your perusal. Here are some features you can find in the best free fax app for android:
Storage
Find out how much storage the online fax service gives per user or subscriber. Choose the one that fits your needs. There are even providers that offer unlimited storage. Go for that instead.
Retention Policy
You also need to look at how long you can keep your files in the cloud. Usually, online fax subscriptions would automatically delete certain files once it is past the retention period. See to it that you fully understand their retention policy so you know when to schedule a backup.
Esignature Capabilities
The best fax app for Android phones should also have the ability to sign documents just using your mobile device. This can help you close deals and sort out important paperwork that urgently needs your signature. With iFax, you can do this in under a minute with its integration with Fill.
Multi-platform functionality
Try to check if your prospective online faxing service provider has a mobile app that's not only compatible with Android but iOS as well. This allows you for a more flexible mobile faxing since you can just switch from one phone to another without having to worry about compatibility.
Can you send free fax from your Android phone?
There are a lot of online fax providers that allow you to download their Android fax apps for free. However, that doesn't mean you can already send faxes for free.
While you can easily download free of charge, some software requires banking details before you can access their free trial. So, some software doesn't allow you to send free fax from your Android phone.
But faxing online free of charge can be done with iFax, even without providing your banking details. Some providers allow you to send a certain number of faxes for free for a limited time. But, iFax allows you to make a free account and send faxes for free forever.
So yes, you can send free fax from your Android phone using iFax.
Final Thoughts
Bearing the above-mentioned considerations in mind, we can confidently say that the best fax for Android phones and tablets is iFax. Having been in the industry for well over ten years, it's an all-around fax app that's trusted by over five million satisfied users and counting.
Out of all the choices, iFax offers the most value for your money with its flexible faxing plans to fit any budget. For this reason, iFax remains the top choice of businesses and individual users alike.
Whatever your faxing needs are, iFax has top-tier features to help you effortlessly share files and documents. Get to enjoy unlimited storage, e-signature integration, and email to fax capabilities, among others, with iFax. Create a free account today!
android faxing
android online faxing
best fax app for android
fax app for android
fax using android phone